I'm still fighting my way through this year's raspberry harvest.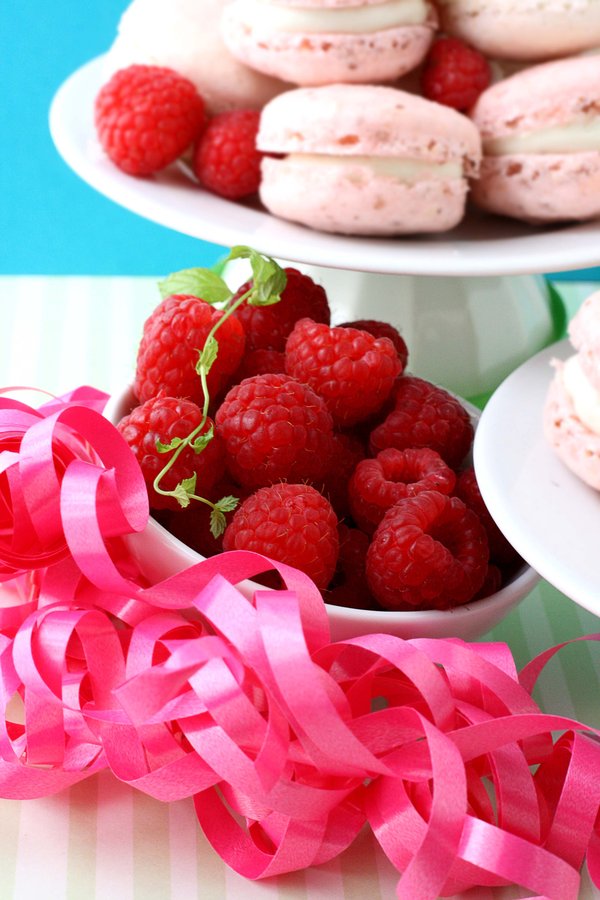 I freeze many of them every year, but it seems such a shame. The berries are so eye-catching and attractive when fresh, but left to fend for themselves in a cold and unforgiving fridge for a few days… Well, it doesn't take long for their alluring and glossy sheen to fade into a dull, unattractive finish. Of course, freezing them does nothing to counteract the process; either left unattended in the fridge or resurrected from a deep sleep in the freezer, mushy raspberries have just a handful of unremarkable futures.
But at least, if frozen, their usage period is extended. I like to dot pancakes with them in the dead of winter, or sprinkle them into muffin batter on particularly dreary afternoons when I'm lusting for just one more shine of summer sun.
And sometimes I even dip them in chocolate.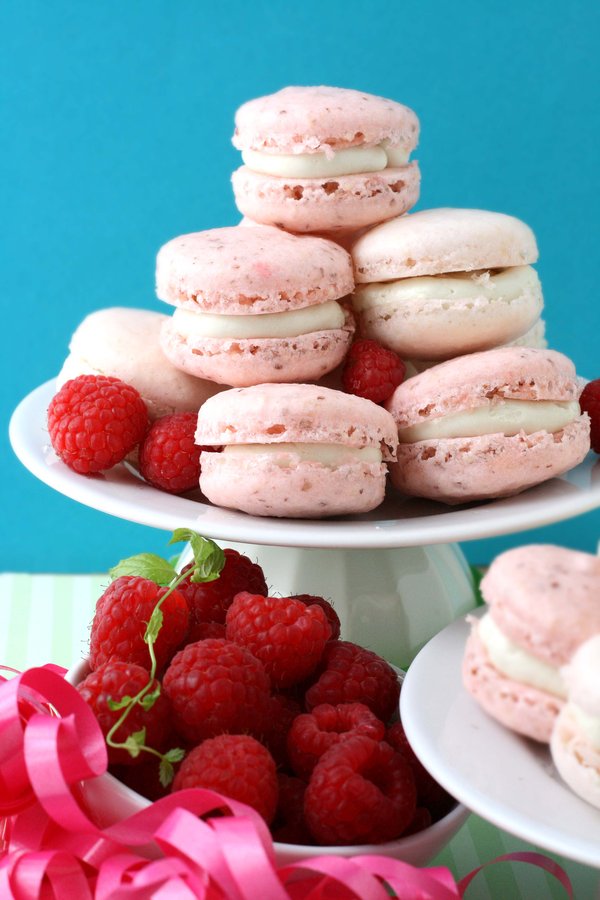 And then I sandwich them between two pretty pink macaron shells.
Because it's delicious.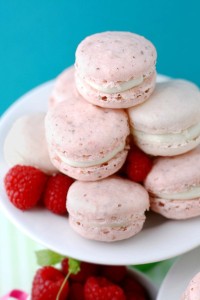 Chocolate Covered Raspberry Macarons
This recipe is the same as Tartelette's, but is use a teeny bit less granulated sugar. Oh, and some of mine have dark flecks because I made them twice, and the first time I used unblanched almonds.
Printable Recipe
3 egg whites, room temp
30g granulated sugar
200g powdered sugar
110g almond meal
Place an unlined shiny baking sheet (to prevent browning) onto your oven's top rack and preheat the oven to 300F.
Prepare a piping bag with a round tip. I like to put mine in a glass so I can simply pour in the macaronage/batter and begin piping as quickly as possible.
Beat the egg whites into a foam, and gradually add the granulated sugar. Continue beating until the meringue no longer slides when you tip the bowl, being very careful not to overbeat. Sift the powdered sugar and almond meal over the meringue and fold to combine, being sure to get out quite a bit of the air. Continue mixing just until ribbons settle indistinguishably into the macaronage. Pour into your piping bag and pipe small rounds onto sheets of parchment paper.
Bake 15-20 minutes on a baking sheet below the one already in the oven.
Chocolate Covered Raspberries
Yeah, I know you probably don't need a recipe for this, but I'm including it anyway because I think it's very important that your raspberries are frozen, and I wanted to make note of it. Since they'll be weakened by the freezing process, the berries will be incredibly juicy. They'll practically explode when you bite into them!
Raspberries, frozen
Chocolate
Melt the chocolate, dip raspberries and allow to set on parchment paper.
Swiss Meringue Buttercream
Please click here for a step-by-step guide to making Swiss Meringue Buttercream and troubleshooting tips!
1/2c sugar (I usually eyeball it :P)
2 egg whites
6Tbls softened unsalted butter, cut into 1/2Tbls
1/2 tsp vanilla
Cook the egg whites and sugar over medium heat, whisking constantly, until the sugar is completely dissolved (test by rubbing some between your fingers. If it's completely smooth, it's done). Pour into another bowl (a stand mixer is preferable) and whip on high speed until room temp. Then, on a medium-slow speed, add the butter, waiting until each piece is completely incorporated before adding the next. The buttercream mayt turn into a soupy curdled mess, but I assure you it will be ok; just beat the shit out of it for a few minutes. It'll come together, and when it does, you should add your vanilla 🙂
Assembly
Partially flatten a chocolate covered raspberry with a butter knife or a similar utensil. Place in the center of a macaron, and pipe buttercream in one circle around it. Top with a similar-sized macaron.
Store them in the fridge, but enjoy them at room temp!