I often find myself wandering the produce isle, scoping out exotic fruits and vegetables. They're generally easy to find, lounging in their own baskets on the sides of various stands. Amongst a very vast and very boring landscape – composed largely of apples and potatoes – their interesting shapes and vibrant colors seem to scream, "BUY ME!" or, "EAT ME!" as if you're in some sad rabbit-less version of "Alice in Wonderland…"
But I digress…
Apricots are not one of these exotic fruits. Nestled in with the peaches around this time of year and dwarfed in size, they seem lackluster, leaving a consumer such as myself wondering, why in the world would I buy such a small, botched, clone of a peach? Yes, ignorant of so many things, I would pass them by in favor of said peach, or maybe even a nectarine.
But after being introduced to them by a friend and finding them, bedecked with a sale sign reading, "99 cents/lb" and sitting between two particularly sad looking marshes of wrinkly peaches a few days later, well… I decided it was fate. These suckers needed baked!
So I briefly contemplated their future, this Apricot Cream Tart being the result: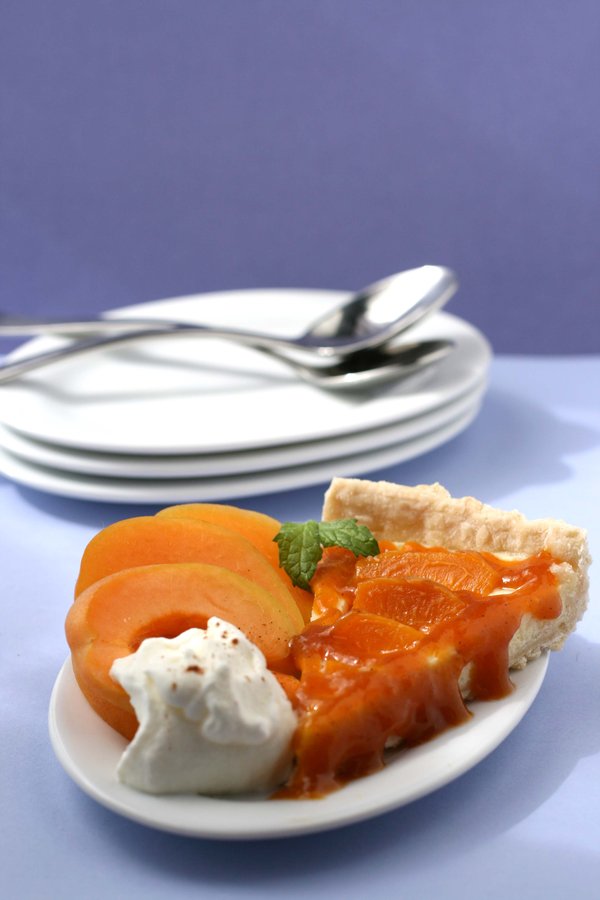 It's very similar to a cheesecake, but it lacks the thickness and richness that many – myself included – just don't like about them. The light velvety filling would go well with just about any fruit, but the slightly firm nature of the apricots creates a fantastic textural contrast.
Ingredients:
1 par-baked 7″ or 9″ tart shell (if you make the 7″ tart, you will have a little extra filling)
3 apricots (you will need more for a larger tart)
2 oz (56 g) cream cheese, softened
1/3 c (78 ml) sour cream
1 egg, room temp
1/4 c (59 ml) cream
2 Tbls + 2 tsp sugar
Pulp from 1/4 of a vanilla bean
1/2 tsp vanilla extract
Notes: I made a 7″ tart, but I think enough filling is produced in this recipe to make a 9″ one. I went a little overboard while adding ingredients. Anyone will tell you – I'm embarrassingly bad at estimating!
Preheat oven to 350F (275C).
Skin and pit the apricots, slicing each in half and then into quarters to get 8 slices from each fruit. Place in a colander over a bowl and sprinkle with 2 tsp sugar. Set aside.
In a medium bowl, beat the cream cheese until light, and add the sour cream and egg. Beat until fully incorporated and add the cream and remaining 2 TBLS of sugar. Add the vanilla pulp/seeds and extract, beat briefly and set aside.
Arrange the sliced apricots from the colander in your tart shell. Carefully pour the filling around the slices (keep in mind that if you pour it on the fruit, it will bake on the fruit. It's not very forgiving when it comes to desirable presentation :D), and bake for about 20 minutes. Allow to cool, then place in fridge until very cold. Serve sliced with Apricot Glaze.
Ingredients:
3 apricots
Sugar, to taste (mine were quite tart, so I used 2 Tbls)
Water
Cinnamon
Notes: If, at any time during the cooking process, your sauce becomes too thin, just remove the lid and allow it to reduce for a bit!
Peel and dice the apricots, then place them in a small pot with the sugar and cook over medium heat until the fruit pieces begin to stick. Stirring with a wooden spoon (in order to retain your pan's integrity!), add a few Tbls of water to thin the syrup, along with a sprinkle of cinnamon, and cover. Cook, stirring occasionally, until the apricots are completely broken down and you have a thick sauce. Cool slightly and serve warm over chilled pieces of the tart.