The first time I made caramel, it was a disaster.
The plan was simple; make a huge sheet of caramel-y chewy goodness, cut it into pieces like delicious little bars of gold, dress each priceless nougat in parchment and adorn them lovingly with sophisticated bows of brown ribbon. It was going to be a perfect addition to the boxes of cookies I was handing out to my friends for the holidays.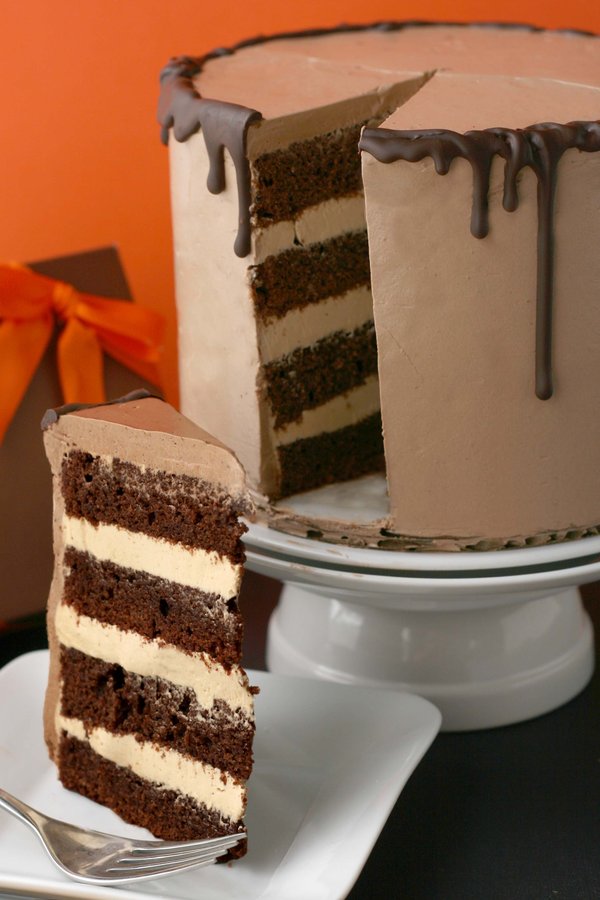 But it was all downhill after pouring the sugar into my pan.
I cooked the sugar to a beautiful dark amber, hastily dumped in the cream and shrieked as the contents gurgled and sputtered their way higher and higher up the edges of an already full sauce pan. The burning mess climbed up my spoon and I sacrificed it – without thought – to the growling monster from hell, stepping backward in shock. The bubbles tested the round lip of the pan, edging higher and higher.
It was at this point the realization that there was no hope socked me square in the face.
I watched in horror as the sticky ooze spilled over the edge, racing for the burner and spreading over the surface of my oven. Smoke billowed up quickly, and the terrible and thick scent of burning sugar and cream filled not only my kitchen, but my entire house.
There were no caramels that Christmas.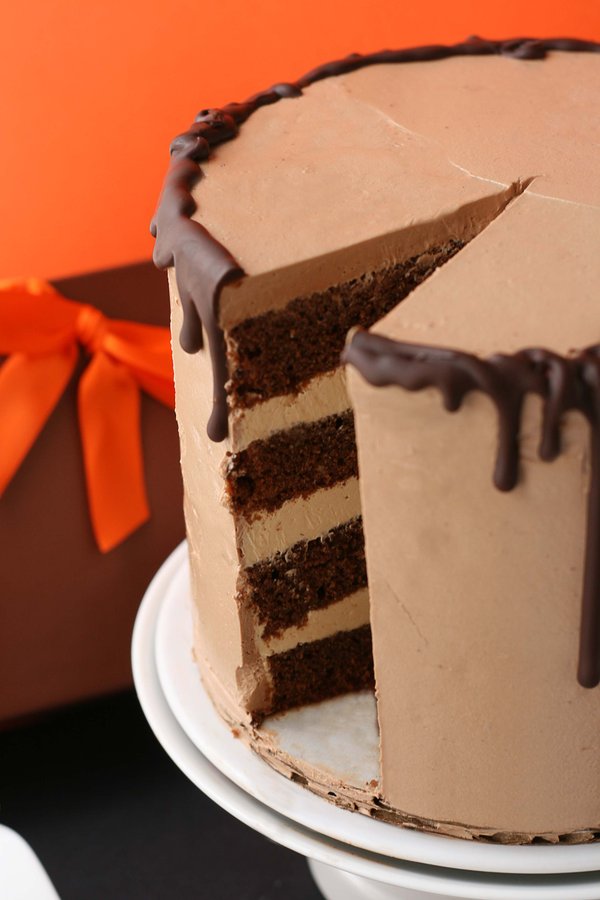 But today, there is caramel. Thankfully this time it is soft, chewy, and contained in a nice, neat, small, oiled bowl instead of being completely inelastic and sprawled haphazardly like a hungry amoeba over my range.
On the flip side, the first time I made chocolate cake, was… Well, pretty unremarkable, honestly. The cake was mixed, baked and devoured. Easy as… Cake.
But this time my chocolate cake was a disaster. I was so excited to use my spankin' new, 3 mile (*cough*inch*cough*) deep, sparkly Fat Daddio's cake pan that I thought whatever I did was going to turn out beautifully. But I was wrong. I will just say that I have never before in my life seen a cake that baked up quite as terribly. When I flipped it onto the cooling rack, the unbaked center (which I tested with a toothpick – it came out clean!!!) flowed through the bars and all over my counter; a sticky ooze of a mess for me to clean. Just bad. So I tried again. (Don't judge me! I had to, because I had finally made caramel correctly, and I had to use it in something… Didn't I?)
But I don't blame the pan. I blame the recipe. This cake is uber rich and extremely chocolaty and I think it was soupy in the oven because it was, at that point, pretty much a melted chocolate bar. When I made a few changes and baked it in two pans instead of one, things went much more smoothly.
This cake is quite rich, but also a little dry, which seems kind of contradictory, but it's true. Maybe. My family didn't think it was dry… BUT… I think the addition of sour cream would help this recipe. It's up to you!
Oh, and to justify the eating a slice of this chocolaty, caramel-y, buttery, tasty monstrosity? You're eating for your soul.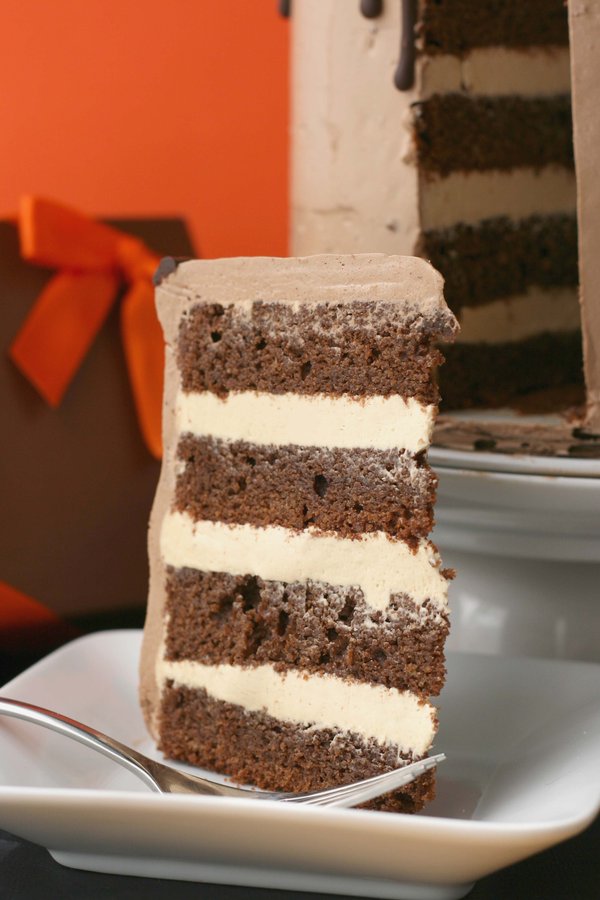 And maybe PMS.
Chocolate and Caramel Cake
Printable Recipe
Caramel
1 c (198 g) sugar
1/4 c (59 ml) heavy cream
Prepare a small bowl by rubbing it with shortening/butter or spraying it with Pam so that the cooling caramel will not stick to it completely. Set aside.
Cook the sugar in a heavy-bottom pan until a dark amber color (I don't know which temp is right… I got lucky, I guess!). Remove from heat and pour in the cream, stirring gently until combined and no longer bubbling. Pour into the prepared bowl and let rest until cool to the touch.
Be careful, hot sugar is…. Hot… It burns. lol. The goal is to have a very soft caramel that is a little runny when cooled. You'll be adding it to buttercream.
Caramel/Chocolate Swiss Meringue Buttercream
Please click here for a step-by-step guide to making Swiss Meringue Buttercream and troubleshooting tips!
1 3/4 c (348 g) sugar
8 egg whites (save 2 yolks for the cake recipe!)
3 1/2 sticks (28 Tbls) unsalted butter, cubed and at room temperature
2 tsp vanilla extract
Resulting caramel from above recipe
1/4 c (40 g) dark chocolate, melted and cooled
Cook the egg whites and sugar in a small saucepan over medium heat, whisking constantly, until the sugar is completely dissolved (test by rubbing some between your fingers. If it's completely smooth, it's done). Pour into another bowl (a stand mixer is preferable) and whip on high speed until room temp. Then, on a medium-slow speed, slowly add the butter, a few pieces at a time, waiting until each addition is fully incorporated before adding more. After it has all been added, whip it until it thickens up, about five minutes, and add the vanilla. Remove half of the buttercream, place in a separate bowl, and whip in the chocolate. Add the caramel to the remaining half. It may be necessary to heat the caramel slightly to make sure it is the correct consistency, but be careful it's not so hot that it will melt the buttercream!
Super Chocolate Cake
3/4 c (177ml) heavy cream
1 c (160 g) dark chocolate chips (I used 52%)
2 c (250 g) flour
1 tsp baking powder
½ tsp salt
3/4 c (177 g)butter, cubed and at room temp
1 c (142 g)firmly packed brown sugar
2 eggs + 2 yolks, at room temperature
1 tsp vanilla
Preheat the oven to 350F (175C) then grease and line two 6 inch pans.
Heat cream until steaming, then pour over chocolate. Allow to set for 5 minutes, then whisk gently to combine. Allow to cool to room temp (put it in the fridge/freezer for a bit, if you like).
In a small bowl, combine the flour, baking powder and salt. Set aside
Cream the butter and sugar. Add the eggs, one at a time, and then add both yolks plus the vanilla. Then, alternating between wet and dry (beginning with wet), add the flour and cream mixtures in 2 additions each. Be sure to scrape down the bowl!
Divide batter into the two prepared pans and bake 35-40 min.
Assembly
Level and split each layer of cake so you have four layers of equal height. Fill with caramel buttercream, crumb coat with either frosting, and then frost completely with the chocolate buttercream. I decorated very simply by drizzling chocolate over the edges of the [chilled] cake. Additional caramel would also be great 🙂