On particularly lucky Saturdays, my dad would casually ask one of the greatest questions in the world: "who wants pancakes?"
My brother and I?
We wanted pancakes.
I'm sure he didn't need a recipe, but I always insisted on standing on my tippy-toes to pull his torn copy of "The Fannie Farmer Cookbook" from our bookshelf. The page was bookmarked, decorated heavily with splatters of wayward batter and ornamented with dad's illegible chicken scratch annotations. It was a mess, but it was an important part of the process because the act of taking out the book was my way of helping. As I stumbled about the kitchen, cautiously moving things to the counter, Dad would patiently recite the list of ingredients. His dictation may have occasionally been interrupted by the dropping of eggs or spilling of milk, but I was never swayed – I wanted to do everything I could to help.
However, measuring was a little daunting at that point, so we employed the "say when" method. The dry ingredients were mixed thoroughly, and after adding the wet ingredients to a well in the center, I whisked the whole thing together with a fork like his mom taught him. Dad would then determine if the batter "looked right," and add either flour or milk to achieve the perfect thickness. When he decided it was ok, I analyzed the batter, trying very hard to memorize the consistency, but it only took a couple of times for me to realize just how impossible that is. Perfect batter is dad-territory when you're young.
So then I waited. I could hardly lift the giant cast-iron skillet dad always used, let alone properly use a spatula, so I sat patiently across the room to watch him flawlessly turn the behemoths from one side to the other. They were cooked one at a time, scaling the length of the 9″ pan, and were served with a sprinkle of powdered sugar. My absolute favorite breakfast.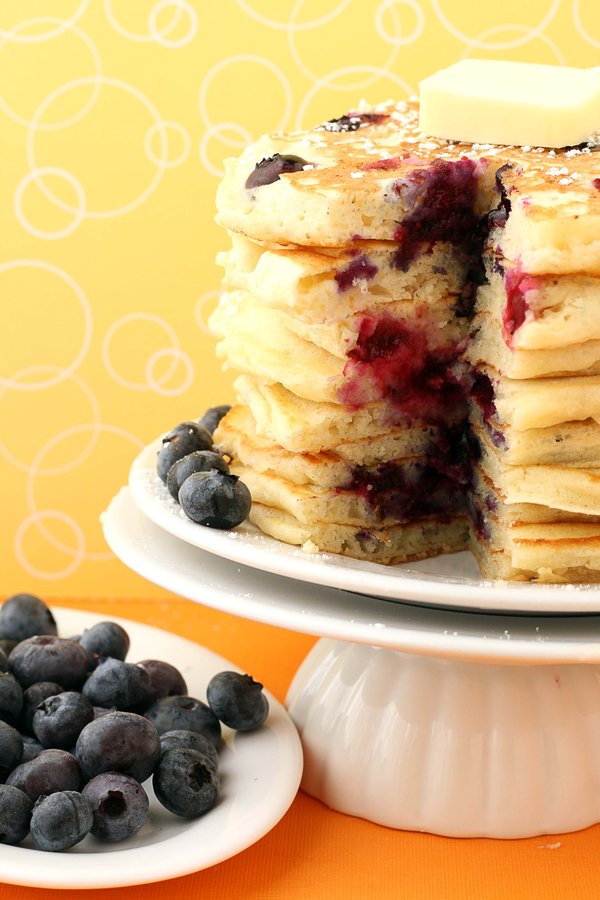 But these pancakes weren't really pancakes, you see. Dad always left out the baking powder – like his mom used to – which resulted in very flat and very thin…
Crepes.
Essentially, anyway.
Delicious crepes, but not pancakes. Flat-as-a-pancake-with-no-baking-powder-crepes. Crepes that I still love and adore, but now know by their proper name.
It's really not often that I choose to make pancakes over Dad's "pancakes," but today my fridge is bursting with garden-fresh blueberries and I doubted they'd cook into the crepes very well. Fluffy pancakes hold them in much better, and have the advantage of being easier to flip.
And that easy flipping is something I can really appreciate because, hey, even though I'm 18, I still kinda flip pancakes like a five-year-old.
Good thing ugly pancakes are still tasty – and the same goes for crepes!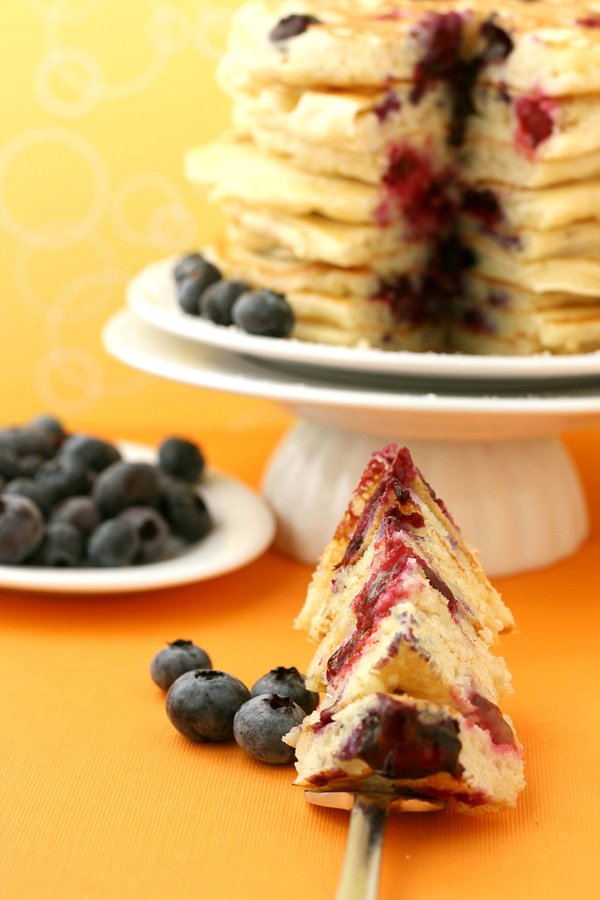 Real Pancakes
Printable Recipe
1 1/2 c (188 g) flour
3 1/2 tsp baking powder
1 tsp salt
3 Tbls sugar
1 1/4 c (296 ml) milk, warmed slightly in the microwave (just to make sure it doesn't solidify the melted butter)
1 egg, room temp
1/2 tsp vanilla
1/2 tsp almond extract
3 Tbls butter, melted
Sift together the flour, powder, salt and sugar twice. Make a well in the center and set aside.
In a separate bowl, whisk together (with a fork, if you're so inclined!) the remaining ingredients, then pour into the dry ingredients. Whisk briefly, being careful not to overwork the batter.
Pour (our use a measuring cup) into a HOT oiled skillet over medium-high heat. Before flipping you can sprinkle them with blueberries, raspberries, chopped strawberries, sliced bananas, nuts…. Anything's good!
Brown on both sides and serve!