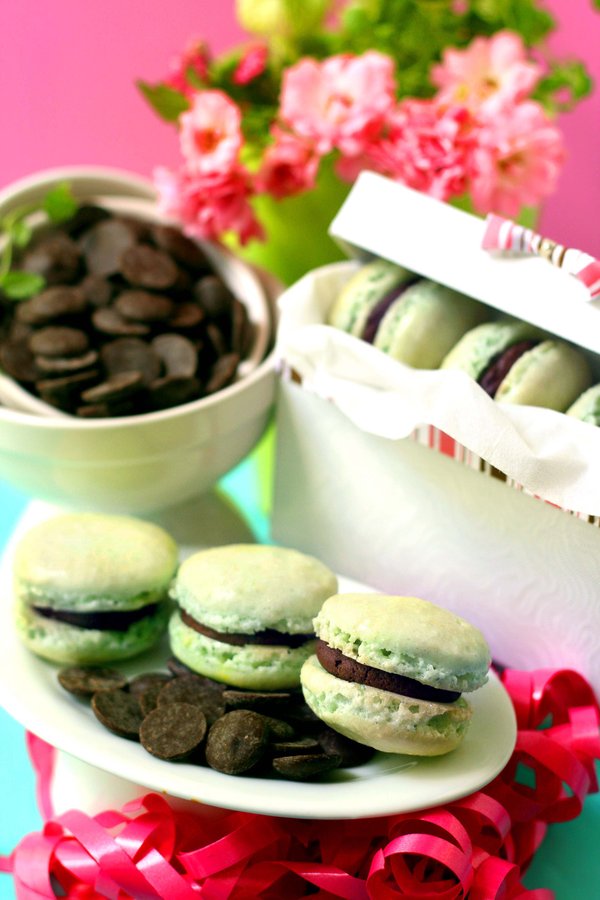 I think mint is a great flavor. It may not be extremely versatile, and I know quite a few people who don't care for it at all, but it's got a refreshing zing that's all its own.
Needless to say, I love it.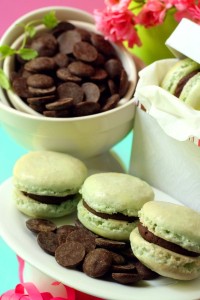 And because I love it, I'm proud of my little flowerpot in the kitchen window. Lime green and outfitted with wire-like, twisting green stalks of mint, the tall pot houses the only plant I've successfully grown on my own. Which isn't impressive, of course, and I'm very fortunate that my dad knows how to operate
his
garden, but it's a small achievement for me. Even if it's [quite apparently] ridiculously easy to grow!
I bet these macs would have been even more fabulous if fresh mint had been steeped in the cream that went into the mint ganache, but I didn't have the heart to strip my poor plant of so many leaves. A wuss move I justified by considering myself to be in a bit of a hurry. And really, I was – I had scheduled a night at the drive-in with a friend. So, in place of the fragrant severed limbs of my poor defenseless little plant, I used up the last of my mint extract.
I seem to go through it quickly.
Minty Macarons

Shells
2 egg whites, room temp
20g granulated sugar
130g powdered sugar
75g almond meal
green food color (gel)
Place an unlined shiny baking sheet (to prevent browning) onto your oven's top rack and preheat the oven to 300F.
Prepare a piping bag with a round tip. I like to put mine in a glass so I can simply pour in the macaronage/batter and begin piping as quickly as possible.
Beat the egg whites into a foam, and gradually add the granulated sugar. Add the food color with a toothpick; dipping it into the gel and scraping the pigment onto the beaters. Continue beating until the meringue no longer slides when you tip the bowl, being very careful not to overbeat. Sift the powdered sugar and almond meal over the meringue and fold to combine, being sure to get out quite a bit of the air. Continue mixing just until ribbons settle indistinguishably into the macaronage. Pour into your piping bag and pipe small rounds onto sheets of parchment paper.
Bake 15-20 minutes on a baking sheet below the one already in the oven.
Minty Chocolate Ganache
Printable Recipe
1/4 cup heavy cream
4 oz dark chocolate, in chips or shaved/chopped into small pieces
1/2 tsp peppermint extract
Place the chocolate in a large, heatproof bowl. Heat the cream until steaming, then pour over chocolate. Allow to sit for 5 minutes, add extract, then whisk gently to combine.