The adage that "baking is a science" has always bothered me. It's discouraging, frightening and dishonest – especially for someone like me who stopped caring for science when we quit rubbing balloons on our heads… I mean, ok, it's true, the chemical reactions that occur when wet meets dry and batter meets oven do require a certain preciseness, but it's hardly something to panic about. A little more here or a little less there… Eh… Not that big of a deal.
It's probably just me, but I used to make absolutely sure that I followed recipes exactly as they were composed. I was never short a grain of salt, my measuring cups were leveled perfectly, and I did only what my guide dictated.
I was afraid of recipes.
I remember my mom, not too many years ago, saying casually that, "baking is a science," and suddenly the once-innocent ingredients I'd laid out in front of me had become completely terrifying. I was utterly convinced that one stray speck of flour would throw everything into chaos; not only would my cupcakes turn fluorescent green and sink, but that one small speck of flour would surely make its way into my eye and blind me.
But of course, that was kind of silly. The recipes worked. Well, most of the time, anyway. I've stuck my fair share of cakes to their pans, and even caught cupcakes on fire (I couldn't figure out why my oven light was suddenly working again…), but over time I've realized that even if what I make doesn't turn out "right," it's certainly going to be edible (ok, maybe not charred cupcakes). And besides, who decides what is right, anyway?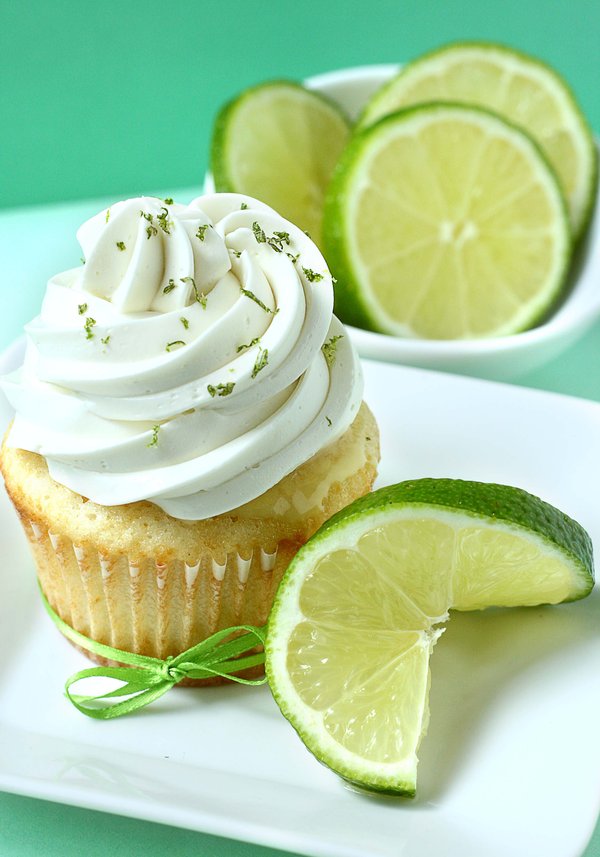 So when these cupcakes developed cracked, flat and ugly tops after I made alterations to a familiar recipe yesterday, I wasn't discouraged or at all upset with myself like I would have been in the past. On the contrary – after feeding my oblivious friends the delicious mistakes, I made a few changes and tried again for the sake of taking photos and sharing the recipe with you guys.
This time I got it "right."
Lime Cupcakes
Vanilla Cupcakes
The one thing I think is VERY important and want to stress is to make sure your ingredients are at room temp. Slice the butter so it warms more quickly, microwave your milk for 20 or so seconds, and set your eggs in warm water for 15 or so minutes before separating. If a little yolk gets in the mix, don't worry about it. If you don't want to waste yolks, use one whole egg. If you hate mayo, use sour cream (I would have, but I didn't have any so I decided to try it out! Mayo works for chocolate cake, right?). Improvisation is a very important and very rewarding part of baking!
Printable Recipe
1/4 tsp salt
1 1/4 tsp baking powder
1 1/4 c (156 g) flour
6 Tbls (85 g) butter, room temp
3/4 c (149 g) sugar
1/8 c (30 ml) mayo
2 egg whites, room temp
1 tsp vanilla
1/2 c (118 ml) milk, microwaved for 20 seconds to warm slightly
Preheat oven to 350F (175C) and line a cupcake tin.
Combine salt, baking powder and flour and set aside.
Cream the butter and sugar, then add the mayo and mix until well combined. Add whites and vanilla, then beat until combined. Now add the 1/4 c of the milk, then half of the flour mixture, being sure to scrape down the sides of the bowl and mixing just until combined. Add the remaining milk, then the remaining flour mixture, and spoon into liners. Bake for 15-18 minutes.
Makes about 12
Lime Curd
1/2 c (99 g) sugar
1 Tbls lime zest
1/2 c (118 ml) lime juice
2 yolks, light beaten
1/4 c (59 g)butter, sliced
Put the egg yolks into a medium bowl. Set aside.
Put the sugar, zest and juice into a small pan over medium-high heat and bring to a boil, stirring occasionally. Now pour a small amount of the boiling mixture into the egg yolks, whisking continuously until thoroughly incorporated. Continue whisking and adding small amounts until it's all been combined, then pour back into the saucepan and resume cooking over medium-high heat until very thick, 10-12 minutes. It will be like pudding when it's ready.
Now add the butter, whisking until completely melted. Remove from heat, pour through sieve, and press plastic wrap directly onto the surface to prevent a skin. Chill until very cold, about 3 hours.
Swiss Meringue Buttercream
Please click here for a step-by-step guide to making Swiss Meringue Buttercream and troubleshooting tips!
1 c (199 g) sugar
5 egg whites
18 tbls (256 g) unsalted butter, softened slightly and sliced
2 tsp vanilla
Cook the egg whites and sugar over medium heat, whisking constantly, until the sugar is completely dissolved (test by rubbing some between your fingers. If it's completely smooth, it's done). Pour into another bowl (a stand mixer is preferable) and whip on high speed until room temp. Then, on a medium-slow speed, add the butter, waiting until each piece is completely incorporated before adding the next. The buttercream may turn into a soupy curdled mess, but I assure you it will be ok; just beat the crap out of it for a few minutes. It'll come together, and when it does, you should add your vanilla 🙂
Assembly
Spread a thin layer of lime curd on each cupcake (I learned the hard way that too much will make your icing slide and your table a sticky mess, so don't be too generous!) and frost with an ample amount of buttercream. Sprinkle with lime zest and enjoy!