I found myself growing quite upset as I stood outside my house early yesterday morning. Even though I'd just returned home from a great night with friends, I couldn't shake the frustration taking root in my core as I cooed patiently to my dog. My lips parted for a quick, "good pup," but what followed the innocent action shocked me; a short breath escaped – and I saw it.
I've been combating these recent and numerous cold nights with whining exclamations of "it's still August! That's summer!" and cozy hoodies, but it's completely clear that fall is here. I nearly choked when I saw a yellowing leaf hanging obnoxiously from a sad-looking tree last week, and I couldn't believe my eyes when I saw school buses out practicing their routes just two days ago. For weeks, I've watched mothers and fathers eagerly snatching up deals while their empty-eyed children grudgingly select matching supplies for the school year ahead, and I've even found myself scouring weekly ads to determine where I should buy my supplies (Office Max has the best prices!). I've unsuccessfully tried to ignore the signs of fall. I'm subconsciously giving in.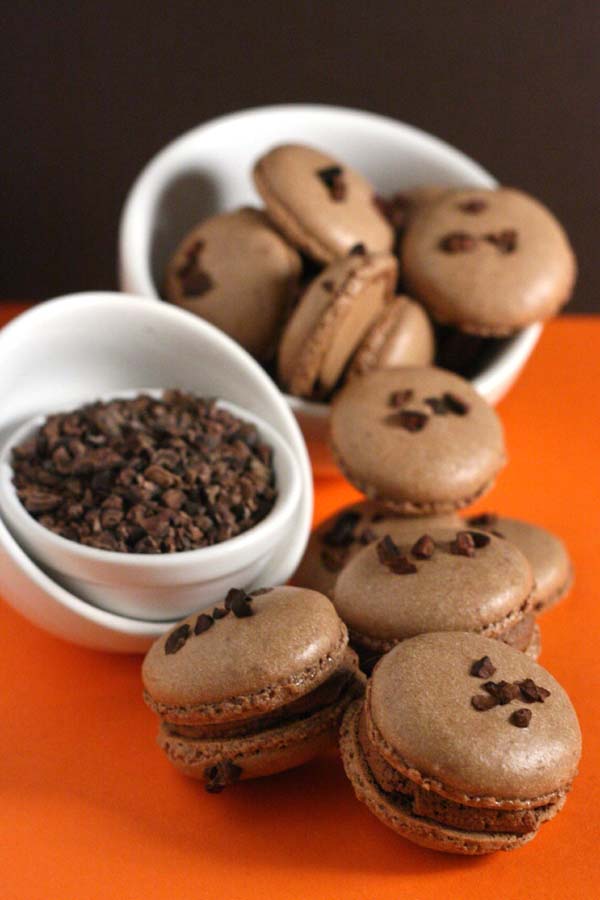 Even my baking has taken a turn with the season. I find that I'm envisioning heavier recipes, laden with pumpkin or apples, accented with warm spices and often containing chocolate (although, not all at once. Hmm… But why not…?). When fall rolls into town and I take up a second residence in my favorite sweater, summery flavors go by the wayside while heartier and comforting ones come into play.
Take, for example, these macarons. Chocolate and peanut butter is admittedly the most uninspired flavor combination known to man, but it works, so I employ it. Its familiarity is approachable, simple and comforting, which is all I want from a recipe at this time of year.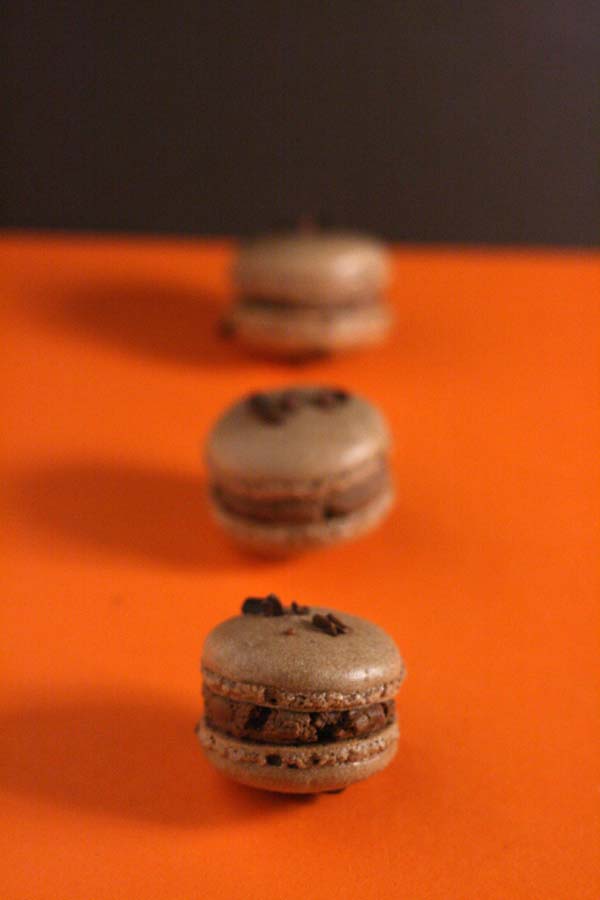 I suppose if you can't beat 'em, join 'em.
The Alternate Reeses
The bitter cocoa nibs sprinkled on top of these macarons add an extra addictive crunch. You may want to serve these with milk!
Printable Recipe
2 egg whites, room temp
65g almond meal
115g powdered sugar
10g cocoa powder
15g sugar
Cocoa nibs (optional)
Place an unlined shiny baking sheet (to prevent browning) onto your oven's top rack and preheat the oven to 325F.
Prepare a piping bag with a round tip. I like to put mine in a glass so I can simply pour in the macaronage/batter and begin piping as quickly as possible.
Beat the egg whites into a foam, and gradually add the granulated sugar. Continue beating until the meringue no longer slides when you tip the bowl, being very careful not to overbeat. Sift the almond meal, powdered sugar and cocoa powder over the meringue and fold to combine. Continue mixing just until ribbons settle indistinguishably into the macaronage. Pour into your piping bag and pipe small rounds onto sheets of parchment paper. Sprinkle with cocoa nibs.
Bake 15-20 minutes on a baking sheet below the one already in the oven.
Chocolate Peanut Butter Ganache
I had ab it of trouble with my ganache becoming too hard at room temp. You may find that you need to add more cream to yours to get it to the right consistency. Don't be worried about messing with the measurements- it's pretty forgiving stuff!
Scant 1/2 c heavy cream
1/4 c dark chocolate
Peanut butter
Heat the cream until steaming, then pour over the chocolate. Set about five minutes then whisk to melt the chocolate. Allow to cool to room temp (put it in the fridge or freezer if you like), then whip in the peanut butter to taste.