I've been spending the past few weeks stubbornly wearing short sleeve shirts and sandals to class in protest of the dying summer. In complete denial, I check the temperature every morning before I head out, refusing to believe that the 54F displayed on my monitor is actually anything less than 75F.
And so I don my skirts, bury my socks deep into my drawers and toss my hoodies into the darkened corners of my tiny closet. I may shiver a bit on the way to class, but at least I can pretend that the sunlight glimmering through the red and orange leaves is warm as it lights up the path in patches around me.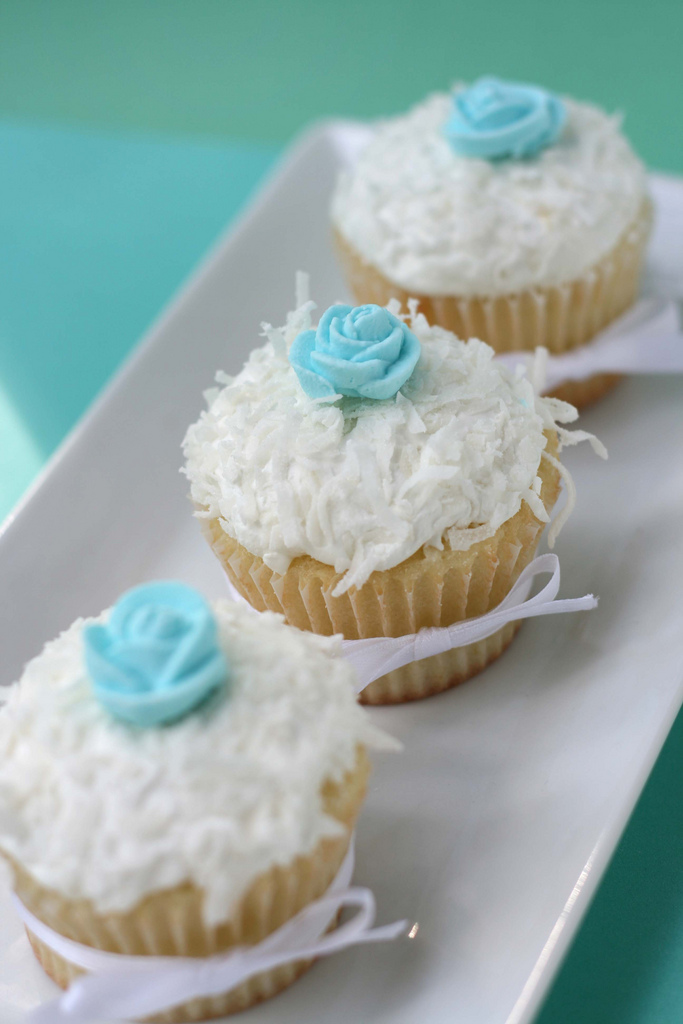 So, what do these sunshiney cupcakes have to do with cold weather and the change of seasons? Why, everything, of course! Even though I grow more of an appreciation for natural colors and heartier flavors during this time of year, I'm not yet completely prepared to accept the yellows, oranges, reds, browns and earthy greens surrounding me. It's certainly beautiful, especially on days like today when the sky casts itself the perfect shade of blue behind lazily painted trees, but it's saddening because the season is so fleeting. It means that it will be but a few short weeks before I lose the ground to an unforgiving and thick coating of white snow…
Since that's just not something I care to think about right now, I devised these little cuties: Almost Coconut Cupcakes.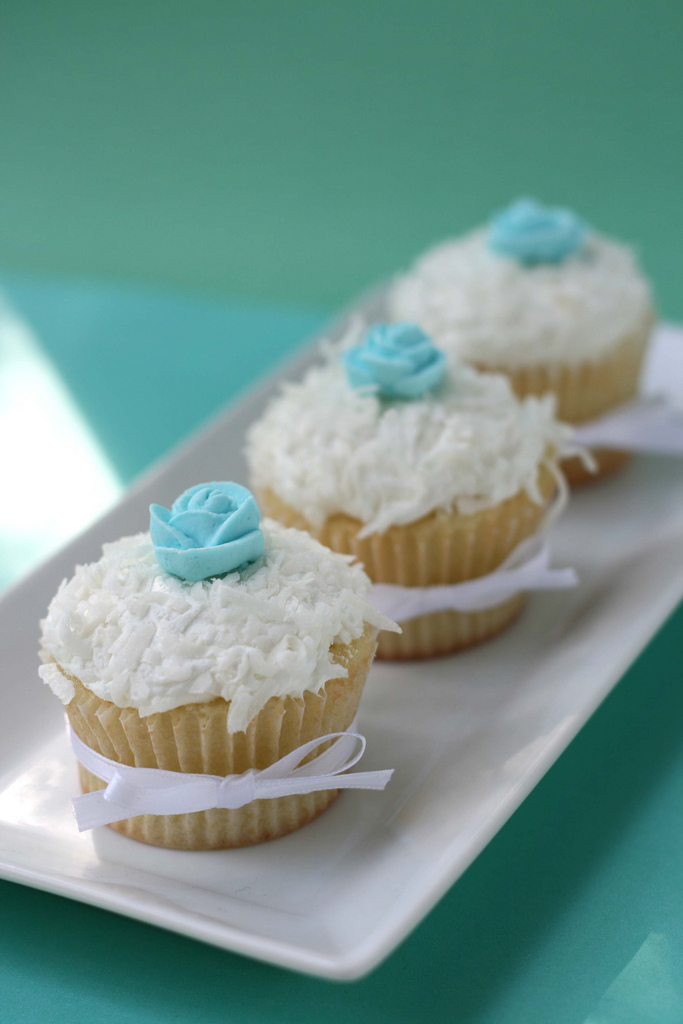 Why "Almost?" Because, despite my best efforts, these cupcakes just aren't very coconut-y. I thought I had a vial of coconut extract in my pantry, but I was kind of completely wrong, and also too lazy/cheap to go buy more. So I continued with an altered version of what I had been planning, which resulted in something delicious, but not perfect.
But in all honesty, I'm ok with that. I got just the summer pick-me-up that I was after, and it was enough to make me smile!

Almost Coconut Cupcakes (adapted from here)
Add 1 1/2 tsp coconut extract and increase the amount of mixed-in coconut for a true coconut cupcake. Or omit the coconut completely for a good-textured vanilla cupcake! The coconut milk doesn't add much for flavor, but I think it makes the cakes more moist.
Printable Recipe
1 c (237 g) unsalted butter, at room temp
2 c (397 g) sugar
2 eggs and 3 egg whites at room temp
1 tsp vanilla
2 c (250 g) cake flour
1 tsp salt
1.5 tsp baking powder
1 c (237 ml) coconut milk
1/2 c shredded coconut
Preheat the oven to 350F (175C). Line 3 cupcake tins (you may need fewer, I baked two six inch cake layers + cupcakes). Set aside.
Cream together the butter and sugar. Add the two whole eggs, one at a time, and reserve the remaining three whites. Add the vanilla. Sift together the dry ingredients in a separate bowl, then sift half off them into the egg and butter mixture. Beat until almost completely combined, then add half of the coconut milk. Beat until combined, scraping the sides and bottom of bowl, then sift in the remaining dry ingredients, beat, and add the rest of the coconut milk.
In another bowl, whip the egg whites to soft peaks. Fold into the batter along with coconut, and divide into pans. Bake 15-20 minutes.

Seven Minute Frosting (from Allrecipes
2 egg whites
1 1/2 c (298 g) sugar
1/3 c (78 ml) water
1 tsp vanilla
In a double boiler, combine all ingredients but vanilla. Beat for one minute. Boil water and cook 7 minutes, whisking/beating (I would recommend an electric beater. I did it by hand and it took AGES) constantly until it forms stiff peaks. Remove from heat, beat in vanilla, and allow to cool before spreading on cupcakes. Dip in coconut, if desired.