Lazily opening my eyes around nine or eight-thirty each Sunday, I slowly go over my "to do" list for the afternoon. Briefly, I consider outlining an essay or reading for class before breakfast, but after slipping into my jeans, hoodie and Doc's, somehow grabbing a bowl of cereal or a bagel from the cafeteria sounds infinitely more appealing. A quick scan of my bookshelf as I reach for my keys engraves pending obligations in my mind; folders thick with returned papers and assignments, notebooks heavily detailed with lines and sarcastic commentary from lectures, and more books – fat with all types of information – than I care to count. Organized by height, the monotony is sporadically broken by a few personal items:
An impressively worn sketchbook.
An empty CD case.
A small notebook of baking ideas and inspiration.
I can't help but open the cookbook from time to time, inspiring a painful craving to be composing, once again, in my kitchen back home. It's bizarre for me to look in a mirror and realize that, for once in my life, I'm not sporting trendy splatters of dried batter or a modern gradient-like dusting of flour across my shirt. I've never been happier than I am now at school, but I'm completely aware that an important part of my life is being neglected.
But neglected is not the same as missing; on those Sunday mornings when I walk to the cafeteria with my roommate, K, I'm envious of my boyfriend, P, who is working in the bakery on campus. The lucky guy's getting paid to portion/bake/decorate cookies and whip up massive quantities of brownie/cake/cheesecake batter, and I get to hear all about it. After being "up to his elbows in brownie batter," for a few hours (depending on the day of course), P comes back to the dorm with a huge smile on his face and at least one killer story to tell.
And a few weeks ago he brought back more than a story; after riding his bike back to the dorm, he relieved two bags of sugar cookies (a dozen each) from his hands onto my bed, along with a chocolate chip pizza cookie crust, two cake rounds, and half a sheet cake, all of which were carefully removed from his backpack. The story this time was that the bakery had baked in excess, consequently finding themselves with more sugary goodness than was needed to supply the campus cafeterias for the week. Not wanting it to go to waste, his boss had offered the extras to the employees after the shift was over.
A little overwhelmed by the desserts occupying my bed, he said he was taking some of the stuff to our friends Z and S's apartment later that evening. After depositing the sugar cookies in the cookie jar on my desk, I turned my attention to the remaining half sheet cake on my pillow. P told me that he thought I'd be able to do something with it, maybe if I took it to the bakery where I work.
So I did, of course. After calling my boss to confirm that I'd be able to come to the bakery and hang out on the weekend, I started thinking of what I wanted to do with the cake. P suggested using hazelnuts, and K has a thing for chocolate, so incorporating the two was a must. A quick walk through the co-op (just two doors down from the bakery) left me with a bag of hazelnuts, an orange, and the hopes that the flavors would blend as well as I thought they might in my mind.
I juiced the orange into a small sauce pan and added an equal amount of sugar, heating the two just enough to dissolve while the hazelnuts roasted in the oven. As the orange syrup cooled, I skinned the hazelnuts in a small cloth and poured them into the food processor to make a quick hazelnut butter.
It smelled fantastic. Just sayin'.
My boss told me to feel free to use the Italian Meringue Buttercream and chocolate ganache leftover from wedding cakes in the fridge, which significantly sped up the assembly process. The cake was halved and split, leaving me with four layers (one of which I didn't use). After scoring and drizzling them with the orange syrup, I spread a generous amount of hazelnut butter over the layers, and topped with vanilla buttercream. They were stacked quickly, and before throwing it all into the freezer, I crumb coated it thinly with more buttercream. After a brief chill, the cake was finished with a rich ganache coating.
Perfect!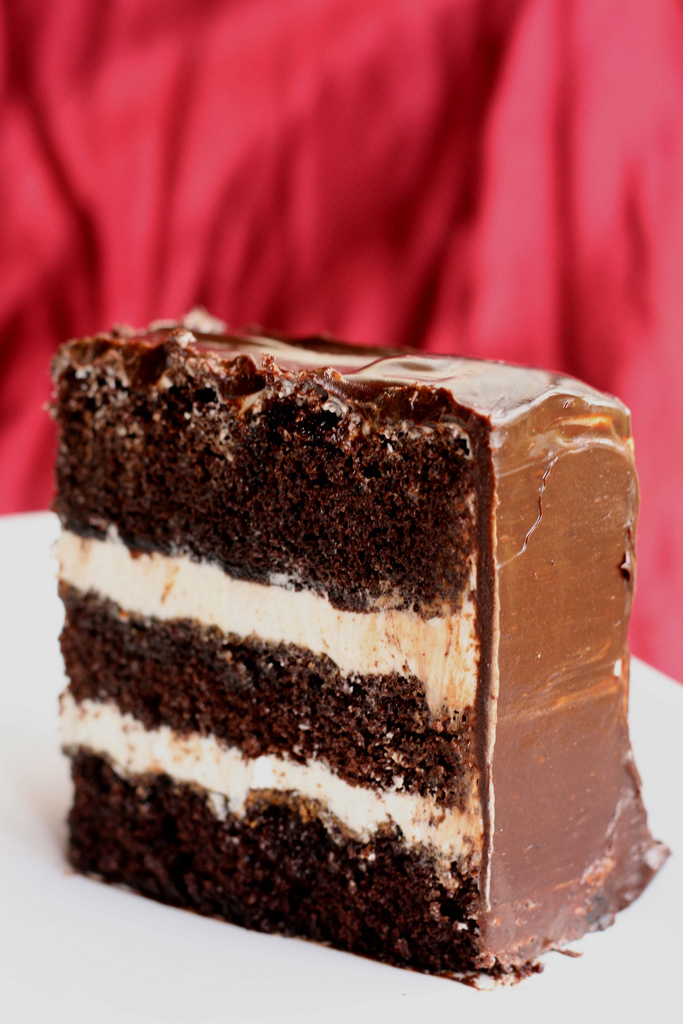 The orange flavor was a little difficult to detect, but the cake went over very well. I was really happy with how it turned out, especially because it was made of so many leftovers and extras.
I guess in college you've just gotta be resourceful.
That works just fine for me!