I stood, feet comfortably planted at the bakery, watching a glistening thread of real maple syrup weave slowly into a measuring glass. This one cup of liquid gold destined for what was sure to be a delicious – and very fitting – cake.
A slick smile spread across my lips.
Perusing the shelves, I located the standard dry goods along with brown sugar and cinnamon – two very traditional components for any dessert involving maple – and began the mise en place. I carefully measured and gently compacted the sugar, which landed solidly over the softened butter in a large mixing bowl as it is apt to do. I was conversely lax with the measurement of the cinnamon which, after generously scooping out a mound of the powdered comfort, dusted a familiar pattern over the flour in the dry-goods bowl.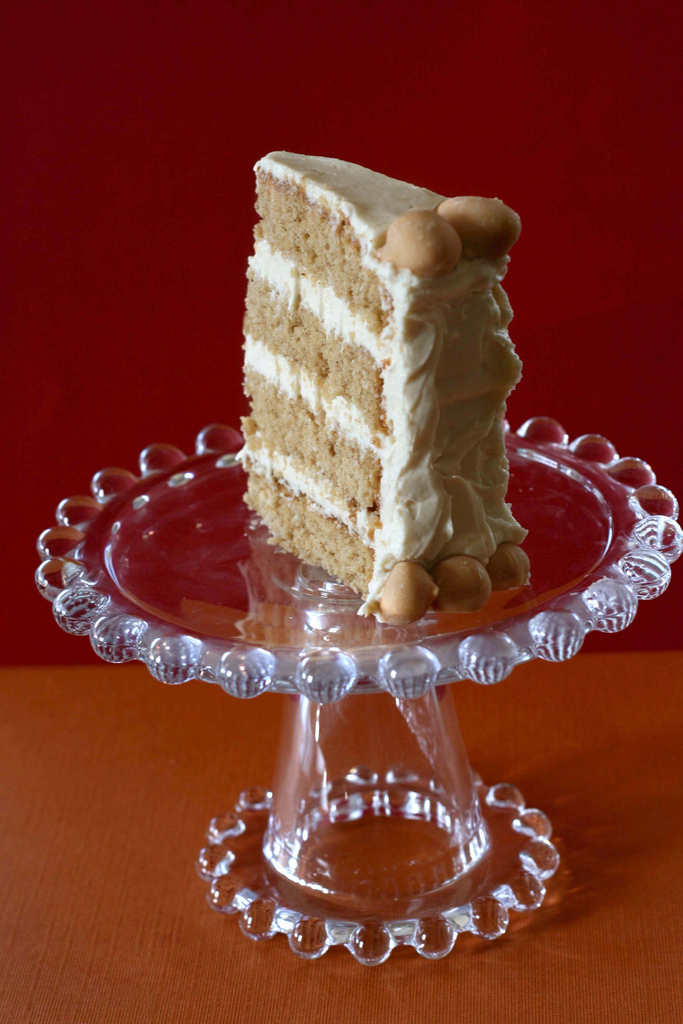 Earlier in the week, I had told P – quite definitely, mind you – that I would be baking his birthday cake sometime over the weekend. And now, on a Tuesday, after placing the rounds in the oven and consulting my watch, I knew I would need to formulate some sort of excuse as to why I wasn't around that evening if I planned on keeping the whole "early cake" thing a surprise. I had, of course, gone to the mall to shop for birthday presents. Right? Not exactly smooth, but completely legit, yes?
And on Wednesday evening when I disappeared to frost the cake? Well I'd, of course, gone to Meijer with my brother to search for a better cable converter box for the TV he brought my roommate and I. (As a side note here, I just want to say that my brother drove me to the bakery and sat there, patiently waiting, while I frosted the cake. Isn't that awesome of him?)
Around 10PM on Wednesday, the finished cake was delivered to S's and Z's apartment (Again, thanks to the bro!). Neatly topping it with 21 tall multi-colored candles, S and I discussed the details of the surprise party that she was going to orchestrate the following evening. I explained that I would contact her when P and I were walking home from dinner so they, along with a few other friends, could be ready.
P seemed completely oblivious (I mean that in the nicest way possible!), but apparently I was acting a little strangely on Thursday before dinner and he figured out our little plot! Gr!
This cake has been in the forefront of my mind for weeks. The combination of maple and peanut butter was surprising to a few people, but far from outlandish. I likened it to peanut butter and honey to quell the doubt of the nonbelievers, but there weren't many people that I truly had to convince. But why this combo? Easy; on the days when the cafeteria is serving a particularly crappy meal for breakfast, P sometimes opts for a waffle, which he tops with a combination of maple syrup and peanut butter (microwaved and mixed together, of course). So one morning, when asked which kind of cake he'd like for his birthday, P toyed idly with his mug and said simply, "something with coffee. Or peanut butter." Guess which I chose?
He makes it too easy.
By the way, I wouldn't recommend combining coffee and peanut butter. It's not very tasty…. 😛
Maple Cake, adapted from Sky High
Printable Recipe
2 c (250 g) cake flour
1 1/2 tsp cinnamon (or more!)
1 tsp soda
1/2 tsp salt
1 c (237 ml) grade A maple syrup
2/3 c (156 ml) milk room temp
1/2 c (118 g) butter, room temp
3/4 c (107 g) brown sugar
1 egg, room temp
Preheat the oven to 325F (160C) and grease/line two six inch cake pans.
Sift together the dry ingredients in a small bowl. Set aside.
Combine the maple syrup and milk in another small bowl and set aside.
Cream the butter and sugar. Beat in the egg. Add the wet and dry ingredients in two parts each, beginning with the dry. Alternate and scrape the bowl between each addition. Pour into prepared pans and bake 20-25 minutes or until a toothpick inserted into the cake comes out clean.
Peanut Butter Italian Meringue Buttercream via Martha Stewart
For step-by-step directions for making Italian Meringue Buttercream, please click here!
1 1/4 (248 g) cups sugar
2/3 c (156 ml) water
5 large egg whites, room temp
2 c (236 g) butter, cubed at room temp
Peanut butter, to taste
Bring sugar and 2/3 c (156 ml) water to a boil. Boil until syrup reaches 238F (114C) (soft ball stage).
Meanwhile, beat the egg whites on low speed until foamy in a stand mixer. and beat on medium-high speed until stiff but not dry; do not overbeat! You have to be careful with your timing on this. I usually start beating the eggs when the temp of the sugar is around 228F (109C).
With mixer running, add syrup to whites in a stream being careful not to hit the beaters or the walls of the bowl. Beat on high speed until no longer steaming, about 3 minutes. Add butter piece by piece, beating until it's fully incorporated. Add the peanut butter and whip 2 minutes more.