A number of weeks ago, I completely lost my "macaron mojo." I turned out batch after batch of failed macs, finding myself more disappointed and discouraged as I scraped the cracked, bubbly and caramelized discs from their sheets. Truthfully, ragged, split and misshapen shells are no different from those that assume the proper rise and form, but these were no ordinary mistakes. What I'd been producing, time and time again, looked more like amaretti cookies than French macarons.
But rather than give up, I kept trying. Surely sick of my whining (I'd been droning on and on about macarons since I first failed), P was at my side in the kitchen and as determined as I was to produce at least one successful batch of macarons.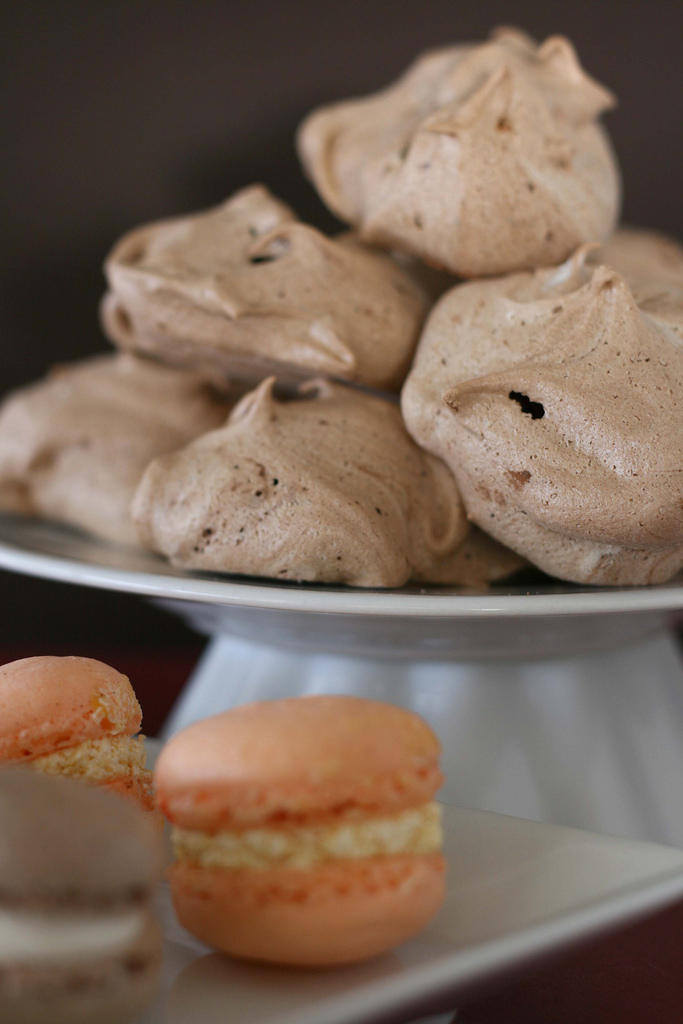 But that isn't where we started.
You see, P and I had different methods for whipping egg whites.
We talked about our different methods for whipping egg whites.
It turned out that my method was kinda wrong. I added the sugar waaaaaaaaaaaaaaay too early, which I learned inhibits the eggs ability to whip fully. So, since P wanted to make some meringues, he took the opportunity to teach me how to whip the whites correctly. From over my shoulder, as we watched the whites beat into a froth, he said that it was time to add in cream of tartar for stability – 1/8 tsp, sifted, per white. Then, as the whites continued to whip, he showed me exactly when the sugar was to be added. As soon as the whites came to soft peaks, he gently dusted it in while explaining the importance of timing and a slow speed. The former was detailed earlier, but as for the latter; adding the sugar too quickly would surely deflate the foam because, surprisingly enough, the sharp geometric shape of granular sugar doesn't mix very well with delicate bubbles!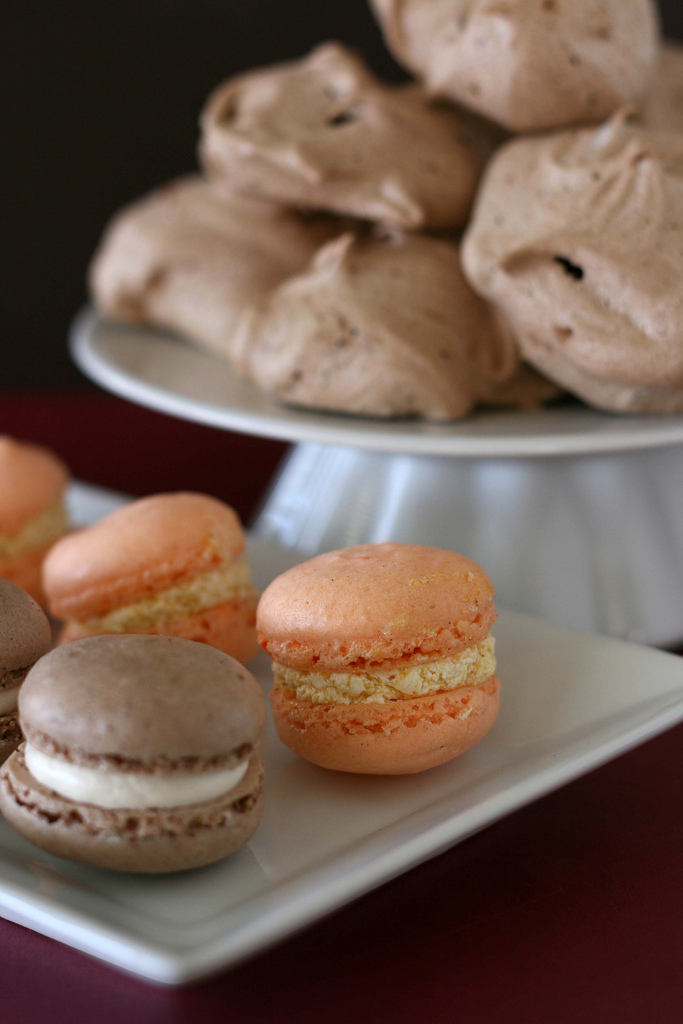 And, sure enough, P's egg whites whipped up beautifully. Shiny, stiff and definitely to a larger volume than I'd ever seen. After folding the cocoa and chocolate into his meringues and spooning the glossy batter onto a baking sheet, he started helping me with the macarons.
I added the cream of tartar, which is something I've never done before in macarons. Then I waited until P told me exactly when to add the sugar. He may have laughed at me a bit as I worried about over-whipping the whites, but I forgive him.
Maybe. You know, now that I think about it, he laughs at me a lot. Jerk.
On second thought, it's ok; he did fix my macarons, after all!
Needless to say (I sure haven't kept it much of a surprise!), after piping out and baking the shells, they were beautiful! Not perfect, but definitely good enough for me! I made a quick salted caramel on the stove that I melted into some buttercream, and added pumpkin puree to a separate batch. I had difficulties with both though. The caramel was a bit more solid than I would have liked, but that's no surprise considering I just eye-balled it all. As for the pumpkin… Well, water-y things don't really incorporate well into buttercream, do they? The taste was faint – just barely detectable – but not a favorite. We all definitely preferred the salted caramel!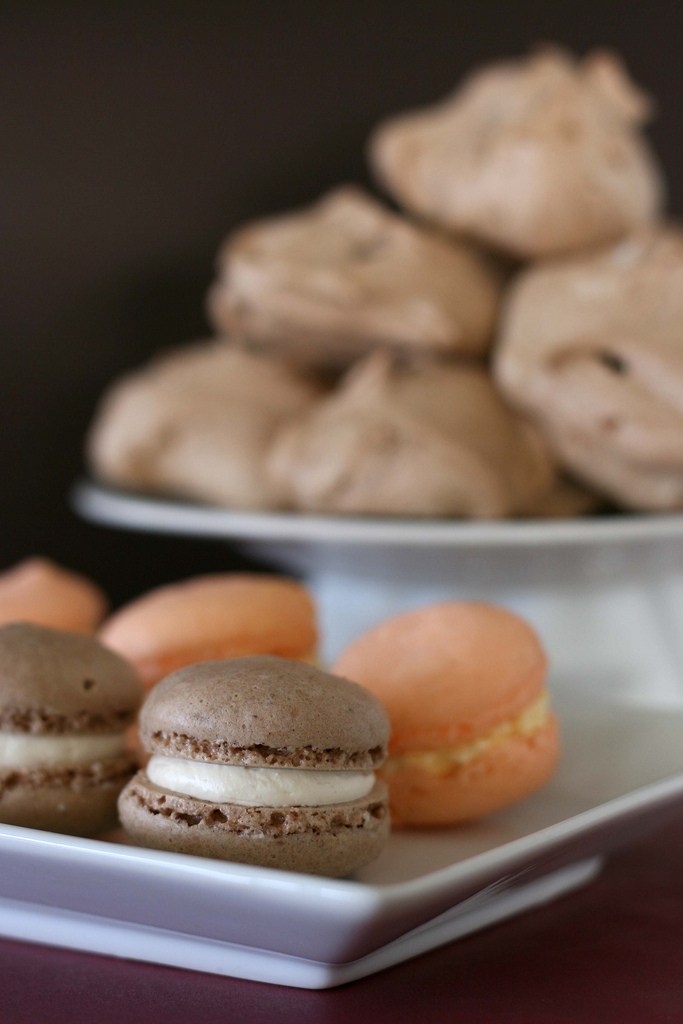 Ok, I'm going to quit rambling, so I'll keep this short, sweet and to the point: I've got my "macaron mojo" back, thanks to P!
Chocolate Meringues with Chocolate Chips
I'd never had a meringue before, and now I'll definitely be making them more often, myself. These are so good!
3 egg whites, room temp
3/8 tsp cream of tartar
3/4 c (149 g) sugar
2-3 Tbls cocoa
1 tsp vanilla
1/2 c (80 g) chocolate chips/chopped chocolate
Preheat the oven to 300F (150C).
Whip the egg whites to a foam on a medium speed, then sift in the cream of tartar. Continue whipping to soft peaks on medium speed, then increase the speed and begin adding the sugar in a slow, steady speed. After the whites reach stiff peaks, pour in the vanilla and whip just to combine. Now sift the cocoa over the egg whites and sprinkle the chocolate on top. Fold gently to combine then drop in heaping spoonfuls on a lined baking sheet. Bake 35-40 minutes. Store in an air-tight container.
Macaron Shells
7 Tbls (40 g) almond meal
1/3 c + 1 Tbls (65g) powdered sugar
1 egg white, room temp
1/8 tsp cream of tartar
1 Tbls + 1/2 tsp (15g) granulated sugar
Preheat the oven to 280F.
Combine the almond meal and powdered sugar in a small bowl and set aside.
In another bowl, beat the egg to a foam and add the cream of tartar. Continue beating to soft peaks and add the sugar. Beat until completely combined and the mass doesn't shift when the bowl is tipped upside down. Sift the dry ingredients over the top and fold in carefully. Pour the batter into a piping bag, pipe rounds onto a lined baking sheet and let set out until they are no longer sticky to the touch. Bake 10-15 minutes.
Chocolate Macaron Shells
7 Tbls (40 g) almond meal
1/3 c + 1 tsp (62g) powdered sugar
2 tsp cocoa powder
1 egg white, room temp
1/8 tsp cream of tartar
1 Tbls + 1/2 tsp (15g) granulated sugar
Follow the same method as before, but add the cocoa powder in with the powdered sugar and almond meal.
Salted Caramel
This is what I did off the top of my head and it worked beautifully. However, when P tried to do it again on Thanksgiving for his family, it didn't work for him at all… In all honesty, I would go with a more scientific approach and pick a well-tested recipe. And use a candy thermometer for best results. You really just want a sauce, not a thick caramel.
1/2 c (99 g) sugar
1/2 c (118 ml) water
2 Tbls cream
1/4 tsp salt
Prepare a small oiled bowl and set aside.
Cook the sugar and water over high heat, paying careful attention not to burn it. When it turns a nice amber color, add the cream slowly, then the salt. Stir until completely combined and no longer bubbling, then pour into the prepared bowl to cool. When cooled completely, add to a small amount of buttercream.