It was the best of cakes, it was the worst of cakes.
Sitting side by side on my bed and typing awkwardly on a laptop balanced between our laps, P and I conversed through MS Word. In the bizarre, urgent and secretive exchange, he and I discussed what we would bake that evening while keeping our intentions completely private.
From across the room, K raised an eyebrow at our behavior as she gently rocked the channel-changing button on the remote. You could almost see the realization spread over her face; the faint curiosity and slight fear that she always associates with baking where P and I are concerned. After three months of living in a comfortably-cramped dorm room with me, K had quite clearly concluded that it's often just best not to ask when I'm sitting within a halo of open, annotated and earmarked cookbooks.
I have gone off on so many baking/food related rants this semester… That poor girl!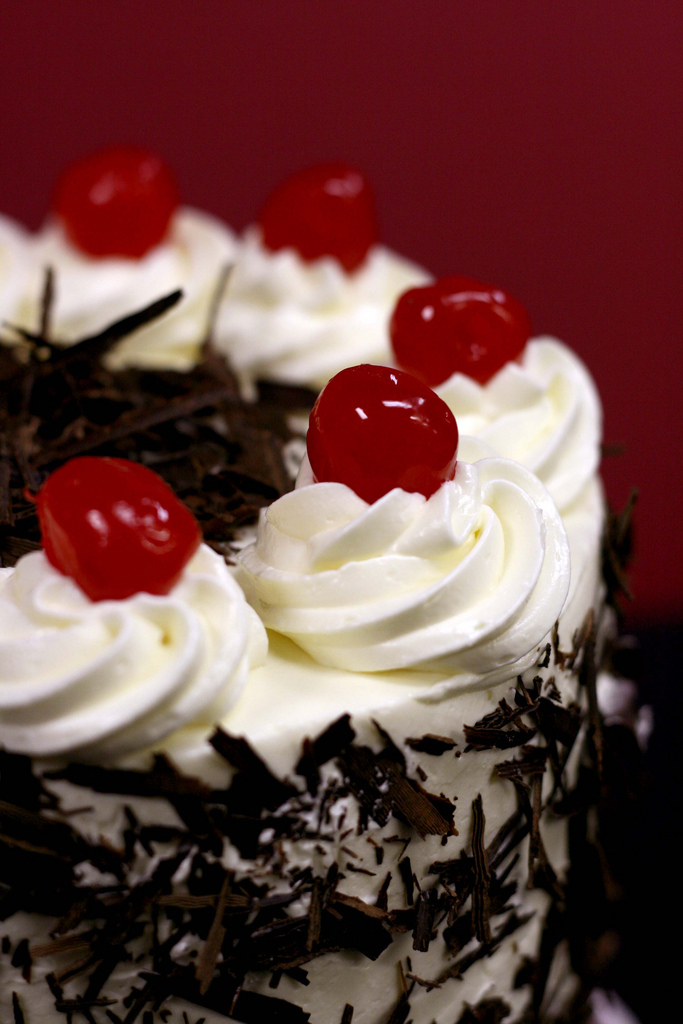 Anyway, P had told me earlier that he was in a baking mood and asked me if I had any suggestions as to what we could whip up. I reached immediately for my laptop, frantically opened up Word, and slightly frightened P in the process. But no sooner had the words "Black Forest" left my fingers, letter by letter and key by key, P's fingers ushered mine aside and danced
"for K?"
quickly over the board.
We were totally on the same page. It was time for cake.
But after buying ingredients and setting up in the kitchen, P and I began to question the cake. Four layers tall and filled with whipping cream, we were sure that this behemoth was going to fall, especially after we failed to stabilize the cream with gelatin. Rolling the bowl of soupy white foam back and forth, I contemplated its use. Although delicious, I decided that whipped cream is unstable and unsuitable for use as cake filling or frosting.
Then I used it anyway.
Take my advice. Don't do it.
P and I had baked four six-inch layers, which meant there was enough for two cakes. Not wanting the remaining two layers to go to waste, I suggested that P make his own. You should have seen the look on his face – he got so excited! In a frenzy, he immediately began scrawling out ideas, chattering excitedly about how he hadn't expected this and how unprepared he was. It was sexy in a way that I'm sure only a person obsessed with baking like myself can truly appreciate. Otherwise, it was just really cute. He said it was going to be the first cake he had ever made from scratch from start to finish. Totally awesome!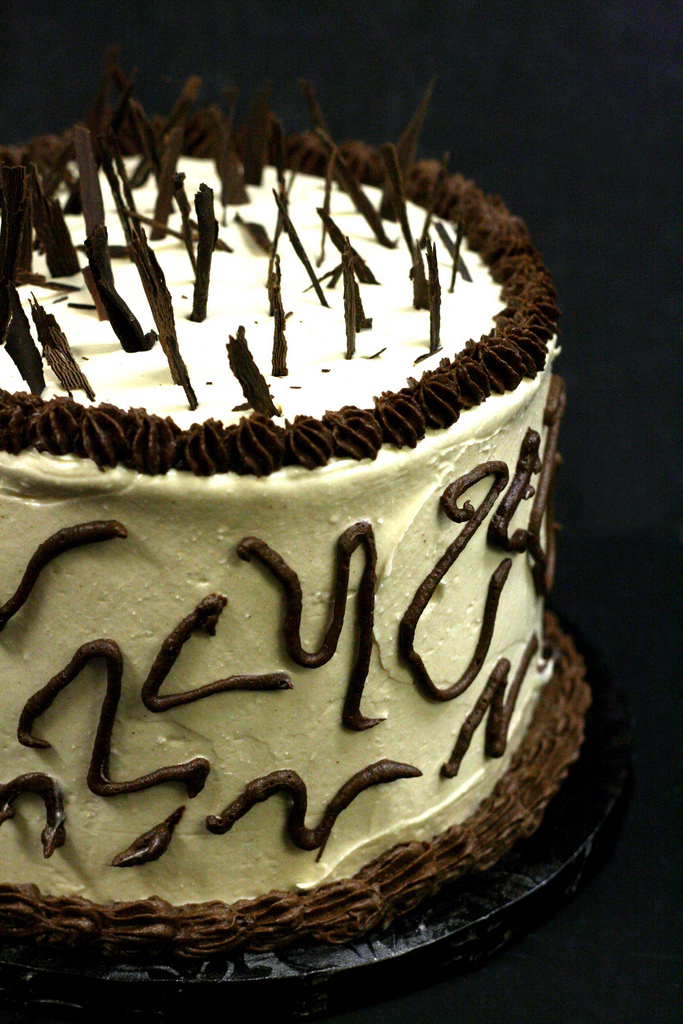 ANYWAY!
We were frosting our two very different cakes at the same time. P filled his effortlessly with alternating layers of vanilla buttercream and peanut butter ganache, while I struggled with the whipped cream and cherry jam. There was an epic battle taking place within me – an internal struggle as I pitted authenticity against structure and flavor against strength. I had no choice but to go with the whipped cream, so, as I said, I did.
And as I said before. Don't do it.
After the monstrosity was filled and stacked, it wobbled and shook precariously as I walked it to the freezer. It didn't happen, but I was certain on more than one occasion over the course of the 15 foot journey to the freezer that the cake would surely topple and fall. Watching the cream filling bulge from between the levels as I set it on the shelf was the final straw. Screw authenticity – I was going to frost the entire pain in the butt with a buttercream exoskeleton. That oughta teach it to behave!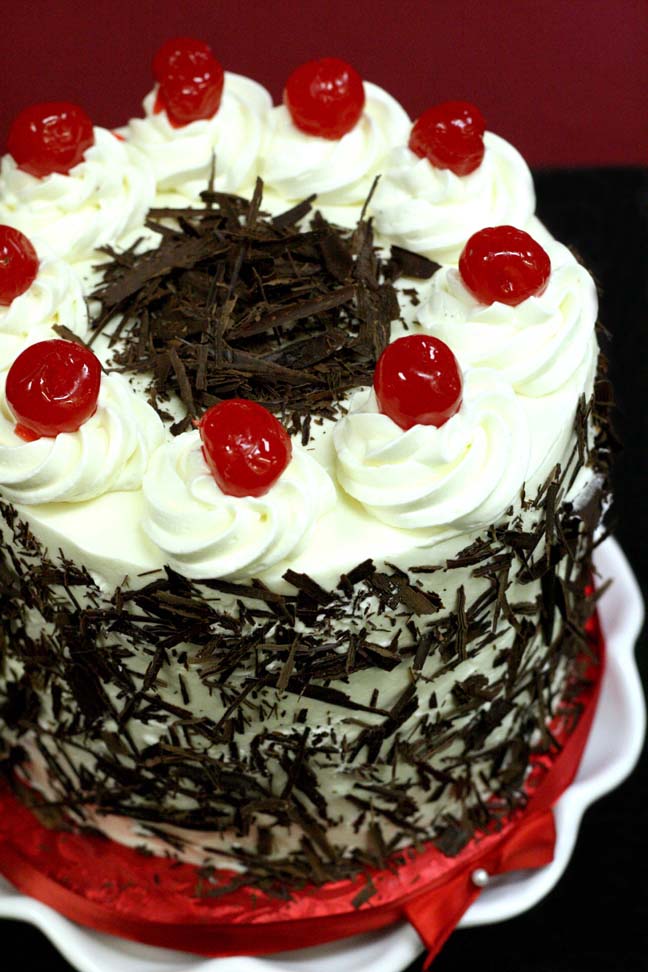 The next step was to make chocolate shavings for the exterior. P cleaned up his station (covered in peanut butter buttercream. His cake smelled so good!) as we discussed technique. I'd read about it; the process involved pouring melted chocolate over a cool surface and allowing it to set before scraping it with a bench scraper. It sounded simple enough, and although we had some trouble and didn't get many perfect curls, it was still a fun experience and it produced a lot of very usable pieces!
After decorating, P and I cleaned up and prepared to surprise K with the cakes. They were sliced immediately following their presentations which, of course, fueled a bit of a competition between P and I. With two slices of mine gone and only one of his, we were eager to see whose would be finished first. P emerged the victor a few days later, but I don't credit his victory to sharing with friends. I'm quite certain he snuck into my room for cake while I was in class, the little cheater!
Ha – Just kidding!
Sandy's Chocolate Cake via Allrecipes
This is a very dense, moist and chocolaty cake. If I'm making a chocolate cake, it's going to be this one. Every time. Use half of this recipe if you want to make just one six inch cake!
2 2/3 c (333 g) all-purpose flour
3/4 c (65 g) baking cocoa
1 Tbls baking soda
1/2 tsp salt
1 c (237 g) butter, softened
3 c (426 g) packed brown sugar
4 eggs, room temp
2 tsp vanilla extract
1 1/3 c (315 ml) sour cream
1 1/3 c (315 ml) boiling water
Preheat oven to 350F (175C). Oil and line either two 9-inch pans or four 6-inch pans. Set aside.
Sift together the flour, cocoa, soda and salt in a large bowl and set aside.
Cream the butter and add the sugar, then whip until lightened. Add the eggs, one at a time, followed by the vanilla. Add in about a third of the dry ingredients, then half of the sour cream. Repeat, ending with the dry ingredients. Briefly stir in the boiling water, pour into pans and bake 35 to 40 minutes.
Italian Meringue via Warren Brown
I would use this in place of the whipped cream as a filling for the Black Forest Cake. It's just the smart thing to do! Also, be advised that this will make more than you'll need for one cake, but I am not sure how much it needs to be reduced. Just be aware that you can freeze this; just allow it to come to room temp and whip it before using again.
1/2 c (126 ml) water
2 c (420 g) sugar
10 egg whites
1/2 c (106 g) sugar
2 c (474 g) butter, softened, cut into small pieces
2 tsp flavoring
Place the egg whites in the bowl of a standing mixer.
Heat the 2 c sugar and water on the stove to 245F stirring occasionally only after the sugar has been dissolved. When it is within the range of 230F to 235F, begin whipping the egg whites. When they get to soft peaks, begin adding the sugar and continue whipping to medium peaks, being careful not to overbeat. When the syrup is the correct temperature, slowly pour it into the eggs with the mixer on high. After fully incorporated, beat the frosting 7-10 minutes until the outside of the bowl is room temp (I usually go a little longer than this; often times the bowl is not room temp when I begin adding butter. If the mix seems to soupy, put it in the fridge for a few moments, and try briefly chilling some of the butter in the freezer before adding). Begin adding the butter, tablespoon by tablespoon, beating until fully incorporated. The frosting will deflate a little, but it's ok. Keep whipping until the frosting comes together (mine came together after adding just 4 of the 6 sticks of butter, so I didn't put any more in). Add your flavoring and whip to combine.
**For peanut butter frosting, simply add smooth peanut butter to taste.
On The Fly Cherry Jam
This stuff is pretty boozy, just so you know!
2 lbs (907 g) frozen cherries
1/2 c (118 ml) water
1/4 c (50 g) sugar
1 Tbls + 1 tsp corn starch
1 shot cherry brandy
Heat the cherries, water and sugar on the stove until softened and reduced. Sift in the cornstarch and continue cooking until thickened. Add the brandy and set aside to cool.
Peanut Butter Ganache
1 c (237 ml) heavy cream
1 1/2 c (241 g) dark chocolate, finely chopped
1/4 c (65 g) smooth peanut butter
Place the chocolate and peanut butter in a medium size bowl. Set aside
Heat the cream just to a boil and then pour over chocolate and peanut butter. Allow to set five minutes, then whisk to combine. Let cool to spreading consistency before using.
Assembly
Split and level layers.
For P's Peanut Butter Cake, put vanilla buttercream on the bottom layer, peanut butter ganache in the center, and vanilla buttercream on the top. Crumb coat and frost with peanut butter buttercream. Decorate with chocolate shavings/curls or as desired.
For the Black Forest Cake, pipe a thick border of vanilla buttercream around 3 of the four layers. Fill each with a layer of On The Fly Cherry Jam and top with a layer of vanilla buttercream. Stack, then crumb coat and frost with more vanilla buttercream. Decorate with maraschino cherries and chocolate shavings/curls or as desired.