I'm in a bit of an odd spot right now.
These past few weeks have gone by very quickly.
Too quickly.
As the semester wound down, I found myself wanting to do more. Experience more. I wanted more from time and I wanted more of it. Studying was, of course, very important as finals week rolled around, but it was the time I spent with people that I wanted more from. Sitting with my back to K's while we studied for exams at our desks, was painful; I was distracted because I felt that I was wasting time. While it was time well spent, it was time I would never get back. Time I couldn't spend talking to her.
I wondered if she felt the same.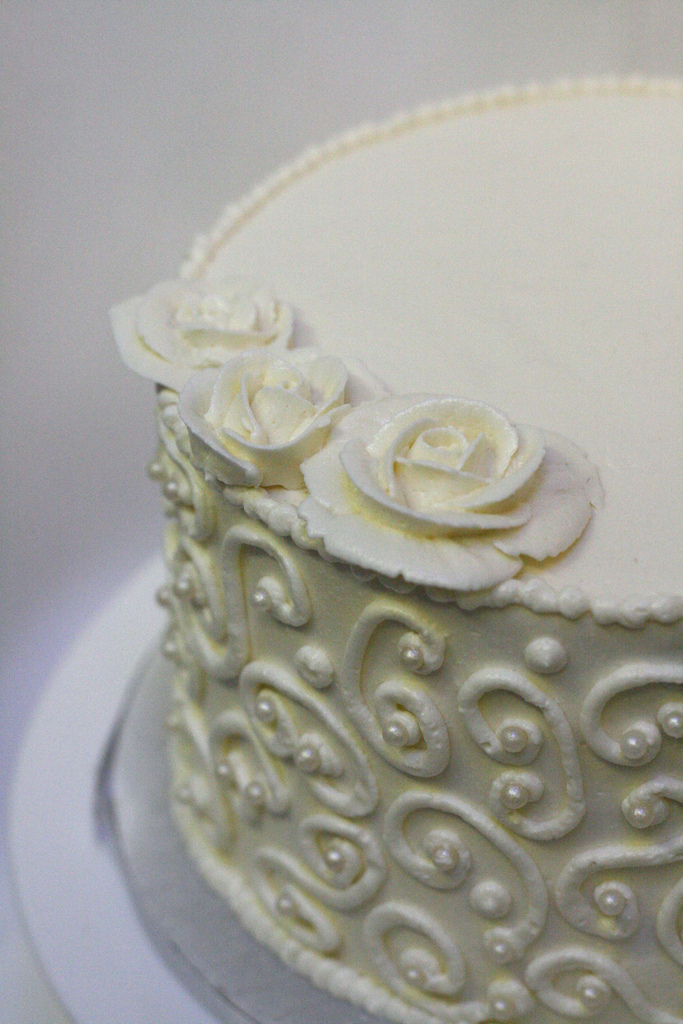 I met K the second week of school, playing ping pong in the dorm's rec room. We got along really well, and met for lunch almost every day. Because there had been an issue with her assigned roommate that prevented her from making it to the school, K was in a single. And, although I was on good terms with my old roommate, I decided to move in with K when she asked me to a few weeks later.
Living with her last semester made it so much more enriching for me. She became one of my best friends. With a fondness for desserts, a love of Pink's 5 for $25 panties, an interest in traveling and better English than me, K and I discovered that we were a perfect match.
But, as you may have guessed, something's changed. The trouble is, K's an international student, and her semester abroad was over.
K went back home, for good, early Thursday morning. I cried as I hugged her goodbye, and many times the night before. However, as wet as my eyes were and as much as I miss her already, I'm happy for the amount of time I was able to spend with her. That I got to meet her. That we got to share all the experiences we did over this semester. Looking back on it, I now see those hours spent studying during finals week with our backs to one another as time very well spent. We understood that we each needed that time to work. We were sharing the college experience. We were happily sharing the truly boring and mundane moments of life. That's a true friend.
It's not always about words, because words cannot express how much I will miss living with her. Words can't even explain how thankful I was for the opportunity. Words are even failing me now as I try to scrawl out a simple "goodbye" to her because this isn't a goodbye. Although our relationship will never be the same, words can do one thing: keep us in contact. K, you've made my life so much better – I miss you so much!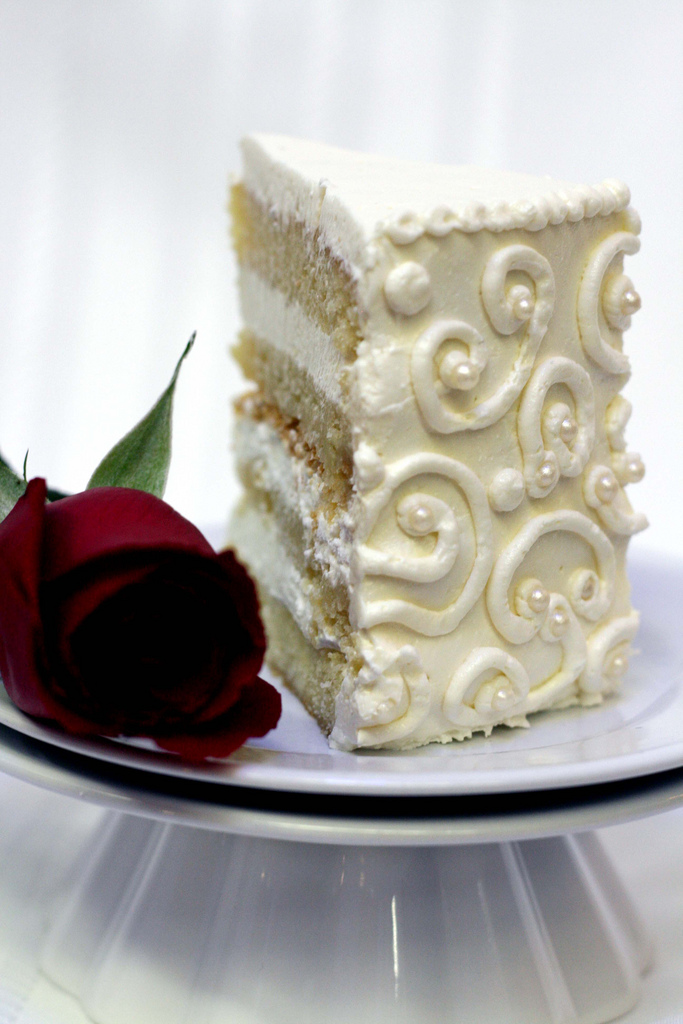 I've just finished my first semester of college. I've watched my best friend drive away in the bitter cold of an early December morning, while I stood waving, outside, in my pajamas. I've changed a lot since August, and I've been through so many new experiences thanks to her and everyone else I've met. Despite how sad I feel, I'm not unhappy; I am truly grateful that things have turned out the way they have.
Life is good, and I know it will only get better.
And, of course, it all starts with a cake. The first thing that I did when I finished unpacking after coming home for winter break was pull the flour and sugar out of the cabinets. I missed my grandma's birthday in my hectic struggle to do everything I'd planned before the semester ended, so I knew I owed her something special. This caramel cake is the one recently featured by the Daring Bakers with just a few changes. The most obvious being a layer of crisp meringue as a filling between two of the layers. It's something I'd discussed with P and K previously, but we were all unsure about how it would turn out. I know it sounds kind of bizarre, but trust me when I say that it really adds something special and interesting to the cake. It's something I will do again in the future.
Being at home has been completely different than living in the dorm, but it's definitely not bad. Although I miss K terribly, I am happy that we at least have our own families and friends to welcome us at home.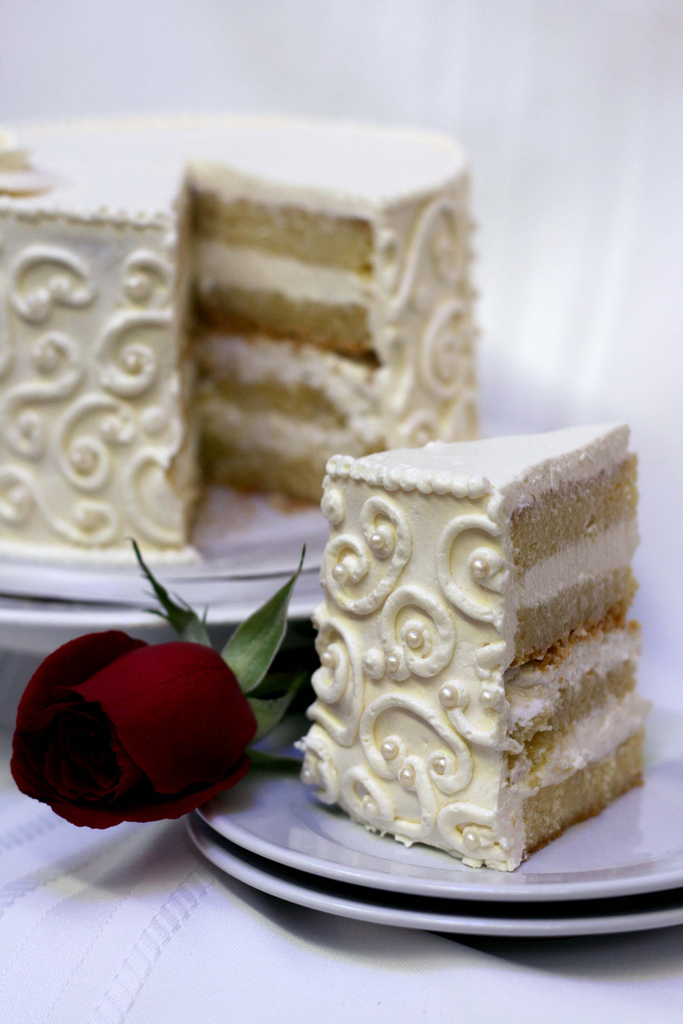 Right now, that's all I need.
Caramel Cake via Shuna Fish Lydon
This was a DB challenge recipe that I altered only slightly. It's very sweet!
Printable Recipe
Caramel Syrup
This makes a little more than you'll need, but I'm sure you can find some use for it.
4 c (795 g) sugar
3 c (710 g) water
Combine sugar and 1 c (237 ml) water in a saucepan. Cook, whisking occasionally only after sugar has been dissolved, until amber. Slowly pour in the remaining water (it's gonna steam, bubble and sputter – be careful!!!) to stop the caramelizing process and cook until reduced and sticky between two fingers after cooling on the back of a spoon.
Caramel Cake
I substituted half of the milk in the original recipe for sour cream. I'm sure it would be fine if it was all milk!
1 c + 4 Tbls (296 g) butter, softened
2 1/2 c (497 g) sugar
2/3 c (156 ml) caramel syrup, cooled
4 eggs, room temp
4 tsps vanilla
4 c (500 g) flour
1 tsp baking powder
1 tsp salt
1/2 c (118 ml) milk, warmed 10 seconds in the microwave
1/2 c (118 ml) sour cream
Preheat the oven to 350F (175C). Oil and line two 6-inch pans.
Cream the butter, then add the sugar and beat until light and fluffy. Add the caramel, and then the eggs, one by one. Add vanilla and beat until incorporated.
In a small bowl, mix together the flour, powder and salt. Sift half into the wet ingredients, mix, add the milk and sour cream then mix again. Sift in the remaining flour mixture and mix just until combined. Pour into pans and bake 35-45 minutes.
Meringue Disk
When I did these, I ended up having to whisk the meringue by hand because both the kitchenaid and hand beater were malfunctioning! I was exhausted! This is going to make way more than you need, but I think you should make some meringue cookies anyway 😛
6 egg whites
3/4 tsp cream of tartar
1 1/2 c (298 g) sugar
Preheat the oven to 180F (82C). Trace a dark six inch circle on a piece of parchment, then flip over on a baking sheet. Set aside.
Whisk the whites until foamy, then sift in the cream of tartar. Continue beating. When they come to soft peaks, begin sprinkling in the sugar and whip until they hold stiff peaks. Place in a piping bag fitted with a large, open, circular tip and pipe fill in the circle you drew on the parchment with a connected spiral of meringue. Use excess to make cookies. Bake until firm (about an hour), but do not let them brown! Turn off the oven and remove the cookies, but let the disk cool inside for a few hours. When dry, trim the edges, if needed, with a microplane zester so it's the same size as the cake layers.
Italian Meringue Buttercream For step-by-step directions for making Italian Meringue Buttercream, please click here!
1/2 c (126 ml) water
2 c (420 g) sugar
10 egg whites
1/2 c (106 g) sugar
2 c (474 g) butter, softened, cut into small pieces
2/3 c (155 ml)caramel syrup (or more, to taste)
Place the egg whites in the bowl of a standing mixer.
Head the 2 c sugar and water on the stove to 245F stirring occasionally only after the sugar has been dissolved. When it is within the range 0f 230F to 235F, begin whipping the egg whites. When they get to soft peaks, begin adding the sugar and continue whipping to medium peaks, being careful not to overbeat. When the syrup is the correct temperature, slowly pour it into the eggs with the mixer on high. After fully incorporated, beat the frosting 7-10 minutes until the outside of the bowl is room temp (I usually go a little longer than this; often times the bowl is not room temp when I begin adding butter. If the mix seems to soupy, put it in the fridge for a few moments, and try briefly chilling some of the butter in the freezer before adding). Begin adding the butter, tablespoon by tablespoon, beating until fully incorporated. The frosting will deflate a little, but it's ok. Keep whipping until the frosting comes together (mine came together after adding just 4 of the 6 sticks of butter, so I didn't put any more in). Add the syrup and whip to combine.
Assembly
I recommend chilling the cake layers in the fridge, well wrapped, for at least an hour after they have cooled completely before you begin assembly!
Trim and split both layers. Put a layer of buttercream on the bottom round, and place another layer on top. Put the meringue disk on top of the cake, and top with another round. Spread with more buttercream, and add the final layer of cake. Crumb coat and chill for at least 30 minutes. Frost with remaining buttercream.