I've been slacking on making Christmas cookies this year. It's terribly difficult to believe that although I've been home for nearly a week, I've only just pulled my first batch of Christmas cookies from the oven. But between moving out then in, saying goodbye then hello, cleaning then making messes, and baking for every other occasion under the sun (ok, I may be exaggerating a bit), I simply haven't found the time!
By this time last year, I had piles and piles of beautiful cookies haphazardly dotting the beat-up landscape that was once my kitchen. The sweets rested, snugly nestled in boxes, some ornamented with sprinkles or slickly blanketed by royal icing. Among splatters of waedyward cookie dough, a thick dusting of flour and a few of those inexplicable and awful sticky spots that I always seem to find when I'm cleaning up (anyone else come across those? I hate them!), they patiently awaited delivery to friends.
Relatives.
My hips.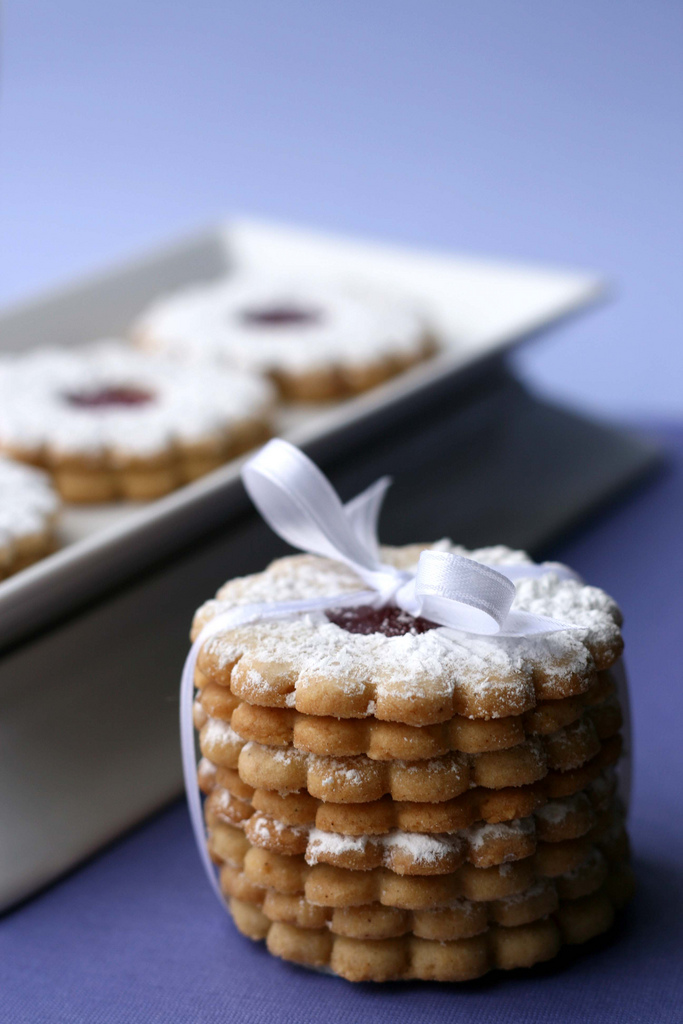 But, as I said, I've been slacking. These Linzer Cookies are but one item on a long list of things I hope to bake in the next three (OMG!!) days.
But the cookies aren't lonely in the kitchen; yesterday when P came to visit, he brought a tray of cookies he and his mom had baked the day before and a giant whisk (a Christmas gift – it's amazing. You'd be jealous!). Then, within 10 minutes, he was making bread from scratch, by hand, with no recipe. Very impressive, very good and very pretty. I wish the batteries on my camera weren't dead, because it's so much prettier than any bread I've ever baked!
Anyway, I'm keeping this post short. I've got some errands to run!
I'm hoping I'll be able to bake more Christmas goodies soon, but just in case I don't get the chance, Happy Holidays!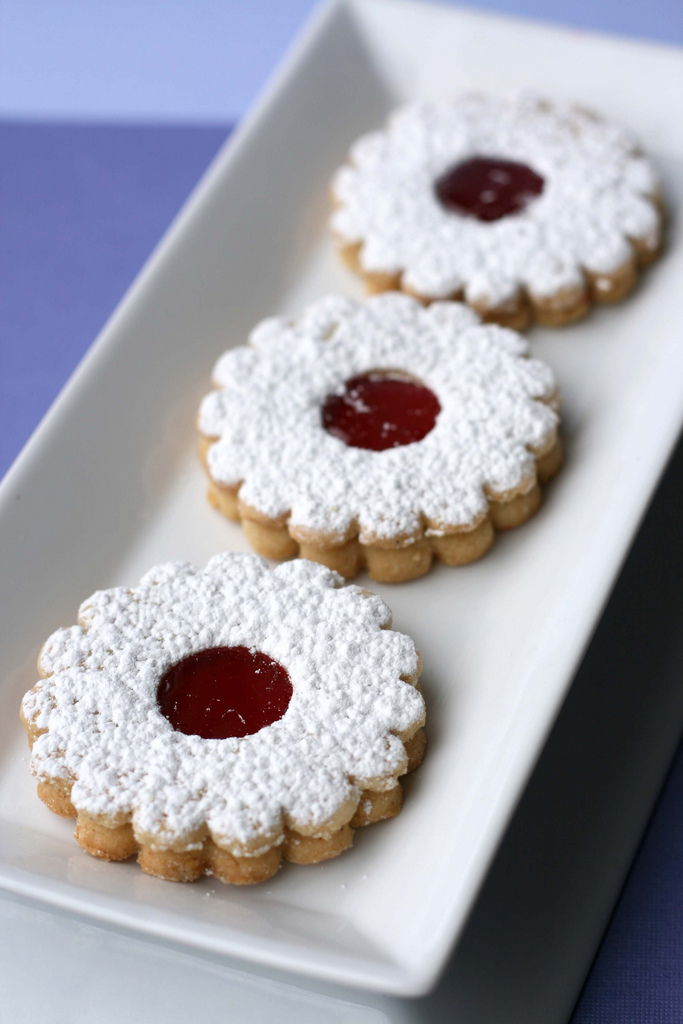 Linzer Cookies
Via
Joy of Cooking
Printable Recipe
1 c (145 g) blanched almonds
2 c (250 g) all purpose flour
1/2 tsp cinnamon
1/4 tsp salt
1 c (237 g) butter, softened
2/3 c (131 g) sugar, divided
1 tsp pure vanilla extract
2 egg yolks
Zest of 1 lemon
Confectioners' sugar for dusting
1/2 cup (118 ml) seedless Raspberry or Black Currant Preserves or Jam (I made my own using this recipe)
Preheat the oven to 350F (175C). Toast the almonds on a baking sheet for about 8-10 minutes (or until lightly browned and fragrant). Once the nuts have cooled, place in a food processor and process with 1/4 cup of the sugar from the recipe until finely ground. Set aside.
In a separate bowl, whisk or sift together the flour, cinnamon, and salt. Set aside.
In the bowl of your electric mixer (or with a hand mixer), cream the butter and remaining sugar until light and fluffy. Beat in the vanilla extract, egg yolks, and lemon zest. Beat in the ground nuts. Add the flour mixture beating just until incorporated. Divide the dough in half and shape into two rectangles about 1/2 inch thick. Wrap the two rectangles of dough in plastic wrap and refrigerate until firm (at least one hour and up to several days).
Preheat oven to 350F. Line two baking sheets with parchment paper and set aside.
Remove one rectangle of dough from the refrigerator. On a lightly floured surface roll out the dough until it is about 1/4 inch thick. Using a 2 to 3 inch cookie cutter cut out the dough. Place the cookies about 1 inch apart on the prepared baking sheet. Use a smaller cookie cutter to cut out the centers of half of the cookies on the baking sheet. (You will be sandwiching two cookies together and there will be a small 'window or cut out' in the top cookie so you can see the jam underneath.)
Reroll any scraps and cut out the cookies. Remove the other half of the dough from the refrigerator and roll and cut out the rest of the cookies. Bake the cookies for 12-14 minutes or until they are very lightly browned. Remove from oven and place on a wire rack to cool.
Assembly:
Place the cookies with the cut-outs on a wire rack and lightly dust the tops with the confectioners' sugar.
On the bottom surface of the full cookie (top of cookie will face out) spread with about a 1/4 – 1/2 teaspoon of jam. Place the cut-out cookie on top and gently sandwich them together, making sure not to smug the confectioners' sugar. Using a small spoon, fill the cut-out with a little more jam.