Cleaning my desk today caused me a bit of frustration.
I sighed audibly as I scraped and scooped piles upon piles of eraser shavings into my cupped palm, fighting them as they defiantly recoiled and stuck to the desktop. Reminders of second guessing and my own defining of mistakes over a roughened sheet of paper. I'm quite used to the insubordinate behavior the stubborn buggers express, although it's been awhile since I've dealt with it. I do most of my homework on my laptop now, and the little composition I do on paper is completed in ink.
It's strange how things have changed.
But the reason behind this irritating mess has nothing to do with homework and everything to do with relaxation; after a half year hiatus, I've picked up drawing again. And although I may find the mess a little tiresome, drawing is not something I'll do in pen! Much like I swoon for good coffee and go weak in the knees over cute serveware, I am absolutely addicted to erasers.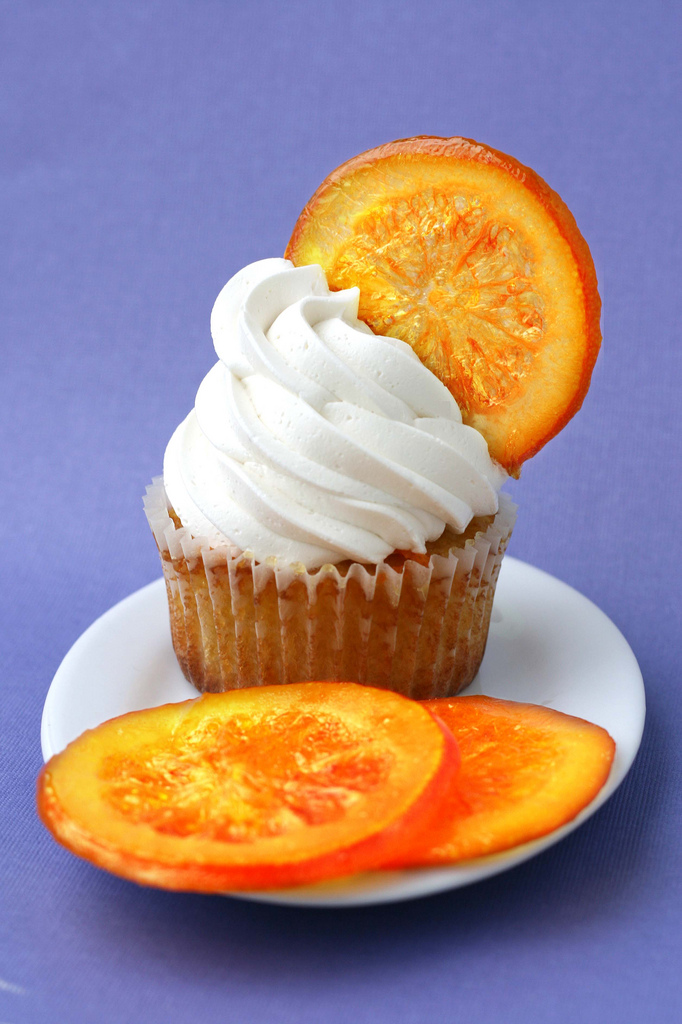 I was always the kid ripping holes in her homework because she used up the entire eraser and apparently insisted that the sharp metal casing worked just as well. Teachers were constantly over my shoulder to kindly remind me that scratching out words was acceptable. "You don't need to erase everything," they would say politely.
But I wanted my papers to be neat. As close to perfect as my childish penmanship would allow. If I'm permitted the luxury of erasing something and starting over, why not take advantage of the opportunity? It's not something that happens very often, right?
So I erased and tried again.
The first time I made the candied orange slices for these cupcakes, I absentmindedly wandered away from the saucepan. Moments later, the gravity of my mistake became apparent as the acrid stink of burning sugar spread into the farthest rooms of our house. As I hopelessly stirred the pan with a wooden spoon, the sugar began to seize. It was ruined. Another mess to clean.
But I looked at it optimistically; I would simply try again, and this time I would be more careful. After thoroughly cleaning and reloading the pan, the process went very smoothly the second time. The orange slices weren't perfect, but the results were more than acceptable.
I've learned to appreciate my messes because it means that I tried, and that I can always try again. I may be covered in graphite, I may have a huge mess to clean and I might just be sneezing eraser shavings for a week, but I'm happy.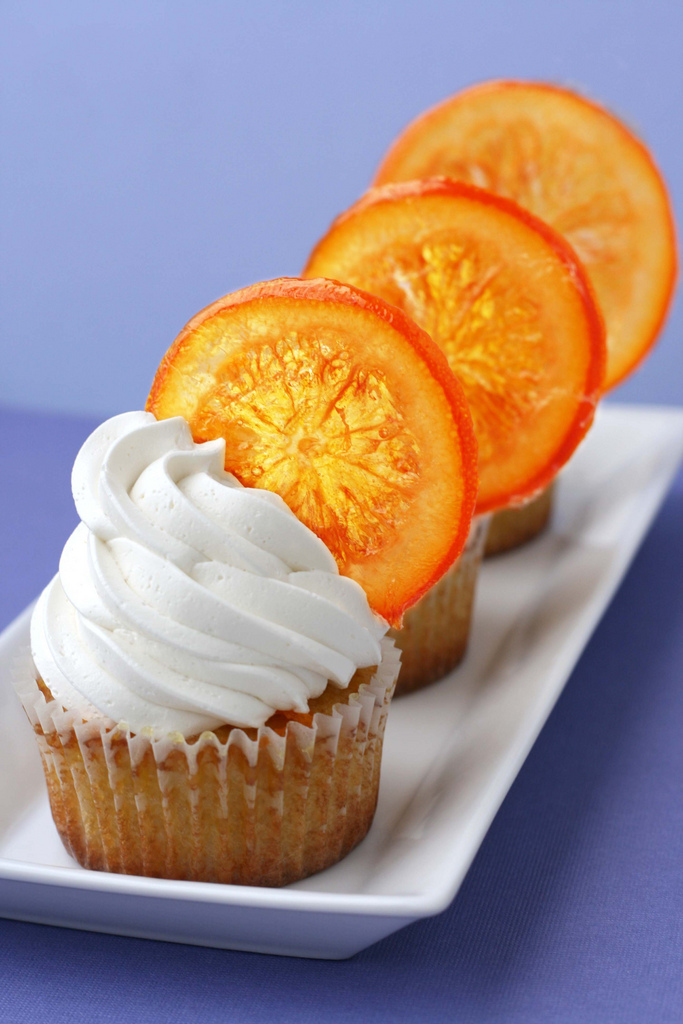 And that's enough for me!
Orange Cupcakes
I'm still trying to find an orange cake recipe that I really really like. This one is good, but not as orange-y as I hoped it would be! I found it in one of my recipe books (I'll get the title next time I go home!), but I made a few alterations.
Printable Recipe
6 Tbls (85 g) butter, at room temp
3/8 c (75 g) sugar
1 egg
1 tsp vanilla
Juice and zest of one orange
5/8 c (78 g) flour
1 tsp baking powder
1/4 c (24 g) almond meal
1/4 c (58 g) sour cream
Preheat your oven to 350F (175C) and line a cupcake tin with 8 liners.
Cream the butter and sugar, then add in the egg and vanilla. Beat until very well combined, then add the orange zest and juice.
In a separate bowl, combine the flour, baking powder and almond meal. Sift half into the creamed mixture, stir just until combined, then add the sour cream. Stir briefly, then add the remaining dry ingredients. Being sure to scrape the sides and bottom of the bowl, make sure the batter is fully mixed, then pour into liners. Bake 15-20 minutes or until a toothpick inserted in the center comes out with just a few crumbs on it. Cool on a rack.
While the cupcakes are baking, combine:
Juice and zest of one orange
1/4 c (50 g) sugar
In a small saucepan and simmer for five minutes. While the cupcakes are still warm, poke holes in them with a toothpick and pour the orange syrup over them.
Italian Meringue Buttercream For step-by-step directions for making Italian Meringue Buttercream, please click here!
1/4 c (63 ml) water
1 c (210 g) sugar
5 egg whites
1/4 c (53 g) sugar
1 c (237 g) butter, softened, cut into small pieces
1 tsp vanilla, more if desired
Place the egg whites in the bowl of a standing mixer.
Heat the 1 c sugar and water on the stove to 245F stirring occasionally only after the sugar has been dissolved. When it is within the range of 230F to 235F, begin whipping the egg whites. When they get to soft peaks, begin adding the remaining 1/4 c sugar and continue whipping to medium peaks, being careful not to overbeat. When the syrup is the correct temperature, slowly pour it into the eggs with the mixer on high. After fully incorporated, beat the frosting 7-10 minutes until the outside of the bowl is room temp (I usually go a little longer than this; often times the bowl is not room temp when I begin adding butter. If the mix seems to soupy, put it in the fridge for a few moments or try briefly chilling some of the butter in the freezer before adding). Begin adding the butter, tablespoon by tablespoon, beating until fully incorporated. The frosting will deflate a little, but it's ok. Keep whipping until the frosting comes together (you may not need to add all of the butter), add the vanilla and continue whipping until it's light and fluffy.
Candied Orange Slices via Use Real Butter
Mine were a little chewier than I would have liked, but I think these would turn out perfectly if the sugar syrup was cooked to the hard crack stage!
1 orange, washed
water for boiling
ice water
2 (397 g) cups sugar
1 (237 ml) cup water
Cut the orange into thin slices (Thinner is better, but be careful not to slice them so thinly that they fall apart!). Remove the seeds and discard the ends. Bring water to a boil in a saucepan and blanch the orange slices for about a minute. Drain and plunge into a bath of ice water. Drain.
Meanwhile, combine the sugar and 1 cup of water in a large saucepan and cook over medium heat until the sugar is dissolved without stirring. Swirl the pan gently if it's not heating evenly. Bring to a simmer and add the orange slices. Let simmer (don't boil) for an hour (you can simmer as much as 2 hours). Remove slices from hot sugar syrup and set on a cooling rack over a baking sheet until completely dry, up to 24 hours.