In the weeks before the 18th of December, the first day of winter break, I grew antsy and excitable as I scoured the internet for recipes I simply had to make while I had easy access to an oven. As the weeks turned into days, I began taking inventory of the fridge at home, texting my mom frequently to get a feel for the ingredients available in the fridge and pantry. I was so ready to bake.
But I haven't done nearly as much baking as I planned.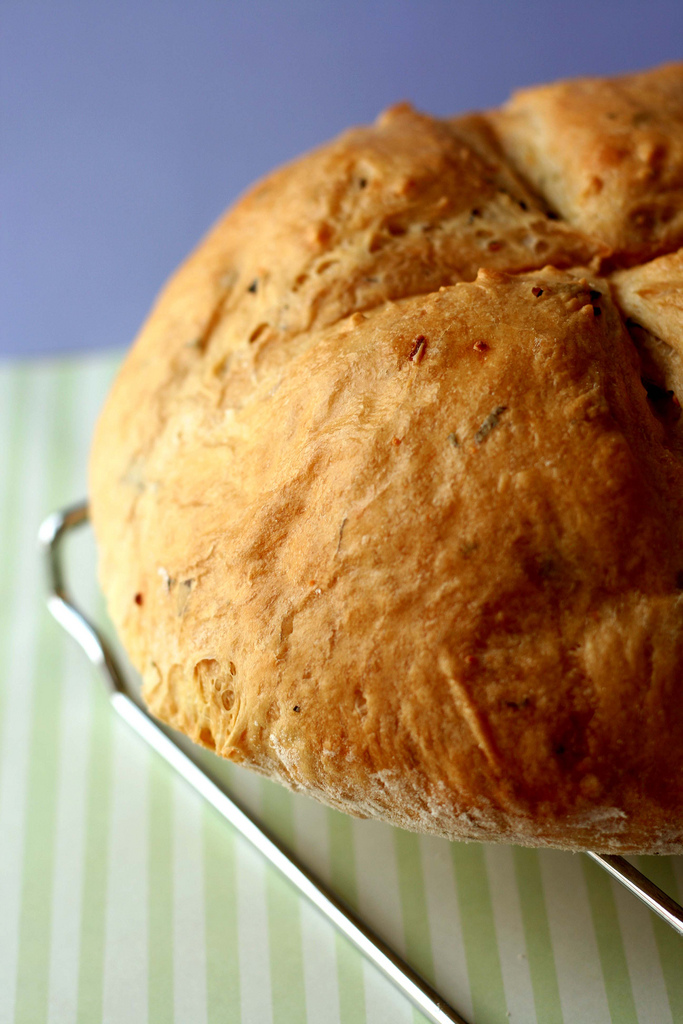 I had a brief Christmas cookie stint, however, because I absentmindedly left my camera battery charger at school, I've was unable to photograph anything. It was quite a bummer for me because I enjoy photographing the final dishes just as much as I enjoy creating them in the first place!
But I'm surviving. Mostly because I've been baking vicariously through P. He's made pizza three times since he's been home, and twice I've been lucky enough to be present and observing. Watching him handle the dough with such confidence and finesse has not only been inspiring, but also highly educational! I've been using an improper technique for bread making, and what I've learned from P has enabled me to create a far superior product – and I even got some fantastic meals out of the experience!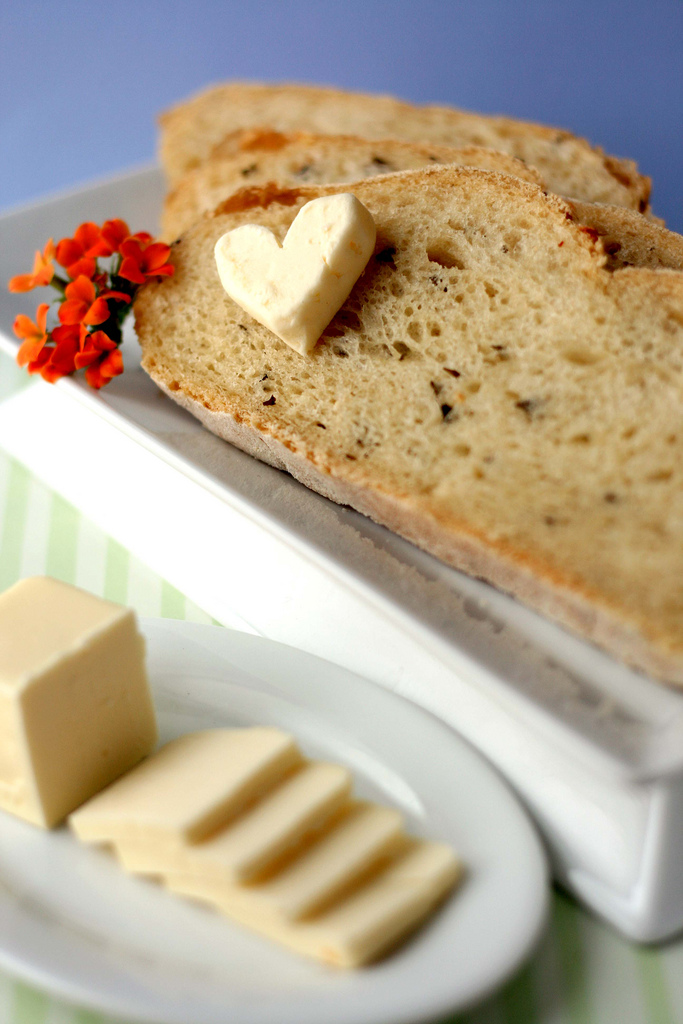 Standing by as he skilfully kneaded the mass into a soft and well-behaved ball was very entertaining. P explained the careful and practiced tandem movement of his hands as he energetically bobbed to Ray Charles and Van Morrison – part of a playlist blasting from his Zune. He learned to make bread from two Italian men while studying abroad, and now, in his kitchen with "I've Got A Woman" swinging in his feet and making us laugh, he was passing the well-traveled knowledge along to me.
I'm a lucky kid.
I'm still no bread-making master, but I've come a long way in these past few weeks just from watching and asking questions. After making pizza last night, I had some roasted garlic and basil leftover which I couldn't let go to waste. Since I felt like making more bread anyway, I thought that would probably be the best way to use it up.
I think I was right!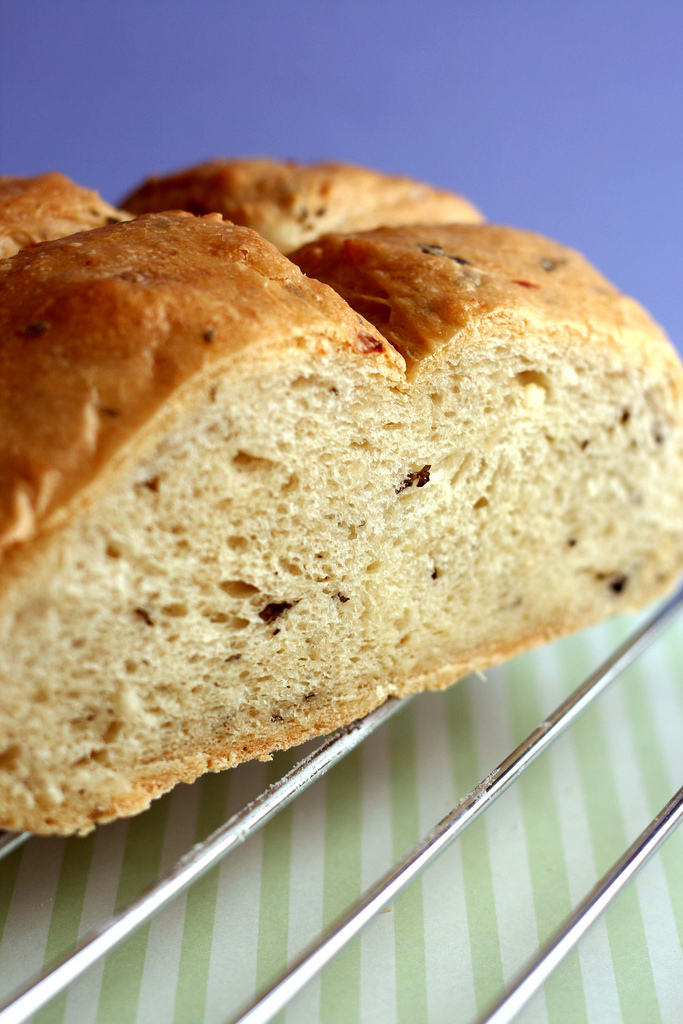 And now that I think about it, I'm completely content with the fact that I haven't done much baking over break. My time has been so well spent with family and friends that I wouldn't have it any other way!
Basil, Garlic and Feta Bread adapted from Cooking Bread
As soon as you put a piece of this soft bread in your mouth, the intense smell and flavor of the basil will envelop your senses – it's fantastic! Feel free to omit the feta if leaving it at room temp for the rise period makes you uneasy.
Printable Recipe
Handful fresh basil
One head of roasted garlic
1/4 c (38 g) feta
1/4 c (59 ml) olive oil
1 1/4 c (296 ml) water at 100F-115F (43C to 46C)
2 tsps sugar
2 1/4 tsps active dry yeast
1 tsp salt
3 1/2 c (438 g) bread flour
Egg Wash
1 egg white
1 Tbls water
Chop the basil finely and mash the roasted garlic into a paste. Combine the two in a large bowl and add the feta and olive oil. The mixture will not be homogeneous, but that's ok! Set aside.
In another bowl, mix together the 1 1/4 c water and sugar, then add the yeast. Let set about five minutes so the yeast can activate, then pour into the bowl with the basil, garlic, feta and oil. Add flour 1 cup at a time until dough is smooth and just barely sticky. Don't add all the flour if you don't need to, and definitely don't add all 3 1/2 c at once! You will need more or less depending on the humidity of the day.
When the dough becomes to difficult to mix in the bowl, pour onto a table dusted with flour and knead until smooth an elastic, adding more flour as needed. This step takes awhile, but it is very important that you work the dough well enough for the gluten to develop a strong and organized structure. This recipe states 8-10 minutes, but it may take longer depending on technique. To test if it's ready to be risen, pinch off a small piece of dough and roll it into a ball. Pull the edges down over the ball to the bottom to form a smooth and taught surface, then begin working the dough out very thinly in a circle with your hands, like a pizza crust. When you can see light clearly through the dough (it won't be completely even; you just want a largeish and connected space through which you can see light), you've worked it enough. Pull the edges of the dough down and under, tucking and turning the mass as you work to create a tight ball (great video of the technique here!). Place into a greased bowl, grease the dough and cover with plastic wrap. Let rise in a warm place (I put it in a cold oven with a pan of water I boiled on the stove) until it doubles in size or until it springs back in about 15 seconds when poked. Pour dough onto a lightly floured work surface again, and gently flatten it out with curled fingers. Fold in thirds, flatten again, then gently form it into a tight ball using the same process as before. Clean and re-oil the bowl, place the dough in it, and oil the dough again before covering with plastic wrap. Put in the fridge overnight.
In the morning, place a pizza stone in your oven and preheat to 400F. Punch down the dough once more, and form into a tight ball for the last time on a pizza peel or cookie sheet dusted with corn meal. Shake to ensure that the loaf is loose and that you'll be able to slip it off into the oven when it's fully risen. After it doubles in size or springs back in about fifteen seconds after being pressed with a finger, gently rub the loaf with the egg white mixed with 1 Tbls water. Slit an "x" over the top quickly with a sharp knife or razor blade, then slip onto the pizza stone. Bake at 400F (205C) for 20 minutes, then lower the temp to 300F (150C). Bake 25-30 minutes or until the internal temp registers between 200F and 210F (93C and 99C) degrees. Let cool completely on a cooling rack before slicing into the loaf.