A thick but gentle fog of snow welcomed cold winds a few nights ago as I sat, sleepy, in my grandparent's dining room. Time has a different meaning at their house; I think absolutely nothing of glancing at the digital clock on the stove and reading off 2:47 while furiously whisking a pot on the stove. I was always allowed to stay up late when I visited, and it was so exciting to watch the hour hand swivel round and round the clock's face.
I felt so cool back then… Staying up until one and eating ice cream at midnight gave me such a high. It was so special.
Those memories will be with me forever.
But then; as the hour hand lazily wound its way around to three and I remembered those nights spent forcing my poor grandparents to watch Speed Racer, Wacky Races and Hong Kong Phooey; my body hungered for sleep. Slowly guiding a steady stream of ink over an empty page, I thoughtfully penned a headline and date in my baking notebook as I tried to ignore the chill creeping at my arms – one of the few things keeping me awake. I was taking notes on the tarts I had been working on for a few hours, but my eyelids were growing heavy under the pounds of flour, sugar, eggs and butter that fill my mind. But a sudden realization stirred my thoughts, opening my eyes; as my pen left the page, it hit me.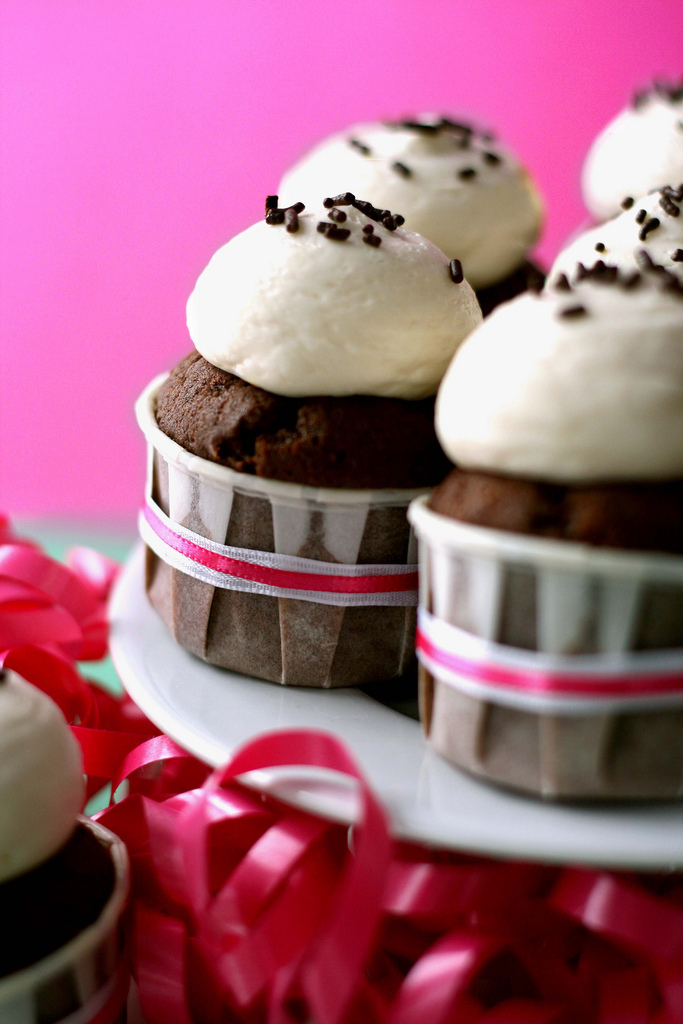 It's 2010.
I know that this is truly nothing mind-blowing, and I'm aware that it's been 2010 for a week. I know the ball dropped (hell – I watched it! I even drank a glass of sparkling apple cider after it was all over!), and I know that New Year's has come and gone, as most things do.
But what I really hadn't realized was that it's already time to get used to writing '10 as the year instead of '09.
I just got used to '09!
Where has the year gone?
But! I've done enough reflecting in this space to last for quite some time, so I will spare you a rehash of everything I've typed in the past few weeks! Just know that this year has been good to me, and a big part of it has to do with you guys – thanks so much for reading! You rock 🙂
What I will offer you, however, in place of a trip down memory lane, is a way to use up any leftover Cream Liqueur you may have hiding out in your fridge from the holidays.
Oh – who am I kidding? I don't honestly think anyone really needs to be told how to finish off a bottle of the stuff, but humor me, ok? Make some Irish Cream Cupcakes. Enjoy them with your Grandparents late at night. Make them to celebrate the new year and the new decade.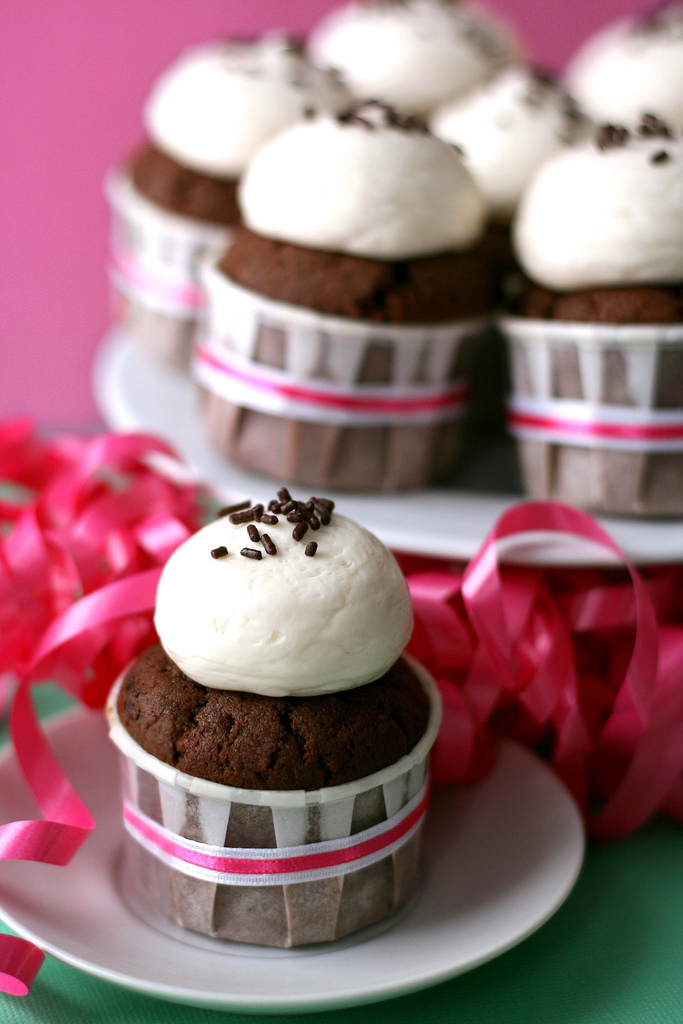 Even if you're celebrating a week late.
Happy New Year, guys! I hope you've had a great holiday!
Cream Liqueur Cupcake via Too Many Chefs
I used small souffle cups from GFS for these instead of traditional cupcake liners. If you do opt for the cups, be sure to cut a small slit in the upper lip so that it's easy to remove them from the cake! Also, I found these cupcakes to be a little dry, but everyone else seemed to disagree. I'm beginning to think I just don't care too much for intense chocolate flavors. Anyway – they are very crumbly, so they're a little messy to eat!
Printable Recipe
2 oz (57 g) unsweetened chocolate, chopped finely
1/4 c (36 g) light brown sugar
4 Tbls cream liqueur (Like Bailey's)
1 c (125 g) flour
1/2 tsp baking powder
1/8 tsp salt
1/4 c (59 g) butter, room temp
1/2 c (99 g) sugar
1 egg (I used extra large)
1/3 c (78 ml) milk, warmed in microwave for 15 seconds
Preheat the oven to 350F (175C) and line a cupcake tin.
Sift together the flour, baking powder and salt. Set aside.
Place the chocolate, brown sugar and cream liqueur in a small saucepan and melt over a low heat, whisking occasionally. Meanwhile, cream the butter and add the sugar, beating until lightened, about 5 minutes. Add the egg and beat until fully incorporated. Add half of the dry ingredients and beat briefly to combine. Add the milk, beat again, and then add the remaining dry ingredients. Before the last half of the flour is completely combined, add the chocolate mixture and beat just until incorporated. Spoon into liners and bake 15-20 minutes. Allow to cool in pan about 2 minutes, then remove to a cooling rack.
Italian Meringue Buttercream For step-by-step directions for making Italian Meringue Buttercream, please click here!
1/4 c (63 ml) water
1 c (210 g) sugar
5 egg whites
1/4 c (53 g) sugar
1 c (237 g) butter, softened, cut into small pieces
1-2 Tbls cream liqueur
Place the egg whites in the bowl of a standing mixer.
Heat the 2 c sugar and water on the stove to 245F stirring occasionally only after the sugar has been dissolved. When it is within the range of 230F to 235F (110C to 113C), begin whipping the egg whites. When they get to soft peaks, begin adding the sugar and continue whipping to medium peaks, being careful not to overbeat. When the syrup is the correct temperature, slowly pour it into the eggs with the mixer on high. After fully incorporated, beat the frosting 7-10 minutes until the outside of the bowl is room temp (I usually go a little longer than this; often times the bowl is not room temp when I begin adding butter. If the mix seems to soupy, put it in the fridge for a few moments or try briefly chilling some of the butter in the freezer before adding). Begin adding the butter, tablespoon by tablespoon, beating until fully incorporated. The frosting will deflate a little, but it's ok. Keep whipping until the frosting comes together (you may not need to add all of the butter), add the cream liqueur and continue whipping until it's light and fluffy.