A mildly curious glance toward the living room warrants a small smile permission to bridge my cheeks. Casually collecting the simple details of the scene lain before me, I admire the soft ambient light of the snow as I briefly and purposefully study the room's clock. Proudly dictated by the hands over the pristine white face is 5:30 – concrete evidence that the day is winding down to a close.
And I'm still wearing my pajamas.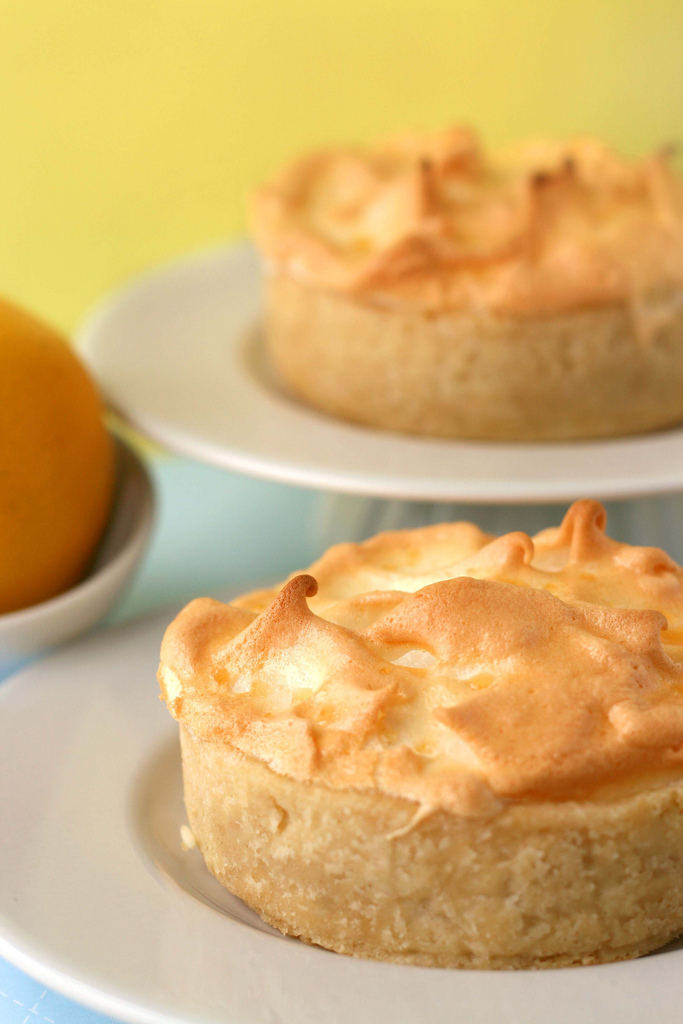 I slept in this morning, but I think that goes without saying. It's not something I enjoy doing very often, but it was all I wanted this morning.
Well, that and a bowl of Cheerios.
Sure, I did a load of laundry, cleaned a bit and baked some meringue for an upcoming project, but I've really been very lazy. My to-do list has been crumpled and burned for warmth, and I'm greedily savoring this slow and unproductive day like a typical 18-year-old by lounging on my bed and cuddling with my dog. Guzzling numerous mugs of coffee and chatting with friends are the day's crowning achievements!
I'll be useful tomorrow.
In the meantime, I'd like to share these Lemon Meringue Tarts with you. There's nothing quite like biting into a tart citrus dessert in the winter. Wrap yourself in a warm blanket and take a quick peek at the snow on the ground as you bite into one of these, then close your eyes and let their sour bite refresh and clear your senses.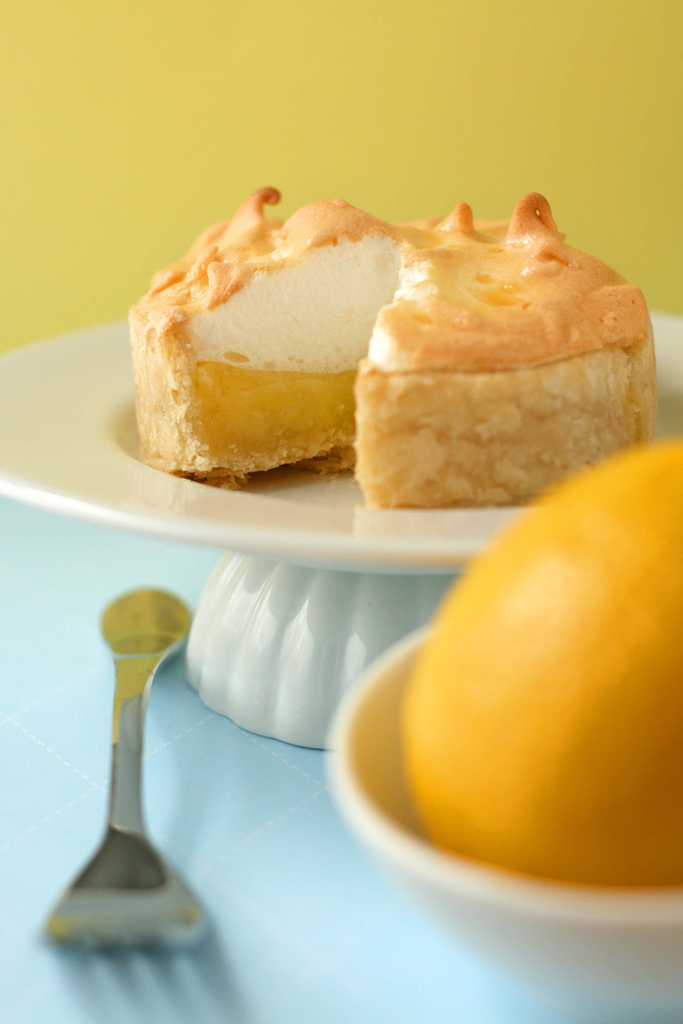 You won't regret it!
Lemon Meringue Pie via Alton Brown
Printable Recipe
Pie Crust
I didn't follow Alton's method for making the crust, although I do know it works very well. Click here for his directions. This makes enough for one 9 inch pie or four four inch tarts.
6 Tbls (85 g) butter, chilled
2 Tbls (28 g) lard, chilled (I used Crisco)
1 c (142 g) flour, plus extra for rolling dough
1/2 tsp salt
1/4 c (59 ml) ice water, in spritz bottle
Dried beans or rice for blind baking
Chop the butter into small pieces and put it and the crisco in the freezer for fifteen minutes.
In another bowl, combine the flour and salt. Cut in the fat with a fork or a pastry blender until the mixture is very coarse. Add just enough ice water to bring it all together and gather the dough into a ball. Press into a flat disk and wrap with plastic wrap, then set it in the fridge for 30 minutes. After it has been chilled, roll out the dough and line your pans. Preheat the oven to 425F and place the crust in the freezer until the oven has come to temp. When you are ready to bake, line the crust with parchment paper and fill with beans or rice. Bake 10 minutes, remove the parchment paper and weights and bake until golden – 10 to 15 minutes longer.
Meringue
4 egg whites
1 pinch cream of tartar
2 tablespoons sugar
Place egg whites and cream of tartar in the bowl of a stand mixer fitted with the whisk attachment. Beat egg whites until soft peaks form and then gradually add sugar and continue beating until stiff peaks form, approximately 1 to 2 minutes. Use to top lemon filling.
Lemon Custard Filling
4 egg yolks (reserve whites for meringue)
1/3 c (39 g) cornstarch
1 1/2 c (355 ml) water
1 1/3 c (264 g) sugar
1/4 tsp salt
3 Tbls (43 g) butter, softened and cubed
1/2 c (118 ml) lemon juice
1 Tbls lemon zest
Preheat oven to 375F (190C).
Whisk egg yolks in medium size heat-proof mixing bowl and set aside.
In a medium saucepan, whisk together cornstarch, water, sugar, and salt. Over medium heat, stirring frequently, bring mixture to a boil and boil for 1 minute. Remove from heat and gradually add hot mixture to egg yolks, whisking constantly, until you have added at least half of the mixture.
Return egg mixture to saucepan, turn heat down to low and cook, whisking constantly, for 1 more minute. Remove from heat and gently stir in butter, lemon juice, and zest until well combined. Pour mixture into pie shell and top with meringue while filling is still hot. Make sure meringue completely covers filling and that it goes right up to the edge of the crust. Bake for 10 to 12 minutes or until meringue is golden. Remove from oven and cool on a wire rack. Make sure pie is cooled completely before slicing.