Packed to capacity with chocolates, nuts, packets of gelatin and yeast, milk powder, almond meal, various gadgets and a small vial of homemade vanilla extract; my trusty backpack rested evenly over my shoulders as I made the 20 minute walk to my car. I found it difficult to place my toothbrush among the necessities as I packed, but I eventually spotted a forgiving spot within the front pocket. Wedged between my sanity and health, my rigid toothbrush threatened my well-being. I could feel myself slipping blissfully into insanity under the 20lb load as I trekked, but I didn't care. At least I'd have clean teeth!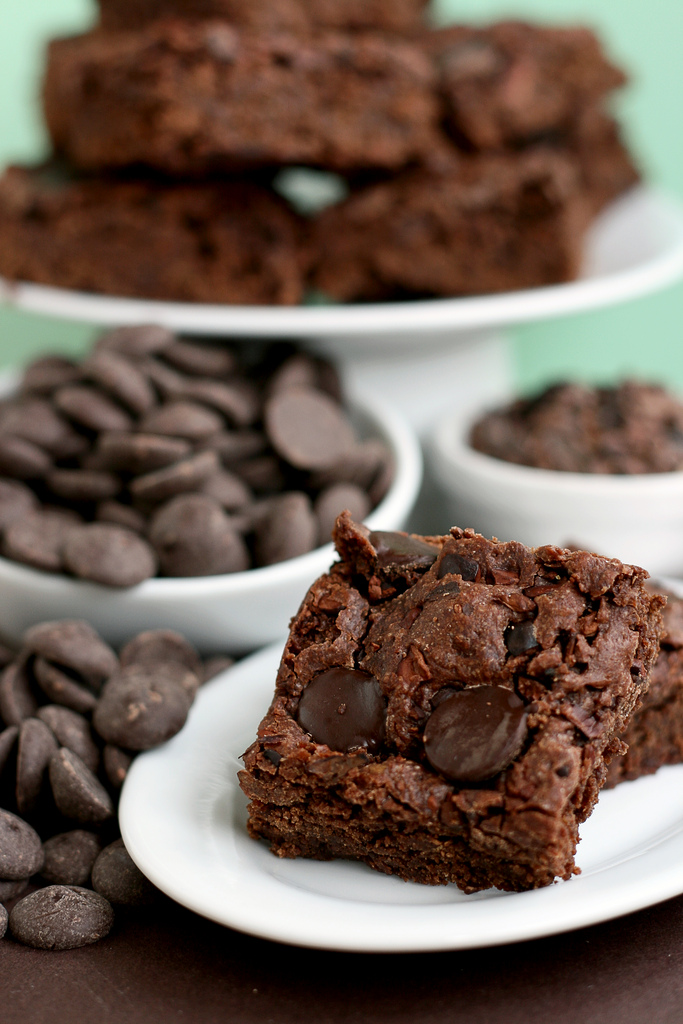 An hour later, staring starry-eyed into my Grandma's kitchen, I was faced with an open range and a head full of ideas. I tossed a few around, but ultimately decided to keep things simple for a few reasons:
A) I wanted to include my cousin, K. Because I didn't want to frighten the poor kid with something complicated/improvised (as I have the tendency to do to my poor unsuspecting helpers), layer cakes and macarons were off the list!
B) My grandparents were entertaining guests. That means no messes!
So, brownies. I've been trying to perfect this recipe for over a month, so I'm sure it comes as no surprise that I'm recovering from a bit of a brownie overload! In that time, I've distributed at least four batches of these brownies to my friends, and they always go over very well. So well, in fact, that I've only just had an opportunity to take photos of them!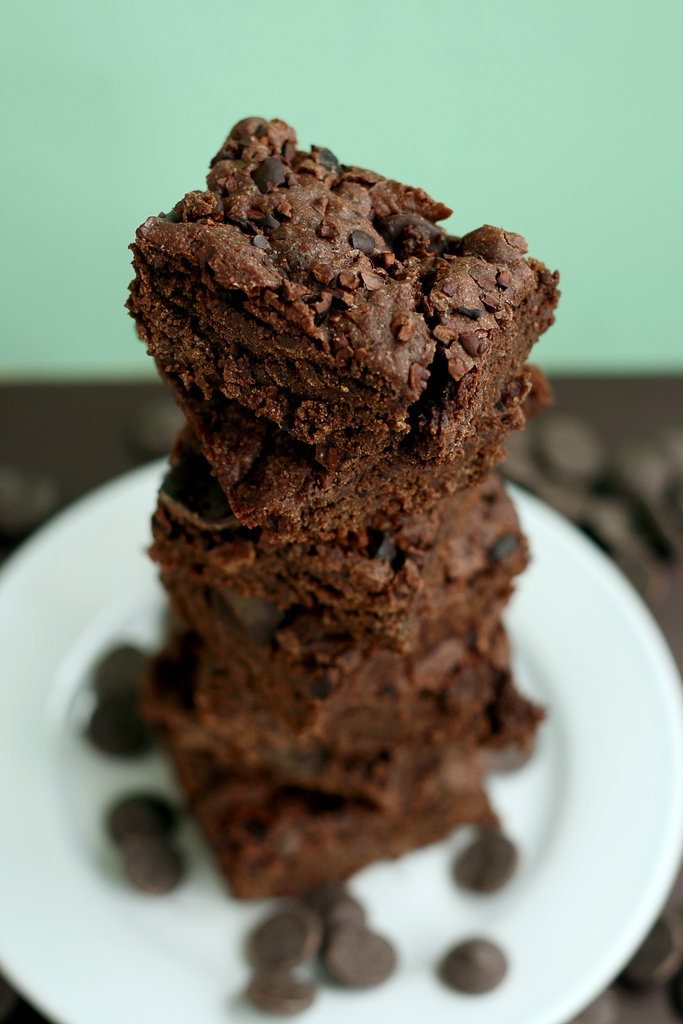 They always disappear before I get a chance…
Dense and Chewy Egg-Free Brownies
Super chewy, intensely chocolaty and made of all things good (minus eggs!), you're gonna love these!
Printable Recipe
1/3 c (41 g) flour
1 c (237 ml) water
1/2 c (118 g) butter
4 oz (113 g) chocolate (I've used milk chocolate Callebaut and unsweetend Dagoba – both produced great results, although the former is notable sweeter!)
2 c (284 g) flour
1 tsp baking powder
1/2 tsp salt
1 c (199 g) granulated sugar
1 c (142 g) brown sugar (you can use all granulated if you like, but the brown sugar contributes to a chewier and denser texture.)
1 tsp vanilla
1 c (160 g?)chocolate chips
1/2 c (handful or so) cocoa nibs, optional
Preheat the oven to 350F (175C).
Combine the 1/3 c flour and water in a saucepan and cook over medium heat, stirring constantly, until thick and gummy. Set aside to cool slightly.
In the microwave or in a double boiler, melt the butter and chocolate in a large bowl. Set aside to cool slightly.
Grease and line a 9×13 pan, being sure to grease over the top of the liner.
In another bowl, combine the flour, baking powder and salt. Set aside.
Add the sugars and vanilla to the chocolate mixture, then stir in the cooked flour mixture. Mix thoroughly, then sift in the dry ingredients. Begin folding to combine, and add the chocolate chips and cocoa nibs (if using) before completely combined to prevent over mixing.
Spread into prepared pan and sprinkle with more chocolate chips or cocoa nibs, if desired. Bake 20-25 minutes, or until a toothpick inserted in the center comes out nearly clean.
I know it's hard, but allow them to cool completely on a cooling rack before removing from pan and slicing.