I spent a year filling orders in a Dairy Queen kitchen. Flipping burgers, toasting buns, dosing out condiments and tackling special orders taught me a lot about time management and organization. Immersed in a new reality, inhabited by myself and the other members of our lovable motley crew, I felt like I was really growing as a person. We were a little dysfunctional, but we worked together very well.
When I was first hired, I couldn't wait to start making ice cream cones, banana splits and blizzards; I knew that handing them over to adorably impatient little kids, wide-eyed with anticipation, would make my day! But when I was assigned to the grill team, I was terribly disappointed. I wanted to learn how to do the trademark curl, but instead, I discovered, I would be temp-probing meat patties, placing pickles, stacking cheese and investing in good face wash.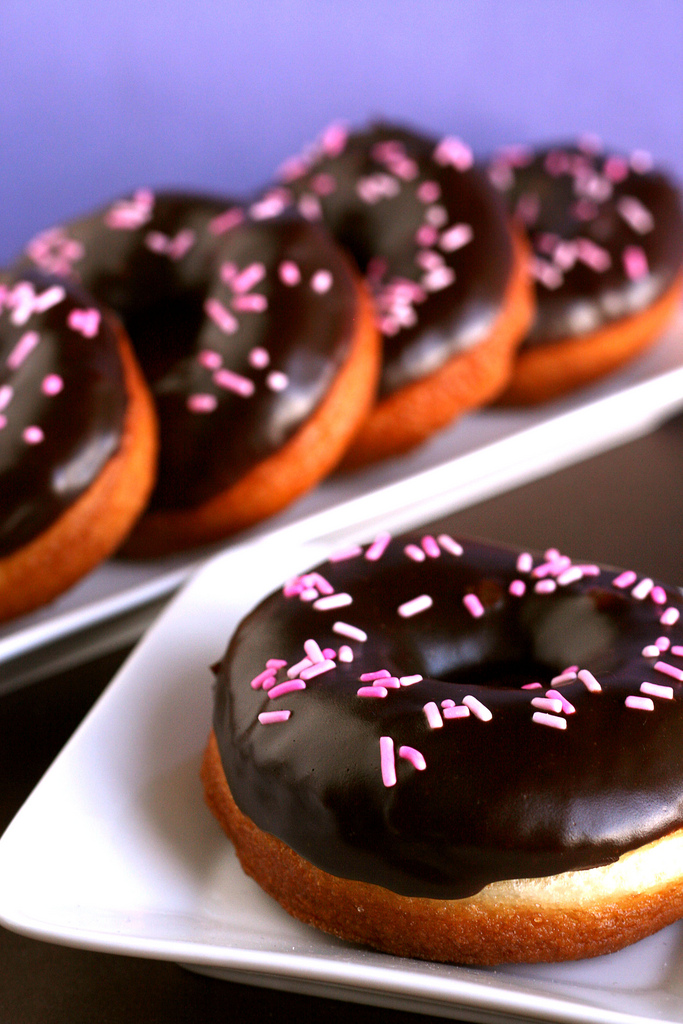 But I soon found that I enjoyed the kitchen work. I mean, it wasn't exactly glamorous, but it was practical; juggling so many food orders at once made me a much more confident cook and taught me skills that could be applied to life outside of work, unlike extruding bucket after bucket of soft serve into staling cones and too-big cups. Plus, it didn't take me long to realize that the little kids I so longed to serve weren't as adorable as I had naively envisioned them being; quite the contrary, actually. Van-fulls of little brats were carted into our little shop on a daily basis, and oftentimes their parents were even worse than they were! Don't get me wrong, we had a lot of great customers and a number of regulars (so many cute older couples go to DQ together! It always made me smile), but I always felt bad for the poor cashiers and the "chill" team because some of the behavior they had to put up with was just awful! Because of this, I began to appreciate working "behind the scenes."
Although I appreciate what I learned back then, I don't think about it often. Yesterday, however, was different. As I stood with my shoulders hunched unattractively forward over a dutch oven filled with hot oil, I thought about all the time spent in that kitchen and how comfortable it's made me around fryers. Even on a frozen lake.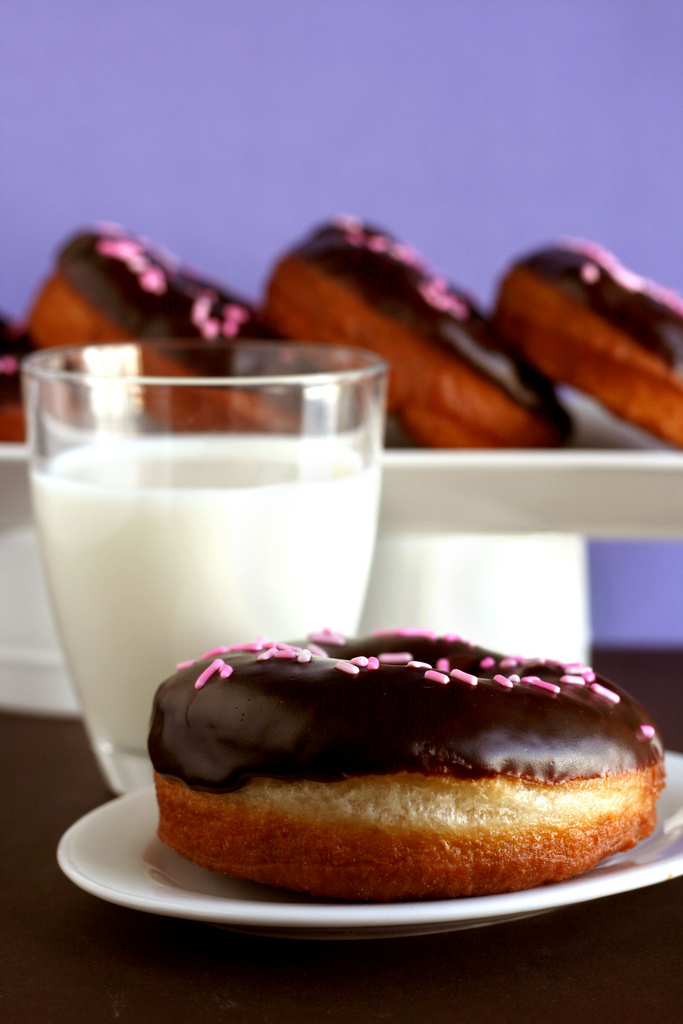 Straining to read the meat thermometer rigged questionably on the lip of the dutch oven through my sunglasses, I stood with a pair of tongs in one hand, a tray of partially risen doughnuts in the other, and my feet planted firmly on the ice. Each doughnut was carefully flipped and extracted at the appropriate time, rested briefly on a cooling rack, then doused with confectioner's sugar by three of my good friends.
Following our doughnut production (and consumption!) came the frying of tortillas, potatoes and fish (all caught locally and earlier this season), carried out by my dad's friend, Mr. R, who's the best fry cook I know! Gathered for end of the season ice fishing and celebration of the brightening weather, guests at this year's Pike Party were rewarded with seriously good food and seriously full stomachs; filled not only with the aforementioned goodies, but also with homemade salsa, homemade burrito bites, homemade brownies, a keg of my dad's homebrew and an assortment of store-bought snacks.
Great friends, great conversation, great food and great memories. The party was a huge success!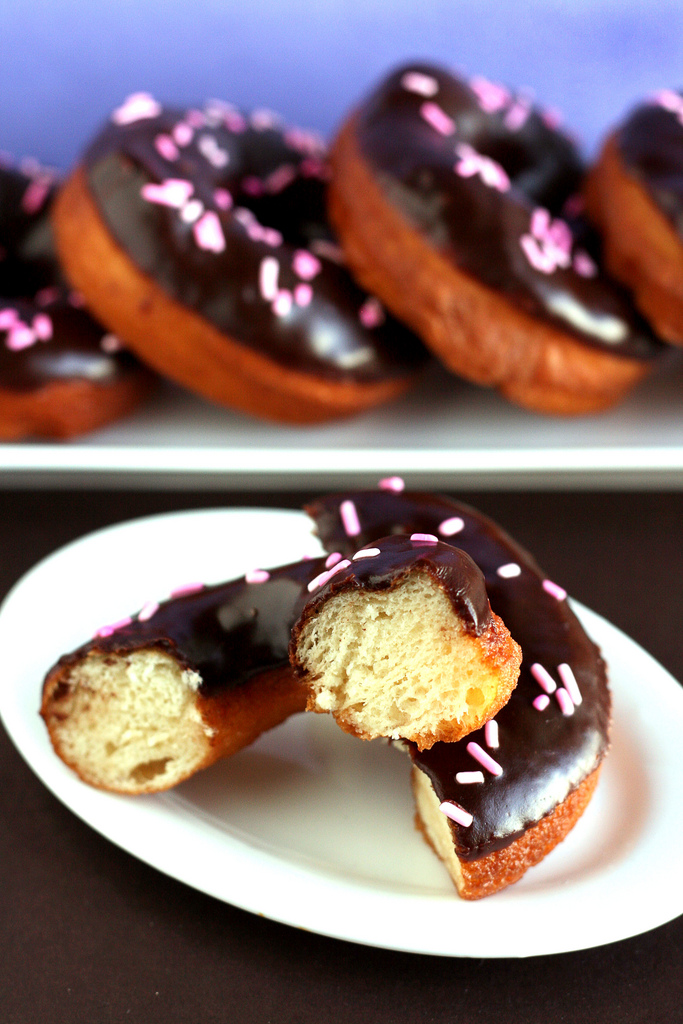 Oh, an we caught some fish, too!
Doughnuts via Pioneer Woman
This recipe is fantastic and I will be making these again and again and again! Makes about 18.
Printable Recipe
1 1/8 c (266 ml) whole milk
1/4 c (50 g) sugar
2 1/4 tsp (one package) instant or active dry yeast
4 c (500 g) flour
1/4 tsp salt
2 eggs, beaten and at room temp
10 tbls (142 g) unsalted butter, melted and cooled to room temp
Canola Oil (for frying)
Place the sugar in the bowl you plan to make the dough in. Set aside.
Heat the milk in a small saucepan or in the microwave to 110F-115F (43C-46C). Meanwhile, put the sugar in a large mixing bowl. When milk is the correct temperature, pour over sugar, stir to dissolve, then add the yeast. Let set at least five minutes until foamy.
Measure the flour and salt into a bowl, and stir to combine. Set aside.
Add beaten eggs and cooled butter to the yeast mixture and beat well (I used the paddle attachment on my stand mixer) to combine. When the mixture is thoroughly combined, begin adding the flour mixture in 1/4 to 1/2 cup increments, allowing it to mix in very well before the next addition. When the dough starts to become quite thick, pour it onto a lightly dusted counter and knead. Do not add much more flour than is called for unless absolutely necessary and dust the counter lightly if needed during the process. Knead until the gluten is well-developed and it passes the window pane test.
Form the dough into a rough ball and place in a well oiled bowl. Rub a little oil onto the top of the dough, cover with plastic wrap and refrigerate overnight or at least 8 hours.
In the morning, place chilled dough on a well-floured surface and roll out to a thickness of 1/4 inch to 1/3 inch. Cut with desired size cutters (Mrs. Drummond recommends 3 inch and 1 1/2 inch), and place cut rounds onto a lightly-floured baking sheet. Repeat process with rerolled scraps. Cover with plastic wrap or a light towel, and allow to rise 1 to 1 1/2 hours in a warm place. They should appear very fluffy and quite a bit taller.
My method is to place the pans in a cool oven with a pan of water that has been brought to a boil placed on the rack beneath them.
When the doughnuts are ready to be fried, heat oil in a deep fryer, dutch oven or cast-iron pan to 375F (195C). Carefully add one or two doughnuts at a time, letting them cook about one minute on each side. Remove from oil with a slotted spoon, allowing excess grease to drip into pan, then place on a pile of paper towels. Flip to a clean part of the towels after five seconds and allow to cool completely. Repeat and be sure to keep a close eye on that oil temperature!
Chocolate Glaze via Alton Brown
1/2 c (118 g) unsalted butter, chopped
1/4 c (59 ml) whole milk
1 tbls light corn syrup
2 tsp vanilla
4 oz (113 g) bittersweet chocolate, chopped
2 c (312 g)confectioners' sugar, sifted
Combine butter, milk, corn syrup, and vanilla in medium saucepan and heat over medium heat until butter is melted. Decrease the heat to low, add the chocolate, and whisk until melted. Turn off heat, add the powdered sugar, and whisk until smooth. Place the mixture over a bowl of warm water and dip the doughnuts immediately. Place on a cooling rack and allow glaze to set for 30 torturous minutes before serving.