I'm outside in a t-shirt, and I'm… Warm.
What is this?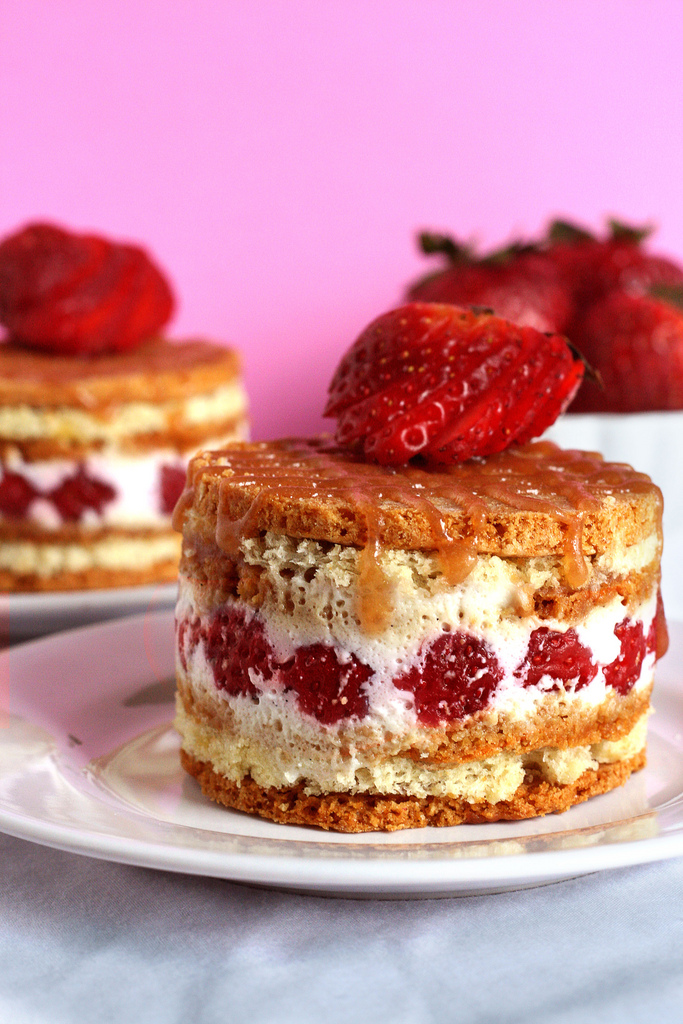 I've spent the past few months starved of sun. True, this winter wasn't memorable weather-wise – and I must admit that I have a tendency to exaggerate the chill – but it's well-understood that the simple nature of winter leaves one cyclically under a thick covering of clouds. Blanketed, so to speak, by this unwelcome and vast palette of greys for so long, my soul has hungered for little more than a clear view of that bright orb over the horizon.
And perhaps some coffee. And a cookie. And new shoes.
But most importantly, my dear readers, that sun. And finally, after far too long, I think it's back for good. Or at least until Friday… The forecast isn't looking too good then… But in the meantime – before Friday! – I promise to make good use of my sunglasses and to free my pale shoulders! I can't wait for this week to begin because, to me, so few things are better than the feeling of the sun's warmth.
But I guess these come close… Layers of graham crackers, chiffon cake, vanilla-bean panna cotta, strawberries and caramel all work together to create my interpretation of Cold Stone's signature creation titled Our Strawberry Blonde. It was a fun project inspired by my foodie friend, Z, and definitely something I never would have thought of doing myself! I'm definitely happy that she brought it up though, because these are awesome!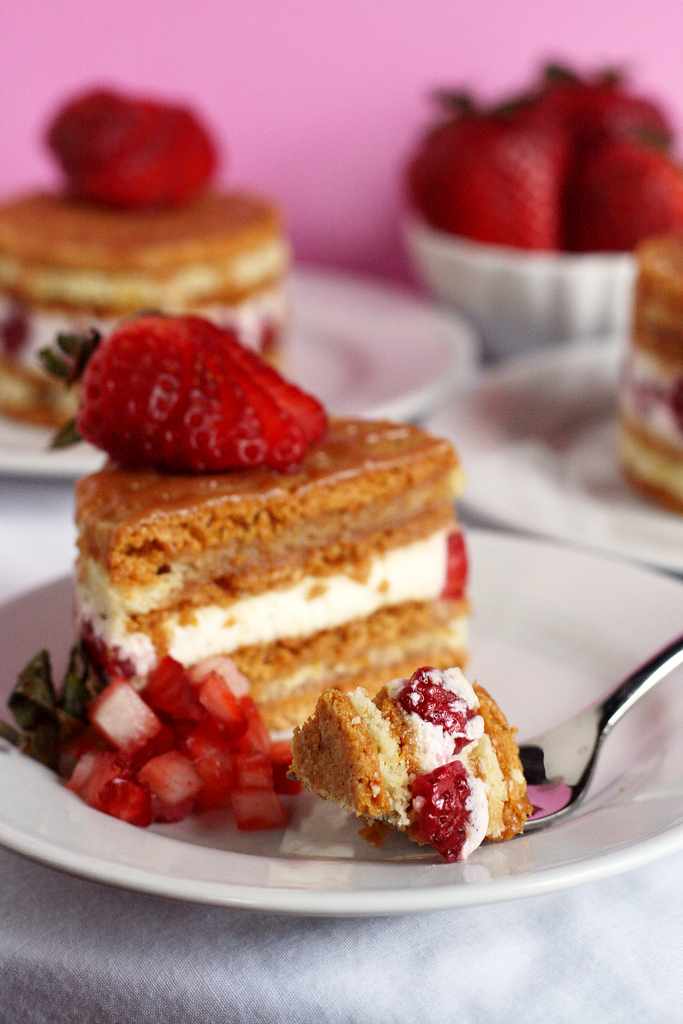 But before you get to that recipe, you might be interested in something else.
Now, I don't know about you, but I have this problem with plastic wrap. I hate it. It's awful. It ruins frosting, doesn't always stick, leaves goopy spots all over everything… All of this on top of it sticking to itself and refusing to cut – do you know what I mean? Since I've never been a fan of tupperware, I stick mainly to cake domes. They're pretty, functional and I've never had one fight back!
This giveaway is closed! Thank you for all of your entries! Please check here for the winner's name!
So, on that note, how would you like to win one? Hmmm??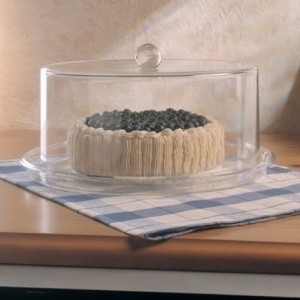 I was recently contacted by Jason of CSN stores and offered $60 with which to buy an item to giveaway to one lucky reader! Excited, of course, by this opportunity, I began to check out the shops, fully expecting to pick the prize that day. However, I instead found myself drooling over the selection – their inventory is nothing short of amazing! It took me days to whittle down my choices, finally selecting this lovely dome as the prize.
Seriously, go check this place out! They have everything from cribs to bird cages to barstools and everything in between; all with competitive prices, free shipping on many items, a satisfaction guarantee and a fantastic return policy. Not to mention the fact that these are obviously some great people to deal with – I mean, come on, they're giving this away to you guys. What's not to love?
All you have to do is visit CSN and leave a comment including one thing that makes you happy. Is it the sun? Your dog? Their fantastic barstool selection? I wanna know!
Details
This contest is open only to residents of the US and Canada
One comment per person
Winner will be selected using random.org
Winner will be contacted by email. If no response is made after 48 hours, a new winner will be selected, so be sure to leave an email address!
This contest will end on March 21st 11:59PM
So, did you enter yet??
Our Strawberry Blonde Cakes
I'm going to be honest with you and tell you that these are time consuming. They took quite awhile to make, but they're delicious and, I think, well worth the effort!
Printable Recipe
Caramel Sauce via Simply Recipes
1 c (199 g) sugar
6 Tbls butter
1/2 c (118 ml) cream
Measure out your ingredients ahead of time and have them ready.
Cook the sugar in a sauce pan with tall sides, stirring while it melts to make sure it cooks evenly. After it comes to a boil, refrain from stirring. Swirl the pot if necessary. After the sugar has reached a nice amber color, add the butter piece by piece and whisk to combine. It will bubble up, so be careful! Remove from heat and add cream slowly – it will bubble up again. Pour into a bowl to cool.
Chiffon Cake via Alton Brown
This is one of my favorite cake recipes!
1/2 c (63 g) cake flour
3/4 tsp baking powder
1/2 tsp salt
3 egg whites, at room temp
2 egg yolks, at room temp
1/3 c + 1 Tbls (85 g) sugar, divided
1/8 c (31 ml) water
1/8 c (31 ml) vegetable oil
1/2 tsp vanilla
1/4 tsp cream of tartar
Preheat the oven to 325F (165C) and prepare a 12 1/2 x 17 1/2 pan by oiling it, lining it with parchment, and oiling again.
In a medium mixing bowl whisk together the flour, baking powder and salt. Set aside.
Place the egg yolks and 1/3 c (71 g) of the sugar into the bowl of a stand mixer and whisk on high for 2 minutes or until the mixture becomes pale yellow and 'ribbons' when lifted. Add the water, vegetable oil and vanilla and whisk to combine. Add the dry ingredients and whisk just to combine. Transfer the batter to a mixing bowl while you whisk the egg whites.
Place the egg whites and cream of tartar into a clean bowl and whisk on high using the whisk attachment, until it becomes foamy. Decrease the speed to low and gradually add the remaining ounce of sugar. Increase speed to high and continue whisking until stiff peaks form, approximately 2 minutes.
Transfer 1/3 of the egg whites to the batter and whisk until well combined. Add the remaining egg whites and fold in gently. Transfer batter into prepared pan. Bake for 10-15 minutes, until a toothpick comes out clean or the cake reaches an internal temperature of 205 to 210F (96 to 99C). Remove from the oven to a cooling rack and allow to cool completely. Cut out rounds of cake with ring molds, split and store.
Graham Crackers via 101 Cookbooks
1 1/4 c plus 1 Tbls (156 g) unbleached pastry flour or unbleached all-purpose flour
1/2 c (71 g) dark brown sugar, lightly packed
1/2 tsp baking soda
3/8 tsp salt
3 1/2 Tbls (50 g) unsalted butter, cut into 1-inch cubes and frozen
1/6 c (39 ml) mild-flavored honey, such as clover
2 1/2 Tbls whole milk
1 Tbls vanilla
In the bowl of a food processor fitted with the steel blade or in the bowl of an electric mixer fitted with the paddle attachment, combine the flour, brown sugar, baking soda, and salt. Pulse or mix on low to incorporate. Add the butter and pulse on and off on and off, or mix on low, until the mixture is the consistency of a coarse meal.
In a small bowl, whisk together the honey, milk, and vanilla extract. Add to the flour mixture and pulse on and off a few times or mix on low until the dough barely comes together. It will be very soft and sticky.
Turn the dough out onto a lightly floured work surface and pat the dough into a rectangle about 1 inch thick. Wrap in plastic and chill until firm, about 2 hours or overnight.
Sift an even layer of flour onto the work surface and roll the dough into a long rectangle about 1/8 inch thick. The dough will be sticky, so flour as necessary. Cut out circles with ring molds. Place the crackers on one or two parchment-lined baking sheets, dock with a fork and chill until firm, about 30 to 45 minutes. Repeat with scraps.
Adjust the oven rack to the upper and lower positions and preheat the oven to 350F (180C).
Bake for 15-20 minutes, until browned and slightly firm to the tough, rotating the sheets halfway through to ensure even baking.
While cooling, trim with ring mold to retain shape after spreading.
Perfect Panna Cotta via David Lebovitz
This will make a little more than you need, but just pour it into an oiled mold and pretend it was intentional. You'll thank me for it!
2 c (473 ml) heavy cream (or half-and-half)
1/4 c (50 g) sugar
1 tsp vanilla, or 1/2 vanilla bean, split lengthwise
1 packet powdered gelatin
3 Tbls cold water
Heat the heavy cream and sugar in a saucepan or microwave. Once the sugar is dissolved, remove from heat and stir in the vanilla extract (if using a vanilla bean, scrape the seeds from the bean into the cream and add the bean pod. Cover, and let infuse for 30 minutes. Remove the bean then rewarm the mixture before continuing).
Sprinkle the gelatin over the cold water in a medium-sized microwave-safe bowl and let stand 5 to 10 minutes.
Pour the very warm Panna Cotta mixture over the gelatin and stir until the gelatin is completely dissolved.
Chill about 40 minutes, until the panna cotta is thick and holding it's shape fairly well. Whisk to eliminate lumps, then use in construction as described below.
Construction
Just as FYI, I use 3 x 3 molds.
Cover on side of two graham cracker with warmed caramel and sandwich a piece of cake. Do this seven more times, for a total of 8 sandwiches (or double however many molds you're using). Place one in the bottom of each ring mold.
Cut strawberries into desired shapes or simply dice. I trimmed the cheeks off of a few particularly large berries and cut with a small flower-shaped fondant cutter. I would advise you to simply dice the berries; the shape is hardly discernible! Arrange around edges of cylindrical mold and sprinkle in center, if desired.
Pour in prepared and chilled panna cotta, then top with remaining cake sandwiches.
Cover and refrigerate at least 4 hours or overnight.
To remove from molds, run a sharp knife around perimeter. Place on serving plate and drizzle with warmed caramel. Enjoy the fruits of your labors!!