Gingerly lacing my fingers through straps and gently grazing sleeves, my efforts allow aging hangers to slide from left to right over their track in the closet. Not without a bit of coercion however, as the winter months have not been kind to the strain placed on the metal bar. Packed to capacity – and then some – spring and summer clothing bulges this way and that, slipping from a hanger here and hiding between two garments there. All of it thoroughly eager to burst forth for the season, but strangely reluctant to come out of hiding. One article, in particular, has been evading me with a great amount of success. For hours.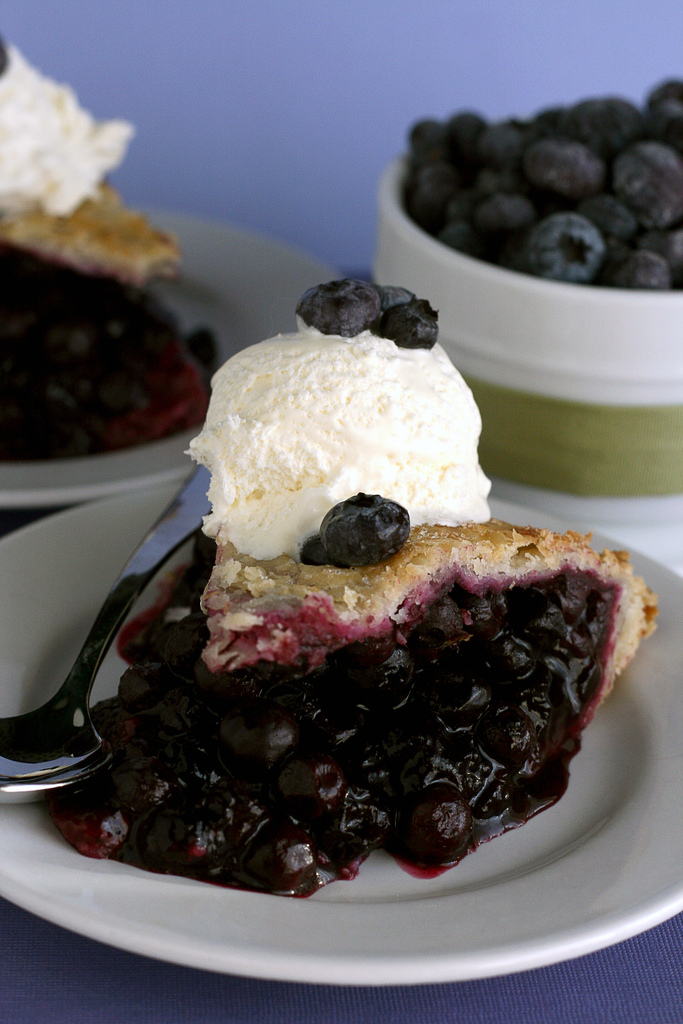 As I rest from an exhausting shift of searching, savoring the first bite of this homey
blueberry pie
, I picture the places I've last seen the dress.
Surely, it was hanging on the rack near my room. However, tilting backwards on two chair legs, I can see the rack, and I see no dress; only its ghost, etched in my mind's eye.
If not there, then the closet? But alas – I've searched inside – twice – even carefully examining the floor beneath for crumpled but loved pieces.
Every room has been scanned twice. Each box dumped, refolded and repacked, each bag emptied, reorganized and re-stuffed, and each closet scanned and checked and gone through. So where is it?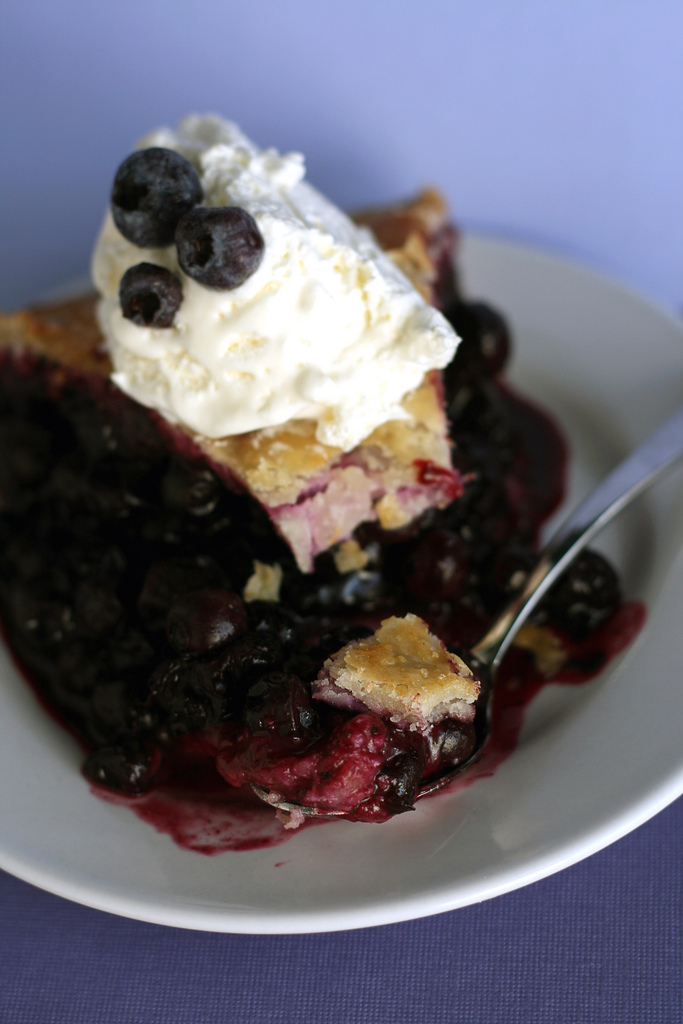 The last bite of my slice stares upward from my berry-stained plate. Mocking me — like the dress. I can picture it in so many places and in so many memories, but I can't connect anything with its current resting place. Perhaps folded, perhaps hanging and perhaps compacted into a forgotten lump; it's somewhere. Somewhere filled with shorts and tank tops and sleeveless shirts, all of which shielding my sight and hiding my prize.
I'm beginning to get frustrated as I rinse my plate in the sink, but decide to give the search one last try.
And, of course, the dress was hiding right under my nose in the first place I looked.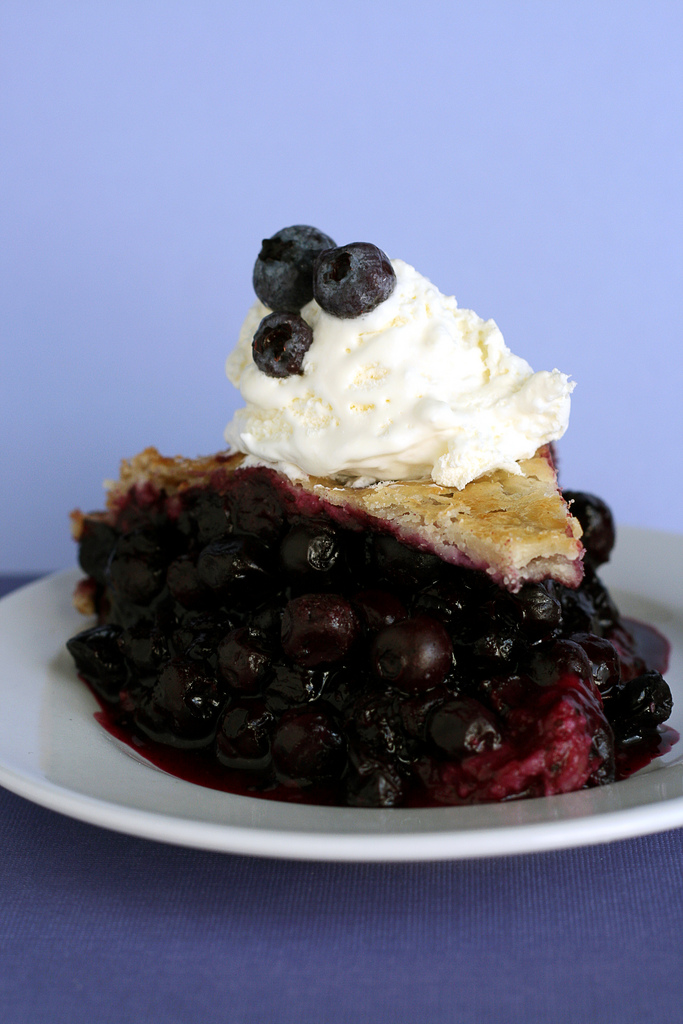 As most things seem to be.
Printable Recipe
Pie Crust via Fannie Farmer
Makes enough for 1 double-crust 9″ pie.
2 c (250 g) flour
1 tsp. salt
1/3 c (78 g) shortening, chilled
1/3 c (78 g) butter, frozen
4 Tbls cold water (may need more or less)
Mix flour and salt in a medium-sized bowl. Add chilled shortening and place in freezer. On a chilled plate, grate butter with a cheese grater using the larger holes. Add to shortening and press mixture gently with fingers until it resembles coarse crumbs. Sprinkle water over the dough, tablespoon by tablespoon, and mix with a fork just until combined. Compress into a ball (try not to knead too much!) and flatten into two equal-sized disks. Wrap well in plastic wrap and refrigerate for at least two hours (or up to a week). Allow one half to set on a floured table for ten minutes before rolling, then roll, being sure to maintain a circular shape, and transfer to pie shell. Trim and tuck under edges, then dock bottoms and sides. Chill while you prepare the filling.
After the pie is filled, roll out the top crust and add in a few slits to allow steam to escape. Flute and bake as directed.
Blueberry Pie adapted from All Recipes
1 1/8 c (224 g) sugar
4 Tbls + 1 1/2 tsp cornstarch
3/8 tsp salt
3/4 tsp cinnamon
6 c (888 g)frozen blueberries, defrosted and drained of juices.
zest of 1 lemon
1 Tbls lemon juice
1 recipe pastry for a 9 inch double crust pie (above or your favorite)
1 1/2 Tbls butter
1 egg yolk + 1 Tbls water
Coarse/sanding sugar
Preheat oven to 425F (220C).
Mix sugar, cornstarch, salt, and cinnamon in a large bowl. Add blueberries and top with zest and juice. Mix gently with hands to combine, then pour into prepared and chilled pie crust. Dot with butter and cover with remaining pie crust, fluting edges.
In a small bowl, combing egg yolk and water. Brush over pie and sprinkle with sugar. Bake for about 50 minutes, setting a piece of aluminum foil over the top for the first 30, until crust is golden brown and juices appear slightly thickened. Cool on rack 2 hours before slicing and serving with ice cream and fresh berries.