The winner of the cake dome is…..
Rosin – entry number 44!
I will be contacting you shortly for your mailing address! Thanks for entering, guys!
Sitting cross-legged on my bed with the spine of a new cookbook spread over my lab, I'm turning pages quickly and expectantly. Eager to see something new and unique within the tome, I devour the photos and recipes inscribed on the clean sheets. Meanwhile, two undeniable urges swell within me; the craving for an unknown taste and the desire and challenge of an unfamiliar method.
But I'm unsatisfied as I approach the final pages, left disappointed in the face of the index. Almond biscotti, banana pancakes, chocolaty delight brownies, dates-nut cake… The list is neatly-organized and plain, but littered with all of the same-old dishes that leave me in this saddened state. I often feel as if every possible flavor combination has been explored and that everything that ever will be made has already been made. Almost as if there is nothing left to do but repeat, repeat, repeat.
Needless to say, I don't like the feeling.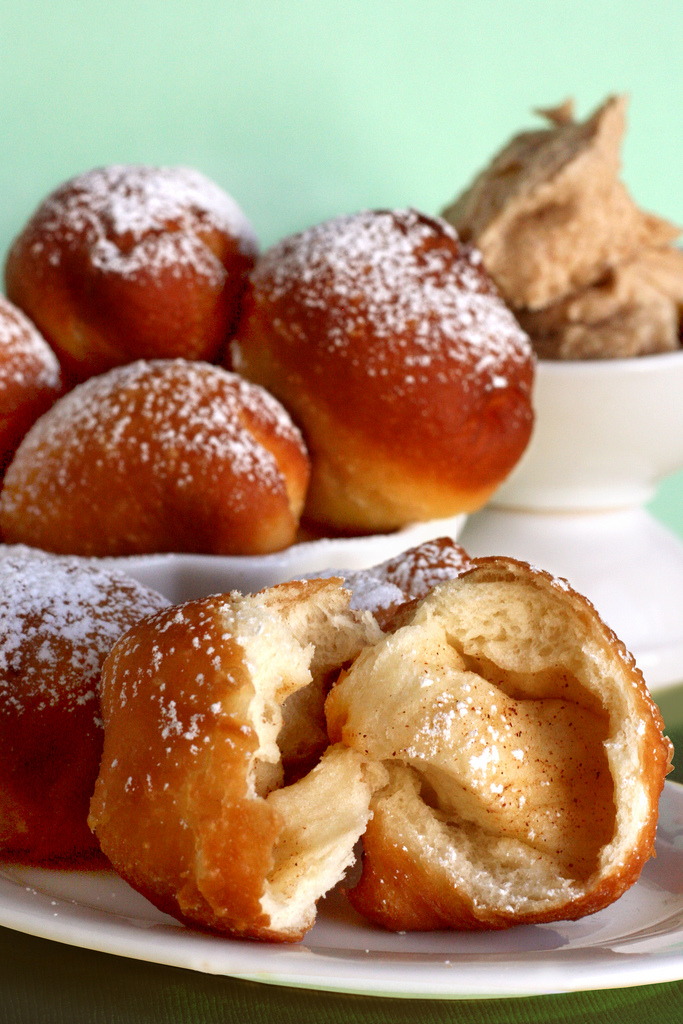 But still I find good in it; dwelling long enough generally leads to inspiration. Don't get me wrong – I love homey chocolate chip cookies and classic chocolate cake as much as the next girl, but sometimes I just want something new and different. Something the world has never seen before.
P recently spent a a number of days considering this thought, frustrated by his current inability to bake the majority of the sweets in his repertoire while living in India. His goal was to come up with something unlike anything dessert he had previously encountered.
The kid's always got to be "special," you know?
😉
After a week of thinking, P developed this recipe for Monkey Balls; fried balls of sweet dough filled with cinnamon and sugar. Call it an inside-out doughnut hole if you like, but I've never seen these ingredients combined in this particular way and I think it's pretty freakin' fantastic. It's an ingenious and delicious creation, developed in an environment where, to my knowledge, sweets of this nature aren't too common.
All of which is an inspiration in itself; the staples behind the dessert have been available for decades, but have only just now been united in this fashion. I've always wondered how many brand-spankin' new recipes are yet to be developed. In what new ways will mix our flour, sugar, eggs and butter in the future? There was a time when cakes, breads, cookies, custards and the like didn't exist, and there are millions of possible combinations, so what's next? It's such a cool thing to think about.
What do you think? Have you ever tried to reinvent the wheel?
Monkey Balls recipe from P
Curious about the name? It was inspired by that of monkey bread because of the obvious similarities. Also, P is just kinda immature, but it's ok; everyone likes him anyway! These sweet bites are soooo good. Well worth the time and the calories. Trust me – I know these things! Makes about 15.
Sweet Dough
1 package instant dry yeast
1/2 c (118 ml) water at 110F (44C)
1/3 c (66 g) sugar
1/2 c (118 ml) milk, warmed
1/3 c (78 g) butter, melted and cooled to room temp
1 egg, beaten and at room temp
1 tsp salt
3 1/2 to 4 c (438 to 500 g) flour
Combine the yeast, water and sugar and let set about five minutes until the yeast is activated. Mix in the milk, butter, egg and salt, and begin adding the flour in about 1/2 c (71 g) increments until it hold together. Turn out onto a well-floured surface and knead about fifteen minutes, adding more flour as needed. Place into a well-oiled bowl, cover and let rise in a warm place until doubled, about an hour. Make filling (below) while the dough rises.
After the dough has risen, dump it onto a lightly floured surface. Gently flatten the dough with your fingers to redistribute the air slightly. Pinch off a walnut-sized ball of dough, then flatten into a round. Fill with about a 1/2 tsp of filling (below) or sprinkle the center with cinnamon and sugar. Fold up edges into a ball shape, pinching seams to seal. Set on a lightly floured tray and cover. Repeat until all of the dough is gone, then place the formed monkey balls in the fridge overnight, or at least 8 hours.
After the dough has rested, place it in an cool oven, along with a small boiling pan of water. Wait half an hour for the dough to warm and rise slightly. Meanwhile, heat oil to 365F (185C) and prepare a cooling rack by resting it upside down on a pile of paper towels to soak up excess oil.
After dough has risen for the final time, gently move two or three at a time to the hot oil. Fry about a minute on each side, then remove to cooling rack over towels, flipping after about 15 seconds to a clean area. Allow to cool slightly, then enjoy!
Monkey Ball Filling
It's completely fine to simply fill the balls with a dry mix of cinnamon and sugar, but I used the following combination. What can I say – I was channeling my inner Paula Dean!
1/4 c (59 g) butter, softened
2 tsp cinnamon
1/4 c (36 g) brown sugar
1/2 tsp vanilla
Beat the butter until slightly aerated and add the cinnamon and brown sugar. Beat until light, about five minutes, then add the vanilla. Whip briefly to combine, then use.