It's habit, when the alarm rings, to momentarily shrink into your dark surroundings. The sun knocks at your window, spreading the blinds further and illuminating plush carpeting with increasing strength while it inches higher into its impressive arc. How much time you spend there with blankets pulled and scrunched to your tired eyes is dependent only on you and your obligations; your drive to work and your desire to "disappear" for the day, if only in the eyes of your superiors.
But eventually you pull the blankets away and crawl from the comfort of your bed, quickly shedding that dreamy daze but holding fast the sleep behind your lids. And then what do you do? You make your way to the closet. The bathroom. The kitchen. Maybe you trip over your dog or cat on the way, but you make it one way or another, and your day begins. Maybe with coffee or with tea, but hopefully, at the very least, with a great breakfast.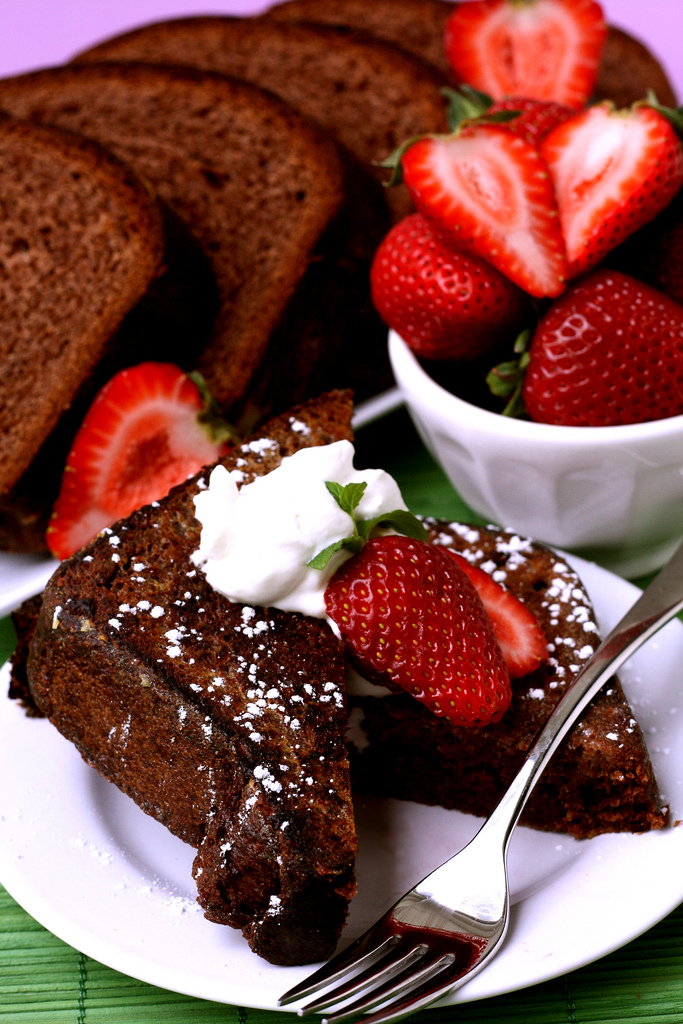 Oftentimes, I pass the first few moments of my day perched on the kitchen counter lazily eating a bowl of cereal. Sitting there, above the most disorganized cabinet known to man, I finish the bowl with little thought and place the dish in the sink, ready to step out of my robe and into the shower. But things are different on the weekends.
I don't remember when the tradition began, but Dad and I go out for breakfast almost every Saturday morning. He can't work on his cars while we sit in our booth, so I've got him cornered and can talk his ears off for hours about my friends, my job, the great shoes I bought on sale, those cool plates that I found at TJ Maxx – you know, the important stuff that all dads are dying to hear about. I look forward to and love spending that time with him, so I was bummed when I was at MSU because Saturday morning breakfasts with Dad weren't convenient or easy to coordinate. Eating breakfast alone just isn't fun.
I'm convinced that spending the morning across the table from someone is the best way to start your day.
So, when I met P during my first semester at State and discovered that he and I started our days and ate breakfast at the same time, I was happy to start spending my mornings across the table from him. The food wasn't as good, but the companionship was nice and we bonded over our disdain for the crap served to us on a day-to-day basis. Call me a food snob, but powdered eggs, soggy French toast and cardboard-esque pancakes… Well, they weren't up to our standards.
But it wasn't all bad. There were a few good items; the biscuits, for example, were so good that we would go to different cafeterias just for the opportunity to dip them in warmed honey and reward our tired and empty stomachs with their glorious goodness.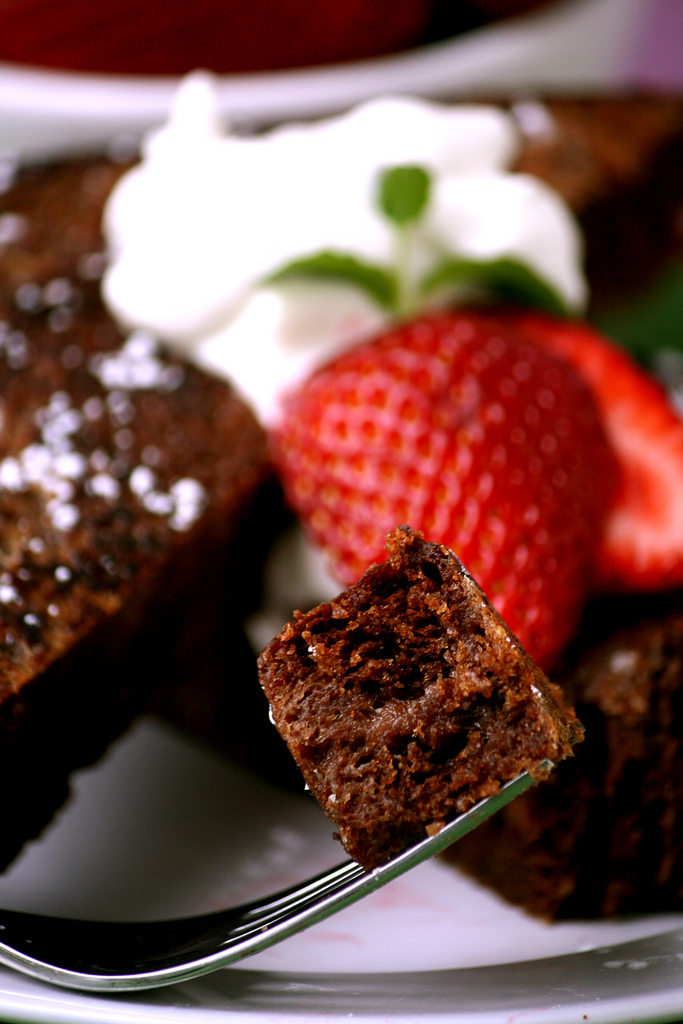 Hello, satiety.
But biscuits (and maybe French toast sticks and grapefruit) aside, he and I spoke constantly of food, the quality of caf food, the process of powdering eggs (Hooray for food science 211!) and just how to prepare brittle pancakes. Home-cooked meals were a hot topic and he loved to brag about his pancakes (mine are better. He doesn't agree, but that's because he's just a boy and boys are dumb) while we joked and laughed and danced rubbery eggs around our plates with the backs of our forks.
They could never replace them, of course, but I looked forward to those breakfasts just as much as I look forward to breakfasts with Dad.
It was really nice to be able to spend my mornings across the table from someone again.
But now that I'm home, Dad's at work during the week and P's in India, I spend most of my mornings staring blankly into my cereal. Months ago, I promised myself that I would make interesting breakfasts when I got home, but let me tell you – I'm home now and they're not all I thought they'd be when I was sitting in that cafeteria talking to P. When I slump out of bed at 7:30, MultiGrain Cheerios somehow seem like the most delicious thing in the world. Granted, they do come close, but deep inside, I knew that something had to be done. Something delicious that involved [non-soggy] French Toast.
So I made chocolate brioche. Then I sliced it, soaked it and pan-fried it. Chocolaty custardy goodness? I think so. No exaggeration – this stuff made up for all the disappointing food I've eaten in the past year.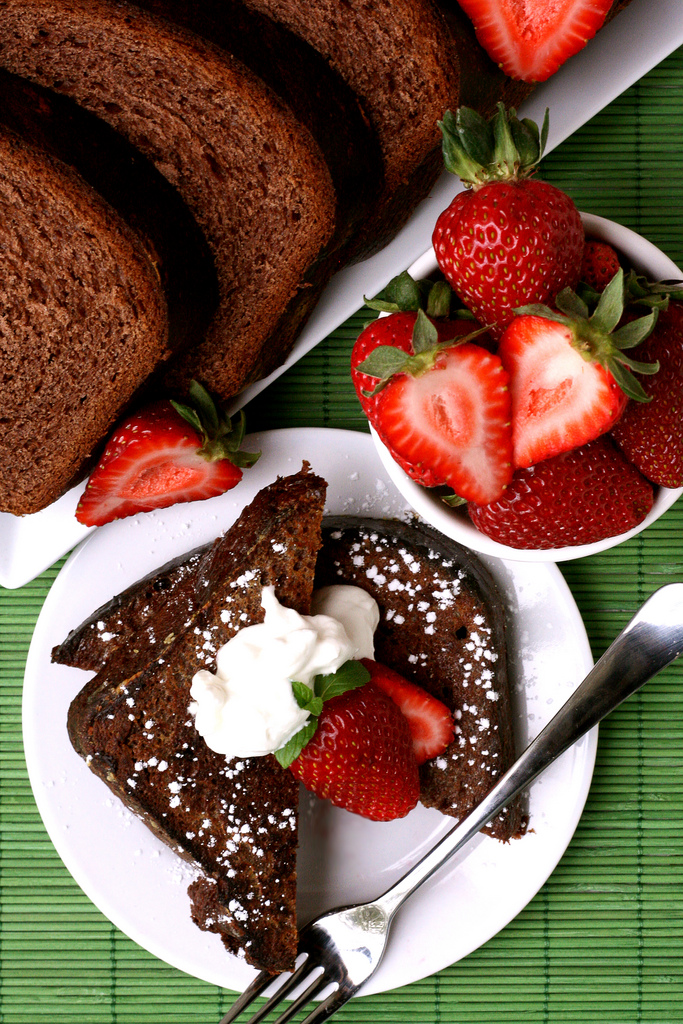 But I have an important tip before I go: make sure that you don't eat this meal alone, because you will surely eat it all. Like all good things, this French toast is meant to be shared, and is best when served across the table from someone you love.
Chocolate Brioche via The Craft of Baking

I had a little bit of a rough time making this dough and wasn't able to knead it very easily by hand, but it turned out really well, so I'm ok with it!
Printable Recipe
1 packet (1/4 oz or 7 g) active dry yeast
1/2 c (120 ml) warm water, 105-115F (40-46C)
2 c (265 g)bread flour
1/3 c + 2 Tbls (40 g) unsweetened cocoa powder
1 tsp salt
3 eggs
1 c (240 g) butter, chilled and cut into small cubes
1/2 c (100 g) sugar, divided
1 Tbls cream, if desired
Combine the yeast with the water in a stand mixer fitted with a dough hook attachment and and sprinkle in 1 Tbls of sugar. Let set until activated, about five minutes.
In another bowl, sift together the flour, cocoa powder, and salt, then add to the yeast mixture in 1/2 to 1 c increments. Stir on low speed until combined, then increase speed to medium and add the eggs one at a time. Mix until dough begins to pull away from and slaps the sides of the bowl, about ten minutes.
With the machine running, add the butter, piece by piece. It will look like it's not going to mix in, but just keep going. Add the remaining sugar and continue to mix until the dough is shiny, about 15 minutes.
Remove dough from bowl and pull into a tight ball. Place into an oiled bowl, cover with plastic wrap and set in a warm place until dough has risen by half, about 3 hours.
Deflate the dough, roll it into a tight ball and return it to the re-oiled bowl. Cover with plastic wrap and refrigerate for 6 hours or overnight.
Grease an 8 1/2″ x 4 1/2″ loaf pan.
Remove the chilled dough from the fridge and shape into an 8″ square. Fold into thirds, pinching to remove air pockets, and fold under ends. Place in oiled pan, pressing to ensure that the dough reaches every corner, then cover and let rise until it reaches the top of the pan, about 2 hours.
Meanwhile, preheat the oven to 375F (190C).
If using, brush the risen dough with the cream. Slit the dough, then bake for about 50 minutes, or until the the bottom of the loaf makes a hollow sound when unmolded and tapped. Cool in pan on a rack for 5 minutes, then remove from pan and cool completely before slicing.
Chocolate French Toast
This isn't an exact recipe because I've always just thrown stuff into a bowl while making French Toast. Never fails!
Slices of chocolate brioche, 1″ to 1 1/2″ thick
Eggs
Milk or cream
Vanilla
Almond Extract
(Maybe I should keep this to myself, but I think this would be awesome with Irish cream in it. Hey – it's 5 o'clock somewhere, and you can't pretend you don't pour some into your morning coffee anyway!)
Whisk together the eggs, milk, vanilla and almond extract (cream and Irish cream too, if you're being daring!) in a large, shallow dish and soak the slices of brioche for 1-2 minutes, then flip and soak 1-2 minutes longer. You want the bread to be fully saturated!
Melt some butter in a pan and cook the bread on medium heat until crispy on the outside and custard-y on the inside. Serve with powdered sugar, strawberries, rhubarb curd… Anything really – it's hard to mess this one up!