I've started "tweeting."
I think.
Is that the right thing to say?
Anyway, follow me if you want to watch me make a fool out of myself as I navigate the strange new world of Twitter! Just be careful… I walk into walls.
Wow, I am just so darn original!
———————————-
C ducks under the brim of his cap and lets out a loud sigh. As he confidently falls to wrap his arms around his pale, barren knees, he makes a statement:
"They're coming around again."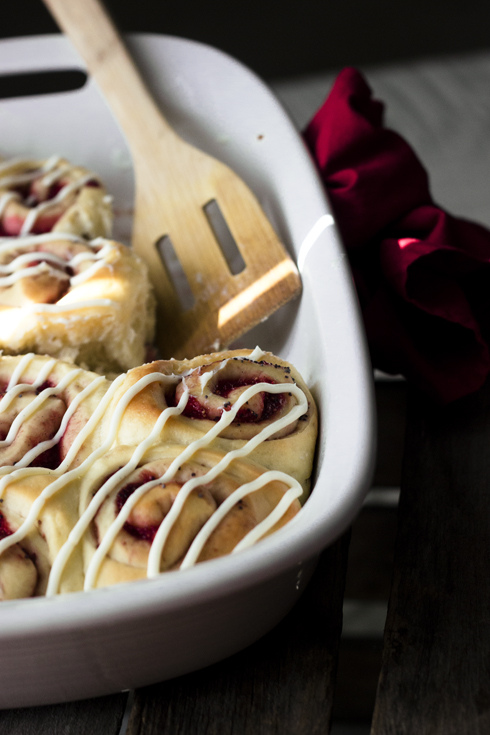 Although C's face is buried in his lap and the uttered words are muffled, it's easy to understand what he's saying just by looking at him. His complexion has reddened, and the once lone scrape on his knee has been joined by two others since I last checked. At this point, he's too tired to even peek out at the tractor like he did when they came around ten minutes before.
I'll give him credit; the kid started out strong. C wanted to go even further into the field than I had planned to and was eager to get as close to the "best picking" sign as his short legs could carry him. He was on the lookout for the biggest berries he could find and was determined to find the biggest, even if it meant hopping awkwardly over rows of plants and missing some serious contenders on the way. After arriving at his destination, the berries he picked went into his up-turned cap and were then deposited into the over-sized flat that I carried between my left hip and wrist.
His short legs carried him hurriedly off through the neat rows after he gave me a quick run-down of his most impressive finds.
But now the conditions have set in. The last time the tractor came by, C only mentioned it because he was concerned that it wouldn't come back. But now, as his salvation, it has gained importance.
He tucks deeper into his knees.
So we walk. I tactfully snap the last berry in sight and gently tug at its crown, greedily pressing the allotted free sample to my lips. Although the act of harvesting took a toll on the weakened fruit – turning it nearly to jam between my fingers – this berry is the sweetest I've had in years and the pint I bought last week doesn't even compare. These berries, warm on their tired green stems, contain all the juicy goodness of fresh-picked, plus the fleeting essence of the sun.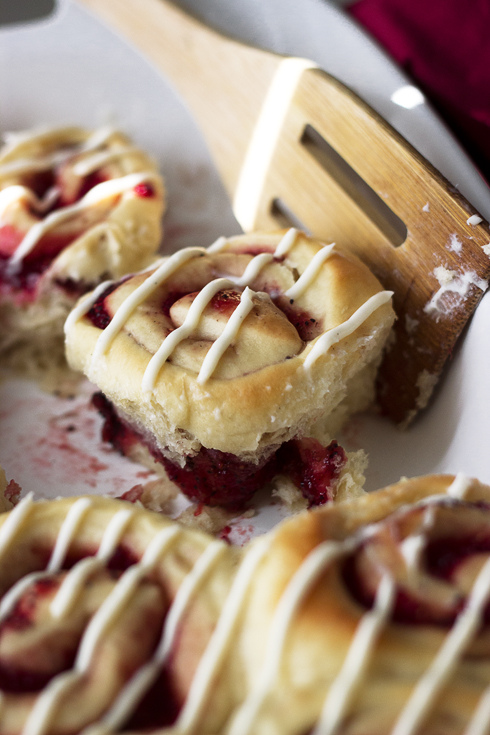 … Which is better for some things than others, as C will surely attest.
It's the last day of strawberry season at the orchard, and I'm fortunate to have made it – by chance – just in time.
Strawberry Pistachio Rolls
I was thinking about these the whole time I was picking strawberries, mainly deciding between pistachios and almonds in the filling. I finally chose the former, thanks to some advice from K, and got cooking! In the end, I wish that the pistachio flavor would have been more pronounced, but these are certainly delicious. They taste almost like a strawberry doughnut! Feel free to use purchased strawberry jam in lieu of making your own.
Printable Recipe
Sweet Dough via P
1 package instant dry yeast
1/2 c (118 ml) water at 110F (44C)
1/3 c (66 g) sugar
1/2 c (118 ml) milk, warmed
1/3 c (78 g) butter, melted and cooled to room temp
1 egg, beaten and at room temp
1 tsp salt
3 1/2 to 4 c (438 to 500 g) flour
Combine the yeast, water and sugar and let set about five minutes until the yeast is activated. Mix in the milk, butter, egg and salt, and begin adding the flour in about 1/2 c (71 g) increments until it hold together. Turn out onto a well-floured surface and knead about fifteen minutes, adding more flour as needed. Place into a well-oiled bowl, cover and let rise in a warm place until doubled, about an hour. Make fillings (below) while the dough rises.
After the dough has risen, dump it onto a lightly floured surface and gently flatten the dough with your fingers to redistribute the air. Fold into thirds and gently press once more before rolling into a 10 x 24 inch rectangle. Spread with jam, leaving a 1 inch border on both of the 24 inch sides and top with pistachio filling (this part was easiest to do by hand. You may be better off to just mix the two before spreading it on!). Wet both of the 1″ borders with water or egg, then tightly roll. Cut into 10 (or more) pieces with dental floss and place dough in oiled dishes (ramekins, cupcake tins, baking dish, baking sheet, etc.) to rise until doubled*.
When you are ready to bake, preheat the oven to 350F. When the oven has come to temperature, bake the rolls for 20-25 minutes until golden brown and hollow-sounding when tapped on the bottom. Cool on racks and drizzle with a simple glaze of milk and powdered sugar, if desired.
*The dough can rise overnight (at least 8 hours) in the fridge or simply in a warm place.
Quick Strawberry Jam
1 1/2 c (355 ml) strawberries, hulled and halved
1/4 c (50 g) sugar
1/2 tsp salt
1 Tbls lemon juice
1 Tbls cornstarch
Combine all ingredients in a small saucepan and cook until the berries have broken down slightly and the jam is thickened. Cool before using.
Pistachio Filling
1 c (128 g) pistachios, shelled
1/4 c (50 g) sugar
1/2 tsp vanilla
2 Tbls (28 g) butter, room temp
1 egg, room temp
Place all ingredients in a food processor and process until thoroughly combined and paste-like.