Since school ended, I've been spending a lot of time in my car.
It's not that I work every day, but my time off from work seems to fly by. I'm happy to fill the off-days with hobbies, families, appointments and obligations, but before I know it, I find myself between lanes on the highway.
Back on the road.
And since school ended, I feel like I've been living out of that same car.
Sure, I have places to stay, but having divorced parents has always left me feeling a little… Divided. Between Mom's, Dad's, my Grandparent's place, and overnight stays in various friends' apartments, I never really know where I'm going to end up when I hit the highway after work.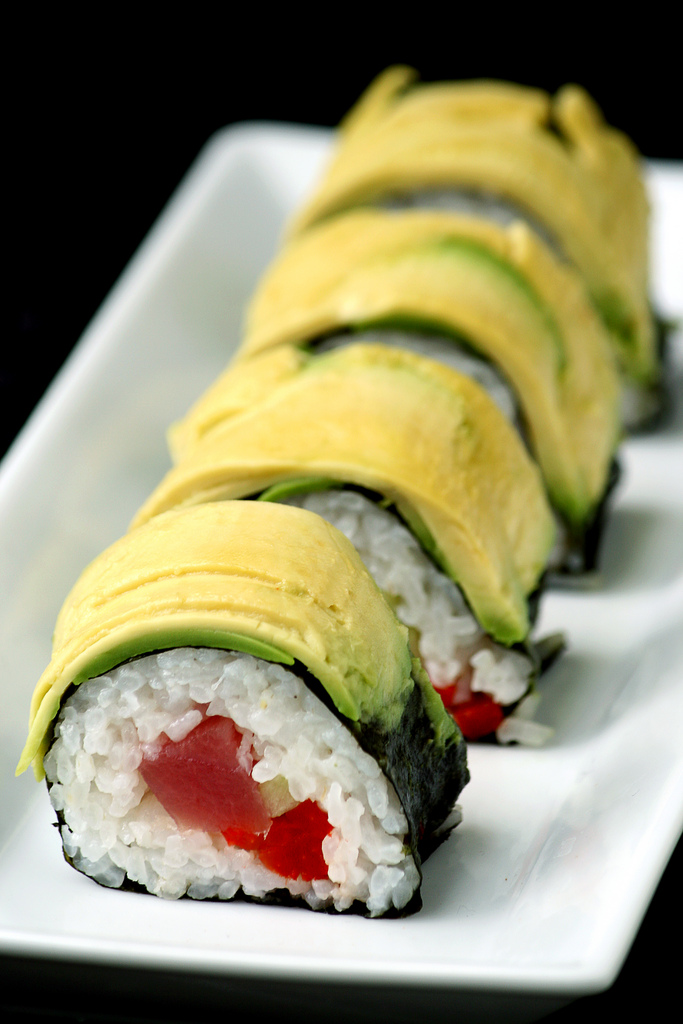 Most nights I end up at my Grandparent's house because theirs is 15 minutes closer to work than either of my parent's. However, I have, since first making that claim, found it to be inconsistent.
I don't think I have a speeding problem, but I suppose it would all depend on who you asked.
But when I do go to my Grandparent's, I always know that I'm in for some delicious food (yes, contrary to what I may or may not have lead you to believe, I do not live off of cake and cookies!). It's rare that I know what I'll come home to, but it's always a good surprise and I honestly can't think of a time when I went to their house and was served anything that was less than awesome. She says she doesn't like to cook anymore, and she says she's no good, but she still makes food everyday and is totally wrong about her cooking skills. Plus, she even stocks her pantry with Maple Nut Goodies (my weakness. I don't know why, but I can't get enough) for me and packs me a lunch for work the following day.
I am SOOOO spoiled.
But last Tuesday, when my rattling muffler sounded my arrival to their house, Grandma greeted me with a dinner that I never would have expected. As Lulu, their dog, bobbed excitedly between her feet, Grandma informed me that dinner that night would be different. Dinner that night would be…
Sushi.
As in raw fish.
"I tried a piece before you got here. I didn't think I would like it, but it's actually really good!"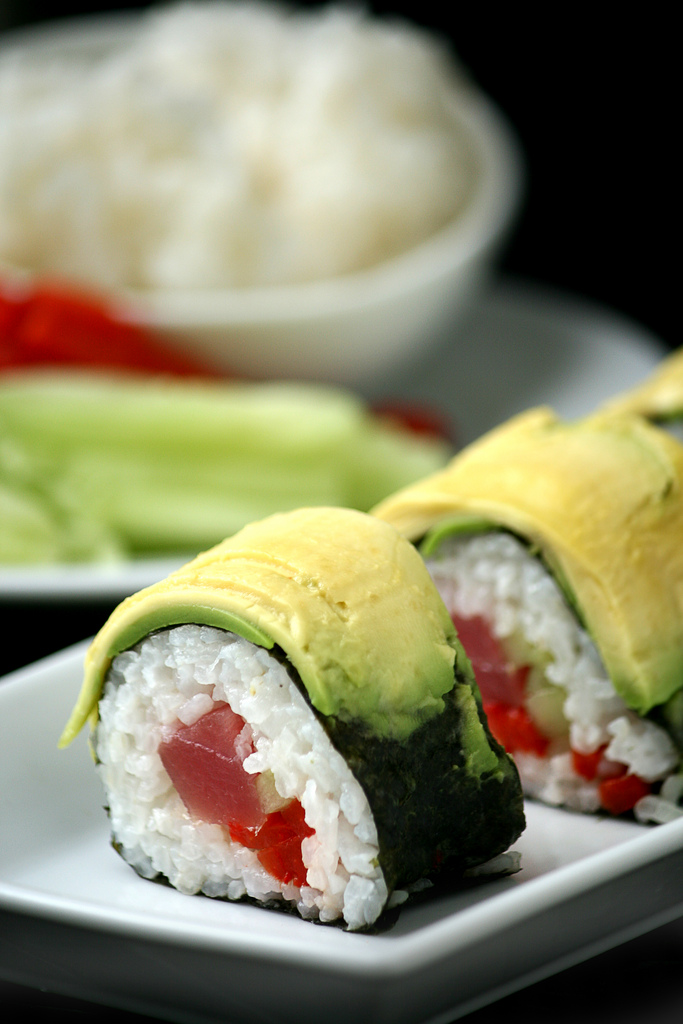 How awesome is that? My Grandma ate sushi! Of her own accord! And she even liked this sushi – the remains of my packed lunch – that I brought home and was worried about wasting.
She's great 🙂
And so is my Grandpa – even though he was afraid of the sushi and ate Grandma's chili (yum!) instead, he's not afraid to put himself and his beliefs out there in order to make a difference.
They're both so strong, so caring and so giving… Maybe it sounds strange of me to say, and I'm sure that it's evident by how much I talk about them, but I am so proud of my grandparents and I am so fortunate to have people as awesome as them in my life.
Especially because they always appreciate what I make for them!
Tuna and Roasted Red Pepper Roll
adapted from
Use Real Butter
This makes two rolls and is no where near as difficult to do as you might think! I was able to find sushi grade tuna at an Asian grocer, but I'm going to make some more tomorrow with scallops I purchased at Whole Foods. I had a nice conversation with the woman working the counter about my plans and have no fears!
Printable Recipe
1 c (160 g) sushi rice (uncooked)
1 c (235 ml) water
1 Tbsp + 1 tsp rice vinegar
1/2 tsp salt
1 Tbsp sugar
1 package of sheet nori
1/4 lb (maybe less) (115 g) tuna, cut into thick slices
1/2 red pepper, roasted and cut into matchstick-sized pieces
1/2 cucumber, cut into matchstick-sized pieces
1 ripe avocado, peeled, pitted, and sliced thinly
Rinse, drain, and soak the rice in (non-measured) water for at least 30 minutes, then drain. Combine the rinsed rice and measured water in a saucepan and cover, then bring to a boil over medium high heat, reduce the heat and cook for 10 minutes. Remove from heat and allow the rice to steam undisturbed (don't take off lid!) for 10 minutes.
Meanwhile, combine the vinegar, salt, and sugar in a small bowl, then stir until salt and sugar are dissolved.
When the rice is nearing the end of its steaming period, wet a large mixing bowl that is big enough to hold the rice. Wipe off excess water and wet the tub a second time with vinegared water (1 cup water + 2-3 tablespoons vinegar). Wipe off any excess. Heap the cooked rice in center. Allow rice to cool in the tub for 10 minutes. Pour the dressing over the rice and mix the dressing evenly with a large spoon or rice paddle. While mixing, fan the rice to cool it. The rice is ready to use when it reaches body temperature.
Assembly: On a sheet of plastic wrap, set down one sheet of nori. With wet hands, grab a handful of sushi rice and evenly spread across the top 3/5 of the nori sheet, pressing the rice down to ensure it sticks to the seaweed. Arrange sliced avocado on plastic wrap and carefully flip the nori over so that the rice faces down onto the plastic wrap and avocado. Place a line of tuna at the non-rice end of the nori, leaving a little room on either end. On top of that, repeat with lines of red pepper and cucumber. Roll the fillings up from the non-rice end of the nori (like a carpet) and continue to roll tightly, but not too tightly until the rice encompasses the entire outer part of the roll. Use the plastic wrap to help maintain shape without letting the roll stick to you. Use a bamboo mat to firm up the shape and compact the roll. Remove the bamboo mat and the plastic wrap from the roll. Dip a very sharp knife in water and cut the roll in half. Repeat until you have 8 pieces. Serve with wasabi, gari (pickled ginger), and soy sauce, if desired.
*Just as a note, I rolled mine in a different way. This makes much more sense than what I did, but the battery on my laptop died and I improvised.