Earlier this week, I packed a cooler, donned my favorite shades and stepped out of the chilly house and into the sun. I momentarily doubted the box's integrity and its ability to properly protect the goodies I had systematically stashed within, but we braved the heat together; assured that we would arrive safely, on time and without trouble.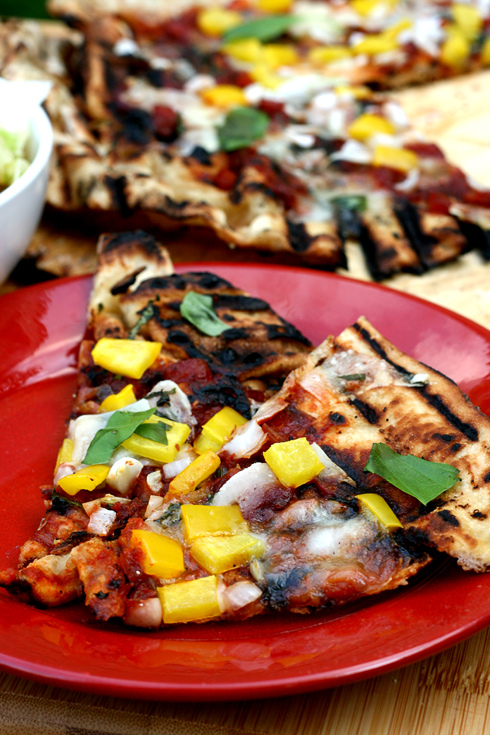 A, B and I set up in a familiar park near A's house, claiming an empty pavilion and a clean grill as we unpacked the van B's parents let us borrow. I've been here before, but the park has changed recently. Although I'm nearly positive that the pavilions are a constant, the nearby play structure, maze and soak park were certainly not there when my parents brought my brother and I here in the past. Back in the day (can I even say that?), the trails were our entertainment. Add them to some time spent rolling down hills, flying kites and attacking over-sized jawbreakers and, well, D and I were set. I loved that place.
Life was good.
So now, in the same park, a decade older and with shifted interests, it's awesome to discover that I'm still so fond of the place. But really, how could I not be with a bottle of lighter fluid in one hand and a pizza peel in the other? The future's always bright when freshly grilled thin crust pizza rests on the horizon. I have fresh cheeses, an assortment of toppings, a cooler stuffed with side dishes and a pitcher full of lemonade (thanks B!). But, most importantly, I had two awesome and amazing people with me. Two of my best friends.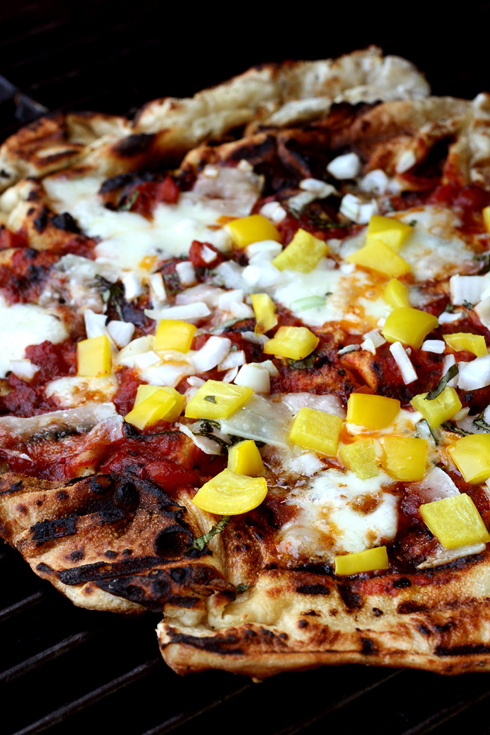 And that's always good!
Grilled Pizza
Printable Recipe
Pantry-Friendly Pizza Sauce via Alton Brown
This sauce is incredible. I won't use any other!
2 (28-ounce or 795 g) cans whole, peeled tomatoes
1/4 c (60 ml) sherry vinegar
1/4 c (50 g) sugar
1 tsp red pepper flakes
1 tsp dried oregano
1 tsp dried basil
1 onion
1 carrot
1 stalk celery
4 Tbls olive oil
4 cloves garlic, minced
3 Tbls capers, rinsed and drained (I never use capers because we never have any)
1/2 c (120 ml) white wine
Kosher salt and black pepper, to taste
In a sieve over a medium non-reactive saucepot, strain the tomatoes of their juice into the sauce pot. Add the sherry vinegar, sugar, red pepper flakes, oregano, and basil to the tomato juice. Stir and cook over high heat. Once bubbles begin to form on the surface, reduce to a simmer. Allow liquid to reduce by 1/2 or until liquid has thickened to a loose syrup consistency.
Squeeze each tomato thoroughly to ensure most seeds are removed. Set the tomatoes aside.
Cut carrot, onion, and celery into uniform sizes and combine with olive oil and garlic in a non-reactive roasting pan over low heat. Sweat the mirepoix until the carrots are tender and the onion becomes translucent, 15 to 20 minutes. Add the tomatoes and capers to the roasting pan.
Place roasting pan on the middle rack of the oven and broil for 15 to 20 minutes, stirring every 5 minutes. Tomatoes should start to brown slightly on edges with light caramelization. Remove the pan from the broiler. Place the pan over 2 burners on the stove. Add the white wine to the tomatoes and cook for 2 to 3 more minutes over medium heat.
Put the tomatoes into a deep pot or bowl and add the reduced tomato liquid to the tomatoes. Blend to desired consistency and adjust seasoning.
Thin Crust Pizza adapted from Alton Brown
I didn't think I liked thin crust pizza until I tried this recipe. The crunchy texture is perfect when mixed with melting cheese and fresh vegetables. Try it with mozzarella, parmesan, fresh basil, onions and peppers for an unforgettable meal.
16 oz (455 g) flour, plus extra for peel and rolling
1 envelope (or 2 1/2 tsp) instant or rapid rise yeast
1 Tbls kosher salt
10 oz (285 ml) water, 105F
2 Tbls olive oil, plus 2 teaspoons for bowl
1 Tbls sugar
cornmeal, for rolling
Combine the flour and yeast in the work bowl of a stand mixer. Add the salt, water, 2 tablespoons of olive oil, and sugar. Start the mixer on low, using the hook attachment, and mix until the dough just comes together, approximately 1 1/2 minutes. Increase the mixer speed to medium and knead for 15 minutes. Check that the dough passes the windowpane test. If it does not stretch properly knead a few minutes longer. Otherwise, continue.
Fold the dough onto itself and form it into a smooth ball. Oil the bowl of the stand mixer or other large canister with 2 teaspoons of olive oil. Put the dough in the bowl and roll it around to coat with the oil. Cover with a tea towel or plastic wrap and leave at room temperature to double in size, approximately 1 hour.
Split the dough into 3 equal parts using a knife or dough scraper. Flatten each piece into a disk on the countertop. Form each piece into a ball. Roll each ball on the counter until they tighten into rounds. Cover the balls with a tea towel and rest for 45 minutes.
Heat a gas grill to high and make sure the grill grates are clean and free of debris.
Lightly flour the countertop and dust with cornmeal. Flatten 1 of the dough balls and use a rolling pin to roll the dough into a 16-inch round, rotating and stretching the dough as you go. Transfer the dough to a lightly floured pizza peel and stretch to re-shape if necessary.
Oil the grill grates and decrease the heat to medium. Brush the dough with 1 to 2 teaspoons of olive oil and flip onto the hot grill. Close the lid and cook until the bottom of the crust is golden brown, about 1 to 2 minutes. Brush the raw side of the dough with 1 to 2 teaspoons of olive oil, then immediately flip using the peel. Top with desired toppings, then. Close the lid and cook until the bottom of crust is golden brown and the cheese has melted, another 1 to 2 minutes. Using the peel, remove the pizza to a cooling rack and let rest for 3 minutes before slicing.