Some people complain about the heat. They crank up the air conditioning, hide inside and brood in the dark about the overbearing sun. They grimace at the thought of venturing out in the afternoon and do little but sip chilled drinks and shudder as they religiously check the weather report for signs of relief.
But then there are people like me; the strange few that embrace the warmth. The ones that grin when the thermometer reads into the 80s and above, and the ones that anxiously await the sun beating down hard on their backs. The ones that quietly turn off the air conditioning because although they do tire of the heat on occasion, they're absolutely freezing when they go inside and simply can't stand the winter-like chill on their unsuspecting skin (are you listening, Mom and J? Just kidding!).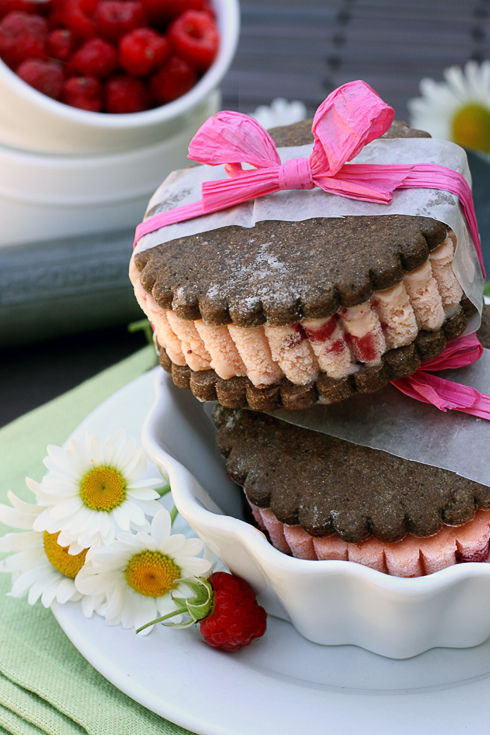 But, perhaps most importantly, the ones who have waited all year for this heat wave and intend to do everything in their power to soak it up.
Written in red, the hours I've spent under the sun are artistically chronicled on my skin. I'm addicted to the embrace and weak for the lightness I feel as I find myself surrounded, greedily hungry for just one more hour as I see the star falling in the west.
It's possible, surely, to be sad in such conditions, but it takes a lot. Generally, if the sun is shining, my smile can be found in the same state for I feel that it's an absolute miracle to see the world in such beauty. Although the spring brings awakening, the summer sun brings out kindness within people and saturation within nature, which makes me feel completely alive. There's no question in my mind as to why it is that I love this season so much.
And the heat, I think, is a wonderful excuse to free hibernating ice cream makers from the confines of kitchen cabinets. To churn together rich creams and luxurious yolks with sugar and flavorings for sweet relief from the bright sun.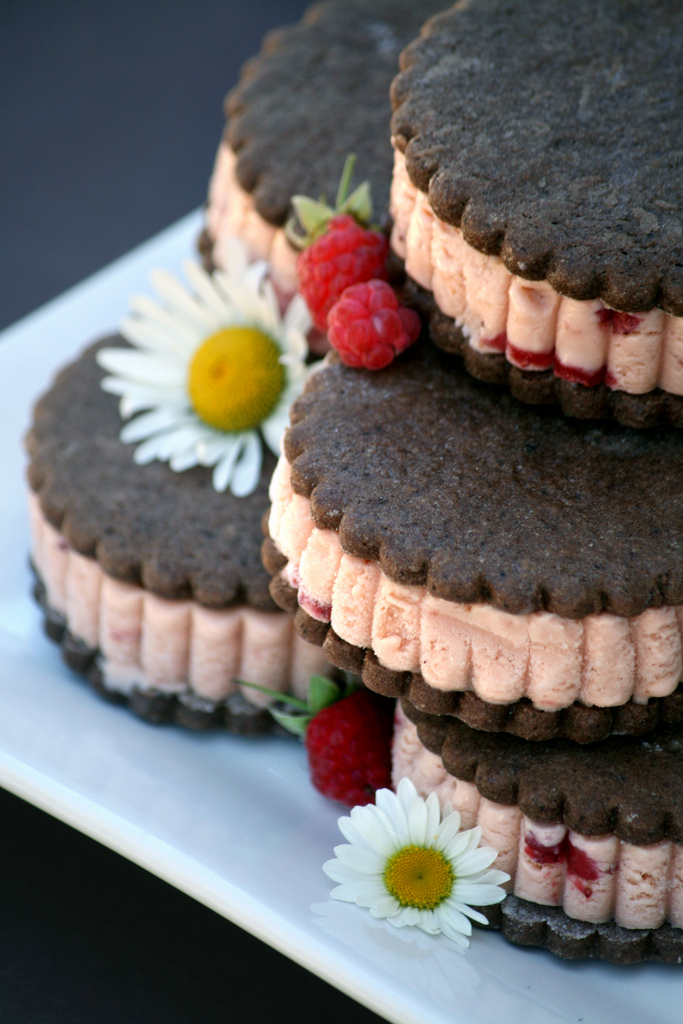 Then to indulge in such things a little more heavily than usual.
I mean, come on.
It's hot out!
Strawberry Ice Cream Sandwiches
Printable Recipe
Chocolate Cookies adapted from Tartelette
1/2 c (45 g) cocoa powder
2 c (285 g) flour
1 tsp baking powder
1/4 tsp salt
8 tbls (110 g) butter, room temp
1 c (140 g) brown sugar
2 eggs, room temp
1 tsp vanilla extract
In a medium-sized bowl, combine the cocoa, flour, baking powder and salt. Set aside.
In a large bowl, beat the butter and sugar on medium speed until fluffy, about 2-3 minutes. Lower the speed and add the eggs, one at a time, beating well after each addition. Add the vanilla extract. On low speed, add the dry ingredients to the butter mixture and mix just until the dough comes together. Gather the dough into a bowl and refrigerate at least 1 hour.
Preheat the oven to 350F (175C) and line a pan with parchment paper.
On a lightly floured surface,, roll out the dough to about 1/4-inch thick. Use a round 3″ cookie cutter to cut out as many pieces as you are able. Gather and re-roll the scraps if necessary. Make patters on cookie with a fork or other tool if desired. Place on lined baking sheet and bake 8 – 10 minutes. Cool completely before sandwiching them with ice cream.
Strawberry Ice Cream via The Craft of Baking
1 1/4 c + 2 Tbls (271 g) sugar, divided
1 pint or 2 c (475 ml) strawberries, cleaned, hulled and halved
9 egg yolks
2 c (475 ml) whole milk
2 c (475 ml) heavy cream
1/2 tsp salt
1 tsp vanilla
In a bowl, combine 1/2 c + 2 Tbls (125 g) sugar and strawberries, stirring well to moisten the sugar. Cover the bowl and let set at room temp for one hour, or refrigerate overnight.
Place the macerated berries in a saucepan and bring to a boil. Reduce the heat to a simmer and cook until the strawberries are tender, about 5 minutes. Strain into a bowl and reserve both the berries and juice in separate containers. Refrigerate for 1 hour or overnight.
In a heatproof bowl, whisk together the egg yolks with 6 Tbls (73 g) of sugar until the mixture is lightened and pale yellow in color.
In a large saucepan, bring to a boil the milk, cream, remaining 6 Tbls (73 g) of sugar and salt.
Once boiling, pour 1 c (235 ml) of the hot cream into the yolks and whisk continually to temper the eggs. Pour back into the pan and cook until thickened. Remove from heat, whisk in vanilla and pour into a bowl to chill. Cover with saran wrap and refrigerate overnight.
Before churning, whisk in the strawberry juice. Churn according to your manufacturer's directions, then fold in the strawberries.
Pour into a lined (so you are able to remove the ice cream from the pan after being completely frozen) 9×12 pan with straight sides. If you do not have a pan with straight sides, it's not the end of the world. Some of your slices will just be a little rounded on the edges. No big deal!
Assembly
Remove frozen ice cream from the 9×12 pan and allow to soften for a few moments on the counter. Cut out 12 rounds with the same cutter you used before and quickly sandwich between two cookies. Cover finished sandwiches and freeze until ready to serve.