Reduced to my normal self, I purge the bigness required of the stage from my persona and slip into a folding seat. A few rows back from the rest of the hopefuls, I try to catch my breath and still my knees while staring at my shoes. Alone and unable to decipher the whispers shared in the rows before me, I resign myself to my thoughts and begin to criticize my audition, starting with my silent walk onto the stage and ending with the fierce blush on my cheeks as I exited to the customary sound of applause and cheers.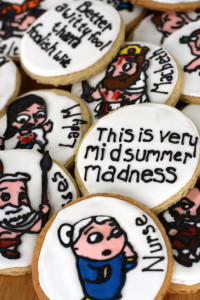 As the director bellowed, "next," from his perch in front of the stage, I tried to decide if I even wanted a part in the play. I could certainly see myself getting used to the stage, but I couldn't imagine breaking into the collective of theater cliques. Where would I fit? I wasn't 'cool' enough to be friends with the leads, nor bubbly enough to team up with their ever-present comic relief. I thought I would fit in just fine with the 'extras,' but after my first high school show I realized that was simply not the case. I couldn't relate to anyone else on the stage because I was just
not
into this whole acting thing.
I told myself that I would never do it again.
So when the lights came up on the following shows, you wouldn't see me. My name appeared in the programs, but I wasn't Reno, I wasn't Maria, I wasn't the nameless steward and I certainly wasn't guard #3. All fine parts, of course, but I chose instead to stand patiently with a script in the wings or tethered to a light board in the box. Dressed in black and surrounded by people – no longer alone and isolated – I made a lot of friends there in the dark, and when the light receded, we would preform our perfectly orchestrated dance for no one but ourselves. Weaving through curtains and relaying information without words or sound, the world would clear and rebuild in a moment by our practiced hands, then spring from darkness into light at the flip of a switch.
I liked being behind the scenes for shows for many reasons. For one, I got to meet some really, really cool people that I never would have met otherwise, and those really, really cool people taught me how to do some really, really cool stuff. Also, I got to skip class on occasion and sometimes even got paid to do it – there's no beating that. I also liked being able to help out with the show in such a big way. Sure, the set probably doesn't seem like much to the casual show-goer, but without it, the show would be missing a little something, right? I loved that we were so necessary, but so absent. I loved the teamwork that went into making it all work. And I, of course, loved the satisfying crack of the hammer as we brought it all down in the end….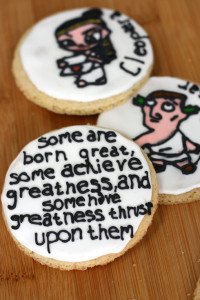 Just waiting to do it all again.
The character designs on these cookies are copied from a very cool shirt sold on Woot a few months ago. They were created by a user named Seeduvpain so I take no credit at all for their awesomeness! To see all of the cookies, you can click here, here and here.
All-Occasion Sugar Cookies via Dorie Greenspan, found at Brown Eyed Baker
The cookies taste AMAZING and I found the dough to be very easy to work with.
2 c (285 g) flour
1/2 tsp salt
1/2 tsp baking powder
1 stick plus 2 tablespoons (140 g) unsalted butter, room temp
1 c (200 g) sugar
1 egg
1 egg yolk
1 tsp vanilla
Sugar or cinnamon sugar, for dusting (optional)
Whisk the flour, salt and baking powder together.
Working with a stand mixer, preferably fitted with a paddle attachment, or with a hand mixer in a large bowl, beat the butter at medium speed for a minute or so, until smooth. Beat in the sugar and continue to beat for about 2 minutes, until the mixture is light and pale. Add the egg and yolk and beat for another minute or two; beat in the vanilla. Reduce the mixer speed to low and steadily add the flour mixture, mixing only until it has been incorporated – because this dough is best when worked least, you might want to stop the mixer before all the flour is thoroughly blended into the dough and finish the job with a rubber spatula. When mixed, the dough will be soft, creamy and malleable.
Turn the dough out onto a counter and divide it in half. If you want to make roll-out cookies, shape each half into a disk and wrap in plastic. If you want to make slice-and-bake cookies, shape each half into a chubby sausage (the diameter is up to you – I usually like cookies that are about 2 inches in diameter) and wrap in plastic. Whether you're going to roll or slice the dough, it must be chilled for at least 2 hours. (Well wrapped, the dough can be refrigerated for up to 3 days or frozen for up to 2 months.)
Getting Ready to Bake: Center a rack in the oven and preheat the oven to 350F (175C). Line two baking sheets with parchment or silicone mats.
If you are making roll-out cookies, working with one packet of dough at a time, roll out the dough between sheets of plastic wrap or wax paper to a thickness of 1/4 inch, lifting the plastic or paper and turning the dough over often so that it rolls evenly. Lift off the top sheet of plastic or paper and cut out the cookies – I like a 2-inch round cookie cutter for these. Pull away the excess dough, saving the scraps for re-rolling, and carefully lift the rounds onto the baking sheets with a spatula, leaving about 1 1/2 inches between the cookies. (This is a soft dough and you might have trouble peeling away the excess or lifting the cutouts; if so, cover the dough, chill it for about 15 minutes and try again.) After you've rolled and cut the second packet of dough, you can form the scraps into a disk, then chill, roll, cut and bake.
If you are making slice-and-bake cookies, use a sharp thin knife to slice the dough into 1/4-inch-thick rounds, and place the rounds on the baking sheets, leaving about 1 1/2 inches between the cookies.
Bake the cookies one sheet at a time for 9 to 11 minutes, rotating the sheet at the midpoint. The cookies should feel firm, but they should not color much, if at all. Remove the pan from the oven and dust the cookies with sugar or cinnamon sugar, if you'd like. Let them rest for 1 minute before carefully lifting them onto a rack to cool to room temperature.
Repeat with the remaining dough, cooling the baking sheets between batches.
Storing: The cookies will keep at room temperature in a tin for up to 1 week. Wrapped well, they can be frozen for up to 2 months.