Recently we've been fortunate enough to experience decent temperatures and little rain, but I've noticed that the gradual transition from morning to night has disappeared. As a result, shadows creep further than ever over winding campus pathways, and the gentle flow of disappearing daylight through my apartment windows has lost it's once-loved warmth. In its place and beyond the empty frames I can see the intricate twist of the sun and barren limbs extend over the Earthen dance floor, crawling and tumbling together as the sun's peak lowers itself in the sky. Slowed, perhaps, at the burdened thought of fresh white sheets over its kingdom, the arc dwindles to a fraction of its original height; dropping long days and consistently favorable weather below the horizon.
The time to retire sunglasses and sundresses comes too soon.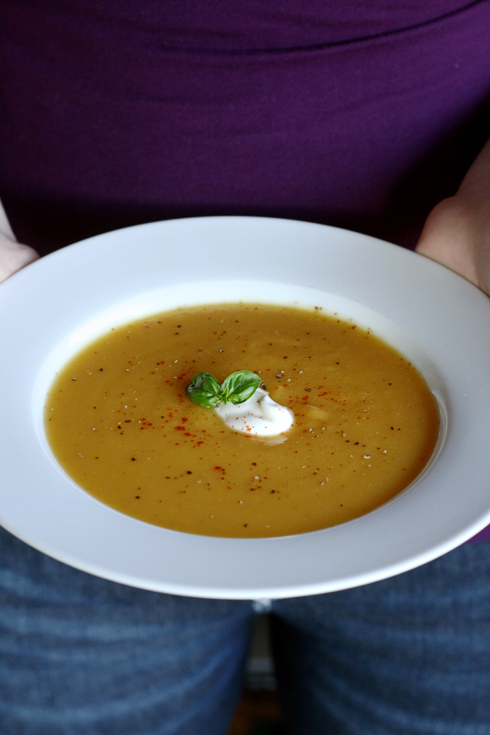 It's disorienting to see the sun hanging just over my shoulder as I walk to my last class of the day. At 1:30 in the afternoon, it's difficult to accept the fact that the orb's progressed so far in its decline, signaling that the daylight's almost gone. Being lost in the shadows of buildings as I complete the walk home around 3 is nauseating, and so too are the blinding headlights at 5. Even at 6, which I consider early evening, the streetlights have come on and the scantily-clad
sorostitutes
out.
The sun's residual glow officially kicks the bucket around 6:30 nowadays, and by then I'm confused about whether or not I should really still be awake. Unrelenting homework ensues for a number of hours until I am positive that I simply cannot stay up a moment longer, and I typically fall asleep around 10:30.
At least that allows me to wake up earlier and enjoy more hours of sun, if not the sunrise itself.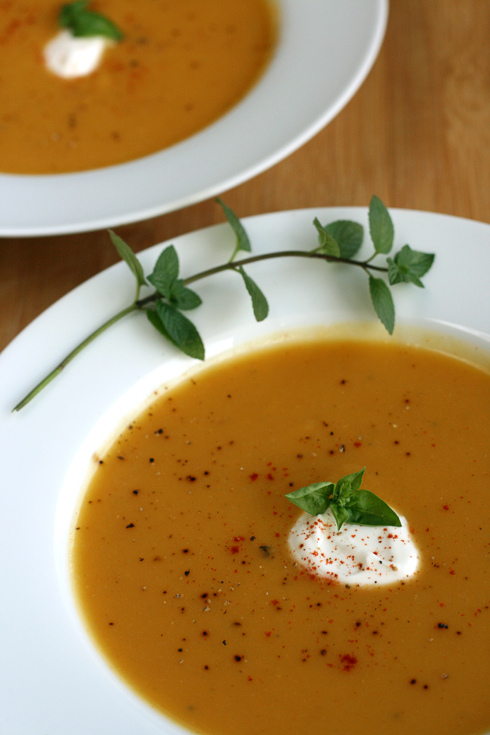 I can certainly deal with that.
Roasted Everything Soup
One thing that I really like about soup is that you can toss just about anything into it. This is more of a guideline than a recipe; just roast whichever vegetables/roots/squashes/herbs/proteins that you have with salt, pepper and olive oil; toss them into a soup pot, puree, and enjoy. Here's what I used:
Printable Recipe
1 head of garlic, roasted
1 butternut squash, roasted
1 acorn squash, roasted
2 onions, roasted
3 small potatoes, roasted
Chicken Stock
Salt
Pepper
Cayenne Pepper
Milk
A few tablespoons of butter, just for that homey taste
(P suggests adding roasted chicken and crumbled bacon)
Combine all roasted vegetables/roots/squashes/herbs in a large pot with enough chicken stock to cover. Bring to a boil, then reduce to a simmer. Cook for about 15 minutes, stirring occasionally, to ensure that everything is thoroughly cooked, then carefully puree. Pour back into the pan and loosen with milk or additional stock, the add seasonings and spices to taste. Serve warm.