Considering the amount of baking I do, it probably comes as no surprise that I've made a lot of mistakes in the kitchen. Extremely loose custards, flaming cupcakes, charred pies, under-baked cakes, painfully dry cookies, crumbly fudge, exploding dough and hopelessly burned sugar – I've been through it all. I've experienced the acrid smell of such mistakes time and time again, and felt hours of work slip undesirably through my fingers in the form of a non-compliant dough too many times to count. Not surprisingly, my long–lived obsession with French macarons resulted in many disappointing failures due to sheets upon sheets of of flat, cracked, bubbly shells bring pulled from the oven in my efforts to master the art of making the frustrating little buggers.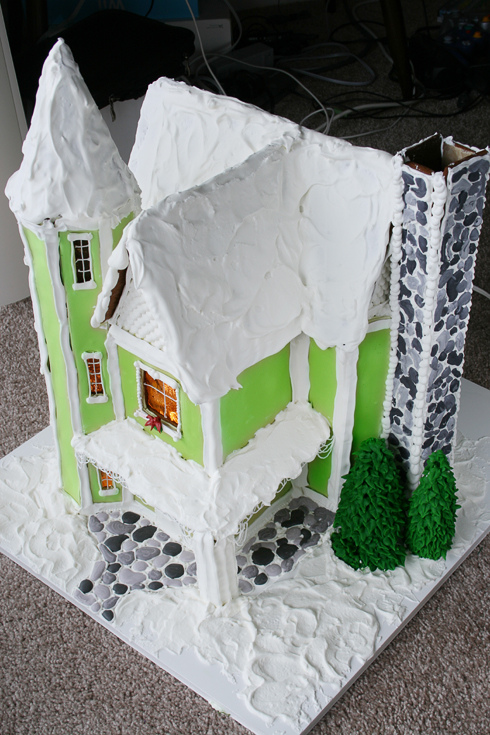 Through the difficulties, I try to be understanding and calm, but sometimes it just doesn't go that way. I'll admit that flops have brought me to tears on more than one occasion, and also that I've thrown away entire cakes and trays of cookies out of complete anger and frustration.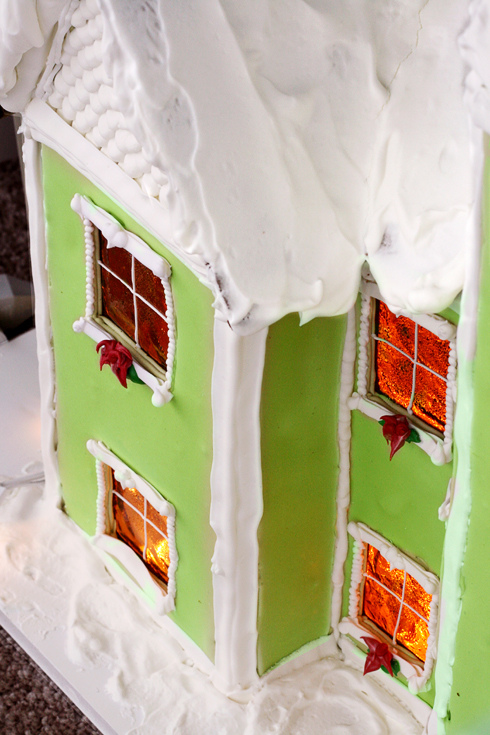 I keep finding myself hastily typing annotations of explanations for specific actions, but doing so isn't terribly important. I'll share the blanket explanation that I'm occasionally overly-passionate about what I do with you, but I don't even know that that's particularly necessary.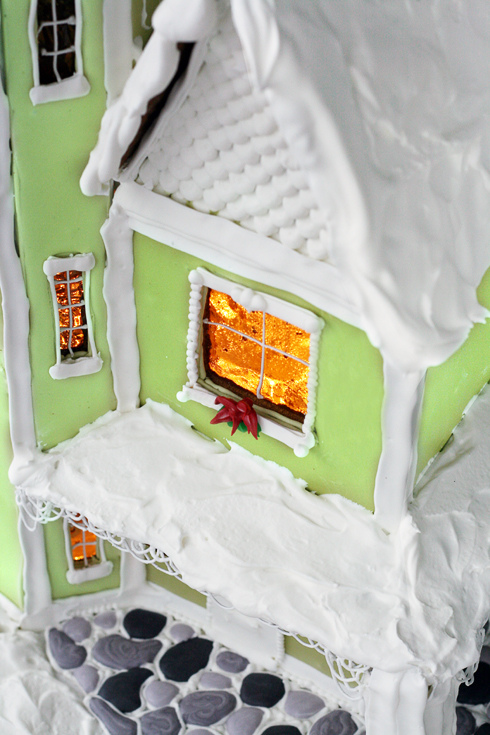 I don't want to give you the impression that I stand in the kitchen throwing fit after fit because that's simply not the case. Especially lately, now that I understand more of the science and methodology to baking, flops aren't so hard for me to stomach. Sure, there is the pain in my wallet of wasted money, but I know that there are often ways to salvage whatever I've made (or someone to pawn it off on) and also that mistakes… Well, they happen. Sure, I still get frustrated and upset from time to time, but not to the extent or frequency that I did in the past.
However, because certain people have seen me through some of my *ahem* "episodes," they're familiar with my baking wrath and they know what triggers it.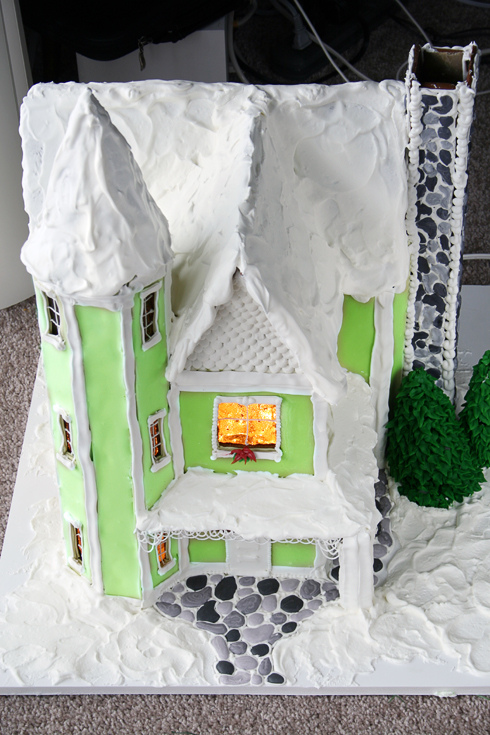 Which is why I often find P, concerned and troubled with his head on my shoulder and arms around my waist asking, "what can I do?" the second he sees my scrunch the corner of my lip in disappointment. Befuddled but calm and standing over a rack of cooling fail-cakes, I'm considering prospective tactical frosting applications to hide uneven surfaces, effectively masking their ugliness (bumps, bubbles, weird browning) with prettyness (fluffy, buttery, colorful, waist-expanding frosting). P, on the other hand, whom I met at the height of my macaron obsession (the poor guy), has seen me become very upset over a number of failures and has clearly been scarred for life. But instead of shrinking his wide shoulders into his chest in fear of my wrath, he puffs out his chest, confidently raises his head and begins to conjure up a number of creative fixes for the issue at hand. Dead-set on ensuring that I handle the flop well, P's at my side to stop me before I burn the place down with my handy-dandy brulee torch.
Not that I would ever do that, of course.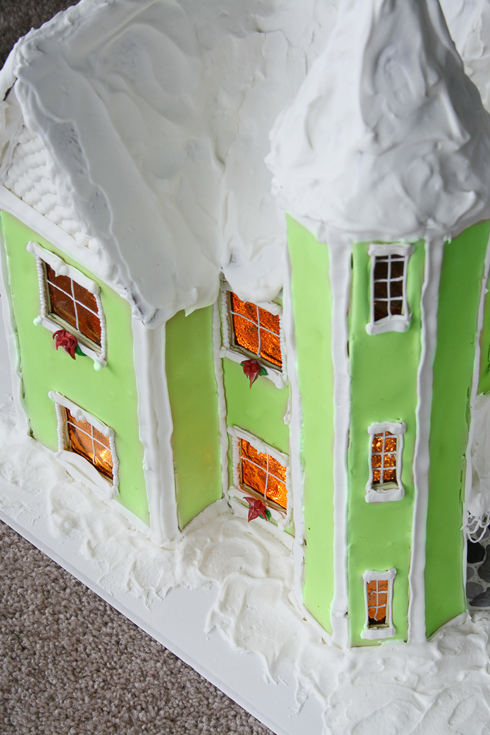 Anyway, I feel like I've learned to handle these things appropriately, but the reputation still sticks. My mom has told me that she's afraid to come in the kitchen while I'm baking, and I've even seen P afraid to scrape the sides of my work bowl with a spatula. I think that I'm allowed to spazz over something every once in awhile and I'm certainly not saying that I'm any less passionate than before, but I'm doing my best to turn their opinions around and to see that I don't panic over everything.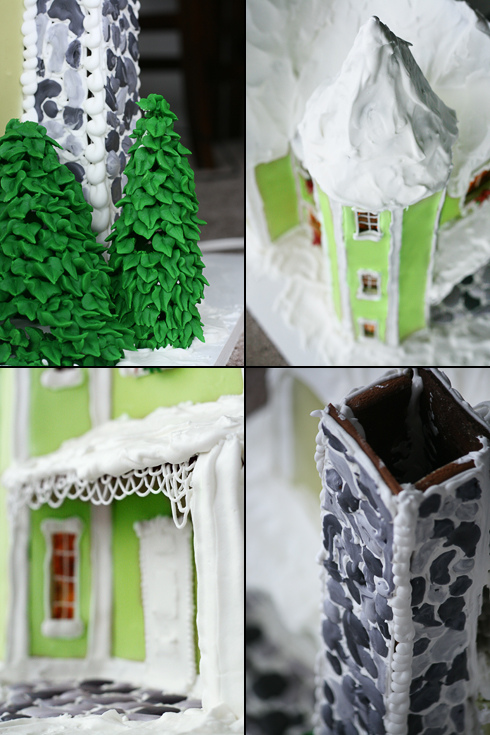 Which is why I think making this gingerbread house was good for everyone involved. I stayed calm despite the fact that pieces burned, cracked, were cut wrong and needed to be re-baked, which is something that H can – and did – attest to. Sure, it was annoying to redo things, but that's to be completely expected for a project like this. I was prepared to spend lots of time backtracking and reworking when I started taking measurements and scaling, which is why it didn't bother me all that much when things went "wrong" during the process. Taking this on was a learning process for myself in so many ways, and although it sounds cheesy and dramatic, I've grown from it. I think I may finally be proving to people that I'm not a complete psycho in the kitchen.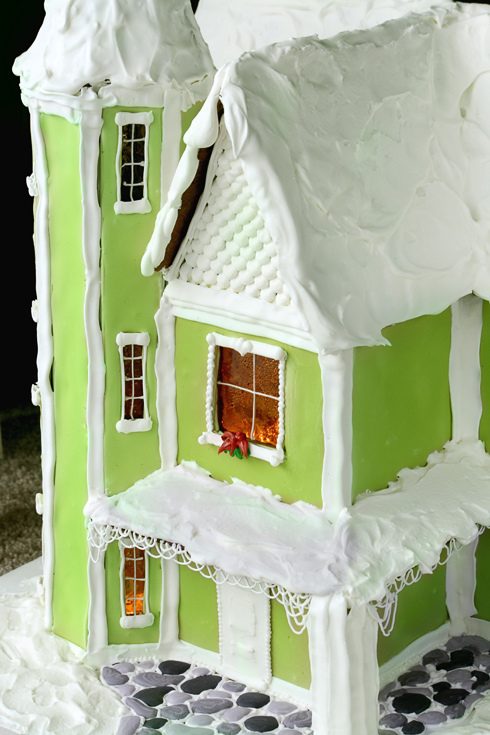 Just a partial one.
—————————————————————-
I realize the format for this entire post (writing and photos) is a little different than what you're used to seeing on Whisk Kid, but I promise to get back to normal on the next post. I just wanted to share this project with you and wish you all HAPPY HOLIDAYS! I hope you spend lots of time with your family, drink too much eggnog, eat too many cookies, finish at least one candy cane and are able to relax during and after all the festivities.
Also, just one more thing before I leave you to that tray of Christmas cookies…
Because the holiday season is nearly over and I don't really have space for this beast in my apartment, it's going to have to "go" quite soon, if you catch my drift. After it's fulfilled its role of centerpiece at our Christmas gathering, the gingerbread house will no longer have a purpose. I know it's sad, but you can't argue that it isn't true and I'm not as attached to it as you might think I would be after 5 days of work. Anyway, H wants to take some of her own pictures with the house, and P wants to punch it, but then what?
How would you destroy something like this?
My Grandpa told me that I should ask for your opinion, and since he and my Grandma are both pretty awesome, I figured I should do it. Also, I'm really excited to hear your input! I can't make any promises that I'll be able to document the event in photos, but it could happen…
So.
What do you think?
Gingerbread House
Unfortunately I don't have templates to provide, but I scaled up this floor plan, making as few simplifications as possible, and made my templates out of white printer paper. I was inspired by the houses here and here, and also by H who told me I should just GO FOR IT last week.
I wish I could have included as much detail as the linked houses (particularly the second one), but I was running out of time before I had to come home for the holidays and I also knew that I could work on this thing for weeks if I got to into it, and I was afraid to go that route.
I scaled, baked, and decorated the beast in H's, P's and R's apartment because their kitchen is significantly larger than my own, and I want to thank them for allowing me to take the whole thing over for such a long time. You guys are the best!
The house has is lit with Christmas lights. A single strand fills the interior and shines through the poured sugar windows.
Upon completion the house was driven to my Grandparent's place, an hour away from MSU, where it will stay until I drive it back to campus toward its eventual demise…. Muahahahahaha
So, without further ado, the recipes I used are as follows:
Gingerbread via Rock Recipes
It is important that you do not use warped baking sheets or cooling racks when making your gingerbread. Some of my pieces are warped, and although they fit together ok, it would have been better if they were flat. I made 7 batches of this.
2 1/2 c (355 g) flour
3/4 tsp salt
1/2 tsp baking soda
2 Tbsp powdered ginger
1 tsp cloves
1 tsp allspice
1/2 c (118 ml) dark molasses
1/4 c (59 ml) water
1/2 c (118 g) butter, room temp
1/2 c (100 g) sugar
Combine the flour, salt, baking soda, ginger, cloves and allspice in a large bowl. Mix until thoroughly combined and set aside.
In a small bowl, whisk together the molasses and water and set aside.
Finally, in a large bowl, cream the butter and sugar until light and fluffy. SLOWLY add the molasses and water mixture while beating, being careful not to break the emulsion. If this happens and the mixture looks curdled, beat on high speed until it comes back together. After all of the molasses and water has been added, mix in 1/3 of the dry ingredients until incorporated. Repeat until all the flour is gone, then wrap dough in plastic wrap and refrigerate for at least 1 hour before rolling.
Roll the dough directly onto a floured sheet of parchment paper trimmed to fit your baking sheet. Roll until the dough is about 1/4″ thick, then cut out your shapes. Pull away excess dough, then slide the parchment onto your baking sheets and freeze the cut pieces. When you put the sheets in the freezer (or porch or fridge if you don't have space), preheat the oven to 350F. When the pieces are completely solid (frozen is ideal), bake them until they are very dark and dry, but not burned. Cool on the pans for about five minutes, then transfer to cooling racks.
Repeat until all the pieces have been cut, baking similar-sized pieces together to ensure even baking. Remember to only roll the dough onto cooled baking sheets so as not to melt it, and also to freeze each batch before baking to stop spreading.
Royal Icing adapted from Rock Recipes
I have no idea how many batches of this I made, but I know it must have been a lot! I'm only giving the sugar measurement by weight because I believe that is the only way to get it right.
440 g confectioners' sugar
3 egg whites, room temperature
Place both ingredients in a large bowl and beat until very stiff, about ten minutes, being sure to scrape the bowl from time to time. Store tightly covered in the fridge.
To thin for flooding, add 1 tsp of water at a time, mixing with your spatula to incorporate. Flood icing is ready when a trail drizzled from a spatula settles back into the icing in 3 seconds.