I have no clue what's going on.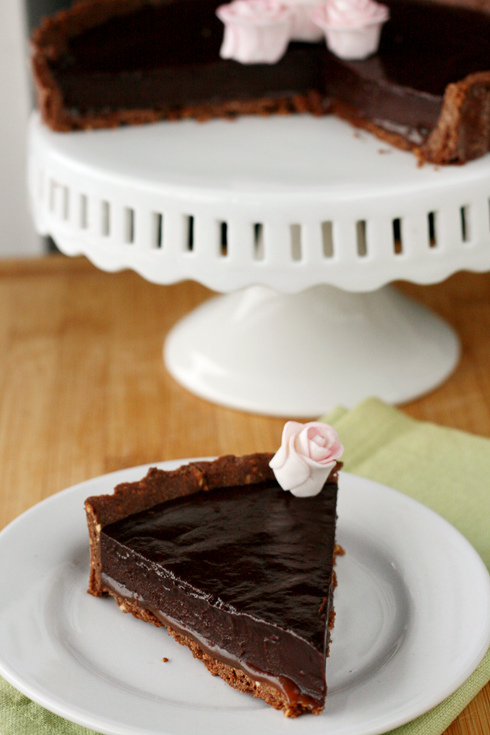 Although I am leaning quite heavily on P's shoulder, the two of us are clearly existing in our own separate realities. Stationary in front of the television, I find myself unable to focus on the screen for any measurable period of time. I can't even remember when we started "watching" the movie, but considering the fact that I also don't know what's happening or who
that guy
– who appears to be rather important – is, it's not really much of a surprise. P, on the other hand, being arguably more normal than myself, has no trouble immersing himself in whichever reality is being portrayed in the pixels onscreen.
Which is, by no means, a character fault; in fact, I'll admit that I'm a little jealous of his ability to drop life for a few minutes in favor of make-believe. It's just that I get bored sitting on the couch for so long. I always find myself focused on the futon's stitches, immersed in texts or simply thinking just 20 minutes into a show; all the while knowing that I'm losing my already small grip on the plot. A problem which, of course, leads to me asking questions, many of them stupid and obvious.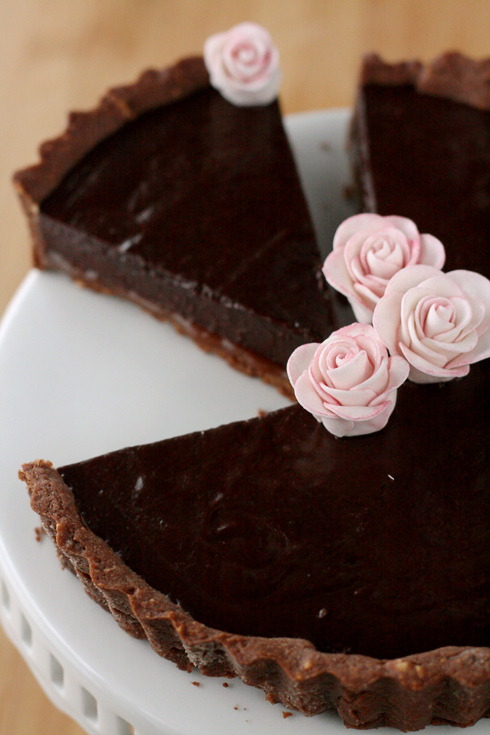 However, I won't have you be mislead; I do have a few favorite shows and movies that are capable of captivating my interest, such as
The Office
, which is uncomfortable and dysfunctional in all the right ways. Then there's Anthony Bourdain's
No Reservations
, which is so fluid and beautifully narrated, that I could watch it for hours without complaint. I'm also a fan of
Donnie Darko
, a crazy, dark and bizarre cult movie that is completely captivating for an apparent weirdo like myself. Oh, and let's not forget
Inglourious Basterds
! I can't readily explain its appeal, but man – it is one fine film!
Is that weird?
Anyway, although I sometimes wish I could be "normal" and truly watch a movie or television show with complete disregard to reality, I kind of consider it a boon that I can't. It leaves me so much more time to study and do homework and suck up to my profs and… Oh, who am I kidding? All it really does is leave me time to bake or browse Tastespotting and Foodgawker. Maybe to pester my friends with nonsensical e-mails or check in with my family. Or, you know, aimlessly browse the internet. I'm pretty good at it. You'd probably be surprised.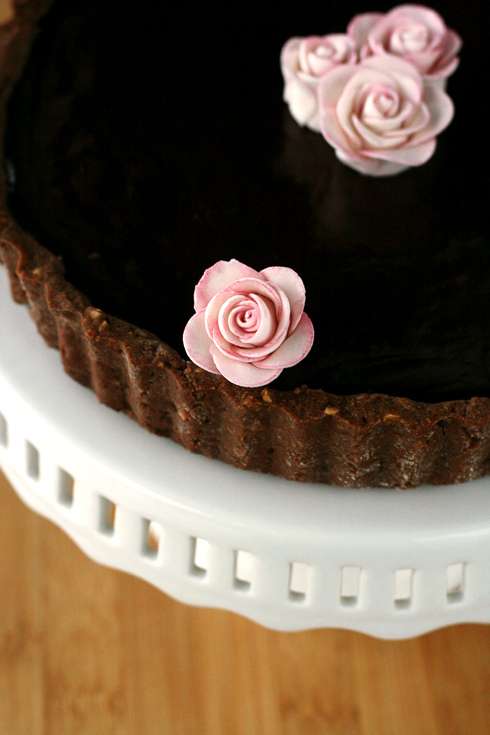 But those things are all more productive than watching TV or doing homework anyway… Right?
Chocolate Caramel Tart
This is best served chilled and in small slices.
Chocolate and Toasted Almond Sable crust adapted from Craft of Baking
Printable Recipe
1/8 c (15 g) almonds, finely chopped or ground
1 1/8 c (160 g) flour
1/4 c (23 g) cocoa
1/4 tsp salt
10 Tbls (142 g) butter, room temp
1/4 c + 1 Tbls (56 g) sugar
1 egg yolk
1 tsp vanilla
Sanding sugar, if desired
Toast the almonds in a skillet over medium-low heat until nicely browned, being careful not to burn and stirring often. Pour into a medium bowl and add the flour, cocoa and salt. Stir to combine and set aside.
In a medium bowl, beat the butter until lightened, then add the sugar and beat until very light and fluffy, about 5 minutes. Add the egg yolk and vanilla, stir until completely combined. Add the dry ingredients in two parts, mixing just until combined.
Wrap dough in plastic wrap and chill 30 minutes.
Preheat oven to 350F (160C) and remove dough from fridge. Roll out, on a flour-dusted surface, to fit a 8″ or 9″ tart pan. Transfer to pan, dock and freeze until the oven comes to temp. Par bake 20-25 minutes, until firm and dry
Caramel
1/3 c (65g) sugar
1/4 tsp salt
1/4 c (60ml) cream
Place sugar and salt in a shallow pan and pour water over the top to moisten. Without stirring, cover and heat until the sugar is dissolved. If necessary, swirl pan to distribute sugar. Once dissolved, remove lid and cook, without stirring, until amber colored. Remove from heat and add the cream in a slow stream, whisking constantly and being careful when the caramel bubbles up. Pour into the cooled tart shell, then chill in the fridge until cooled before adding the ganache.
Chocolate Ganache
2 oz (56g) unsweetened chocolate, chopped finely
6 oz (168g) semisweet chocolate, chopped finely
3/4 c (200 ml) cream
Place the chocolate in a heatproof bowl and set aside.
Heat the cream in a pan until it begins to bubble up the sides. Pour over chocolate and let rest 7 minutes.
The chocolate should be melted, so begin slowly whisking the ganache from the center outward to combine. Once mixed, pour over the caramel and chill until set.