Hey guys, I just wanted to let you know that in addition to Twitter, Whisk Kid now has a Facebook page.
I hope you're liking the new look!

____________________________________
Strengthened by a thick veil of interlaced grape vines, a near-living fence divides my family's property into unequal portions of living space and work space. Formerly owned by my grandparents, the front half held their house, a simple swing-set and a garage; all but a few paces from the steep gravel driveway. Past the fence, sprawling acres into the distance, was a piece of land populated with a garden, a barn and a generous horse pasture; the "work" part of their property.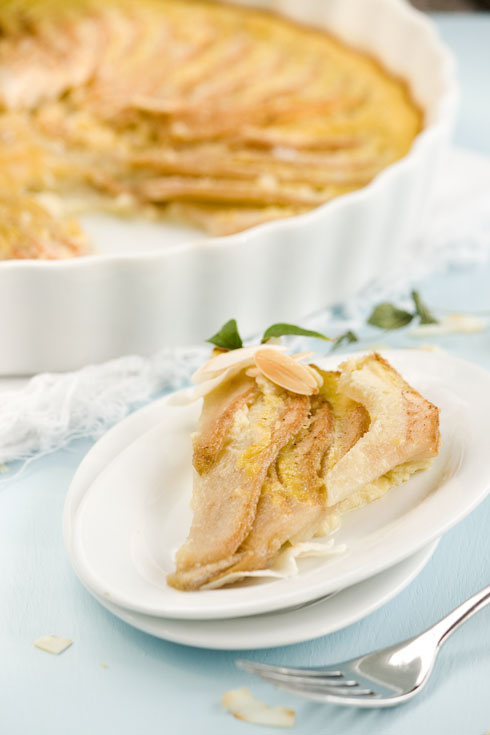 Because I never had to work the land or care for the animals (that was a job for my Dad and his siblings), I favored the space beyond the vines for playtime. The swing in the front yard simply had no appeal; easily overshadowed by the fun to be had adventuring out back. In the summers, a small cornfield peeked up through the soil in the garden, bringing with it the pleasure of sweet corn on the table (which I didn't realize) and the joy of a nature-made fortress to play in. When the towering stalks began to wilt and fall, we left the stronghold for the apple trees in the north; dropping their burden for small hands to feed to horses or throw (however, now that I think about it, that was often a one-way deal). In the winter that followed, when the trees lost their leaves and the garden was hidden beneath a blanket of snow, we entertained ourselves by racing our sleds down the pasture's cleared fields and having snowball fights behind the garage.
Through the years, the features of my Grandparent's property began to change. The uninteresting swing in the front yard was the first to go; uprooted and discarded as it altogether ceased to draw interest. The vine-covered fence was the next to go, further simplifying the process of mowing the lawn and homogenizing the yard in an altogether bizarre nature. Being "out back" no longer held the elusive and escaped qualities we so loved, for they themselves escaped as the land became part of the front yard in a matter of hours.
After a few years, Grandpa moved north and my aunt and uncle moved into his house, bringing with them my cousins, their dog, and a trampoline which was quickly embraced. No longer entertained by the simple features of the land, the garden went unloved and the fence was forgotten; leaving the trampoline as our sole interest.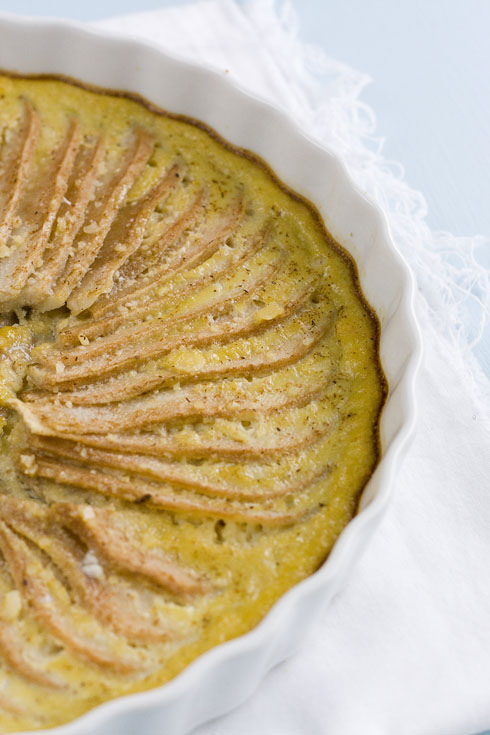 It shocked me, quite recently, to rediscover the garden and the apple trees; the rhubarb in between and the empty space where the fence once stood. It seemed as if a long time had passed between Grandpa's last cornfield and my uncle's first sprout, and seeing the tomatoes, beans and squash reaching toward a border of zinnias was not something I had expected when I visited a few years back in late spring. All through the summer, my Aunt found ways to work the garden staples into their meals, ensuring that I was hopelessly addicted to salsa and cucumber salad by the time fall rolled around and their crops stopped cooperating.
But as I lamented my loss, sitting on a picnic table in roughed jeans and watching the sun fade, I was introduced to something new by my aunt.
A pear tree.
A pear tree that had always been there, always produced fruit, and stood just three feet from my favorite birch tree, but had somehow eluded me for 17 years (a formidable feat for something without feet! Sorry, I had to).
Up until this discovery, I'd never truly cared for pears. To me they were sad rejected apples, lacking in shape, texture, taste and appearance. To crunch into their flesh was a displeasure, making them my last choice when selecting prey from an otherwise lovely bowl of fruit. After a few tries in childhood, I'd cast the things aside "for good," giving them another chance only for the fact that they'd hung themselves so generously in front of my face. After a bite, I was surprised and pleased to realize that my preferences had changed. I ate the entire pear, then another, mentally erasing them from the short list of fruits I don't like while spitting out the seeds.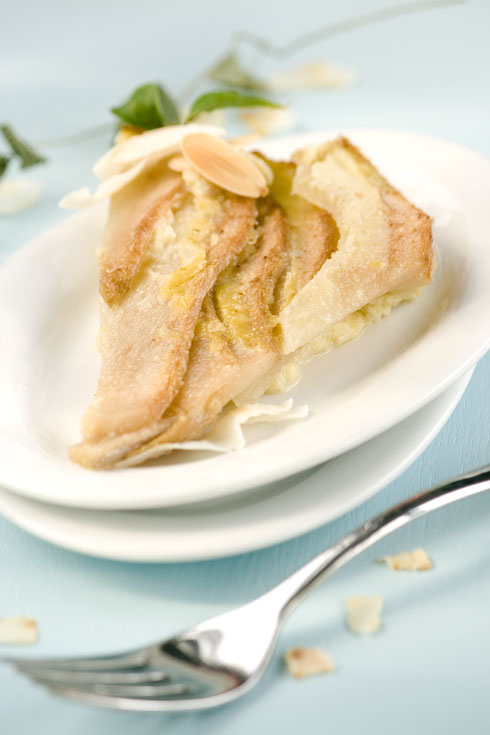 However, as much as I enjoy pears, I've never baked with them. Up until now, that is, when I chose to use them for this month's grain-free
Sugar High Friday
. Retaining their pleasant tenderness through the bake time, the bosc pears that went into this are every bit as lovely being lightly baked as they are raw. Mixed with the creamy flan-like custard, this dessert is light and refreshing; a perfect foil for many of the heavy winter treats popping their heads up lately!
Pear, Almond and Coconut Flognarde adapted from Z's Cup of Tea
Printable Recipe
3 eggs
1/4 c almond flour
2 Tbsp water
2-3 Tbsp honey, divided
1 tsp vanilla extract
1/2 tsp almond extract
2 pears, sliced thinly
1/4 c shredded coconut, unsweetened and lightly toasted
1/4 coconut milk
nutmeg
Preheat oven to 350F.
In a small bowl, combine the eggs, almond flour, water, 1 Tbls honey and extracts. Refrigerate for at least 15 minutes while you prepare the remaining ingredients.
Arrange the pears in a 9″ round dish and top with the toasted coconut. Drizzle with 1-2 Tbls honey.
Pour the chilled custard over the fruit and drizzle with coconut milk. Sprinkle with nutmeg and bake for 35 to 40 minutes, until mostly set (you just want the very center to be wobbly). Cool and serve.