The concept of seasonality isn't something that occurred to me until just a few years ago as I spent an afternoon strolling the produce section of a local grocery store and considered the quality of their offerings. Certainly, my parents had explained to me the grand exchange of goods from far-off lands; instilling in me a brief understanding of the world economy to prime me for further education. However, their commentary was lost on me; then younger, wondrously examining a proud display of fresh strawberries and twirling a pigtail ferociously about my finger in the dead of winter. There were strawberries here now, so what did I care? I cut their lecture short with begging and pleading, eventually convincing my poor parents to patiently lower the overpriced and barely-red orbs into the cart.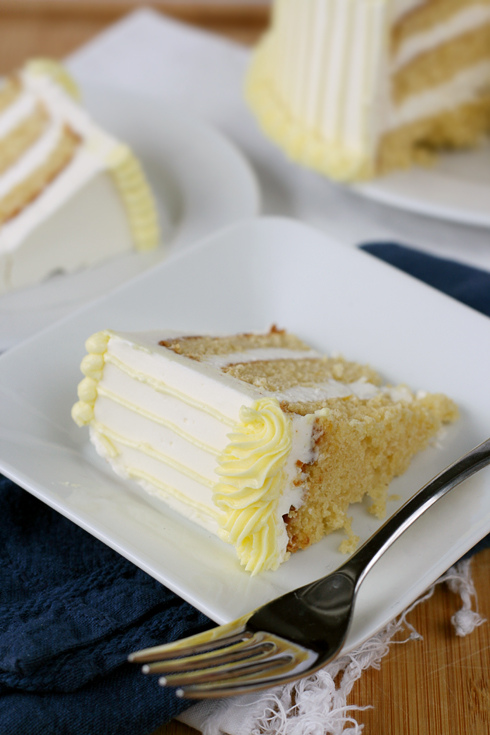 Success is sweet, especially for a child, but returning home to devour the berries was a severe disappointment. Lacking in color, texture and simple strawberry-ness, the fruits were eaten, but not without distaste. Perhaps my parents were right? It appeared to me that blindly selecting and consuming produce was ok with them, but because it wasn't cheap and wasn't always the tastiest option, it was only to an extent.
Developing a knowledge of each season's harvest seemed daunting, but observing simple clues has significantly lessened the difficulty. For example, the presence and iconic nature of certain fruits and vegetables in holiday meals is a good clue to their seasonal peak. To elaborate, carrots are used for Easter's carrot cake in the spring, and cranberries and pumpkin are harvested for Thanksgiving staples in the fall. Summer's Fourth of July (my favorite holiday!) is freshened by both sweet corn and strawberries, one serving as a sweet treat during the meal; the latter a dessert to be later served with cream.
Other seasonal traditions have helped further my understanding of the harvests. I was lucky to quickly internalize the peak of asparagus due to my Dad's encouragement of "asparagus hunting" from mid-spring and into the summer, and sipping icy-cold lemonade on the porch in the summer signaled the tart fruit's obvious harvest time.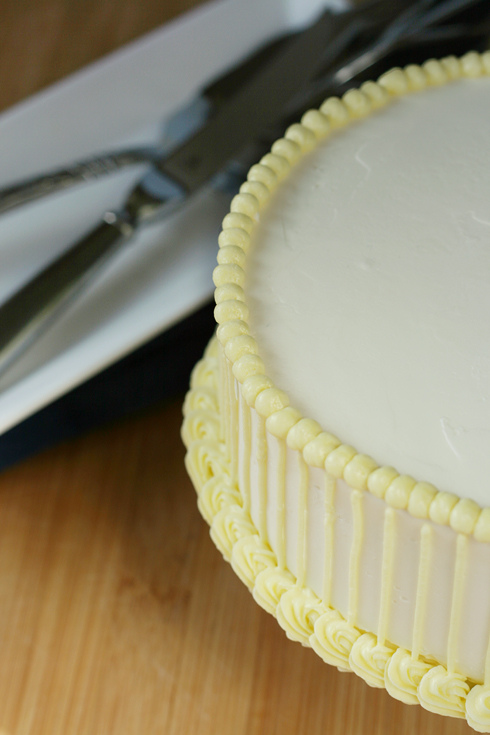 Another simple tip-off to what's at its best is the way produce is displayed at your local grocer. Oftentimes, what stores choose to display front and center is what you'll want to eat. While the season progresses, yield increases, prices drop and quality increases. In short, buying in-season has lots of benefits.
Which is why I was happy to see a bright display of Meyer lemons at Kroger a few weeks back, each bag of six marked down to the low, low price of $1.50. I added two to my cart, and was on my merry way, thrilled to finally have access to a fruit that I'd often heard of but never seen. Unlike their siblings, they're at their best from roughly November to January. They're similar, of course, in many ways to common lemons, but have a subtle sweetness that lend well to baking.
Not that there's anything wrong with regular lemons for baking, but, you know, Meyer lemons are special.
Using them makes me feel fancy.
I like feeling fancy.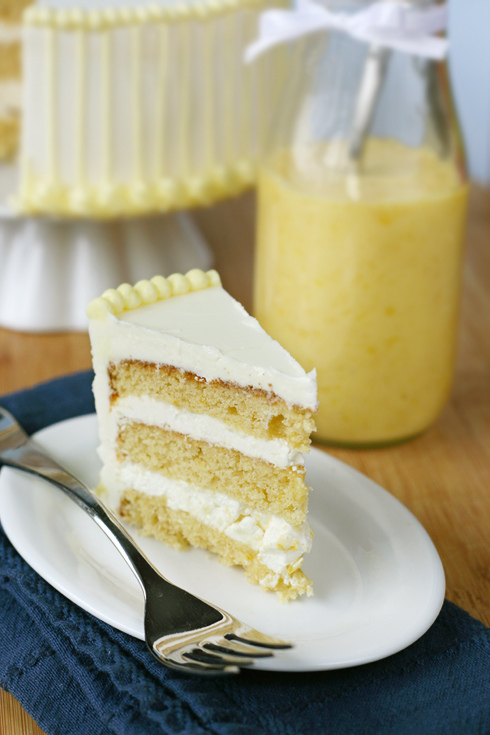 However, despite what I know (and am learning) about all of this, I still find myself purchasing out-of-season produce from time to time. I'm far from "above" doing it, would never look down on anyone who does, and I appreciate it as a luxury of living in the states. Many people say that there's a lot wrong with doing it (not supporting local farmers, poor nutrition, contributing to pollution from transportation, etc.) and I admit that I do agree to a degree, but sometimes… Well, sometimes I've just got to have some asparagus with my hot chocolate.
Don't judge.
Lemon and Almond Cake
Lemon Cake via Always Order Dessert
Makes three 9″ cakes.
Printable Recipe
2 1/2 c (355 g) flour
1 Tbls baking powder
1 tsp salt
3/4 c (177 g) butter, room temp
1 c (210 g) sugar
8 egg yolks
2 Meyer lemons, zest and juice
1 Tbls vanilla
3/4 c (177 ml) whole milk
Preheat oven to 375F and oil three 9″ round baking pans. Set aside.
In a medium bowl, combine the flour, baking powder and salt. Mix well and set aside.
Cream the butter and sugar in a large bowl until light and fluffy, about five minutes. Add the egg yolks and continue beating about 5 minutes. Add the lemon zest, juice, and vanilla and beat for another minute.
Add one third of the dry ingredients and mix to combine, then add half of the milk. After incorporating, continue alternating the dry and wet ingredients and mix until just combined.
Divide the batter between the three cake pans and bake for about 12 to 15 minutes or until a tester inserted in the center comes out clean. Flip out onto wire racks and let cool before frosting.
Lemon Curd via Alton Brown
5 egg yolks
1 c (210 g) sugar
4 Meyer lemons, zest and juice
1/2 c (118 g) butter, cubed and chilled
Add enough water to a medium saucepan (or a double boiler) to come about 1-inch up the side and bring to a simmer over medium-high heat. Meanwhile, combine egg yolks and sugar in a medium size metal bowl (that will fit well over the simmering water without touching it) and whisk until smooth, about 1 minute. Add juice and zest to egg mixture and whisk until smooth.
Once water reaches a simmer, reduce heat to low and place bowl on top of saucepan. Whisk constantly until thickened, approximately 8 minutes, or until mixture is light yellow and coats the back of a spoon. Remove promptly from heat and stir in butter a piece at a time, allowing each piece to melt before adding the next.
Transfer to a clean container place a piece of plastic wrap directly on the surface of the curd. Refrigerate for up to 2 weeks.
Almond Italian Meringue Buttercream For step-by-step directions for making Italian Meringue Buttercream, please click here!
1/4 c (63 ml) water
1 c (210 g) sugar
5 egg whites
1/4 c (53 g) sugar
1 c (237 g) butter, softened, cut into small pieces
1/2 tsp vanilla, more if desired
1/2 tsp almond extract
Place the egg whites in the bowl of a standing mixer.
Heat the 1 c sugar and water on the stove to 245F stirring occasionally only after the sugar has been dissolved. When it is within the range of 230F to 235F, begin whipping the egg whites. When they get to soft peaks, begin adding the remaining 1/4 c sugar and continue whipping to medium peaks, being careful not to overbeat. When the syrup is the correct temperature, slowly pour it into the eggs with the mixer on high. After fully incorporated, beat the frosting 7-10 minutes until the outside of the bowl is room temp (I usually go a little longer than this; often times the bowl is not room temp when I begin adding butter. If the mix seems to soupy, put it in the fridge for a few moments or try briefly chilling some of the butter in the freezer before adding). Begin adding the butter, tablespoon by tablespoon, beating until fully incorporated. The frosting will deflate a little, but it's ok. Keep whipping until the frosting comes together (you may not need to add all of the butter), add the extracts and continue whipping until it's light and fluffy.
Assembly
Cut domes off of cakes. Place one on the platter you plan to serve on and spread with a thin layer of lemon curd (be careful not to add too much as it may cause the layers to slip). Top with a layer of frosting, then place another cake round on top. Spread again with lemon curd and frosting, then top with the final cake. Crumb coat with a thin layer of icing, and refrigerate, if possible, 10-15 minutes to set (if you don't have fridge space, it is fine to just continue frosting without refrigerating, but I like the extra insurance that it offers). Frost with remaining frosting as desired.