With a cooling rack full of cookies behind me, it's no surprise that I'm on high-alert. Elbow-deep in the sink, my ears are working as hard as my hands, scouring the room for sounds as I scrub the grease off a baking sheet. I mentally check and recheck the locations of every living thing in the house, acutely aware of my surroundings and entranced with the thought of protecting the cookies.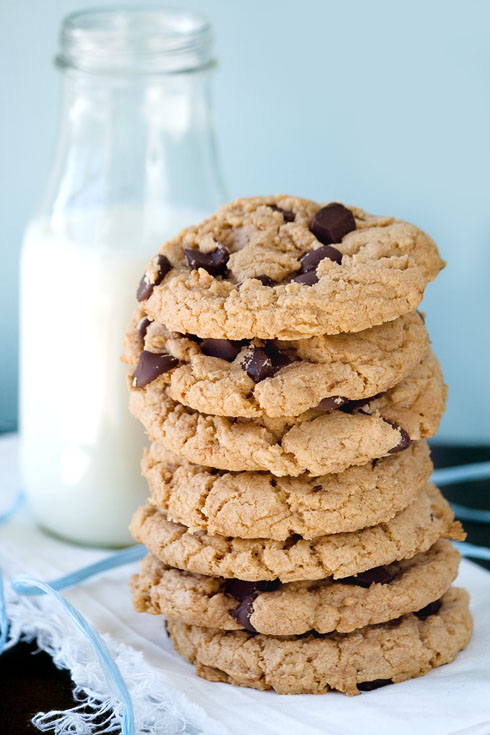 J and C, my step-dad and younger brother, are the two people I've got to worry about the most. I know, for now, that they're focused on the living room TV, anxiously leaning forward in their seats with PS3 controllers fixed between their fingers. Their game-based dialogue is like a foreign language, becoming increasingly convoluted and muffled as it travels the length of the hall to infiltrate my solitude. Their energetic exchange leads me to believe that they're too far into their storyline for a cookie break, but one can never be sure.
Sudden footsteps send a chill up my spine, but after recognizing the accompanying clack clack on the floor as a result of my dog's nails, I'm calmed.
Mom, I know, is in the living room with J and C. However, although she is quite unlikely to ask for a sample, she's definitely the most likely to come into the kitchen. Probably with an empty coffee cup, I imagine, checking the level in the carafe during a routine glance around the room. But it's empty, which means she's probably not drinking any this morning and that I'm probably pretty safe.
So, I've located my mom, my step-dad, my younger brother and my dog. At this point the dishes are clean, the cookies are cool, and I am all prepped to photograph.
But then, timidly and from around the corner, C's voice is barely audible:
"Sissy…? Can I have a cookie?"
I've got to tell you: I really hate to tell them no. I love that my family and friends are so anxious to try the things I make that they don't want to/can't wait for me to photograph them. But I'm so wary of letting them blindly pick and wandering off with the one – the most photogenic baked good of them all – in hand that I can't just say, "yes! Go right ahead."
So they're afraid of me, which explains C's timidness. It comes as no surprise, really. In all honesty, more than a few overreactions on my part have warranted them the right to be fairly frightened. I hate that it's true, but you know what? It's ok. Especially since I've got a system now, devised in my very early days of food photography.
"Yes," I tell him, drawing two plates from the kitchen cabinet and placing them on the counter in front of him. "Just give me a second."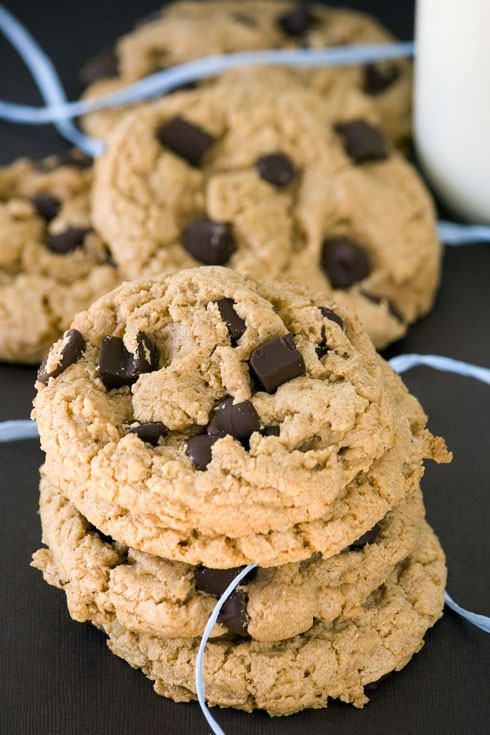 Transferring each cookie to a designated plate, I quickly sort through the ones I would like to photograph (the beauties) and the ones I don't want to (the rejects). It's a brief process, but it's an important one that, today, ends with me selecting the cream of the crop from the plate with the highest yield:
"Here you go, C. The most horrendous cookie of them all. THE reject. For you."
He's happy. I'm happy. The camera comes out and the cookies are saved.
Until the next time, that is…
Butterscotch Chocolate Chip Cookies via P
Make sure you make these cookies kind of large so you get a range of textures when they're baked! Feel free to use any flavor of pudding mix that you like/have on hand. These cookies are very adaptable and easily customizable. This will make about 33 cookies which, if they last, will taste even better on the second day.
Printable Recipe
1 1/2 c (213 g) flour
1 c (142g) whole wheat flour
1 tsp baking powder
1 tsp baking soda
1/2 tsp salt
3/4 c (149 g) sugar
1 1/4 c (177 g) brown sugar
2 eggs, room temp
2 tsp vanilla
1 Tbsp milk
1 tsp nutmeg
1 c (208 g) butter flavored shortening
1 (1 1/2oz or 42 g) pkg butterscotch-flavored instant pudding mix
2 Tbsp honey
1 1/2 c (355 ml) instant oats (corn flakes or puffed rice cereal are also good!)
1 1/2 – 2 c (355 ml – 473 ml) chocolate chips
In a large bowl, mix together the flours, baking soda, baking powder and salt. Set aside.
In a small bowl, combine the sugars using a fork to break up any lumps in the brown sugar. Set aside.
In yet another small bowl, beat the eggs, vanilla, milk and nutmeg, on high until light and fluffy.
In a final, large bowl, beat the shortening until it's fluffy. Add half of the sugar and beat until incorporated, then add the second half. Beat on high until grainy (there's too much sugar for this to get fluffy like you might expect it to), about 3 minutes. Add in the pudding mix and beat until combined.
Pour in half of the egg mixture and beat until incorporated. Repeat with the second half, being sure to scrape the bowl. Drizzle in the honey and beat until fluffy.
Add 1/3 of the dry ingredients and mix on low speed until just incorporated. Scrape the sides of the bowl and repeat, adding the rest of the dry ingredients in two portions. Gently fold in the oats and chocolate chips.
Preheat the oven to 350F and line two baking sheets with parchment paper.
Portion dough into approximately 1/4 c balls (or use a 1 3/4 oz disher) and place on baking sheets about 2 inches apart. Bake for 15-17 minutes, until the edges just begin to brown. Transfer sheets to cooling racks and allow cookies to cool on the sheets for about 5 minutes before transferring to cooling racks.