The wind picks up as nearby storms show the first signs of their arrival. The rolling clouds over the lake tease toward the park with fury-filled chests, their rage hinting at what appears to be a sure attack. But their threat is false; brief and weak, their swell dies as they approach land, breaking and thinning as they dissipate into the atmosphere. To my surprise, the puffs give up the fight, saving their downpour for another time and another place.
Unfortunately, the wind doesn't pack up and leave with them.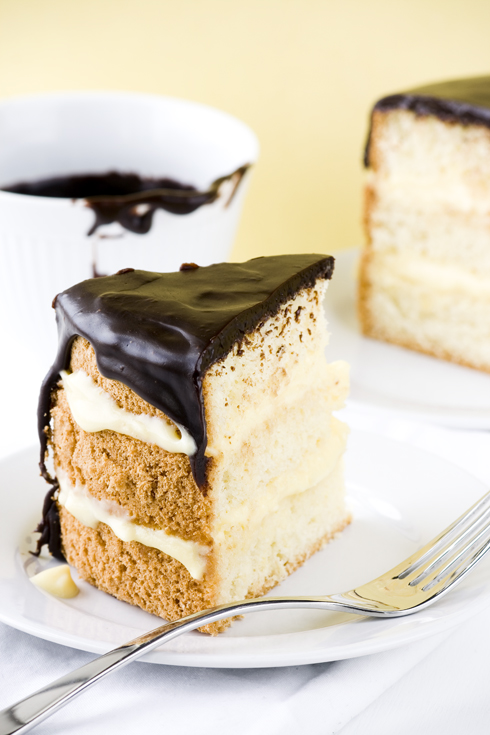 Earlier this week I was thankful that my uniform was so thin. Apart from the fact that I've got to be careful to only wear skin-colored bras underneath my shapeless tennis-ball-yellow (green?) shirt, it's light, so it's bearable to wear in the heat of the afternoon sun. Even the black shorts I was handed at wardrobe on my first day have managed to be more-or-less comfortable, despite the fact that they hit me at my natural waist and give me a "mom butt" like you wouldn't believe. But today, with the wind, I'm not so thankful. I'm frustrated with myself for having neither the foresight to layer a few shirts under my uniform nor bring my jacket with me to put on over it. Frustrated, in particular, because I made a point to check the forecast before work, knew this chill was coming and yet did nothing about it.
Go me.
A passing guest flashes a smile and I do my best to return the gesture. But with my arms locked around my chest, my skin heavily decorated with goosebumps and my eyes shielded with dark glasses, I immediately worry that the honest-to-goodness-100%-genuine smile I cast her way appeared more sarcastic and snide than friendly.
Crap.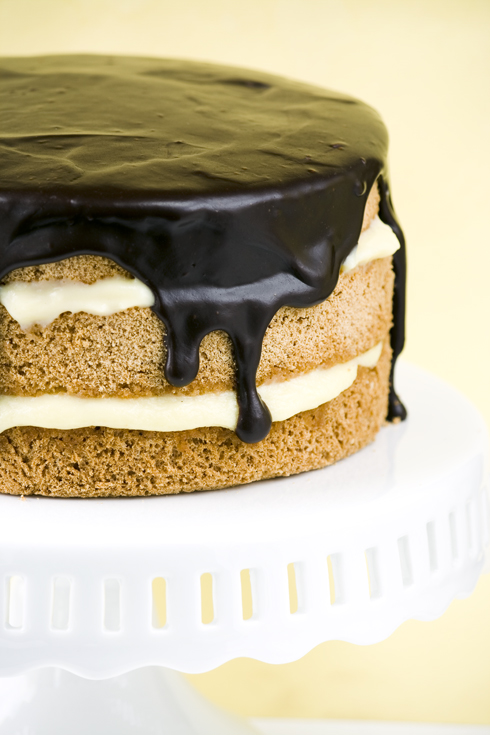 However, despite my discomfort, I realize – quite suddenly – that this is the only complaint I've had about actually working since I started this job. Sure, it's been busy and a little overwhelming at times, but I think I've got things pretty much figured out and am feeling pretty confident overall. If being cold (or even hot later in the season!) is as "intolerable" as things are going to get, I think I'll be able to handle things here.
I'm so happy to be working again that it would really take a lot to upset me at this point!
Boston Cream Pie adapted from Sky High
This is a classic cake that won't disappoint. I think it would look really cute with a swirl of whipped cream topped with a cherry in the center… Maybe next time!
2 c (278 g) cake flour*
2 tsp baking powder
1 1/2 c (298 g) sugar, divided
8 eggs, separated
1 Tbsp lemon juice
6 Tbsp vegetable Oil
2 tsp vanilla
Vanilla Custard (recipe follows)
Chocolate Glaze (recipe follows)
Preheat your oven to 350F. Oil and line three 9″ round cake pans, then set aside.
Whisk together cake flour (see note below), baking powder and 1/2 cup (99 g) sugar in a small bowl. Set aside.
In a large bowl, whisk together the yolks, lemon juice, oil and vanilla. Beat on medium-high until slightly lightened, about 5 minutes. Set aside.
Pour the egg whites into a very clean large bowl. Begin beating on medium-low until foamy, then turn the speed up to high and gradually add the remaining 1 cup (198 g) of sugar. Beat until moderately stiff peaks form (when lifting the beater from the bowl, the peaks should droop slightly), being very careful not to whip the whites until they are dry.
After the whites have been whipped, use a rubber spatula to gently fold 1/4 of them into the yolk mixture. Add another 1/4 of the whites and fold to combine. Repeat until all of the whites have been incorporated, then sift in 1/3 of the dry ingredients. Fold gently until few streaks remain, then add another third. Repeat, continuing to fold very gently, until the last addition of dry ingredients has been fully incorporated.
Divide batter evenly between the prepared pans and bake for 15-20 minutes until the cake springs back when pressed lightly in the center. Cool the cakes in their pans on a wire rack for 10 minutes. Remove the cakes from their pans and wrap them in plastic wrap then refrigerate them for at least 4 hours until they are completely cooled.
*If you don't have cake flour, combine 1 3/4 c (248 g) flour and 1/4 c (30 g) cornstarch to substitute.
Vanilla Custard
2 Tbsp cornstarch
2 c (473 ml) milk (author suggests whole, I used skim without any trouble), divided
6 egg yolks
3/4 c (149 g) sugar
2 tsp vanilla
Combine the cornstarch and 1/4 cup (59 ml) of the milk in a large heatproof bowl, whisking until smooth and free of lumps. Whisk in the egg yolks and set aside.
Pour the remaining 1 3/4 cups (414 ml) of milk into a sauce pan and stir in the sugar. Bring to a simmer over medium heat, stirring occasionally to dissolve the sugar and prevent scorching.
When the milk begins to bubble, use a ladle to pour about a cup of it into the yolks, whisking quickly and immediately to temper them. Pour the tempered yolks into the pan with the rest of the milk and cook, whisking constantly, until the custard just begins to boil. Turn the heat down to low and boil gently, whisking constantly, for 1 minute.
Pour the cooked custard into a bowl and whisk in the vanilla (you have to add it last or it will boil off while cooking). Press plastic wrap directly onto the surface of the custard and chill until set and cool, 4-5 hours.
Chocolate Glaze
1/4 c (59 ml) half and half
2 Tbsp corn syrup
1 c (6 oz or 170 g) chopped bittersweet or semisweet chocolate
In a small pan, combine the half and half and corn syrup. Bring to a boil over medium-high heat, being careful that the liquid doesn't bubble over the edge of the pan. Remove from heat and add the chocolate. Let stand 3 minutes, then whisk until smooth. Let cool for 30 minutes to 1 hour at room temperature until slightly thickened before using.
Assembly
Level the three cakes. Put one down on a serving platter, and top with half of the vanilla custard. Spread the filling out to the edges, then add another layer of cake. Top with the remaining custard, spreading, again, to the edge of the cake. Cover with the last round of cake, bottom side up, and pour the chocolate glaze over the top. Spread with an offset spatula.