I baked a cake today, amid the parcels, pages and books scattered on the floor.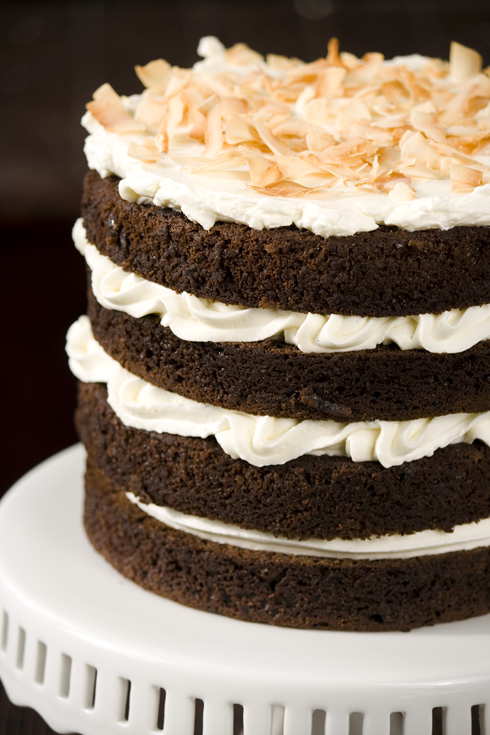 I had to remove my utensils and pans from their temporary homes to do so; emptying neatly packed boxes to retrieve my tools while the music of freed students and busy traffic played through awakened windows. No longer restrained by curtains, those windows pour their all into the apartment, illuminating the now all-white walls in all of their disappointingly bare glory.
I weighed the batter in pans and slipped them into a freshly-cleaned oven.
S packed her tapestries.
Personality fled our apartment when we painted our walls back to their original antique white. It's still home, but it's too fresh. Too clean. Too… Generic.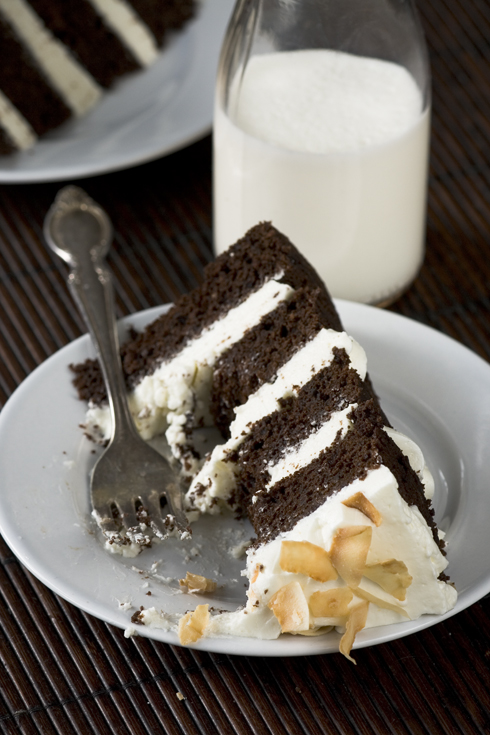 As the cakes baked, I returned to studying in the middle of the floor. The sun was dipping low in the sky then, distracting me from my cram session when it burst into the room without warning. I'd been studying for hours when I took my first break to throw together the batter, and decided that my brain's sudden reluctance to focus was a sign that it had finally had its fill of accounting.
I feel prepared enough.
I'm not worried.
I'll regurgitate everything when I get to the room where the exam's being proctored.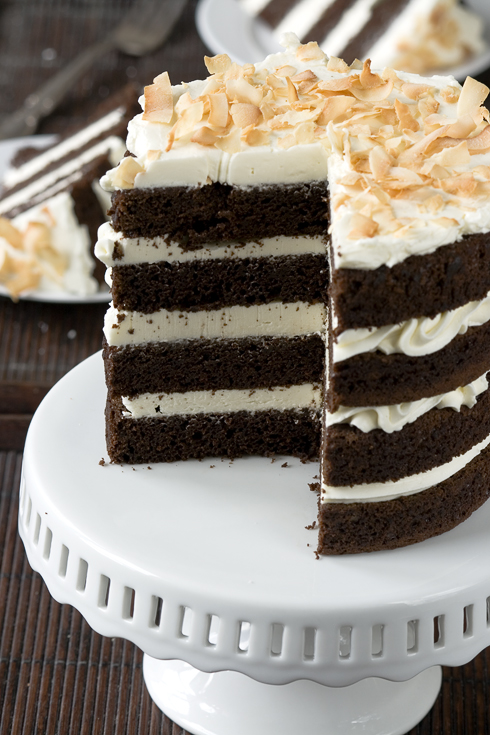 But, until then, I'm going to push aside these notebooks and papers and boxes and books.
And I'm going to lay here, on the floor, and listen to The Barenaked Ladies.
Because that feels like the right thing to do.
Chocolate Coconut Milk Cake with Coconut Buttercream adapted from The Little Red House
I'm always hesitant to try a new chocolate cake recipe because I feel like I've already established a favorite, but I'm really glad I gave this one a chance! It's deeply chocolaty, very dense (which I attribute to the melted butter) and a perfect friend to a glass of milk. The coconut flavor isn't noticeable the cake, but it's not supposed to be. You'll find it in the frosting, which is a spot-on accompaniment. The provided recipe makes a six inch 4-layer cake or, according the Sheena's recipe, one 9″ cake.
Chocolate Coconut Milk Cake
2 oz (56g) semisweet chocolate, chopped fine
3/4 c (67g) unsweetened cocoa powder
1 tsp instant coffee, optional (it brings out the chocolate taste a little)
3/4 c (177ml) boiling water
1 c (237ml) coconut milk
1 1/4 c (177g) all-purpose flour
1 tsp baking soda
1/2 tsp baking powder
1/2 tsp salt
6 Tbsp (85g) butter, melted
1 1/2 c (298g) sugar
2 eggs, room temp
Preheat your oven to 350F. Oil and line 1 9″ cake pan or two 6″ pans and set aside.
Place the semisweet chocolate, unsweetened cocoa powder and instant coffee (if using) in a heatproof container. Pour over the boiling water and let set five minutes to melt, stirring occasionally. Add the coconut milk when smooth.
In a medium bowl, combine the flour, baking soda, baking powder and salt. Whisk well and set aside.
In a large mixing bowl, beat together the melted butter and sugar until slightly lightened, about 3 minutes. Add the eggs, one at a time, then beat until light and lemon-colored, about 3 minutes. Add 1/3 of the dry ingredients and mix on low to combine. Add half of the wet ingredients and mix until just incorporated. Repeat, alternating as before, and end with the last third of dry ingredients. Pour the batter into your pans and bake until the top springs back when pressed gently, about 25-30 minutes for the 6″ cakes or 30-35 minutes for a 9″ one.
Cool in pans on a rack for 10 minutes. Remove from pans, wrap in plastic wrap, and place in freezer or refrigerator to cool.
Coconut Buttercream
Step-by-step guide for making Swiss Meringue Buttercream
5 egg whites
1 c (200g) sugar
1 c (266g) butter, room temp
1/2 tsp coconut extract (or more, to taste)
Cook the egg whites and sugar in a small saucepan over medium heat, whisking constantly, until the sugar is completely dissolved (test by rubbing some between your fingers. If it's completely smooth, it's done) and the egg whites are almost hot to the touch. Pour into another bowl (a stand mixer is preferable) and whip on high speed until room temp. Then, on a medium-low speed, add the butter, waiting until each piece is completely incorporated before adding the next. After all the butter has been added, turn the mixer back to high speed and whip until the buttercream comes together, about five minutes. Add the extract, and beat briefly to incorporate.
Assembly
Toasted coconut, if desired
Trim and split cooled layers. Fill each layer with buttercream, using a large tip to pipe along the edges, if desired (a la Sweetapolita or Miette). Spread remaining buttercream on top and sprinkle on toasted coconut, if desired.