I'm not at liberty to share many specific details about working at Cedar Point, but I can say one thing: living in employee housing is bringing back fond memories of dorm life at MSU. It was certainly nice to have my own place for my sophomore year, but I didn't realize how much I missed the sense of community that comes with living in the dorms. Not until I was again dropped into the environment, at least.
It's refreshing.
I made new friends within an hour of parking my car at HR on my first day. A few hours later, after completing a maze of paperwork, I moved into a 2-bedroom apartment with four complete strangers and introduced myself while hastily unpacking my suitcase. Finding myself more or less settled thereafter, I followed my new roommate upstairs to meet a few of her friends, whom I stayed with for a few hours before deciding to go back to my place and crash.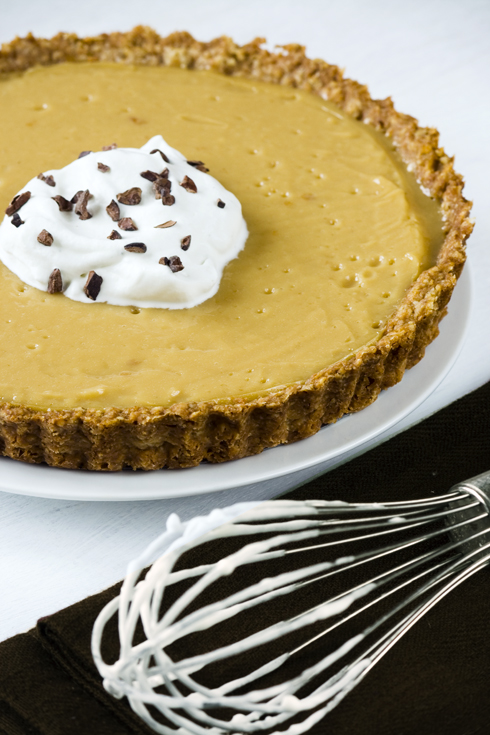 Go, go, go. I'm less than a week in and I can already tell that that'll be the summer's theme.
But I like it.
I'm happy for the again-constant coming and going of people – even if they're not at my apartment visit me specifically – just because it reminds me of being back at school. I'm sure that there will be bumps along the road, but, for now, everyone is incredibly friendly, very cool and completely high-energy.
Now, if you'll excuse me, I need to tend to that knock at the door…
Butterscotch Pudding Tarts with Oat Wheat Crust slightly adapted from Baked: New Frontiers in Baking
The crust for these tarts has a fantastic flavor that refuses to be upstaged by the butterscotch pudding. This recipe requires making caramel, which is fun, but occasionally stressful. Just be sure that you use a heavy-bottomed pan so that the sugar heats evenly and there is no scorching. I think halving this recipe would make enough dough and pudding for a 9″ tart if you don't have the 4″ pans, but please don't hold me to that! Anyway, this dessert is both homey and comforting while being surprising and new at the same time. Sure to please a crowd! Oh, and if you happen to have any leftover pudding – resist the urge to eat it as-is and toss it in your ice cream maker. It's wonderful plain, but also makes fantastic ice cream!
Makes eight 4-inch tarts.
Oat Wheat Pie Crust
1 c (90 g) rolled or old-fashioned oats (not quick or instant)
1/2 c (71 g) whole wheat flour
1 c (142 g) all-purpose flour
1/4 c (45 g) firmly packed dark brown sugar
1/2 tsp salt
3/4 c (177 g) butter, cubed and frozen
1/4 c (59 ml) whole milk
Put the oats into the bowl of your food processor and process for about 30 seconds, until ground but not powdery. Add in the flours, brown sugar and salt, then pulse to combine.
Sprinkle over the cubes of butter and pulse just until the pieces of butter are small and it looks like coarse sand. Add the milk and pulse just to combine.
Take the dough out of the processor and form into a large disk. Wrap in plastic wrap and refrigerate for at least 1 hour or up to 3.
After the dough has chilled, dust your counter with flour. Unwrap the dough and cut it into 8 equal pieces, about 2 ounces each. Gently shape each portion into a smooth disk and refrigerate for 10 minutes.
Roll each portion into a 6-inch round just over 1/8-inch thick. Place each round over a 4-inch tart pan and very gently press the dough into the pan, being careful not to stretch it. Roll the rolling pin over the pan to trim off the overhang. Repeat with the remaining dough rounds and use any excess dough trimmings to make a ninth tart shell or freeze for another time.
Preheat the oven to 325F and put the tart pans in the freezer for 30 minutes.
Remove the tarts from the freezer, then arrange on a baking sheet and dock with a fork to prevent puffing. Bake on the baking sheet until golden brown, 12-15 minutes, rotating the baking sheet halfway through baking time.
Transfer the tart pans to wire racks and let cool completely.
Butterscotch Pudding
6 egg yolks
3/4 c (149 g) granulated sugar
1/4 c (59 ml) heavy cream
1/2 c (90 g) firmly packed dark brown sugar
1/3 c (39 g) cornstarch, sifted
1 tsp salt
3 c (710 ml) whole milk
1 tsp vanilla
1 Tbsp unsalted butter
Put the egg yolks in a large heat-proof bowl and set aside.
In a small saucepan, combine the granulated sugar and 1/4 cup water. Stir gently with a heatproof spatula being sure not to splash the side of the pan. Cook over medium heat until the sugar is dissolved, then increase the heat to medium-high and cook until the mixture caramelizes and begins to turn dark amber color. Swirl the pan, if necessary, to create an even color, but do not stir as it may encourage the formation of crystals and make your caramel grainy. Remove from heat, let stand for 1 minute, then use the heatproof spatula to stir in the cream. Pour the caramel into small bowl and set aside.
In another small saucepan, combine the brown sugar, cornstarch, and salt. Stir in the milk and whisk to combine. Cook over medium-high heat, whisking occasionally, until the mixture comes to a boil. Remove from heat and add the caramel. Whisk to combine, then pour one third of the mixture over the eggs, immediately whisking to temper. Continue whisking the egg mixture and add another third of the hot milk mixture. Pour the now-tempered yolks back into the saucepan with the milk and bring to a boil over medium-high heat, whisking constantly. Boil for 2-3 minutes, or until very thick. Remove from the heat and add the vanilla extract and butter, continuing to whisk for about 1 minute to help cool the pudding. Let set for about 15 minutes.
Assembly
Baked oat wheat crusts
Cooled butterscotch pudding
Whipped cream (optional)
Crushed Butterfinger (optional)
Cocoa Nibs (Optional)
Whisk the cooled pudding until smooth. Divide equally among the tart shells and top with whipped cream, crushed butterfinger and cocoa nibs, if desired. Cover the tarts with plastic wrap and put them in the refrigerator for about 2 hours before serving.
These can be stored, tightly covered, in the refrigerator for up to 2 days.