"I try to be as helpful as I can in the beginning," he explained casually, his voice flat as he flipped through papers haphazardly attached to his clipboard. "But now it's sink or swim. If someone didn't get it before and they can't figure it out now… Well…" He trailed off suddenly, his refined curtness clearly delivering what he tactfully left unsaid.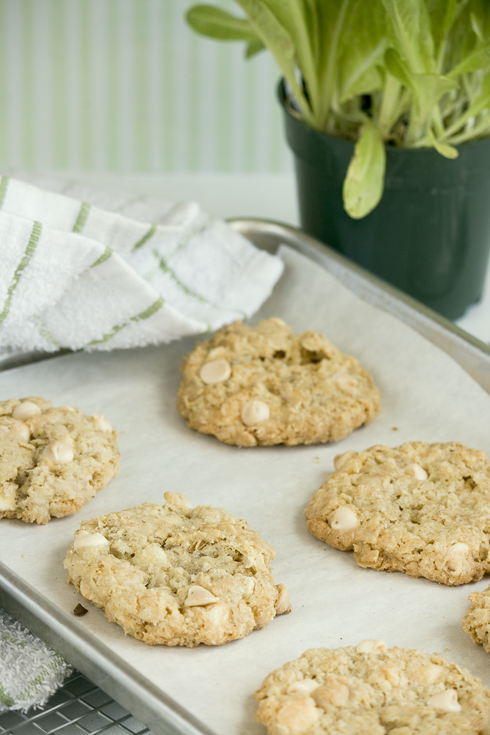 I understand. Being in a leadership position, it's important to test the new team members to figure out who can be relied on and who can't. That's how the working world functions. I get it.
Thankfully, I'm one of the swimmers, but I still find myself asking a lot of questions. Sometimes they're obvious, but it's only because I want to be sure I'm getting things right. And in those instances of my own "dumb questioning," I'm often told to just trust my gut. But you know what? Sometimes my gut just doesn't know – especially when I'm 7 hours into my shift and all the darn thing really cares about is what I'm going to eat for dinner. Sometimes all my gut wants is a sandwich with a hot side of "yes," or, "exactly – you're right."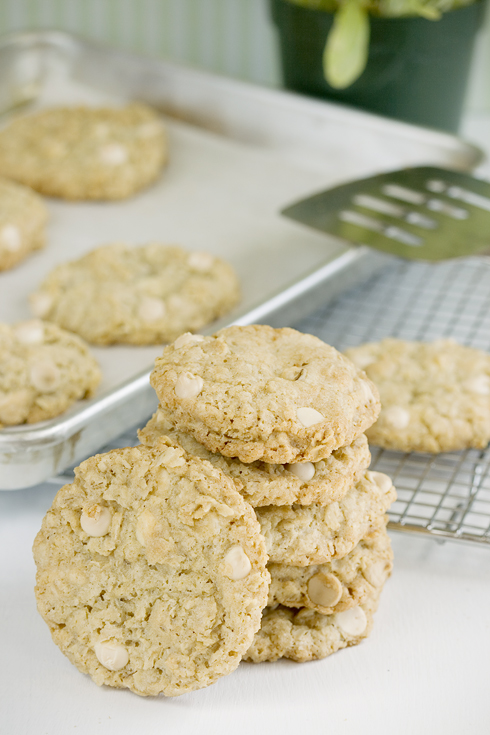 Is that so much to ask?
But, like I said before, I get it. With their distance and pseudo-disregard for questioning, my TLs are smartly fostering a confident and competent crew.
I'll get over my uncertainty eventually.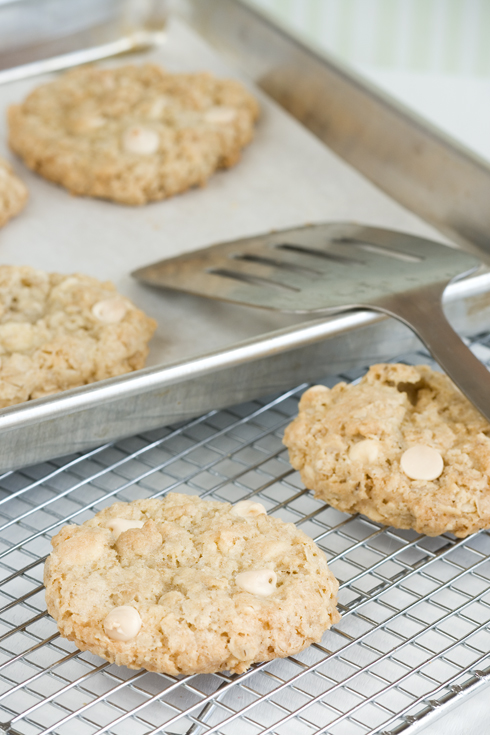 Just let me ask you one more thing…
Crispy Salted Oatmeal White Chocolate Cookies via Smitten Kitchen who adapted it from Cook's Illustrated
Having these cookies around the apartment has been a real test of my willpower. With their shattering texture and contrasting salty-sweetness, they've proved quite addictive! Makes about 2 dozen.
1 c (142 g) flour
3/4 tsp baking powder
1/2 tsp baking soda
1/4 tsp salt
14 Tbsp (199 g) butter, softened
1 c (199 g) sugar
1/4 c (40 g) packed light brown sugar
1 egg
1 tsp vanilla
2 1/2 c (225 g) old-fashioned rolled oats
6 oz (170 g) good-quality white chocolate bar, chopped (Deb of Smitten Kitchen recommends not using chips, but they're all I had and I happen to like how they taste!)
1/2 tsp flaky sea salt (like Maldon or fleur de sel), for sprinkling
Preheat your oven to 350F. Line two baking sheets with parchment paper and set aside.
Combine the flour, baking powder, baking soda, and salt in a medium bowl and set aside.
In a large bowl, beat the butter and sugars until light and fluffy, about 5 minutes. Scrape down the sides of the bowl, then add egg and vanilla and beat until incorporated, about 3 minutes. Scrape down the bowl again and add half of the flour mixture. Mix to combine, scrape down bowl, and add remaining half. Mix until just incorporated, then add the oats and chocolate and mix until evenly distributed.
Using a 2 Tbsp scoop, portion the dough into as many balls as you can. Roll into a sphere shape between your palms and place on lined sheets about 2 1/2″ apart. Gently press each ball into a 3/4″ thickness and sprinkle with a few flakes of salt. Bake until cookies are golden brown, 13 to 16 minutes, rotating pan halfway through. Transfer sheet to a cooling rack and allow to cool completely.