Good morning, dear readers!
In addition to a new post (which will go live sometime later in the afternoon), I have something exciting to share with you guys today! My super talented friend, Jordan, over at Kitchen Karate, has just opened I'm With Cupcake, an online shop featuring all sorts of cutesy goodies! His offerings include all sorts of hand-picked treasures from Cupcake Soaps to Ninjabread Men Cookie Cutters, perfect for treating yourself or giving as gifts to others!
The shop is open now, but the grand opening is tomorrow and Jordan's doing something special to celebrate the occasion: after you've filled your virtual baskets, head on over to the checkout and use "whiskkid" as your promo code to receive 10% off your purchase of $30 or more (before taxes and shipping)!
This offer is valid only on July 2nd – 3rd, 2011; can be used one time and cannot be combined with other offers or promo codes. Also, as a note, I am not receiving any kind of compensation/reward for offering this deal to you guys. I swear, I'm not a sell out – I'm just trying to spread the word and help a friend 🙂
Click the invitation below to check out the shop!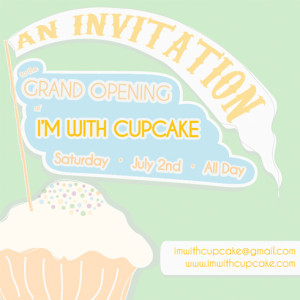 In other news, I was recently interviewed by Splashlife for a feature called "30 Under 30: Futurist Foodies." I am absolutely honored and floored to have been included, especially considering my company! Check it out (I'm on the bottom of page 2) to read a little bit about all of our "foodie" thoughts!
Check out BBC Food today, too, to see the rainbow cake on their Cake Wall of Fame!
I hope you're enjoying this beautiful day!
Kaitlin