The early days of the summer, in which I trained [seemingly] endlessly for my then-new job, saw many purpled patches on my body. From my own carelessness, my spine found itself battered and colored; crying out each time I lazily dropped all of myself into the unpadded driver's seat of our go-karts. Absentmindedly, the hue of my legs shifted in response to the sudden catching of doors and stopping of gates as I forgot – time and time again – to consider the effect that the frequent battering would have on my tired skin. Consider it strange, if you will, but my ribcage also discovered spots of new color; the result of friendly by-surprise pokes from overly-eager friends with a different – but appreciated – sense of humor than most.
Then I bruised.
But I don't so much anymore.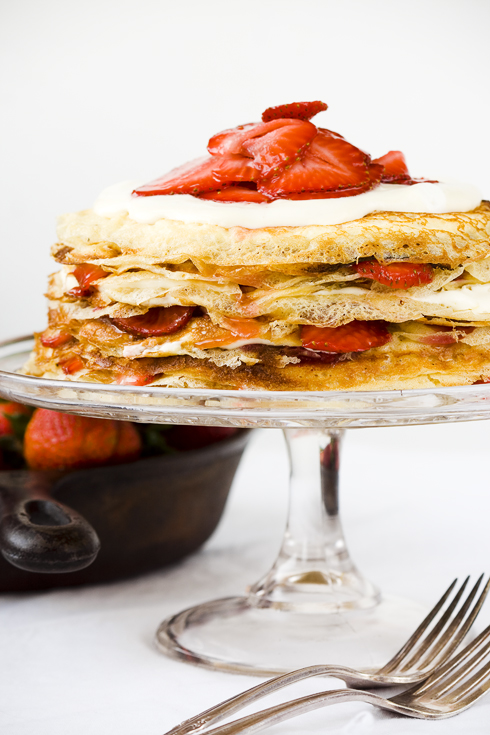 Please forgive me this harsh transition, dear readers, if you can. It may seem unrelated at first, which is not surprising, I know, for this occasionally disjointed space, but it ties in – I promise.
You see, earlier this year I got dumped. It's been implied, I think, in posts since then, but I don't believe that I ever mentioned it directly despite the rush of emotions itching to find themselves out of my head.
The hurt that came first wasn't something I wanted to share because I knew he'd see it. Those closest to me helped me discover that he didn't deserve to… And also that it wasn't something I'd really want to remember.
The anger that followed couldn't be shared either, because it wasn't right to do. The furious hatred was mine only; to be uttered only to those who were understanding and kind enough to help me through the mess. My closest friends and family – who I am so fortunate to have – did more for me than venting here ever could. Now I have no regrets.
Out of respect – for you and him – I kept quiet. But now, months down the line, I'm finally writing this. Selfishly, I guess, for myself, but also for anyone else who might be going through something similar.
Although it felt, as first, like it would never be true, the hurt and the anger did leave me. I do remember the pain, but it lessened gradually over time as it was buried and overgrown with happier things. Deepened friendships and a heightened sense of appreciation for minutely happy things opened up like blossoms and flowers, granting me a new outlook on life.
It's been gone for some time.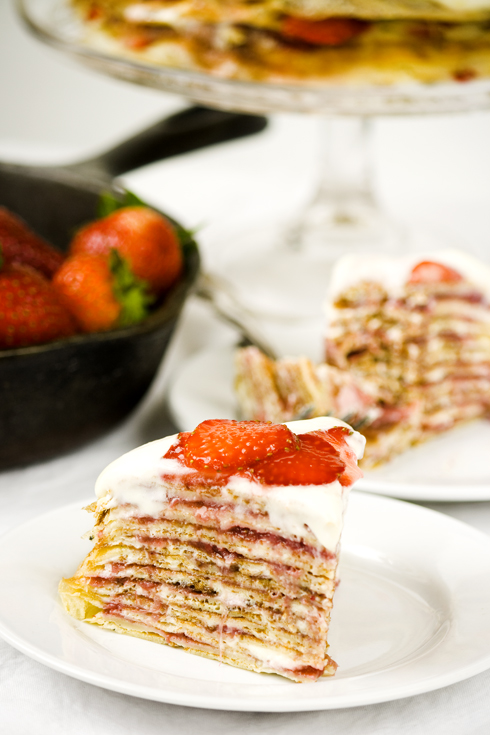 In the end, it was good to get dumped. I didn't think it possible, but I'm happier now, without a doubt, than I was then. I was meek then; naïve and unknowing in the ways of relationships and afraid to speak up. I'd forgotten that I like to be alone. I'd forgotten to be myself. I'd forgotten to actually
do
things with my time and had an incredibly difficult time writing for both the blog and the simple joy because of it. I've dated since then and I'm happy to say I'm still single. I haven't found exactly what I'm looking for and I can thank my last failed relationship to thank for teaching me that I have every right to search for what I really want.
That there's no shame in being single.
That I like who I am, and I won't change myself to suit some guy.
Until it ended, I did, truthfully, love that boy and love what we shared. But at the same time, I'm happy it's a thing of the past because I am so unbelievably grateful for how much stronger the split made me. I am more confident now, and I believe in myself and my judgments.
I'm not saying that my next breakup will be easy or that anyone else's will either. I'm not saying that it's simple to get over someone and I'm not saying it should be.
It's a process, a painful but blessed one, that takes a lot out of a person. But, like everything, there's good in it.
You will be happy again. More so, even. And you'll be stronger. And thicker-skinned.
And with that thicker skin, you'll find that you won't bruise so easily anymore.
The purple fades in the end, leaving nothing but memories.
Do yourself a favor: learn from them.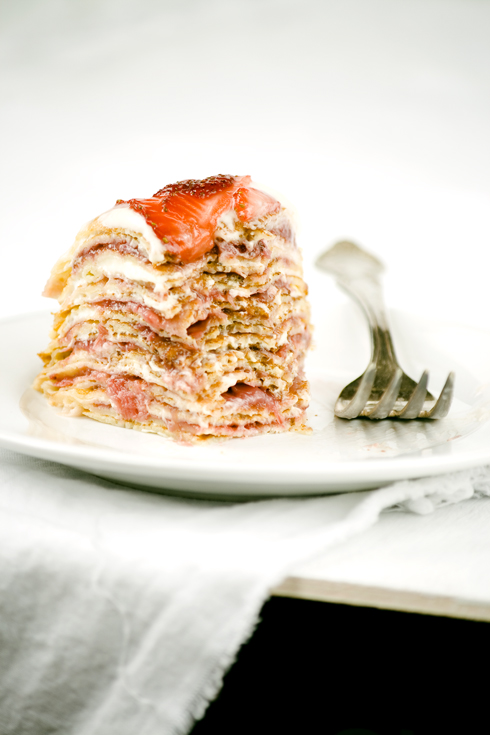 I am a firm believer that a little pain does the body good, and I hope you are, too.
Strawberries, Rhubarb and Cream Crepe Cake adapted from Cream Puffs in Venice
This cake was insanely delicious. All of the components come together into a sweet, smooth and delicious treat! While making the crepes, don't be discouraged if you have a few failures. This makes quite a bit of batter, so you've got a lot of room for error. Try to keep your cool and have fun! This would be great for a party, but make sure you give yourself enough time to prepare everything a day before serving and put it all together two hours in advance of your ideal slicing time.
Crepes
6 tablespoons butter
3 cups milk
6 eggs
1 1/2 cups all-purpose flour
7 tbsp. sugar
Pinch salt
vegetable oil
Prepare this batter the day before making the cake.
In a small pan, brown the butter, being careful not to burn. Set aside. In the same pan, heat the milk until steaming and allow to col for 10 minutes.
Beat together the eggs, flour, sugar and salt on medium low speed until just combined, then slowly add the milk and butter. Pour into a container with a spout, cover and refrigerate overnight.
To make the crepes, bring the batter to room temperature. In the meantime, prepare a baking sheet with a piece of parchment paper so you have a place to store cooked crepes. Place a nonstick or seasoned 9-inch crepe pan over medium heat. Prep the pan by brushing the surface with oil, then pour in about 3 tablespoons of batter, quickly and swirling to cover the entirety of the bottom of the pan. Cook until the bottom just begins to brown, about 1 minute, then carefully lift flip the crepe any way you can. You can do this by lifting an edge and using your fingers, or by using an offset or regular spatula – whatever works for you! Cook on the other side for no longer than 5 seconds and flip the crepe onto the lined baking sheet. Repeat until all batter has been used.
Strawberry Rhubarb Sauce
1 lb strawberries, hulled and thinly sliced
1 c chopped rhubarb
1/4 c sugar, to taste
1 Tbsp lemon juice
Combine all ingredients in a small saucepan and cover. Let set at room temperature for about an hour to macerate and draw out juices. After an hour has passed, set uncovered pan over medium-low heat and cook, stirring occasionally, until reduced and syrupy, about 30 minutes. Pour into a bowl and refrigerate until needed.
Pastry Cream
1 cups milk
3 egg yolks
1/4 c sugar
1/6 c cornstarch, sifted
2 Tbsp butter, cubed and softened
1 1/2 tsp vanilla
Fill a large bowl with ice and pull out a smaller bowl (that will fit inside) fitted with a fine-mesh sieve to hold the prepared pastry cream. Set aside.
In a medium-sized saucepan, bring the milk to a boil.
In the meantime, whisk together the egg yolks, sugar and cornstarch until lightened, about three minutes. When the milk comes to a boil, temper the yolks but adding about half of the hot milk to the yolks while whisking to combine. Pour the tempered yolks into the saucepan over medium heat, whisking constantly until thickened but not boiling, about two minutes. Quickly press the pastry cream through the sieve in the small bowl and set the bowl in the ice bath. Stir until the temperature reaches 140F on an instant-read thermometer, then stir in the butter and vanilla. When the cream reaches room temperature, cover and refrigerate.
Assembly
1 c heavy cream
2 Tbsp sugar
Pastry cream
Strawberry Rhubarb Sauce
Crepes
Confectioner's sugar (optional)
Whip the heavy cream with the sugar to stiff peaks. Fold in the pastry cream. Set aside.
Pick out the best-looking crepe and set aside. Put down 1 crepe on a serving platter and top with a thin layer of pastry cream (don't use too much or the cake will slide). Add another crepe and top with strawberry rhubarb sauce. Continue stacking and finish by topping with the best-looking crepe. Chill for at least 2 hours. Let set at room temperature for 30 minutes before serving. Dust with confectioner's sugar, if desired.