Full of ashes but empty of flame, the fire pit lay lifeless in the daylight. We'd been using it as a garbage can of sorts; stocking it with [sparingly used] discarded paper towels and cardboard shreds through the day in preparation for the night's fire. One which would, once lighted, crisp pita pizzas, boil water for macaroni and cheese and serve as our tree-inhabited kitchen away from home; a gathering place just the same.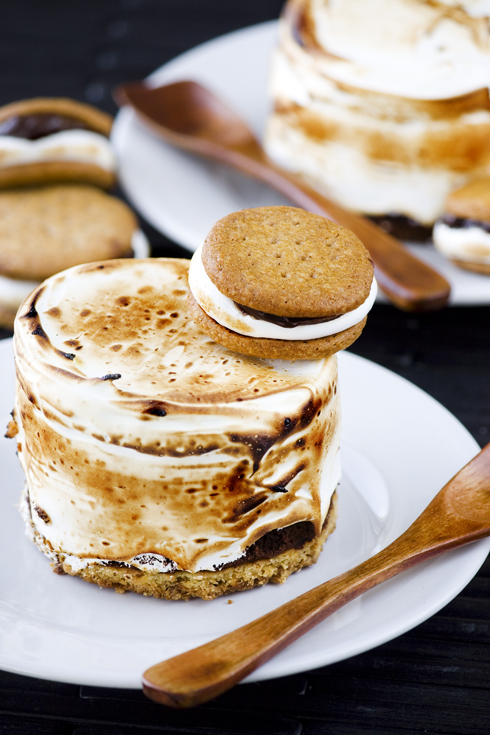 Eating simply and functioning simply, this was a camping trip of few plans. A lazy "just because it's summer" kind of camping trip brightened by the relaxed company of great friends, the luxury of an air mattress more comfortable than I could have ever imagined and peaches sweeter than the lingering memories of last year's crop.
I couldn't have asked for better weather and I certainly couldn't have asked for better company.
Without fail, during the day it was just hot enough to swim and sunbathe on the peaceful shores of Lake Michigan. The gently white-capped waves scared R and H's dear puppy to death but proved far more entertaining to us four 20-somethings than one is likely to believe. After bobbing away the afternoon shoulder-deep in the surf, nighttime temperatures dipped low enough to make burrowing deep into our sleeping bags a comfortable refuge, particularly when joined by an adorably cuddly and equally exhausted pup.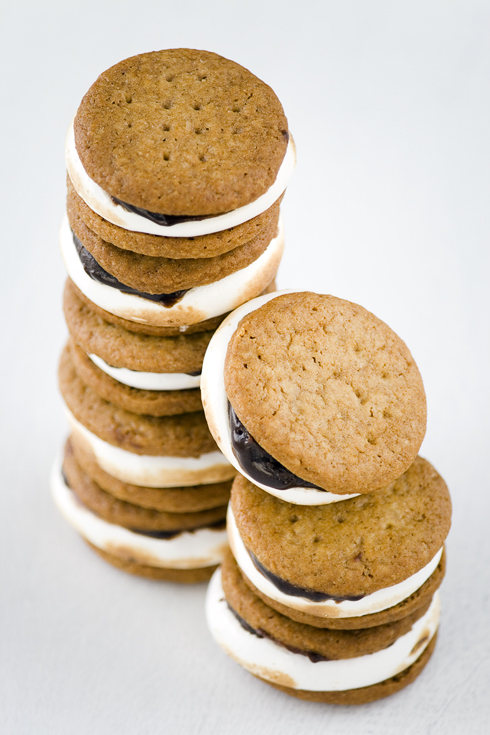 A shared propensity against over-planning and optimistically relaxed disposition made this trip refreshing. Two midnight visits by thieving raccoons (partial to walnuts, fancy teas, and packets of ketchup – hold the mustard – as it turns out) were met, of course, with frustration – but also laughter. A mysteriously broken car window was taken in stride. Rare occurrences of boredom were quickly combated. Hunger was satisfied. Chills: warmed.
Each moment was unstructured and fluid, slowly efficient and peacefully perfect.
In other words: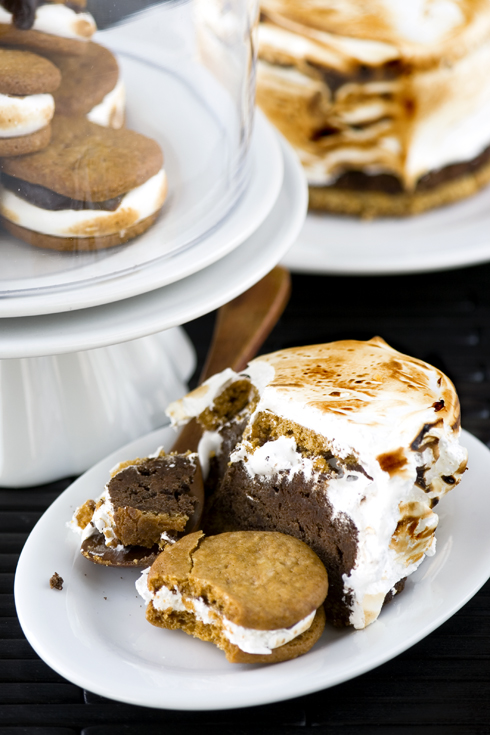 Just what we wanted
.
S'Mores Cakelettes via Desserts for Breakfast

You'd think a post like this would be accompanied by a simple recipe, wouldn't you? But, alas… Here we are. These little cakes have a lot of components, but they are really very much worth the effort! They're quite rich, so I recommend keeping them small (part of their appeal is that they're individually-sized, after all. Just like a s'more!). They'll definitely disappear quickly, so be ready! Makes eight 3″ delights.
Oh, also, I sandwiched extra meringue between small graham crackers spread with ganache. Yum.
Graham Crackers

These taste and smell amazing! The best graham crackers I've ever had, which is good because this makes more than you'll need.
1/3 c (78 ml) honey

2 Tbsp molasses

4 Tbsp whole milk

2 Tbsp vanilla

2 1/2 c + 2 Tbsp (372 g) flour

1 c (142 g) light brown sugar

1 tsp baking soda

3/4 tsp salt

7 Tbsp (100 g) butter, cubed and frozen
Whisk together honey, molasses, milk and vanilla in a small bowl. Set aside.
Pour the flower, sugar, soda and salt into the bowl of your food processor. Pulse until combined. Put the butter in the food processor and pulse until the butter chunks are the size of small peas. Add the liquid ingredients and pulse just until a dough forms.
Place the dough on a lightly-floured surface and divide into 2 disks. Wrap each with plastic wrap and chill overnight or until firm.
Line 2 baking sheets with parchment and set aside.
Place one round of chilled dough onto a lightly-floured surface and roll out until it is about 1/8″ thick. Cut eight 3″ rounds (or slightly smaller as they will spread) and cut the remaining dough into desired shapes (you won't need them to be a specific shape to use for the genoise). Place cut crackers on a baking sheet about 1″ apart and dock each a few times with a fork. Chill the baking sheet for 25-30 minutes.
While the sheets are chilling, preheat oven to 350F.
Bake the chilled crackers for about 18-20 minutes, rotating the sheet half-way. Remove from the oven when the crackers have turned brown and are slightly firm to the touch. Place the pan on a cooling rack and allow to cool completely.
Graham Cracker Genoise
1 oz (30 g) graham crackers

7 tsp (20 g) flour

5 tsp (12 g) corn starch

4 1/2 Tbsp (64 g) butter

1/2 tsp vanilla

6 egg yolks, room temp

1/2 c (88 g) sugar

2 Tbsp water
Preheat your oven to 350F. Prepare a quarter sheet pan by greasing it, then lining it with parchment paper greasing again. Set aside.
Grind the graham crackers into powder using a food processor. Add the flour and cornstarch and set aside.
Brown the butter in a small pan, cooking until solids drop to the bottom of the pan and most of the bubbling has subsided. Remove from heat and strain through a fine mesh strainer to remove the solids. Add vanilla and keep warm.
In a mixer bowl over simmering water, combine the egg yolks and the sugar. Whisk constantly until the mixture is almost hot to the touch. Immediately transfer the warmed egg yolks and sugar to a separate large mixing bowl and whisk on high speed for five minutes. Add the water to the eggs and sugar, then whisk briefly on medium to combine. Add half of the dry ingredients to the egg mixture and fold to combine. Repeat with the second half, then fold in half of the melted butter and vanilla. Fold in the second half and gently transfer to prepared 1/4 sheet pan. Smooth so that the batter over the pan and bake 15-20 minutes until the top is golden and it springs back when lightly pressed. Cool, in pan, on a rack.
Assembly Part 1
Line a baking sheet with parchment paper. Using eight 3″ molds, cut out 8 pieces of the cooled genoise and leave them in the molds. Place on prepared pan and set aside.
Chocolate Souffle Cake
6 Tbsp (85 g) butter

7 oz (198 g) dark chocolate, chopped

4 eggs, separated.

7 Tbls (85 g) sugar, divided into equal parts

pinch of salt
Preheat your oven to 325F. Have the molds prepared with the cut genoise.
Melt the butter on the stove in a small pan. When it is completely melted, add the dark chocolate and whisk until melted and smooth. Remove from heat and set aside to cool briefly.
Beat the egg yolks with half of sugar on high until light, fluffy, and triple in volume, about 4-5 minutes. Fold the chocolate mixture into the whipped yolks and set aside.
In a separate bowl, whisk the egg whites with the remaining sugar and beat until the egg whites hold medium stiff and glossy peaks.
Fold a third of the egg whites into the chocolate and yolk mixture, then gently fold in the remaining whites in until there are no streaks. Immediately divide the batter into the eight cake rings on top of the graham cracker genoise layer at the bottom. Bake for 20-30 minutes until the tops of the cakes are no longer shiny, but not "souffled." Remove the cakes from the oven immediately and let cool completely, preferably overnight, until firm.
Dark Chocolate Ganache
3 oz (85 g) dark chocolate, chopped

5 Tbsp (71 ml) heavy cream

1 Tbsp (14 g) butter

1 Tbsp chocolate liqueur, optional
Place the chopped chocolate in a heat-proof bowl and set aside. Bring the heavy cream and butter to a simmer in a small saucepan over medium-high heat and pour over the chocolate. Let sit for 2 minutes, then whisk until completely smooth. Whisk in the chocolate liqueur, if using.
Let the ganache cool until slightly thickened, about 1 hour, stirring occasionally. Spread a layer of the ganache onto each of the 8 round graham crackers and let cool at room temperature for another hour until the ganache is set. Set aside.
Italian Meringue
1 1/2 c (310 grams) sugar

1/2 c (140 ml) water

5 egg whites, room temp
Combine water and sugar in a small pot over medium-high heat. Swirl the pan to help distribute the sugar, but do not stir. Bring syrup to a boil and cook until the temperature reaches 240F.
Meanwhile, place the egg whites in a large mixing bowl. Begin beating the egg whites when the syrup is at about 230F, bringing them to soft peaks – be very careful not to over beat! Once the syrup has reached 240F and the whites have been whipped, gradually pour the syrup into the egg whites, beating on high-speed. Beat until the bowl is no longer warm to the touch, about 15 minutes.
Assembly Part 2
Unmold the cakelettes. Spoon about a tablespoon or so of the Italian meringue on top of each cakelette, spreading to an even thickness. Top with a ganache-covered graham cracker round, ganache side down.
Frost each cakelette with remaining meringue. Use a blow torch to brown.
Serve at room temperature but store in the refrigerator.