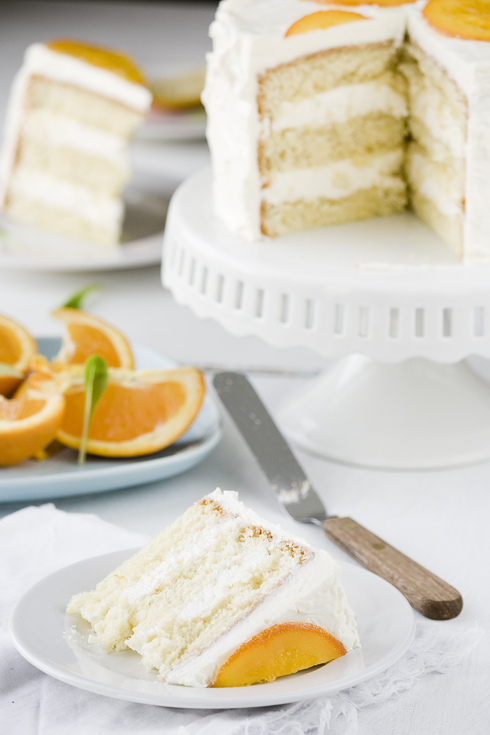 Those of you who follow Whisk Kid on
Twitter
and/or
Facebook
may have noticed that I've been a little absent lately.
Wanna know why?!?!
I moved.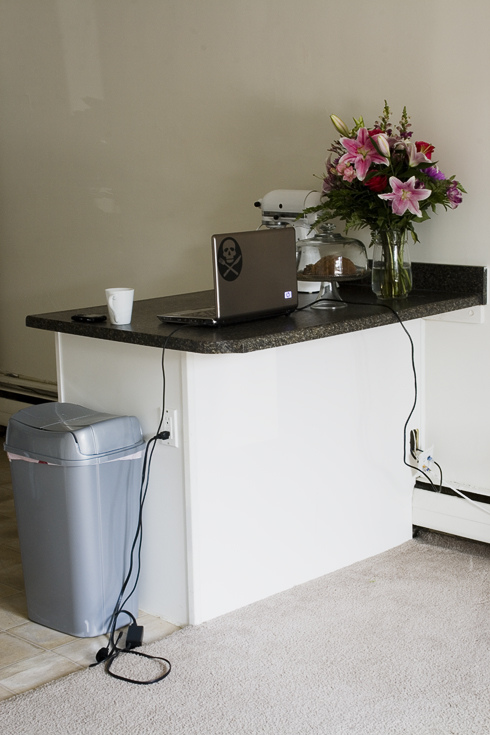 Again.
Yeah, I know. Sometimes I feel like that's all I write about. Moving here… Moving there. Yadda yadda yadda.
But this time it's exciting because it involves a pretty kitchen! Yay!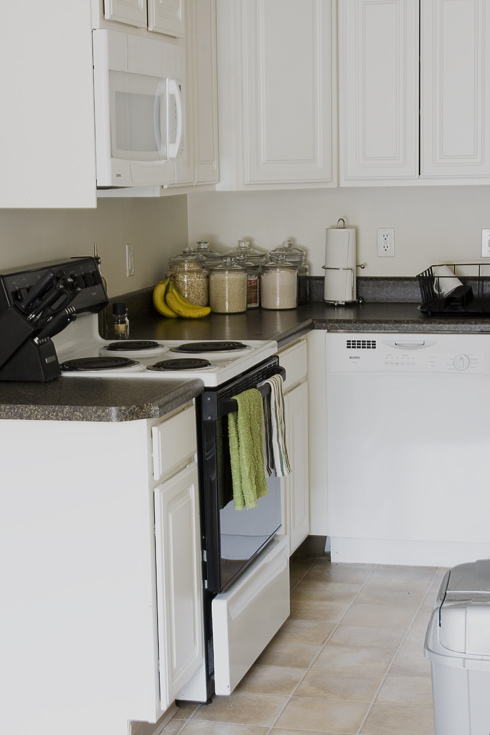 Also, moving back here means I get to spend more time with friends. It means that they can come over whenever they want and stay as late as they like because Cedar Point and their housing regulations no longer own my soul. It means that I'm no longer living out of suitcases and boxes, and that everything I own finally has a
place
. It means hard work and school, but it also means freedom.
Anyway, I'm typing this from the floor of my living room, ethernet cable tethering my laptop to the wall, rugburn gnawing at my elbows and a rough case of writer's block stuffing up my head. Considering the fact that C and I own neither a couch or a wireless router, I spend a lot of time sitting on the floor, but I'm ok with it. I'm thrilled to just be here again, so I'm perfectly content to go without little luxuries and I think my friends are, too.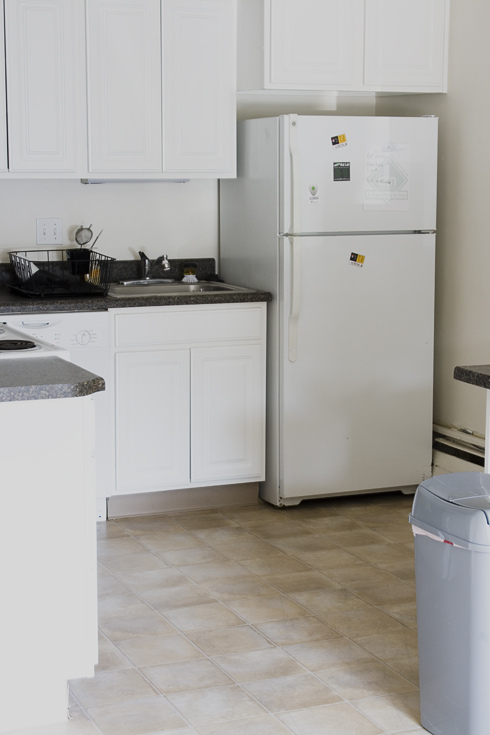 We made pizza here a few days back. It was a simple meal, eaten communally from a cutting board placed in the middle of the empty living room floor and followed up by the most ridiculous game of catch/Frisbee/monkey in the middle/indoor soccer that I've ever seen and generous slices of German Chocolate Cake for dessert. Honestly, a couch or dining room table would have just been in the way. We were there for fun, and furniture just didn't fit the bill. We were celebrating our reunion, and saying goodbye to a great friend. One who will be away training for a few months before moving for work and would probably hate it if I made a fuss over this. As such, I'll just say that I'm going to miss him a lot and can't wait to visit, then leave it at that 😉
Anyway, I apologize that this point is so disjointed and aimless. I'm in between classes right now with a rent check staring at me from a foot away and a long to-do list to complete in the next few hours. I hope to get back to my regular posting style shortly, but, until then, happy baking!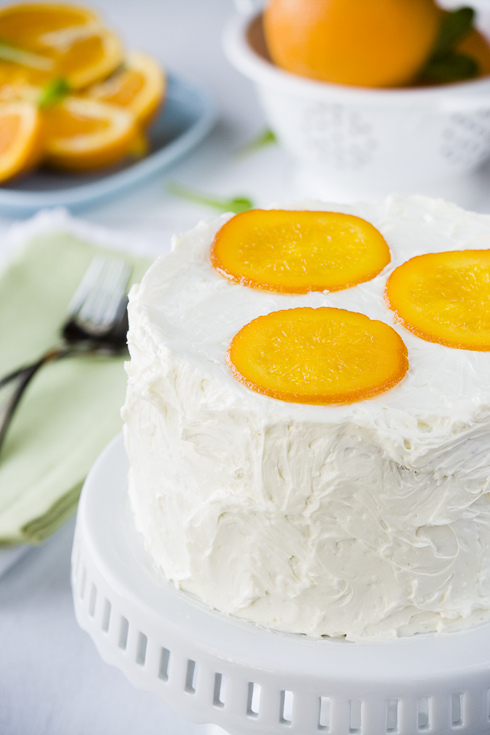 All the best,
Kaitlin
Orange Syrup Cake with White Chocolate Buttercream inspired by Martha Stewart
I know, you were expecting German Chocolate, right? I promise to get that recipe to you in the future. It just always gets eaten up before I can photograph it!
I'll be honest here: the orange flavor doesn't come through very much in this cake. I'm still trying to figure out how to make that happen. Orange is such a difficult flavor to capture in baked goods… At any rate, I really enjoyed this cake and particularly liked the way the candied orange slices looked on top.
Also, as a note, I made some modifications to this recipe to bake my cakes in 6″ pans. However, that's not a standard size, so I'm posting the recipe for a 9″ cake. If you want a 6″ cake, just halve everything.
Candied Orange Slices via Use Real Butter
The slices themselves are more for garnish than anything, but the orange syrup is used to brush the layers. You will likely have extra of each.
1 orange, washed
Water for boiling
Ice water
2 (397 g) cups sugar
1 (237 ml) cup water
Cut the orange into very thin slices, being careful not to cut them so thin that they fall apart. Remove any seeds and toss the ends. Bring water to a boil in a saucepan and blanch the orange slices for about one minute. Drain and plunge slices into a bath of ice water. Drain again.
Meanwhile, combine the sugar and 1 cup of water in a large saucepan. Cook over medium heat until the sugar is dissolved without stirring, which may cause crystals to form. If the pan is not heating evenly, simply swirl the pan. Bring to a simmer and add the orange slices. Simmer – don't boil – for an hour and a half. Carefully remove slices from hot sugar syrup and set on a cooling rack over a baking sheet until completely dry, up to 24 hours. Reserve the syrup for brushing onto the cake layers.
Vanilla Sponge adapted from Sky High
1 1/2 c (298 g) sugar, divided
1 orange, zest of
2 c (278 g) cake flour*
2 tsp baking powder
8 eggs, separated
1 Tbsp lemon juice
6 Tbsp vegetable Oil
2 tsp vanilla
Preheat your oven to 350F. Oil and line three 9″ round cake pans, then set aside.
Put 1/2 cup (99 g) sugar in a small bowl with the orange zest and rub between your fingers until the sugar is very fragrant and looks like wet sand. Whisk in the cake flour and baking powder then set aside.
In a large bowl, whisk together the yolks, lemon juice, oil and vanilla. Beat on medium-high until slightly lightened, about 5 minutes. Set aside.
Pour the egg whites into a very clean large bowl. Begin beating on medium-low until foamy, then turn the speed up to high and gradually add the remaining 1 cup (198 g) of sugar. Beat until moderately stiff peaks form (when lifting the beater from the bowl, the peaks should droop slightly), being very careful not to whip the whites until they are dry.
After the whites have been whipped, use a rubber spatula to gently fold 1/4 of them into the yolk mixture. Add another 1/4 of the whites and fold to combine. Repeat until all of the whites have been incorporated, then sift in 1/3 of the dry ingredients. Fold gently until few streaks remain, then add another third. Repeat, continuing to fold very gently, until the last addition of dry ingredients has been fully incorporated.
Divide batter evenly between the prepared pans and bake for 15-20 minutes until the cake springs back when pressed lightly in the center. Cool the cakes in their pans on a wire rack for 10 minutes. Remove the cakes from their pans and wrap them in plastic wrap then refrigerate them for at least 4 hours until they are completely cooled.
*If you don't have cake flour, combine 1 3/4 c (248 g) flour and 1/4 c (30 g) cornstarch to substitute.
White Chocolate Swiss Meringue Buttercream
Please click here for a step-by-step guide to making Swiss Meringue Buttercream and troubleshooting tips!
10 egg whites
2 c (400 g) sugar
2 c (452 g) butter, room temp
4 oz white chocolate, melted and cooled
Cook the egg whites and sugar in a small saucepan over medium heat, whisking constantly, until the sugar is completely dissolved (test by rubbing some between your fingers. If it's completely smooth, it's done). Pour into another bowl (a stand mixer is preferable) and whip on high speed until room temp. Then, on a medium-slow speed, add the butter, waiting until each piece is completely incorporated before adding the next. After all the butter has been added, turn the mixer back to high speed and whip until it has come together, about five minutes. Add the white chocolate, beat to incorporate and use.
If the buttercream seems soupy after all of the butter is added and does not come together after whipping, refrigerate for 5 to 7 minutes and continue whipping until it becomes fluffy and workable.
Assembly
Cut the domes, if any, off the tops of the cakes.
Place a layer of cake on your serving platter. Brush cake with orange syrup, then top with a layer of buttercream. Add another layer of cake, brush with orange syrup and spread evenly with frosting. Place remaining cake on top and crumb coat with a small amount of buttercream. Frost and decorate as desired, using candied orange as a garnish.