Jennie, this post is for you. I know we don't know each other, but I think of you and your family often and I wish you all the strength and courage in the world. I am having trouble finding words that will comfort, but I hope that this will do the same…
Nothing but the best,

Kaitlin
———————————————————
I was surprised to come home from camping and see my Twitter feed – typically filled with unrelated but cool food information – consumed by and focused on one thing:
Peanut butter pie.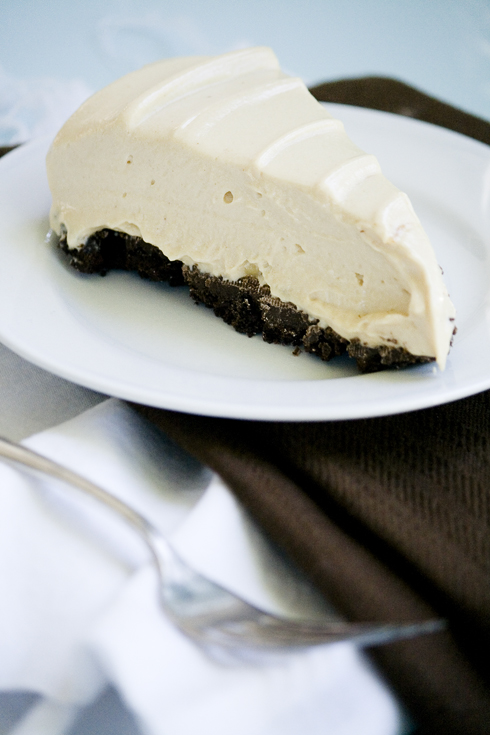 And I set out quickly, after reading
her words
, to make that pie for Jennie, for Mikey, for my family and for my friends. To share it – just because and without occasion – with the people I love and care for as Jennie wished for the world to do.
But it took so much more time than I expected. When I saw the notes of support in my feed, I had already missed the round up. I gathered the ingredients from my pantry and fridge, taking stock of what I had and knowing I could begin at that very moment.
I had everything I needed.
But I didn't. It made me sad as the days passed, as I realized I was doing just what Jennie had asked for us not to do. The peanut butter pie got put off.
And put off.
And put off again.
A few days later, with the Kitchenaid buzzing and chocolate wafers crumbling rhythmically between my fingertips, I was happy that the pie was finally coming into fruition. But at that moment, I was sure that I would not be sharing the despicable details of this project because, quite frankly, I was ashamed.
I beat myself up for wasting time and procrastinating.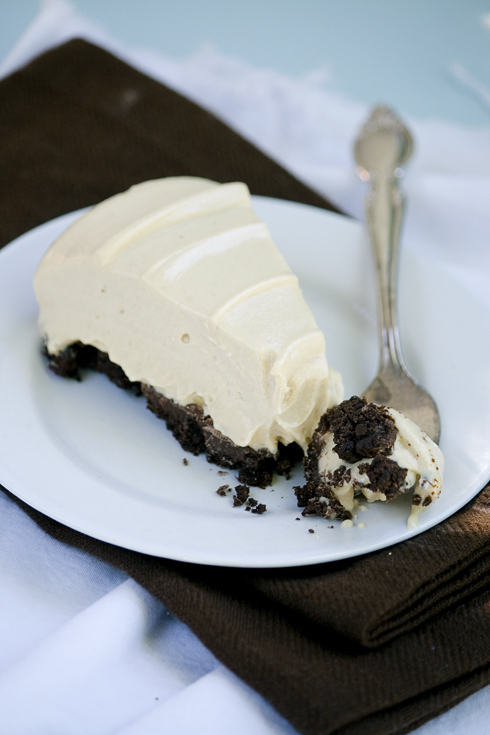 But then I realized, quite suddenly, that the reason for the pie not being completed in time was because I had been doing comparably meaningful things in that timeframe already. Over the days I spent much-needed quality time with both my mom and dad – on separate occasions – and visited my Grandparents, whom I hadn't seen in over a month. I saw a fabulous show that my mother produced. I was out with dear friends I hadn't seen since last summer. And in my spare time, I was at home cooking up requests for dinner/dessert and taking care of the house to lessen Mom's burden.
To me, although Jennie did ask specifically for us to make this fabulous dessert, I had, in fact, accomplished what she was asking (and I do hope she'll forgive and allow my interpretation) of us: I was appreciating and caring for the people I love in every way I knew how. Her pie transformed from conversation to steaks to theater tickets to shepherd's pie and back again before revealing its true self on our kitchen counter days later but it was all done with love.
And it felt good. Like I was opening my eyes to so much more of life.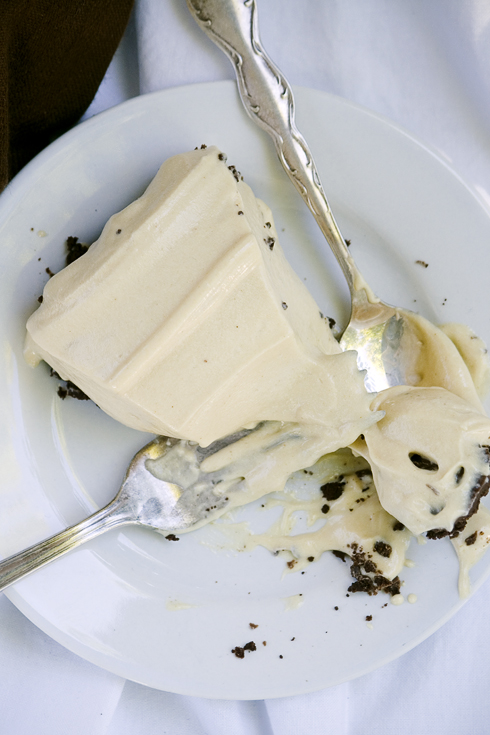 Thank you, Jennie, for being strong and sharing your knowledge with us. It means so much.
Creamy Peanut Butter Pie via Jennie

I had never had this dessert before, but it's easy to see why it was a favorite. It is quite soft when stored in the fridge, which I like, but it's also lovely frozen. Don't skip the layer of chocolate in the bottom of the crust.
8 oz (227 g) chocolate cookies

4 Tbsp (57 g) butter, melted

4 oz (113 g) finely chopped chocolate or semi-sweet chocolate chips

1/4 c (31 g) chopped peanuts

1 c (237 ml) heavy cream

1 (8 oz or 227 g) package cream cheese, room temperature

1 c (237 ml) creamy peanut butter

1 c (156 g) confectioner's sugar

1 (14 oz or 397 g) can sweetened condensed milk

1 tsp vanilla

1 tsp lemon juice
Reduce the cookies to fine crumbs using your preferred method (use your hands, forks, a rolling pin, a cast iron pan or – easiest yet – a food processor). Add the butter and mix well. Press into the bottom and one inch up the sides of a 9″ springform pan.
Melt the chocolate. While still hot, pour over the bottom of the crust and spread evenly with an offset spatula. Sprinkle over the chopped peanuts and place in the fridge to set.
Beat the heavy cream in a large, cold, clean bowl to stiff peaks. Place in the refrigerator until ready to use.
In a large bowl, combine the cream cheese and peanut butter. Beat on medium speed until light and fluffy, about 5 minutes. Reduce speed to low and gradually beat in the confectioner's sugar, scraping down the sides of the bowl when needed. With the mixer running, slowly add the sweetened condensed milk. Scrape down the sides of the bowl and add the vanilla extract and lemon juice. Increase speed to medium and beat until smooth and well-combined.
Using a rubber spatula, stir in 1/3 of the whipped cream to lighten the filling. Fold in the remaining whipped cream in two parts, then carefully pour into the springform pan. Refrigerate for at least three hours before serving.