It feels heavy between my nervous white knuckles, this too-new pie tin, piled high with fruit and a mountain of pressed oats, almonds, flour, sugar and butter. Under cover, the berries mingle with a few gentle squeezes of lemon juice and a sprinkling of thin, stringy zest for a tart zip. A pinch of salt eases the sweetness and a few drops from a bottle of almond extract lace the dish with just a little bit of uniqueness.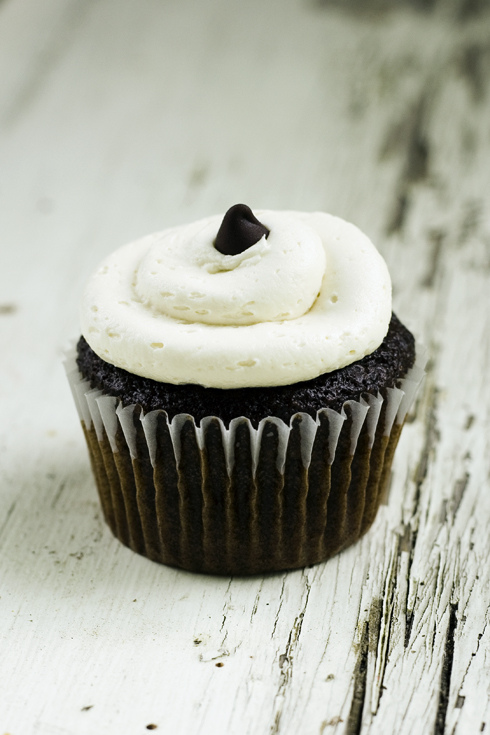 The ingredients are simple, but the message is not.
I made the crumble while on the bad side of a childish argument with a friend. The fight involved yelling and tears, ultimately ending with a deafening mid-sentence click from the other line. I held the stunned silent receiver in my hand, questioning the worth of the relationship.
I made the crumble before the resolution, hopeful that a well-placed apology would warrant a visit to my friend's place. I had visions of him opening the door to find me on the porch, crumble in hand, and just smiling; relieved, I would hope, that things could be so easily fixed.
I baked it to solidify my emotions and my feelings into something tangible. I wanted to present it to him and show him that I cared that much. That he meant that much.
And so I did. The apology was placed and accepted. The delivery was received, the smiles were shared and the crumble was divided.
It should have, by my own calculations, been "right" at that point. But it didn't feel that way.
I had thrown everything that I had into the friendship, but it wasn't enough. There was a lingering guilt in the air; an unforgivable hurt on either side that carved hallowed and pained faces on each of us. He had asked too much of me, selfishly considering my unwillingness to fall as a sign of disrespect and indifference. And I, selfish in my own ways, refused to change my mind.
Trying to fix the friendship wouldn't help because we had different ideas of what "fixing it" even meant. To salvage or to heat up were our only options, and neither seemed mutually attractive to both parties.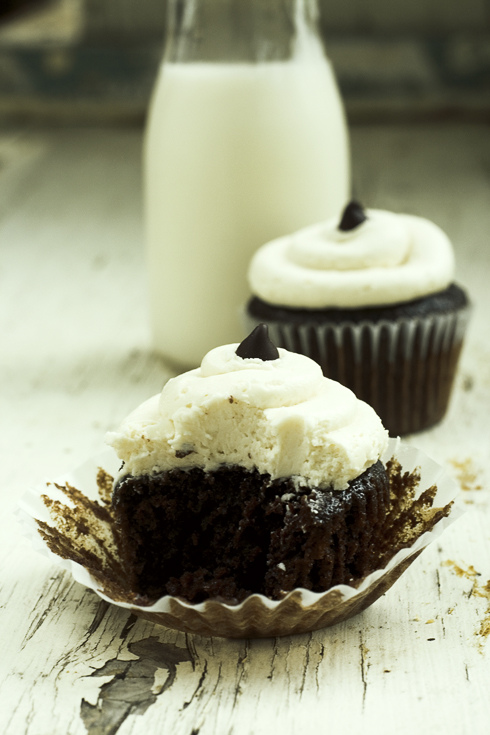 I sat at his kitchen table with a smile painted on my face, fearful for the days ahead.
Things had changed, we realized, and both of us knew that it was finally time for it all to crumble.
Which, in the end, was the best thing that could have happened.
Chocolate Stout Cupcakes adapted from Chow
I made these for my brother and was surprised at how much I liked them! This is a wonderful recipe.
2 1/2 c (313 g) flour
2 c (400 g) sugar
3/4 c (64 g) cocoa powder
1 1/2 tsp baking soda
1/2 tsp salt
1 (11.2-ounce) bottle Guinness stout
1/2 c (118 ml) milk
1/2 c (118 ml) vegetable oil
1 Tbsp vanilla
3 eggs, room temp
3/4 c (177 g) sour cream
Preheat the oven to 350F and line two muffin tins with liners. Set aside.
In a medium bowl, combine the flour, sugar, cocoa powder, baking soda and salt. Set aside.
In a large bowl, combine the Guinness, milk, vegetable oil and vanilla. Add the eggs, one at a time, whisking until completely incorporated. Mix in the sour cream.
Add 1/3 of the dry ingredients to the wet ingredients and fold to combine. Gradually add the dry ingredients to the wet, folding to combine. Divide into the prepared tins.
Bake 20-25 minutes or until a toothpick inserted into the center of the muffins comes out clean. Set pans on a wire rack to cool completely before removing the cupcakes from the tins.
Simple Bailey's Buttercream
1 c (227 g) unsalted butter, room temp
1/2 cup (95 g) shortening
1 Tbsp vanilla
1 1/2 lbs (6 cups or 678 g) confectioner's sugar
About 4 Tbsp Bailey's Irish Cream, mint or other flavor
Cream together the butter and shortening until lightened, about 3 minutes. Add the vanilla and beat to combine. Add the powdered sugar in about 1 cup additions and beat well before adding the next portion. After all the sugar has been incorporated, begin adding the Bailey's, on tablespoon at a time, until you reach your desired consistency.