Friday night dinners were kind of a big deal in my family. I'm not sure if it was the same for those who did the cooking, but, from a kid's view, the get-togethers were relaxed and casual. At the end of the week – without fail – my aunt, uncle and cousins came over for dinner.
It was awesome.
I always looked forward to those nights. Most people are happier, I think, on Fridays, but my Friday high was elevated by the promise of a delicious dinner and lots of time to spend with my cousins. Not that my parents didn't feed and entertain us during the week – Fridays were just something special. The coming together of all of us, so unfortunately detached for those long in-between days, to connect over dinner (and maybe a couple of beers for the grown-ups) was just awesome. It was a kid's dream.
I guess that, at the time, the food wasn't something I was particularly interested in. I'm trying hard to remember dishes that frequently found a home on the dining room table, but the only things coming to mind are my mom's bean dip in her itty-bitty-crockpot and a few Coors Light "empties" dying in the bottom of the sink. For me, those Fridays weren't about the food, they were about hanging out with my super cool family, make-believing with my cousins and staying up way past my bedtime.
The Friday tradition stayed strong for years. There was a short hiatus, I think, following my parents' divorce, but even afterward the tradition found its way back into being.
Eventually, however, there were bumps.
My older brother, D, started working and going to school a few towns over. His time, consumed by obligations, became more precious; alone time and sleeping time, understandably, became his priorities.
N and J, my cousins, left their little girl selves behind. Fridays were hosts to parties and outings with school friends, and – key in hand – N would load up her Dad's Durango and drive off to meet them.
And, of course, there was me. I moved. And I moved again. I live about an hour away from home now, and heading that way every Friday just isn't feasible. The nice thing with family is that we'll always have a bond – we'll never stop caring for one another – but I can't help but feel that I've let everyone down by being so absent.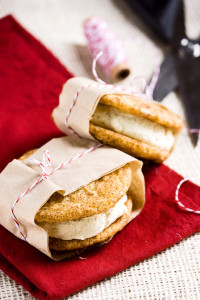 It's not a good feeling.
But at the same time, I'm hopeful. I see that the weekly meetups were really between my Aunt and my Dad – a sister and a brother. The rest of us followed as welcome and wanted accessories, building the gathering into something really cool. And I know now, seeing all the changes and hearing stories of both my Dad and my Aunt's childhood, that this will all come full-circle. Someday.
For now, Fridays are between my dad, my aunt, my uncle, a couple of neighbors and maybe a cousin if they're not busy with friends. They make some food, throw back a couple beers, listen to classic rock, sit around the bonfire, and just enjoy existing.
I know that someday; when N, J, D and I are all "grown-ups;" we'll have that same tradition. We'll meet up at someone's house on a Friday with all of our future accessories, and everything will be just as it should.
Gingerdoodles
Ice cream sandwiches combining soft snickerdoodles with spicy ginger ice cream. Super tasty, but not for the casual ginger lover. Makes 12 sandwiches.
Printable Recipe
Snickerdoodles via Martha Stewart
Makes about 2 dozen cookies. This is my favorite snickerdoodle recipe!
1 3/8 c flour
1 tsp cream of tartar
1/2 tsp baking soda
1/8 tsp salt
4 Tbsp butter
1/4 c shortening
3/4 c + 1/8 c sugar, plus more if needed
1 Tbsp ground cinnamon, plus more if needed
1 egg
Preheat your oven to 400F. Line two baking sheets with parchment and set aside.
Sift together the flour, cream of tartar, baking soda, and salt in a small bowl. Set aside.
In the bowl of an electric mixer, cream together the butter, shortening, and 3/4 cups of sugar. Beat on medium speed until light and fluffy, about 2 minutes. Scrape down the sides of the bowl, then add the egg. Beat well to combine. Add the dry ingredients all at once and mix until just combined.
In a small bowl, combine the remaining 1/4 cup sugar and cinnamon. Use a small (1 1/4-ounce) ice-cream scoop to form balls of the dough, and roll in cinnamon sugar. Place rolled cookies about 2 inches apart (these really spread) on the prepared baking sheets. Bake until the cookies are set in center and begin to crack (they will not brown), about 10 minutes, rotating the baking sheets after 5 minutes. Transfer the sheets to a wire rack to cool about 5 minutes before transferring the cookies to the rack.
Store in an airtight container up to 1 week.
Ginger Ice Cream via Epicurious
Makes about 1 quart of spicy gingery goodness.
4 egg yolks
1/2 c sugar
1/4 c coarsely grated peeled fresh gingerroot
2 Tbsp water
2 c half-and-half
1 c heavy cream
1 tsp vanilla
In a large bowl, whisk the yolks and set aside. Combine the sugar, ginger and water in a medium saucepan over medium heat. Cook, stirring occasionally, for five minutes. Add the half-and-half and bring to a simmer.
Use the hot half-and-half mixture to temper the yolks. Pour about half of it into the yolks, whisking constantly to combine, then pour the yolks into the pan with the rest of the half-and-half. Cook custard over medium-low heat, stirring constantly, until it reaches 170F.
Pour the cooked custard through a sieve into a clean bowl and stir in cream and vanilla. Place a sheet of plastic wrap directly over the surface and put the bowl in the fridge to cool overnight.
Once cooled, churn the custard in your ice cream maker according to the manufacturer's directions. Scoop a generous portion of the ice cream onto the bottom of one cookie, then top with another. Freeze until solid and serve!