Generally speaking, I'm not the festive type. I've always enjoyed the requisite food and general planning that goes into holidays and events, but it's never gone any further than that.
Especially for Christmas.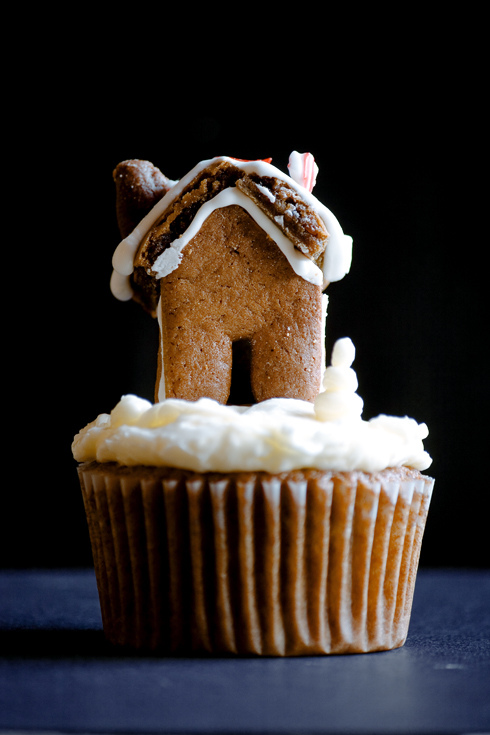 I don't want to sound like a total grinch here, but after, like, age 7 or 8, I wasn't into the whole putting up a tree thing. Putting up a tree meant taking it down and, frankly, as a kid, it didn't really seem worth it. The way I saw it, the act of trimming a tree was an evil one; the encouraged creation of a mess that I, after having just a few hours to spend discovering and playing with the year's bounty, would be called upon to help clean up. It was a trap. Sure, the tree and other decorations were pretty, but I wasn't about to sit around staring starry-eyed at them. No way! It was cold outside, so the only thing I wanted to stare starry-eyed at was Sonic and Tails side-scrolling their way across our TV.
Even so, with our without the ungrateful help of her kids, Mom's tree went up every year.
… And down some time later.
All that said, I'm sure it comes as no surprise that I didn't take an interest in Christmas when I moved out. Christmas in a dorm room is about as festive as a Christmas in a jail cell, so the Christmas of freshman year roused no jolly good cheer in me come December. I made cookies when I got home, but that's just because it was an excuse for my kitchen-deprived self to bake.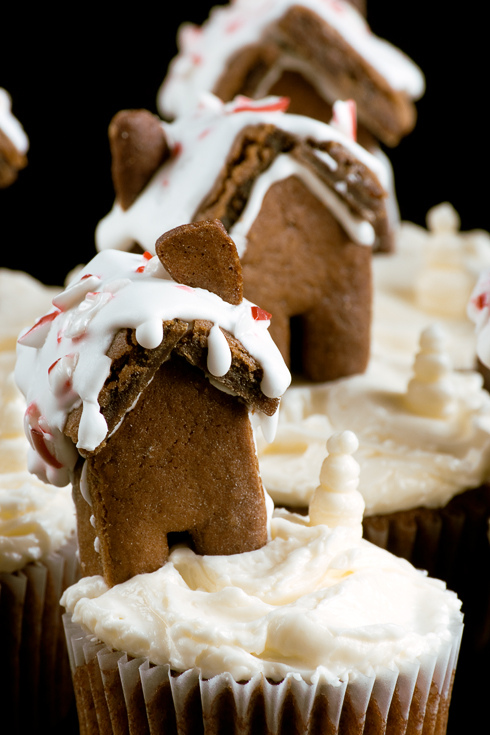 Sophomore year was a little different, however. I spent much of break with H, and the degree to which her holiday spirit rubbed off on me was noticeable. She and R bought and decorated their own tree – which turned out beautifully – and even bought a tiny potted fir tree for their kitchen counter. It was festive, and I was finally diggin' it.
So, naturally, I turned to baking to really get me in the spirit of Christmas. Two weeks later, this beast sat on their dining room table.
It felt nice to consciously be a part of the holidays. And it gave me an idea for this year. Instead of going big, I was going to go small. I still don't have a Christmas tree or decorations, but I appreciate them a lot more now than I used to. Oh – and here's a big one: carols are no longer annoying. They're peaceful now, in the right setting (i.e., not my car. That's not my kind of driving music), and have been lacing my kitchen for the past couple days.
It's nice.
I admit it.
I like it.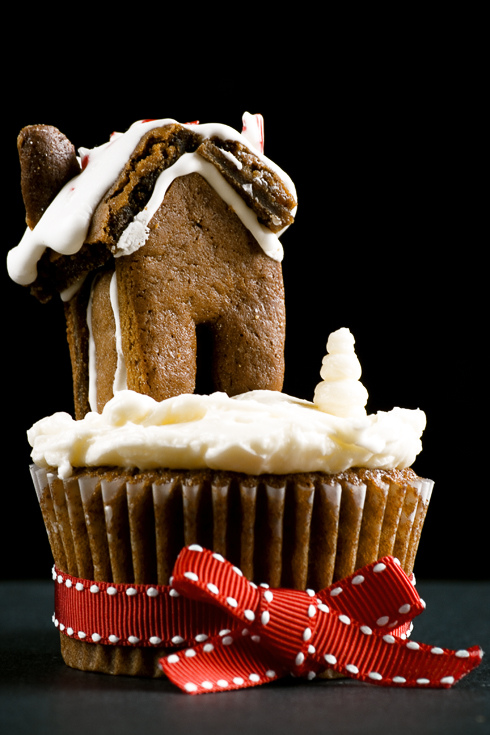 Christmas isn't going to be a grand and totally decked-out celebration this year, but someday, perhaps when I've got a house and not an apartment, I look forward to that being the case.
No matter how or what you celebrate this holiday season, I hope it's a good one!
Happy Holidays!
Kaitlin
Gingerbread Cupcakes with Obnoxiously Tiny Gingerbread House Toppers
I was SO excited to finally make these. The gingerbread houses are fiddly and kinda stressful, but hang in there. It's fun in the end if you're genuinely excited about trying it!
Mini Gingerbread Houses inspired by Not Martha, recipe from Baked: Explorations
These mini gingerbread houses take a lot of time to make. If you don't feel up to it, make cute little cutouts instead like Sweetapolita did earlier this week! You can even skip the cupcake part and eat these alone. They're fabulous!
Makes 12 gingerbread houses or 18-24 2″-3″ cookies
2 c (284 g) flour
3/4 tsp salt
3/4 tsp ground ginger
1/4 tsp freshly grated nutmeg
1/4 tsp ground cloves
1/2 tsp baking soda
2 Tbsp (29 g) butter, room temp.
2 Tbsp (26 g) vegetable shortening
3/8 c (55 g) firmly packed dark brown sugar
2 Tbsp (25 g) granulated sugar
5/8 c (148 ml) molasses
1/6 c (39 ml) very hot water
1 Tbsp + 1 3/4 tsp dark rum
In a small bowl, whisk together the flour, salt, ginger, nutmeg, cloves and baking soda. Set aside.
In a mixing bowl, cream together the butter and shortening until well combine and no clumps remain. Add the sugars and beat just until incorporated. Scrape down the bowl and add the molasses. Continue mixing until the batter is uniformly colored.
Pour in 1/3 of the flour mixture, and mix just to incorporate, being sure to scrape the bowl. Add half of the hot water and mix again. Repeat until all the flour and water have been added, ending with the flour. Add the rum and mix briefly to combine.
Divide the dough into two halves and pour each half onto a sheet of plastic wrap. Form each into a circle about 1/2″ thick, then wrap tightly and refrigerate at least 3 hours before you even think about rolling it.
Line a baking sheet with aluminum foil or parchment and take half of the dough out of the fridge. Dust the aluminum foil/parchment paper liberally with flour, and begin rolling out the dough, using flour to ensure it does not stick to the pin. Move the dough around often to be sure it isn't sticking, and roll the dough to a little thinner than 1/4″ thick. Place the rolled dough in the freezer, and repeat the process with the second half of the dough.
Preheat the oven to 375F/190C.
When the rolled dough is very cold and firm, use the attached template to cut out rows of the pieces. For 12 houses, you will need 24 sides, 12 of each roof piece, 12 fronts with doors and 12 backs without doors. I baked the pieces without moving anything after cutting, and it worked quite well for me, but they did need trimming. After cutting as many pieces as you can from the first sheet of dough, return it to the freezer and cut the remaining pieces from the second sheet of dough. Once all of the pieces have been cut, bake in the preheated oven for 10-12 minutes (if baking 2″-3″ cookies, bake 8-10 minutes), or until set. Remove from the oven and use a knife to go over the cut lines/trim again before the cookies get too hard. Cool to room temp, then separate.
Royal Icing
1 egg white
1 1/2 c (235 g) powdered sugar, more if needed
Put the egg white in the bowl of your mixer and sprinkle over about 1/2 c of powdered sugar. Beat on low speed to combine, then add a little more sugar. Continue this until all of the sugar has been added, then whip on high speed for about five minutes. If the icing seems like it would be hard to pipe nice clean lines with, add a little more sugar. If not, get ready for construction!
Gingerbread House Assembly
To build, lay the front of a house flat on your work surface. Pipe a line on either side, then stack the sides on. Pipe a line on the top of each side, then press on the back of the house. You may let these set for awhile to stiffen up if you like, or simply turn them upright and glue on the roof.
For the roofs, pipe a line of icing across both the front and back peaks of the house. Put the short roof piece on one side of the peak, then pipe a line of frosting on its highest side. Top with the last (longer) piece of the roof. Frost with remaining frosting and dust with crushed candy canes, if desired. Allow to set, uncovered, until hard. About 5 hours.
Gingerbread Cupcakes adapted from Cupcakes by Susanna Tee
This cookbook kinda scares me a bit. The measurements in it are translated from metric and they're kinda loose and odd, and there was no salt or vanilla in the recipe. The last two aren't necessary, but I happen to like them a lot. I'm sharing the recipe here as I did it. The other two recipes I've tried from it weren't too great, but I do like this one. They're not super gingerbread-y though, so don't be expecting something super warm and cozy in terms of tastes. I like to think of it as gingerbread lite 😉
Makes 1 dozen
3/4 c (106g)flour
2 tsp ground ginger
3/4 tsp cinnamon
1/2 tsp salt
4 Tbsp milk, room temp
3/4 tsp baking soda
6 Tbsp (85 g) butter, room temp
1/3 c (50 g) firmly packed brown sugar
1/2″ fresh ginger, finely grated
2 Tbsp molasses
2 eggs, room temp
1/2 tsp vanilla
Preheat the oven to 325F/160C and line one cupcake tin with liners. Set aside.
Sift together the flour, ground ginger, cinnamon and salt. Set aside.
In a small bowl, combine the milk and baking soda (why? I dunno. This just somehow seemed like something I shouldn't change). Set aside.
Place the butter, brown sugar and grated ginger in the bowl of your mixer and cream together until light, about five minutes. Scrape the bowl and add the molasses. Beat to combine. Scrape the bowl again and add the eggs, one at a time, beating until very well incorporated before adding the next (at this point in time, my batter curdled and I couldn't bring it back together. It baked up just fine, so no worries if it happens to you).
Pour in 1/3 of the dry ingredients and mix just to combine. Add half the milk/soda mixture, and mix just to combine. Repeat this process, ending with dry ingredients.
Divide the batter evenly between the tins and bake for 20 minutes without opening the door. After 20 minutes, press gently on the top of a cupcake. If it springs back quickly, they're done. If not, bake 3-5 minutes longer. Remove cupcakes from tins and cool on a rack.
Swiss Meringue Buttercream
Please click here for a step-by-step guide to making Swiss Meringue Buttercream and troubleshooting tips!
2/3 c (131 g) sugar
3 egg whites
10 Tbsp (142 g) butter, room temp
1/2 tsp vanilla
In a double boiler, cook the egg whites and sugar over medium heat, whisking constantly, until the sugar is completely dissolved (test by rubbing some between your fingers. If it's completely smooth, it's done). Pour into another bowl (a stand mixer is preferable) and whip on high speed until room temp. Then, on a medium-low speed, add the butter, waiting until each piece is completely incorporated before adding the next. The buttercream may turn into a soupy curdled mess during this process, but if you continue beating it for a few minutes it will become light and fluffy. Add the vanilla and beat to combine.
Assembly
Gather up your:
Gingerbread Houses
Gingerbread Cupcakes
Swiss Meringue Buttercream
Take a cooled cupcake and slather on a healthy layer of buttercream. Top with a gingerbread house and pipe on a little snowman, if desired. Use a skewer or toothpick to scrape on a path too, if you like!
Optional: serve to sweet coworkers and be super stoked about how excited they get 😀