The beginning of this year was rough for me; passing with a flood of tears and confusion. After a breakup in February, Mom picked me up from my apartment with chocolates and tissues waiting for me on the passenger seat of her silver SUV. The next day, Dad listened to me cry over breakfast at Shirley's. Every moment preceding, inbetween and following was filled with help from S, R, H and others; all helping bring out the emotions that would force me overcome my blindness and get through it all.
I thought, at that point, that this would be the worst year of my life, but I was wrong. It's been a year of growing confidence and shedding fears. Taking chances and trusting my gut. I didn't know it until I sat down to write this post, but this has really been a very memorable year for me. Sure, it had it's rough moments, but I wouldn't have changed a thing.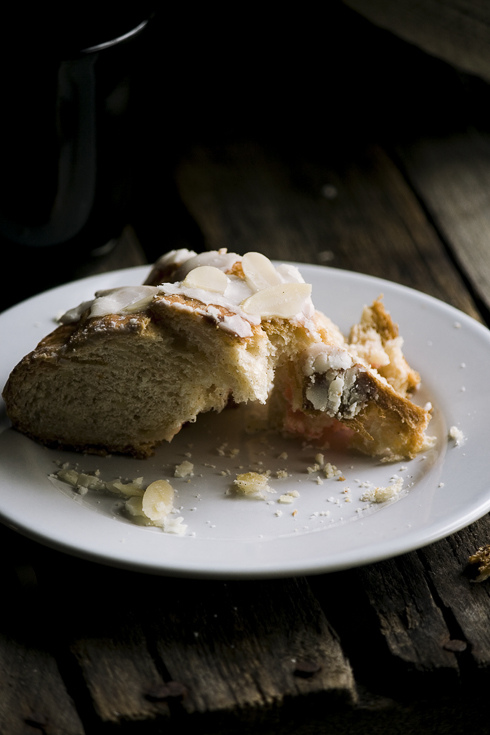 My old roommate, S, and I packed up our cozy apartment in May and went our separate ways. She was headed for law school in DC, and I was headed for Sandusky, Ohio.
I spent the summer on "The Fun Coast" living with 5 strangers-turned-crazy-roommates and chasing wayward Go-Karts around the track in Challenge Park for minimum wage and no respect. I went out dancing with friends and went on a few dates with a cutie from Columbia who spoke English about as well as I speak Spanish (which is not so good ;P). I tried to shed my intense fear of looking like an idiot in front of people I do and do not know, which made dancing fun and dating less scary.
In those months I met and befriended people from all over the world, picked strawberries, hung out at the beach, spent hours in coffee shops and went to bonfires at 2 in the morning.
I got flipped in a canoe with one of my best friends, by one of my best friends.
I had an appearance on the news.
I went camping with R, H and their puppy Kona.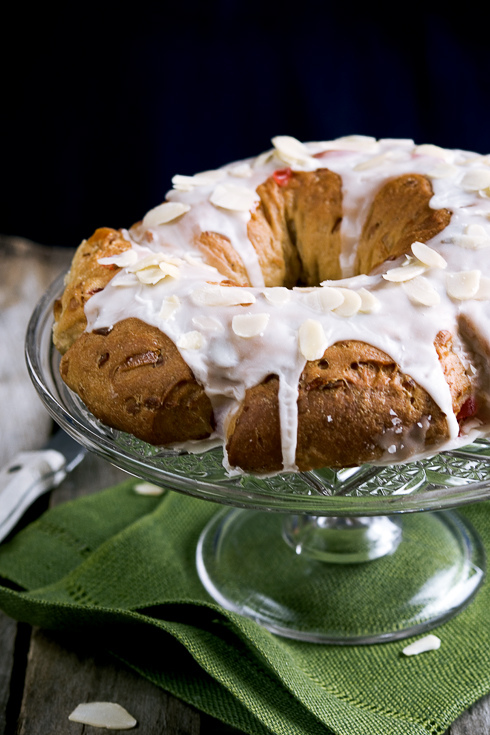 When school started again, I got to leave CP housing for my new apartment in East Lansing. I spent all my free time with S and H; partaking in some combination of cooking, watching movies and shopping every single night and weekend.
Profs increased homework and reading requirements to a whole new level of annoying, meaning I spent more and more time on a couch with piles of textbooks as the semester went on.
In early September, H helped me find a dress to wear to a career fair and gave me enough courage to combat my awkwardness and insecurity to actually make me go. The event was a little scary and I wasn't quite sure what to do, but, in the end, I got the internship I wanted. Huzzah!
Just as winter began to show itself, R and H moved to begin their post-college life on sandy beaches in Florida, leaving S (for now!) and I to freeze our butts on in Michigan.
And now, I'm on break; enjoying a little R & R before I get back to school and catching up on all the things that have gotten away from me over the course of the year. I promise I'm done reminiscing. I dunno if these are highlights or just a little look back, but, either way you spin it… This has been a good year.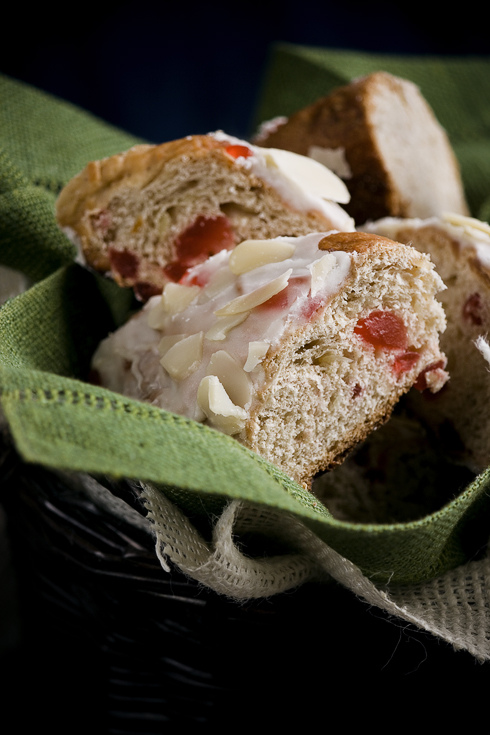 Thanks a ton for sticking through it with me. You guys are the best!
HAPPY NEW YEAR!
Stollen adapted from Poires au Chocolat
Printable Recipe
1/8 c (30 ml) lukewarm water
1 tsp honey
About 4 tsp (13 g) active dry yeast
1/2 c (120 ml) milk, room temp
70 g unsalted butter, softened
2 1/2 c (355 g) flour, plus extra for rolling
3/8 c (57 g) brown sugar
1/4 tsp salt
1/2 tsp cinnamon
1/2 tsp nutmeg
1/4 tsp ground ginger
1 egg, room temp
1 vanilla bean, seeds only – pod reserved for another use (such as brewing with your coffee)
2 handfuls (57 g) candied orange peel, to taste (I ended up making my own following the recipe here for candied lemon peel, substituting orange peel and halving it)
2 handfuls (57 g) glace cherries, quartered and to taste
2/3 c (80 g) whole almonds, sliced and to taste
1 egg yolk or a few Tbsp of cream
Combine the lukewarm water and honey in a bowl, then sprinkle over the yeast. Let set five minutes, then stir to dissolve. If the yeast is not foamy, start over and try again.
Combine the milk and butter in a small saucepan. Place over medium heat and stir occasionally until the butter has melted. Remove from the burner and allow to cool briefly.
In the meantime, combine the flour, brown sugar, salt, cinnamon, nutmeg and ginger in a the bowl of your mixer. Set aside.
In another small bowl, beat together the eggs and vanilla seeds to combine.
Add the egg mixture, the milk mixture and the yeast mixture to the dry ingredients and mix with the paddle attachment to combine, about two minutes. Cover with a damp cloth and let rest 10 minutes.
Switch the paddle attachment to the dough hook (or put the dough on a floured surface) and knead for six minutes (8 by hand). The dough should be soft, smooth and not terribly sticky. Add the orange peel, cherries and almonds and knead briefly to combine. Transfer dough to a very big oiled bowl, cover well with plastic wrap and move to the fridge. Let rise overnight.
When you are ready to bake, oil a 9″ cake pan or line a baking sheet with parchment paper and set aside. Remove the dough from the fridge and let warm for about two hours before shaping.
Punch down the dough into one 28″ish by 9″ish rectangle or divide in half and form into two separate 14″ish by 5″ish rectangles. Roll the rectangle(s) tightly to form a snake. Join the ends together as best as you can, pinching to seal. Place the roll into the oiled pan or place both smaller rolls onto the lined sheet. Use scissors to cut incisions around the edge of the wreath. Cover tightly with cling film and leave in a warm place to rise for about 2 hours or until they have nearly doubled in size (I often place the dough in the oven with the heat off and put in a pan of boiling water to speed the process). When the dough has risen, preheat the oven to 350F (180C) and brush all over with the yolk or cream. If baking one large loaf, bake for 40-45 minutes. Bake the smaller loaves for 30-35 minutes. Either way, rotate the loaves halfway through. They should be a deep brown and sound fairly hollow when knocked on the bottom.
Remove from the rack and let cool.
Quick Glaze
Splash of milk
Powdered sugar
Almond extract
Vanilla extract
Pour the milk into a bowl and add a little powdered sugar at a time, whisking to combine. Add powdered sugar until the glaze is desired thickness, then whisk in extracts.
If you like the glaze thick, pour it on loaves that are completely cooled. For a thinner glaze, pour it on warm loaves.