A crushed beer can.
I'm standing on the corner of this vacant parcel, and that's all I see.
The crushed beer can – Pabst – in all its glory; a lonesome ornament on this otherwise empty bit of green.
Tugging at his leash, Buddy had eagerly begged for a different path, but my feet were determined to reach this place on our walk. I didn't realize where I was headed, but with no regard for Buddy's wants, this was where I ended up.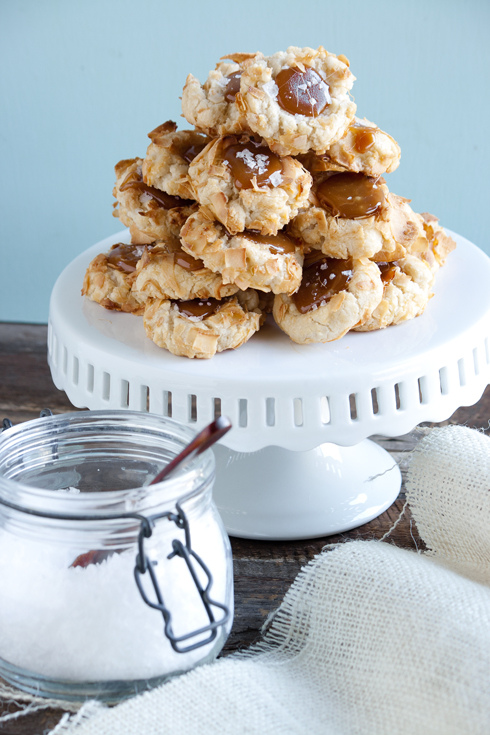 Though it was a familiar place, it was hollowed. The house and apartment building that once stood here had long since been torn down, the basements filled in and the driveways removed. I hadn't been here since sometime in 2007 or 2008, and even then I'm sure it was, in some small way, against my will. Frankly, at 16 or 17, I didn't want to do much on my hard-earned weekends besides what
I
wanted to do, and I'm not afraid to admit that coming to this place never made the list.
Ashamed a little, maybe. Saddened, for sure. But back then, visiting my Great Grandma "Mica," named so in honor of her cat, just wasn't something I wanted to do.
The three birch trees populating her front yard – well, what used to be her front yard – survived the delinquent bark-peeling brought on by my own bored hands as a child. Sure, the adults told me it was bad for the tree, but what else was I to do? Inside the house, Grandma had two broken Transformers, Fly Away Home and Flubber . You tell me what you'd rather be doing.
That's what I thought.
So we – my cousins, brother and I – would go outside, peel bark off the trees and chase each other around the house. It was the only way we knew to entertain ourselves while the grown-ups talked and helped Mica prepare lunch.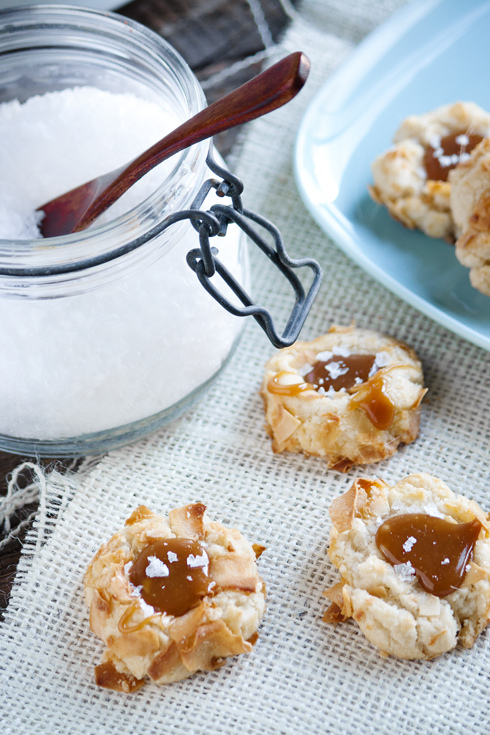 But now that I'm older, I have so many regrets. My Great Grandfather – whom I never had the chance to meet – had built the two houses that once stood on this land with his own hands. He and Mica left Latvia with their young family after the onset of World War II, and came to Lansing to start their life fresh with their young family in tow. It's an interesting story, and it's a terrible hurt to admit that the particular details are shaky in my mind. With age, it has been so painful to realize just how much I missed out on having the opportunity to know and learn from her. Sure, I can hear it all from my family, but her history, I'm sure, would have been told best with her broken English and thick accent.
I know, from my own memories, that Mica was a loving and kind woman – there's no doubt about that. She liked to braid ribbon into my hair when I visited and clearly enjoyed just watching us kids play with those silly transformers in the living room. To this day, I can't look at a can of Reddi-Whip without picturing her smiling face and sparkling eyes; the darling woman overcome with happiness at the chance to be able to spoil her great grandchildren with a mouthful of whipped cream. Strawberries spark a similar memory, as it was a regular occurrence for her to offer us a pint of the red berries accompanied by a tiny yellow crock of sugar for dipping. She was good to us, and understanding, I think, of the fact that we weren't terribly excited to visit. She was happy enough to have us in her home and see us spending time together.
But her home isn't here anymore.
I feel bad when I withdraw myself from memory to find Buddy's leash taut and stretching toward the center of the parcel. The ground here is sacred and private, and though I had been conscious enough to plant my souls on the sidewalk, I'd been so lost in thought that that I'd allowed him the freedom to wander. Which was wrong, of course. After all, Great Grandma Mica had made the decision to sell her property to the city before moving into an assisted living center. The lot no longer belonged to my family and, within months of the sale, the buildings that her loving husband had built for them were crushed and leveled.
There really isn't much left here for me anymore.
With a gentle tug and a coo, Buddy returns to my heels.
I like to think that Mica didn't know what had become of her home. I like to think that she truly understood the distance that the third generation kept and I like to think she was happy to see us so acclimated to what she considered a new culture. I like to think she'd be proud of all of her Great-Grandchildren, and I like to think that she'd be happy still to provide for us and love us.
But, above all, I like to think I'm right.
I am.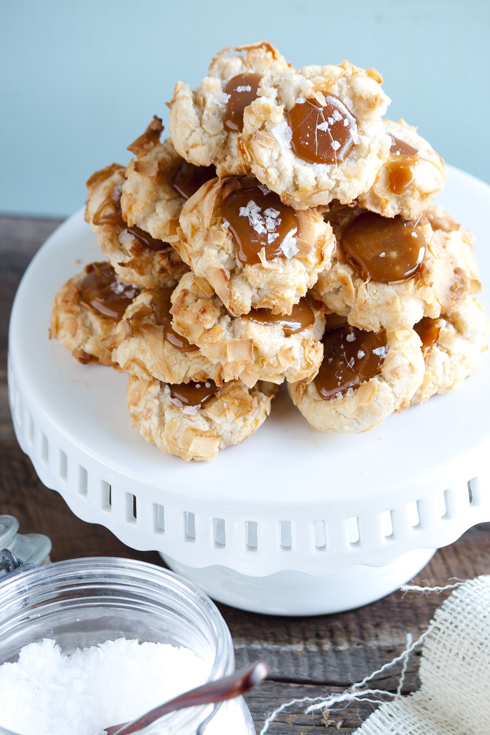 I know it's normal to wish fore more time with someone who has passed away, and I don't beat myself up for the way I spent time at her house. Instead I just recognize that I'm fortunate to have had a chance to know her at all and to have spent the time that I did with her.
It will probably be some time before I come back to this corner, but it's comforting, in a way, to know that I live so close to where she did. Even if her house is gone, she will never be forgotten.
Coconut Thumbprint Cookies with Salted Caramel via Martha Stewart Living February 2012
I'm a big fan of salty sweet, so I LOVED these. The cookies are nicely sandy and crisp and caramel always goes well with coconut, doesn't it? They're akin to a Samoa, but more sophisticated and without the annoyance of chocolate.
I made my own caramel for these, but I messed up the ratios of fat:sugar and it ended up crunchy instead of smooth. For that reason, I'm writing out the recipe as it was printed in the magazine. The next time I make these, I'll try a ratio of 1.25:1.
Makes 54 cookies
3 1/2 c (497 g) flour
1/2 tsp salt
1 1/2 c (355 g) butter, room temp
1 c (200 g) sugar
1 1/2 tsp vanilla
2 eggs
12 oz (340 g) sweetened flaked coconut (I used unsweetened flaked)
44 small soft caramel candies (from a 12 oz/340 g pkg)
6 Tbsp heavy cream
Flaky sea salt for topping (I used Maldon)
Preheat the oven to 350F/175C and line a couple cookie sheets with aluminum foil or parchment. Set aside.
Cream together the butter and sugar until pale and fluffy, about five minutes. Add the vanilla and mix to combine, scraping down the sides of the bowl. Add 1/2 of the flour and salt mixture and stir gently to combine. Scrape down the sides of the bowl and add the second half, mixing just until the dough comes together.
Beat the eggs in a small bowl and set aside. Pour the coconut in a bowl and do the same.
Portion the dough into as many 1 1/4″ diameter balls as you can. Dip each into the egg and allow the excess to drip off, then dip the dough in the coconut and roll to coat. Place on lined baking sheets about 2 inches apart and press the center with your thumb. Refrigerate dough that will not fit on the sheets.
Bake in the preheated oven for 10 minutes, then remove the sheets and carefully press the centers again. Rotate the sheets and bake for 9-10 minutes, until golden. Let cool on wire racks and repeat with remaining dough.
For the caramel topping, combine the unwrapped caramels and cream in a small saucepan over medium heat. Heat, stirring constantly, until the mixture is completely smooth, 4-6 minutes. Spoon the hot caramel into the indentations of each cooled cookie and quickly sprinkle with sea salt. If your caramel becomes unmanageable and hard, gently rewarm, stirring constantly, over low heat.