A spoon.
A spoon and a mouthful of warm jam; involuntary intoxication administered within my own apartment.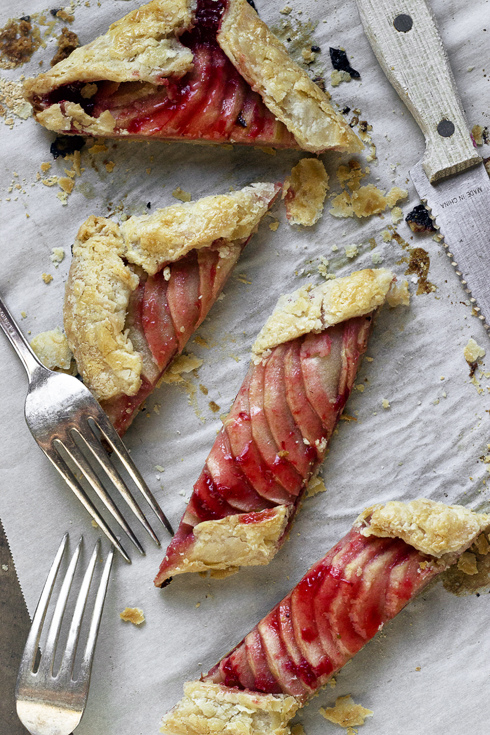 I can see his face so vivdly all of a sudden; tired skin and dark eyes staring back at me from across the imagined table. He thought it odd, I remember, that I ordered a coffee that night. Odd that I also asked for a tall glass of ice water and odd that I spread my pancakes with jam – not syrup.
I cleaned the jam-covered spoon between closed lips, focusing on his calm eyes while trying to decipher his half-English sentences in my half-asleep mind. Strawberry jam. Smuckers. Served table-side in individual packets, likely three years old, and oh so divine.
"I like your eyes. They're very… Pretty."
He caught me off guard. He was strawberry-jam-sweet, I'd noticed, and I swooned over what I assumed to be pause for romantic emphasis. Really though, in all likelihood, his delivery was either completely rehearsed or entirely accidental. I like to give him the benefit of the doubt, but he wasn't as sweet as he seemed. An ok guy with somewhat devious intentions that, well, I didn't see again.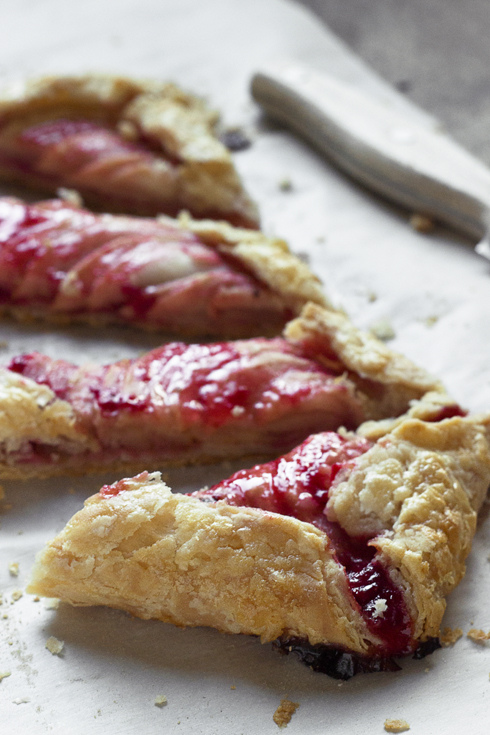 But still, I like his memory. Fading around me is the midnight diner, and I'm delivered back to my kitchen. His face is gone, the spoon is clean, and the taste of strawberries lingers on my palette. Fresh coffee settles in the pot, an apple-berry tart beckons to me from the cooling rack, and I'm feeling… Comfortable.
At the risk of sounding like I live in the past: I revel in happy memories. I like it when they're attached to fleeting things – like a spoonful of jam – because the memories just feel more special when you do accidentally come across them.
And I think too much, you know, so I attach memories to lots of things. I can't scoop flour without thinking of Grandma M or chop rhubarb without being reminded of Grandma F. M&M-dotted cookies remind me of C, chocolate silk pie of A, coconut of H, lemon squares of Grandpa M and Mom, peaches of Grandpa F, almond extract of Dad and so many others. I can't open my pantry without the warmth of my memories embracing me, which is probably why I enjoy it so much.
So, every time I have pancakes, I remember the boy with the dark eyes and the thick accent, plus eight or nine other selected friends, relatives and interests.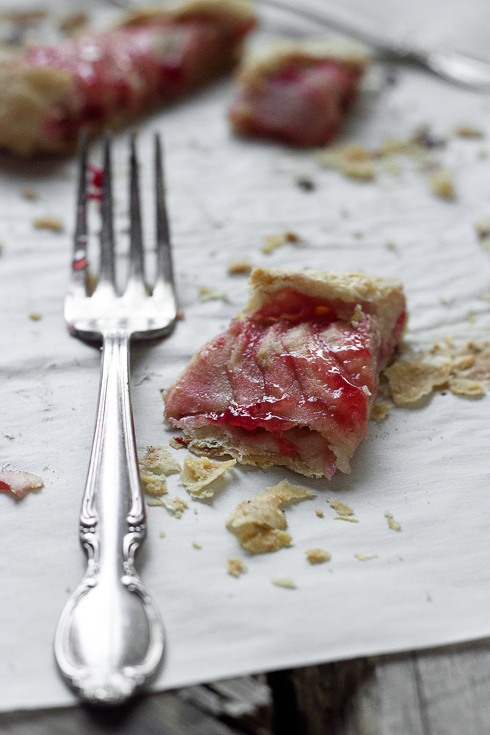 More, probably, but I can't be expected to count them, can I?
It just wouldn't be right.
Apple & Strawberry Jam Tart
I made these in the morning before class one day because I had an apple in the fridge that, judging by the ones I bought with it, was WAY too sour to eat. It's a simple galette-type-pastry. Not particularly impressive looking, but very good! Use whatever fruit, spices and jam you've got around. Add some sugar and cornstarch if you think you'll need it.
(Pie Crust via Alton Brown)
1 c (142 g) flour
1/2 tsp salt
8 Tbls (118 g) butter, cut into 1/4″ cubes and chilled
4 Tbls water, cold
1 apple (I used granny smith)
Lemon juice
Cinnamon
Strawberry preserves
Cream
Sugar
Combine the flour and salt in a medium-sized bowl. Add the butter, then cut in using two forks, a pastry blender, or your hands. Continue working in the butter until the mixture resembles coarse meal. Add just enough water to bring the dough together and knead a few times to ensure that the flour is evenly moistened. Press into a 1″ thick disk and wrap in plastic wrap. Refrigerate at least 30 minutes or up to two days.
While waiting for the dough to chill, cut the apple in half and remove the core. Slice thinly and keep the pieces together so that when you are done you can just press the apple in order to fan out the slices. Sprinkle with lemon juice and set aside.
When ready to roll, dust your counter with flour. Remove the dough from the fridge and let rest on the counter for 10-15 minutes to allow to warm slightly and become more workable. Divide in half and roll into two rectangles, about 9 x 5 each, I 'd guess. Trim the sides so they are straight.
Before assembling the pastries, set the oven to 450F. Spread the center of the pastry with a thin layer of jam and arrange one half of the apple on each piece. Sprinkle with cinnamon. Fold the edges over the pastry over the fruit, brush with cream and sprinkle with sugar. Place the prepared tarts in the freezer (or fridge if you don't have the space) while you wait for the oven to continue heating. Bake for about 10 minutes, then reduce the heat to 350F and bake until the pastry is golden. Remove from the oven and brush with additional jam while still hot. Cool on a rack.